RubberDucks Ring in the New Year by becoming Akron Sauerkraut Balls on August 18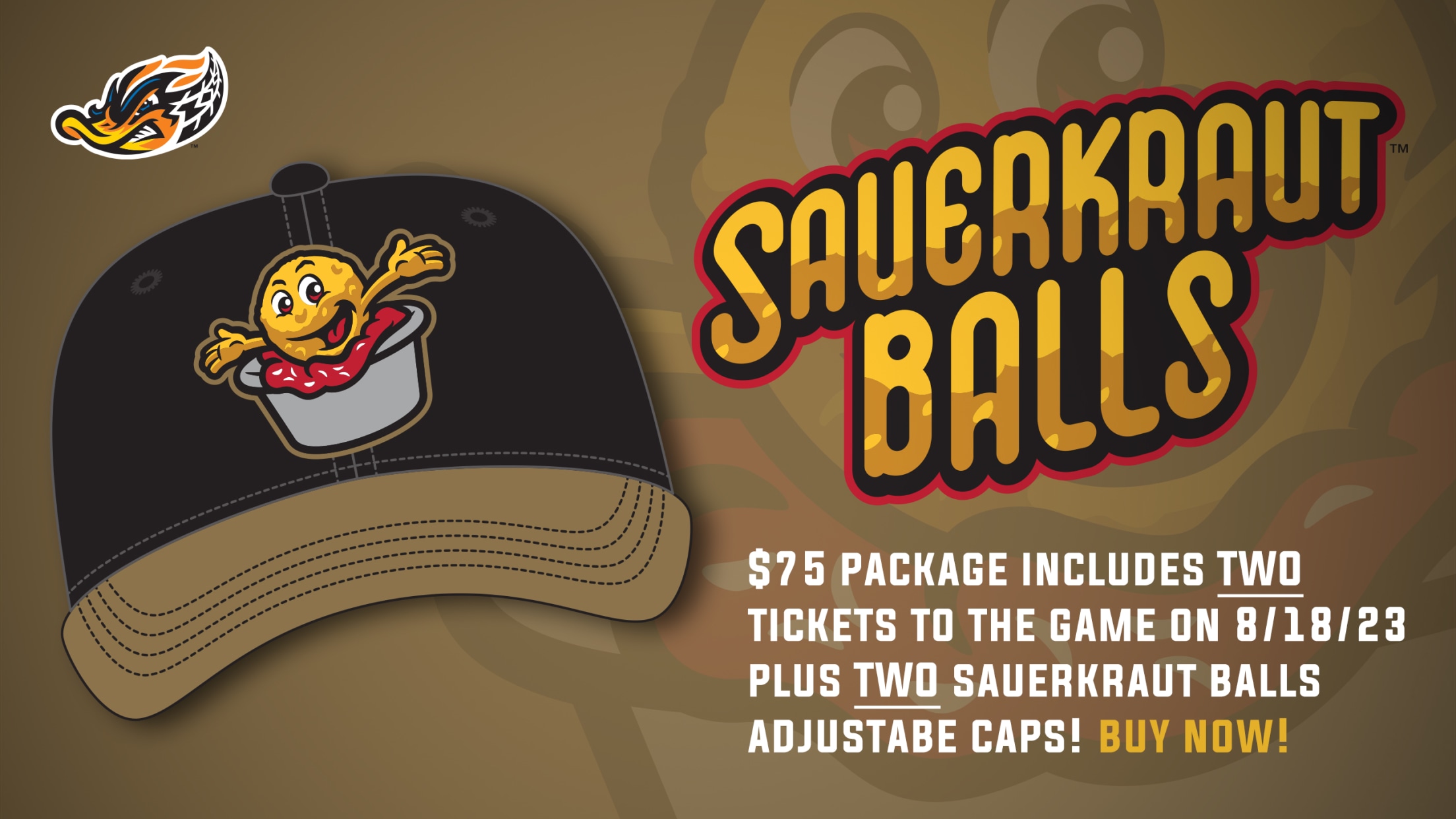 (AKRON, OHIO) January 1, 2023 – The Akron RubberDucks will rebrand to the Akron Sauerkraut Balls for one-night only on Friday, Aug. 18 to honor Akron's favorite appetizer. Sauerkraut balls are believed to be invented in Akron and have been a staple in local bars and restaurants since the early
(AKRON, OHIO) January 1, 2023 – The Akron RubberDucks will rebrand to the Akron Sauerkraut Balls for one-night only on Friday, Aug. 18 to honor Akron's favorite appetizer.
Sauerkraut balls are believed to be invented in Akron and have been a staple in local bars and restaurants since the early 1960s. The small breaded and deep-fried sphere of sauerkraut and ground pork is most commonly seen on tables on New Year's Day.
"After honoring the JoJos last summer, we wanted to continue to recognize foods that are unique to Akron," RubberDucks General Manager and COO Jim Pfander said. "Sauerkraut balls are an Akron staple as you do not see them many places outside the area. We can't wait to celebrate the sauerkraut ball and enjoy all the different dipping sauces our fans use to enjoy them."
You can purchase the New Year's Sauerkraut Ball Drop ticket package today and receive two tickets to the Aug. 18 game and two Akron Sauerkraut Balls adjustable hats. The package is $75 and can be purchased here. Limited number of packages available.
Full Akron Sauerkraut Balls merchandise will be available at a later date.
2023 Season Ticket and Flex Ticket packages are available now by visiting akronrubberducks.com or by calling 855-97-QUACK.
The Akron RubberDucks are the Double-A affiliate of the Cleveland Guardians. The RubberDucks season at Canal Park begins on Thursday, April 6 against the Erie SeaWolves at 6:35 p.m. Fans can purchase tickets by calling 330-253-5151 from 9 a.m. to 5 p.m. on weekdays, or visit akronrubberducks.com/. For more information about the team, please call 330-253-5151, visit the website at akronrubberducks.com, Facebook page facebook.com/AkronRubberDucks, or on Twitter @AkronRubberDuck, and Instagram @akronrubberducks.