World Baseball Classic Ducks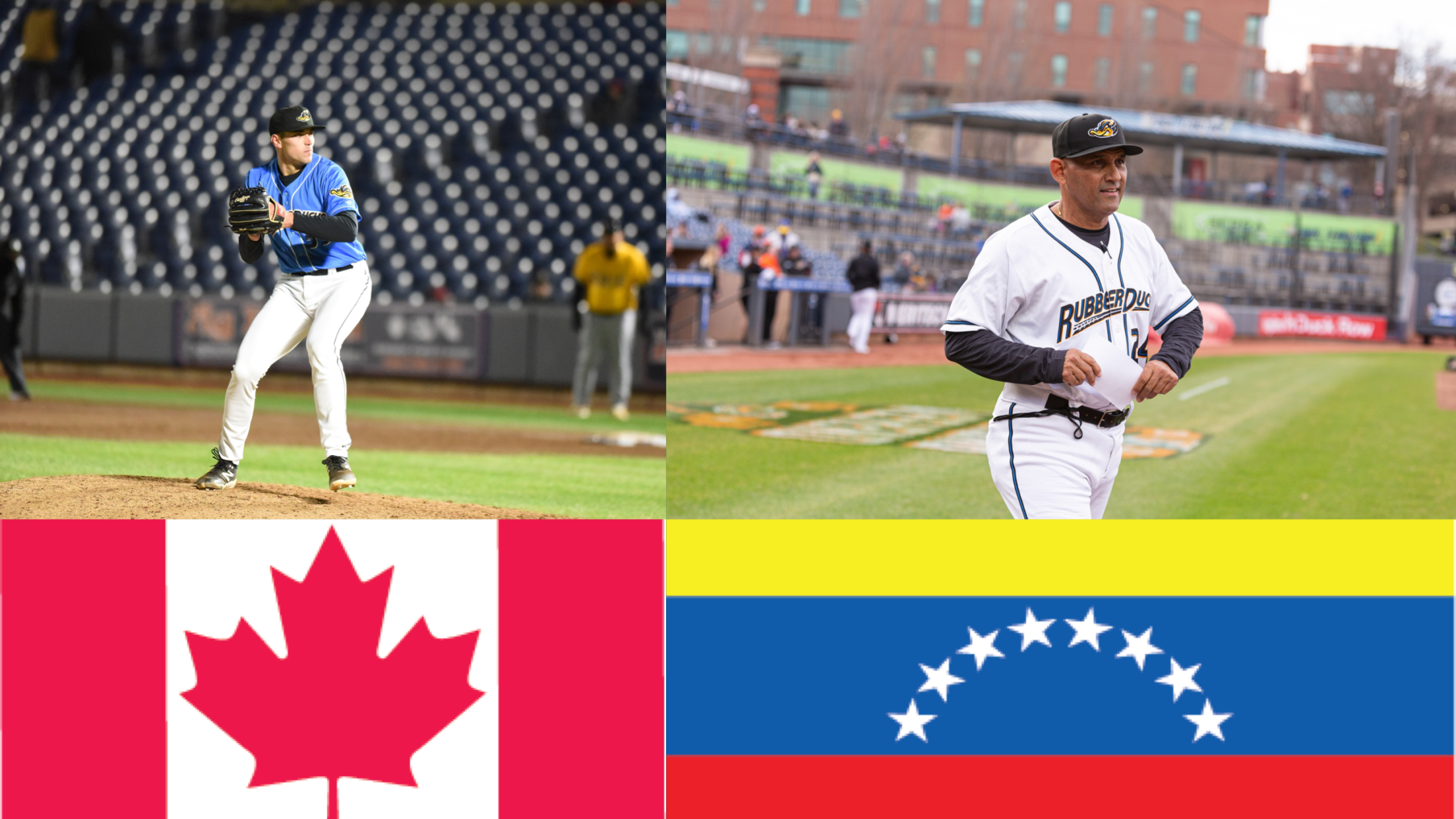 When the calendar hits April, there is renewed excitement as baseball returns to Akron. Rosters mixed of new and familiar faces ready to take the field at Canal Park for the first taste of meaningful baseball that year. But for two members of the RubberDucks 2023 Opening Day roster, April
When the calendar hits April, there is renewed excitement as baseball returns to Akron. Rosters mixed of new and familiar faces ready to take the field at Canal Park for the first taste of meaningful baseball that year.
But for two members of the RubberDucks 2023 Opening Day roster, April was not the first time they took the field for meaningful games.
RubberDucks manager Rouglas Odor and reliever Cade Smith represented their home countries in the World Baseball Classic in March. Odor served as the first base coach for Team Venezuela while Cade Smith pitched for Team Canada.
This meant these two were playing and coaching in high intensity games before the regular season even started.
"When I talk to players that went to the World Series like [Jose] Altuve and some of the coaches, they said it was very similar and more excitement because you are representing a whole country," Odor said. "When you play in the World Series, you are representing a city and an organization, and it is extremely important as well, but in the WBC, they were talking that we were representing the whole country, and the feeling was a little different, and the excitement was outstanding."
Odor was right in the middle of the excitement as Team Venezuela went a perfect 4-0 in pool play defeating Puerto Rico, the Dominican Republic, Israel and Nicaragua.
After the outstanding run through pool play, Odor and Team Venezuela lost to Team USA, 9-7, in an incredible quarterfinal round game.
But for the native of Maracaibo, Venezuela, the ride from an interview to coaching some of the best players in baseball in amazing games is one he still talks about today.
"I was interviewed by some people in the Venezuelan Federation and got the opportunity to be the first base coach there and work with the outfielders and base runners," Odor said. "It was a great experience, and the atmosphere was unbelievable. Playing with the best players in the world and having the chance to be around the best Venezuelan players in baseball. I have been talking a lot since the last game of the WBC against the U.S. which was an unbelievable game. It was nice to be a part of it."
For Smith, his time with Team Canada was shorter than Odor's with Team Venezuela after Team Canada's tournament ended going 2-2 in pool play. But it was just as memorable.
"I think it was just phenomenally cool to be able to wear my home country's jersey across my chest," Smith said. "There were a lot of cool things about that team environment. There were a lot of young guys and a lot of really old guys, so I was able to have a lot of conversations with guys that have a lot of experience and have been doing this longer than me or done this before me or have made it and see what kind of wisdom they could pass along to me."
The right-hander appeared in two games during the World Baseball Classic, pitching an inning and allowed two runs while striking out one. But more important to Smith than his time on the mound was the continued growth pitching in the tournament gave him.
"That was a phenomenal experience," Smith said. "There was a lot that I learned from the second half in Akron about being calm in the midst of pretty crazy circumstances on the field that helped me just have fun on the mound. There were 30,000 people at the USA game, and they were loud and just being able to have a total blast with that and soak it in as much as I could and learn from the guys around me and to just play. I think we were close and it was a great experience."
Smith has been on an incredible role this season, using what he learned during his time in the Team Canada bullpen. So far in 12 games with Akron in 2023, Smith has saved 10 games striking out 19 batters while working to a 1.65 ERA.
Smith and Odor were not the only members of the World Baseball Classic that came through Akron during their careers. Bo Naylor (Akron 2021-22) was a teammate of Smith on Team Canada, Richie Palacios (Akron 2021) was on Team Netherlands, Yu Chang (Akron 2017) and Kungkuan Giljegiljaw (Akron 2018-19) were on Team Chinese Taipei.
While Jaime Arias did not make the tournament roster for Team Mexico, the RubberDucks left-hander did get a special moment during Team Mexico's exhibition game against the Guardians.
One of the Guardians coordinators called him early in the morning to ask him if he wanted to shift his schedule by a day to throw for Team Mexico. Arias said it was an absolute yes to get a chance to represent his heritage even if it was just for two-thirds of an inning.
"I ended up getting to throw for Team Mexico, for which I was nervous, but I got in and got out and did my thing," Arias said. "It was awesome. Those guys treated me like I was one of their own. That was it, that was the opportunity I got, but hopefully I can play for them in the next World Baseball Classic."