May 19: Gabriel Rodríguez homer lifts Akron in 11-9 thriller over Richmond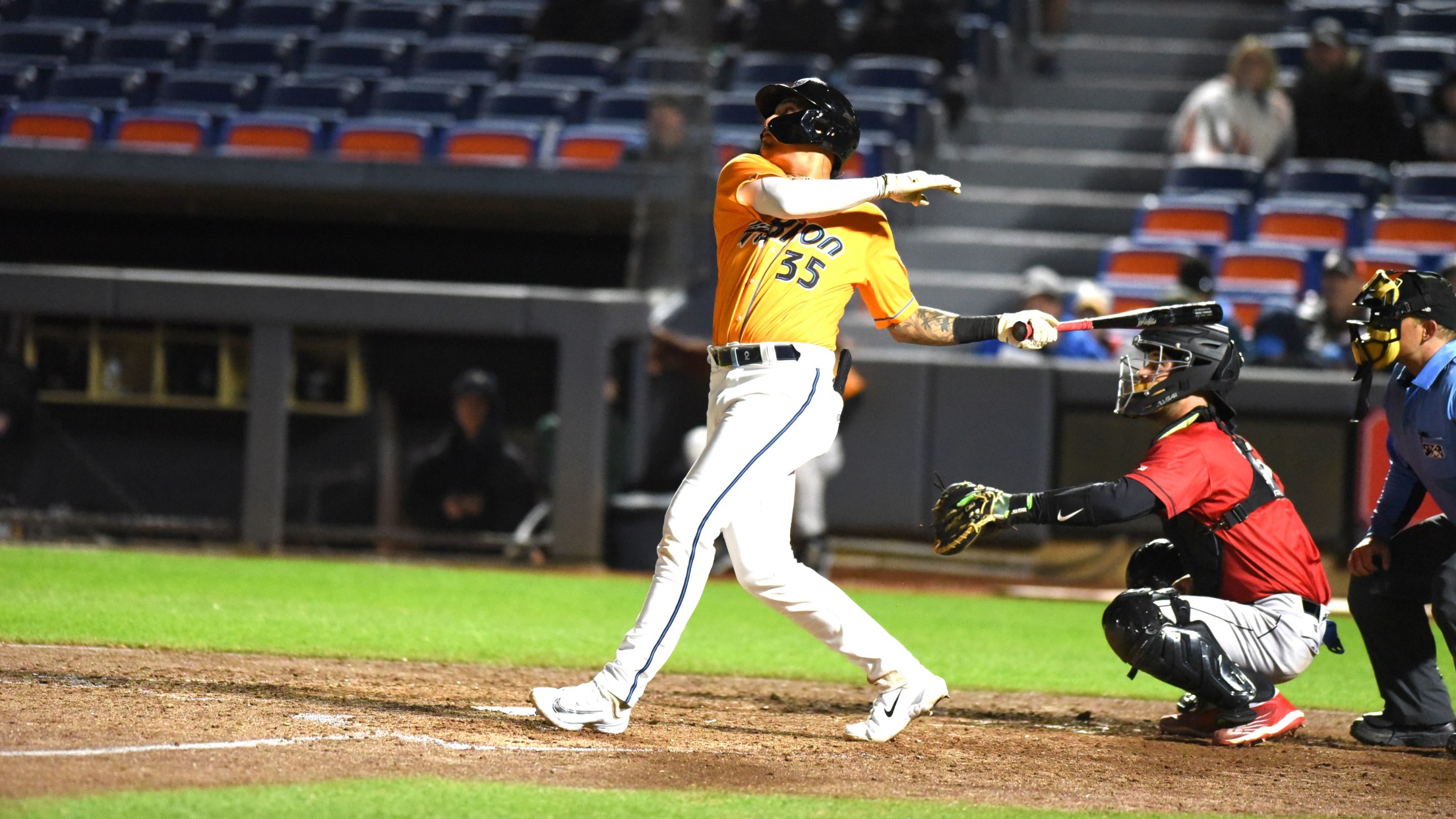 Gabriel Rodríguez hit his third home run of the season in the ninth inning Friday in Richmond. (Kayla McMillen)
May 19, 2023 RubberDucks Game Recap | Box Score Akron RubberDucks (19-17) 11, Richmond Flying Squirrels (18-18) 9 WP: Jordan Jones (1-1) LP: Juan Sanchez (3-2) Save: Cade Smith (11) Summary After Akron rallied to tie the game four separate times, third baseman Gabriel Rodríguez launched a go-ahead, three-run home
May 19, 2023 RubberDucks Game Recap | Box Score
Akron RubberDucks (19-17) 11, Richmond Flying Squirrels (18-18) 9
WP: Jordan Jones (1-1) LP: Juan Sanchez (3-2) Save: Cade Smith (11)
Summary
After Akron rallied to tie the game four separate times, third baseman Gabriel Rodríguez launched a go-ahead, three-run home run in the ninth inning to life the RubberDucks to an 11-9 win over the Richmond Flying Squirrels in the fourth game of a six-game series at The Diamond Friday afternoon.
GOODBYE BASEBALL!!!@Eldetejero launches that one way out of here!

TOP 9: Akron 11 | Richmond 8 pic.twitter.com/ViTzopMcw2

— Akron RubberDucks (@AkronRubberDuck) May 19, 2023
Turning Point
With Richmond leading, 8-7, entering the ninth inning, left-hander Juan Sanchez walked catcher Bryan Lavastida with one out. Left fielder Korey Holland singled to center field, chasing Sanchez. Against left-hander Raymond Burgos, a former Cleveland minor leaguer, center fielder Julian Escobedo grounded a game-tying RBI single to center field. The next pitch Rodríguez drilled to left field for his third home run of the season and Akron's first lead in the game, 11-8.
ICE!!@JulianEsco1_ ties the game back up with the RBI single!!

TOP 9: Akron 8 | Richmond 8 pic.twitter.com/XVcN5HlLmM

— Akron RubberDucks (@AkronRubberDuck) May 19, 2023
Mound Presence
Right-hander Hunter Stanley allowed Richmond to take the lead in the second inning with two runs on a walk and two hits, before allowing a two-run homer to left fielder Carter Aldrete in the third inning to make it 4-1. Aldrete also hit a go-ahead double in the fifth inning, chasing Stanley after 4 1/3 innings with five runs – four earned – on six hits and two walks with five strikeouts. Left-hander Randy Labaut worked two innings, walking one and striking out four, and was charged a run when right-hander Jordan Jones relieved him in the seventh and gave up a go-ahead, two-run home run to Riley Mahan. An unearned run scored against Jones in the eighth to give Richmond an 8-7 lead. Right-hander Cade Smith allowed Mahan's second home run in the ninth inning, but when right fielder Connor Kokx dove to catch the final out, Smith earned his Minor League Baseball-leading 11th save, converting his 19th straight save chance overall.
Duck Tales
The RubberDucks scored in the third inning against right-hander Carson Seymour on an RBI single by second baseman Angel Martínez. Akron tied it, 4-4, with a three-run fifth inning, capped by designated hitter José Tena's two-run single. In the sixth, first baseman Joe Naranjo hit an RBI double for a 5-5 tie. In the eighth, second baseman Aaron Bracho's two-run single tied the game, 7-7.
Got to be quicker than that!

Angel Martinez singles home our first run of the game!

TOP 3: Richmond 2 | Akron 1 pic.twitter.com/BsGA9CHwOO

— Akron RubberDucks (@AkronRubberDuck) May 19, 2023
A little help is all you need!

We get a run closer on the error!

TOP 5: Richmond 4 | Akron 2 pic.twitter.com/WAOU7njOjz

— Akron RubberDucks (@AkronRubberDuck) May 19, 2023
Answering back!!@joenaranjo_ doubles home @JulianEsco1_ to tie the game right back!

TOP 6: Akron 5 | Richmond 5 pic.twitter.com/SylvgkT3Ne

— Akron RubberDucks (@AkronRubberDuck) May 19, 2023
Like your shoe, this game is tied again!

Aaron Bracho singles home two to even the game back up!

TOP 8: Akron 7 | Richmond 7 pic.twitter.com/qBV3AcQHNq

— Akron RubberDucks (@AkronRubberDuck) May 19, 2023
Notebook
Holland has begun his Double-A career with an eight-game hitting streak (12-for-28), tied for the club's longest of the season…The 11 runs were Akron's second-most this season…Akron has at least 10 hits in seven of the 10 games on its road trip and is hitting .287 with 5.90 runs per game…For the second time on the trip, all nine batters in the lineup had a hit…Akron tied Erie (playing Friday night) for first place in the Southwest Division…Game Time: 3:09…Attendance: 7,065.
On the Pond
The RubberDucks continue their series in Richmond at 6:05 p.m. Saturday at The Diamond. Akron left-hander Jaime Árias (0-1, 5.40 ERA) is scheduled to face Flying Squirrels left-hander Nick Zwack (1-1, 6.17 ERA). The game broadcast is on 640 WHLO, the 640 WHLO iHeartRadio channel, and akronrubberducks.com, and available on Bally Live. Tickets for RubberDucks home games are available at akronrubberducks.com/tickets.