May 20: Ducks homer twice, but Squirrels win, 6-4, in Richmond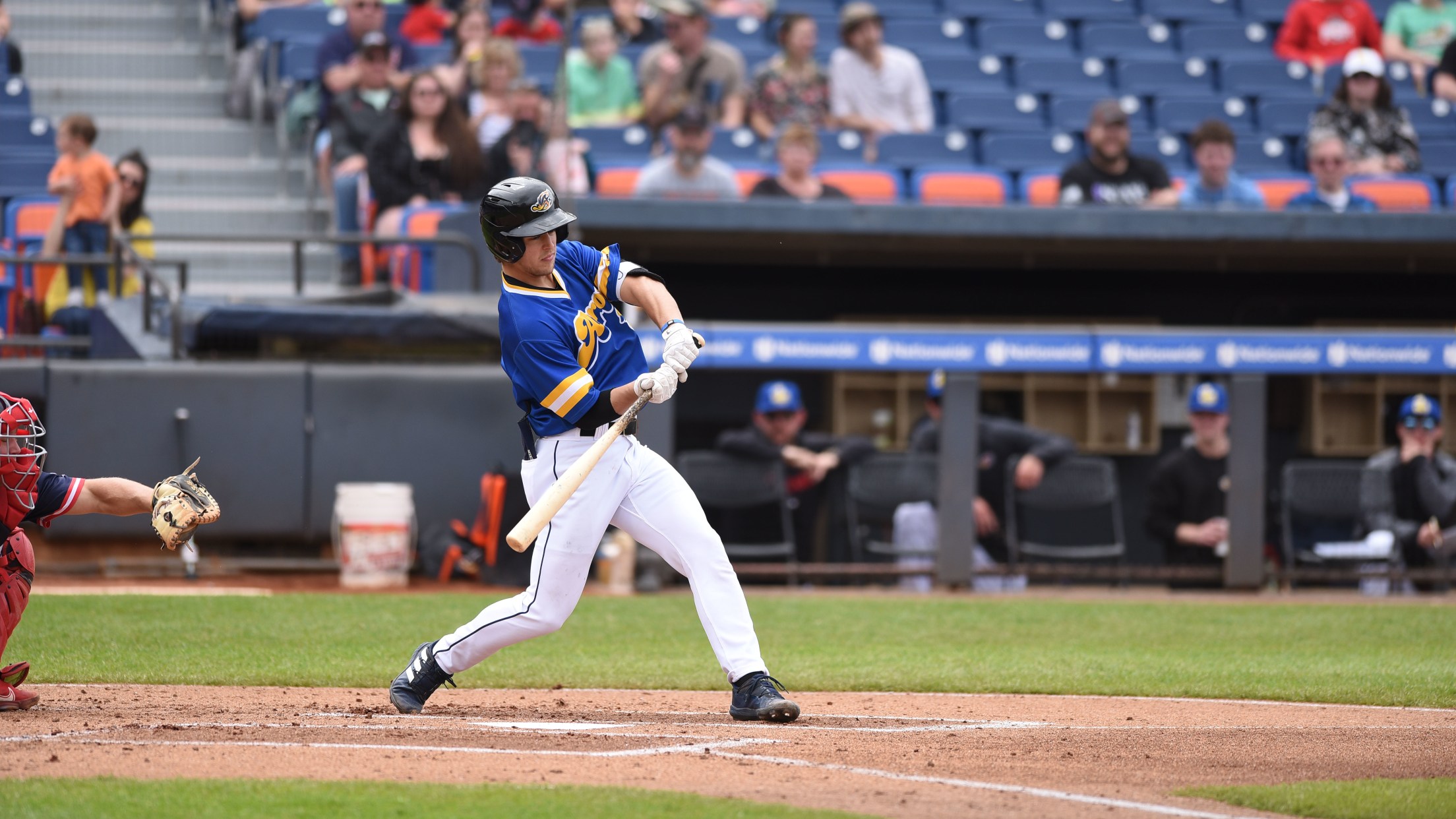 Connor Kokx had his fourth multi-hit game of the road trip Saturday in Richmond. (Kayla McMillen)
May 20, 2023 RubberDucks Game Recap | Box Score Richmond Flying Squirrels (19-18) 6, Akron RubberDucks (19-18) 4 WP: Blake Rivera (1-1) LP: Mason Hickman (0-2) Save: Evan Gates (4) Summary Akron left fielder Johnathan Rodríguez and third baseman Gabriel Rodríguez each homered in the fourth inning to give the
May 20, 2023 RubberDucks Game Recap | Box Score
Richmond Flying Squirrels (19-18) 6, Akron RubberDucks (19-18) 4
WP: Blake Rivera (1-1) LP: Mason Hickman (0-2) Save: Evan Gates (4)
Summary
Akron left fielder Johnathan Rodríguez and third baseman Gabriel Rodríguez each homered in the fourth inning to give the RubberDucks a 4-3 lead, but the Richmond Flying Squirrels overcame it, scoring two deciding runs in the seventh inning and prevailing, 6-4, in the fifth game of a six-game series at The Diamond Friday afternoon.
Launched 🚀@jjrodz55 blasts this ball way out of the park!!

TOP 4: Akron 3 | Richmond 3 pic.twitter.com/ndd8UM3CIm

— Akron RubberDucks (@AkronRubberDuck) May 20, 2023
He does it again!!@Eldetejero with an absolute 💣for the second day in a row!

TOP 4: Akron 4 | Richmond 3 pic.twitter.com/SXwerrifD3

— Akron RubberDucks (@AkronRubberDuck) May 20, 2023
Turning Point
In a 4-4 tie, right-hander Mason Hickman walked the first two batters of the seventh inning. Richmond right fielder Wade Meckler then lined a go-ahead single to right field. Right-hander Bradley Hanner entered and hit center fielder Vaun Brown with a pitch to load the bases, and a walk to shortstop Marco Luciano plated another run. Hanner retired the next three batters, but Richmond had taken a 6-4 lead.
Mound Presence
Left-hander Jaime Árias retired the first seven Flying Squirrels, before he allowed a walk, Meckler single, and Brown's three-run home run to give Richmond a 3-2 lead. In the fourth, Árias allowed a leadoff double to left fielder Carter Aldrete, who later scored on a sacrifice fly. After two hits and one out in the fifth, Árias yielded to Hickman, who stranded the bases loaded when third baseman Gabriel Rodríguez made a barehand play. In the seventh, Hickman allowed the go-ahead runs, and Hanner got three outs to finish the inning. Hanner also pitched a scoreless eighth inning.
Duck Tales
The RubberDucks took a first-inning lead against left-hander Nick Zwack. Shortstop José Tena drew a two-out walk and scored on catcher Bryan Lavastida's RBI double to left-center field. In the third, center fielder Connor Kokx singled, advanced on a walk to second baseman Aaron Bracho and sacrifice by designated hitter Angel Martínez, and scored on Tena's sacrifice fly. The two Rodríguez homers in the fourth inning chased Zwack, but Richmond relievers pitched 5 2/3 scoreless innings (right-hander Matt Frisbee for 2 2/3 innings, right-hander Blake Rivera for two, and right-hander Evan Gates for the ninth inning). Akron had the tying runs in scoring position in the ninth, but Bracho's flyout ended the game.
Scoring early tonight!!@Lavastida_ puts on the board in the first with a RBI double!

TOP 1: Akron 1 | Richmond 0 pic.twitter.com/JcXGLm6P4S

— Akron RubberDucks (@AkronRubberDuck) May 20, 2023
SO SMOOTH!!!@connorkokx with the great slide to score on the Tena sac-fly!

TOP 3: Akron 2 | Richmond 0 pic.twitter.com/UjIY3GnQFa

— Akron RubberDucks (@AkronRubberDuck) May 20, 2023
Notebook
Gabriel Rodríguez has three home runs on the road trip…Lavastida tied his season high with three hits…Holland has begun his Double-A career with a nine-game hitting streak (13-for-32), the club's longest of the season…Kokx had his fourth multi-hit game of the road trip and is 10-for-25 (.400) with six walks, a .559 on-base percentage and six runs scored in eight games played on the trip…Game Time: 2:33…Attendance: 8,987.
On the Pond
The RubberDucks conclude their series in Richmond at 1:35 p.m. Sunday at The Diamond. Akron right-hander Tanner Burns (2-1, 2.93 ERA) is scheduled to face Flying Squirrels right-hander Mason Black (0-3, 4.62 ERA). The game broadcast is on 640 WHLO, the 640 WHLO iHeartRadio channel, and akronrubberducks.com, and available on Bally Live. Tickets for RubberDucks home games are available at akronrubberducks.com/tickets.