May 21: Squirrels' three homers in 8th beat RubberDucks, 5-3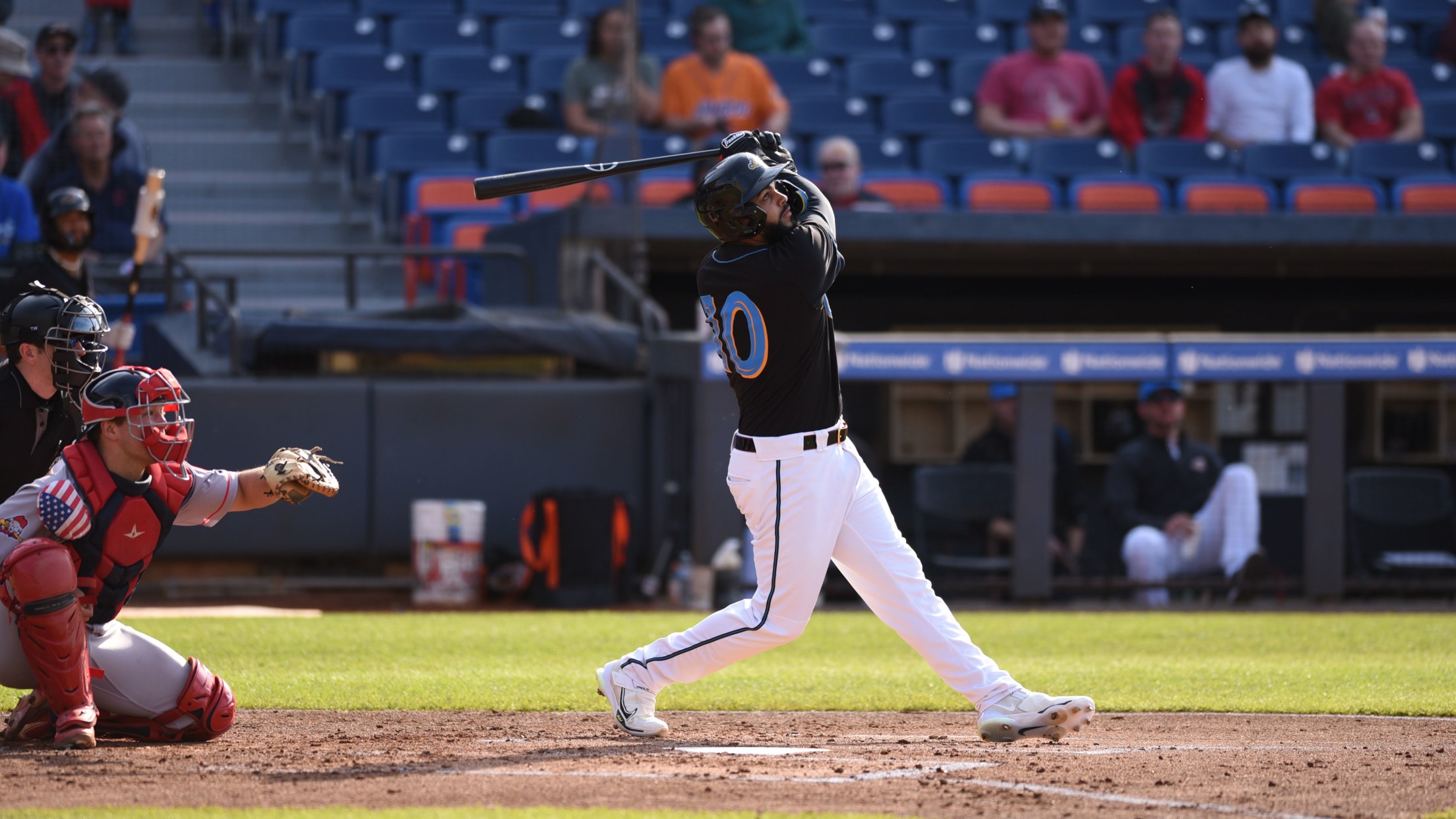 Johnathan Rodríguez homered for a second straight game Sunday in Richmond. (Kayla McMillen)
May 21, 2023 RubberDucks Game Recap | Box Score Richmond Flying Squirrels (20-18) 5, Akron RubberDucks (19-19) 3 WP: Raymond Burgos (2-1) LP: Zach Hart (0-1) Save: none Summary Akron left fielder Johnathan Rodríguez hit a first-inning home run, and the RubberDucks took a 3-2 lead in the top of
May 21, 2023 RubberDucks Game Recap | Box Score
Richmond Flying Squirrels (20-18) 5, Akron RubberDucks (19-19) 3
WP: Raymond Burgos (2-1) LP: Zach Hart (0-1) Save: none
Summary
Akron left fielder Johnathan Rodríguez hit a first-inning home run, and the RubberDucks took a 3-2 lead in the top of the eighth inning, but the Richmond Flying Squirrels hit three home runs in the bottom of the eighth to earn a 5-3 series finale victory and a split the six-game series at The Diamond Sunday afternoon.
Another @jjrodz55 🚀

TOP 1 | Akron 2 | Richmond 0 pic.twitter.com/es4Rud6bpm

— Akron RubberDucks (@AkronRubberDuck) May 21, 2023
Turning Point
With Akron leading, 3-2, entering the bottom of the eighth inning, right-hander Zach Hart had retired seven straight Flying Squirrels batters, but Richmond shortstop Marco Luciano led off the eighth inning with a game-tying home run to left field. Two batters later, left fielder Carter Aldrete hit a go-ahead home run to center field. The next batter, designated hitter Andy Thomas homered off right-hander Trey Benton to make it 5-3.
Mound Presence
Right-hander Tanner Burns allowed Richmond to tie the game with two runs in the first inning after a walk and two singles, but he did not allow another run in the rest of his start. He worked around three more walks, holding the Flying Squirrels hitless after the first inning. He lasted 4 2/3 innings, walking four batters and striking out two. Hart relieved him with a runner at third base in the fifth inning and escaped the inning before working perfect sixth and seventh innings. The two home runs were the only hits off Hart in 2 2/3 innings with two strikeouts. Benton got the last two outs of the eighth.
Duck Tales
Akron jumped to a first-inning lead against right-hander Mason Black, as shortstop José Tena drew a two-out walk, and Rodríguez homered for the second straight game, giving him four home runs this season. The RubberDucks were shut out until the eighth inning, when right-hander Randy Rodríguez walked catcher Michael Berglund, right fielder Connor Kokx, and Tena to load the bases with one out. He struck out Johnathan Rodríguez, but designated hitter Korey Holland's two-out ground ball was dropped by third baseman Hayden Cantrelle, scoring Berglund for a 3-2 Akron lead. In the ninth inning against former Cleveland minor leaguer Raymond Burgos, Akron loaded the bases with two walks and a hit, but Burgos struck out Tena to end the game.
After 3 walks, a ball put in play by @holland_korey scores @mikeberg_08 for the go-ahead run

TOP 8 | Akron 3 | Richmond 2 pic.twitter.com/XLBj569BuQ

— Akron RubberDucks (@AkronRubberDuck) May 21, 2023
Notebook
Holland went 0-for-4, ending his nine-game hitting streak to begin his Double-A career and the longest by a RubberDuck this season…Third baseman Gabriel Rodríguez extended an eight-game hitting streak…Tena walked twice to extend a 12-game on-base streak…Game Time: 2:29…Attendance: 7,488.
On the Pond
The RubberDucks open a two-week, 12-game homestand with the first of six with the Bowie Baysox at 11:05 a.m. Tuesday at Canal Park. The game broadcast is on 640 WHLO, the 640 WHLO iHeartRadio channel, and akronrubberducks.com, and available on Bally Live. Tickets for RubberDucks home games are available at akronrubberducks.com/tickets.