May 24: Bowie blanks Akron 9-0 despite perfect Morris inning and 10 Nikhazy strikeouts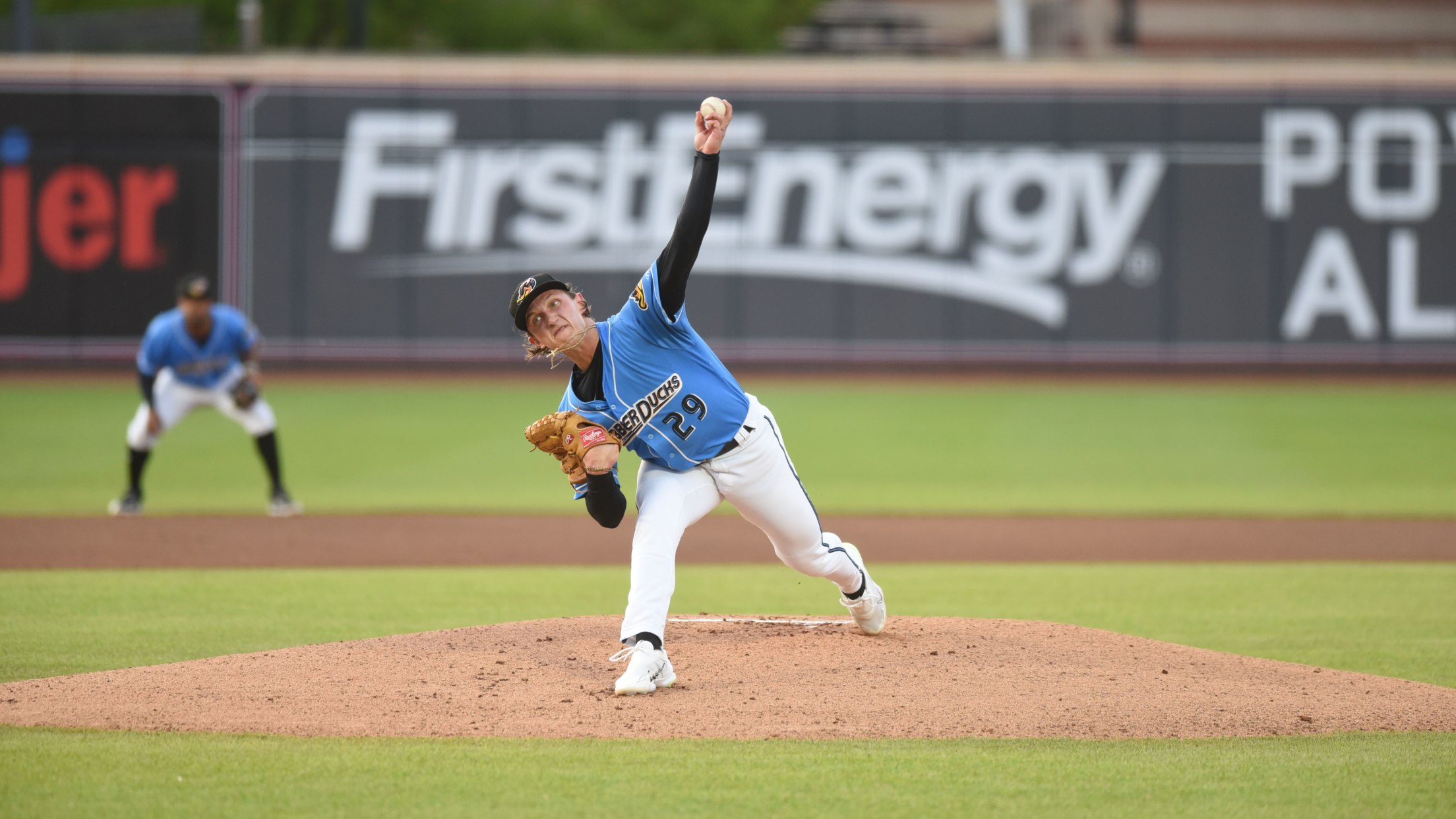 Doug Nikhazy earned his first Double-A win with a season-high nine strikeouts in Richmond Thursday night. (Kayla McMillen)
RubberDucks Game Recap | Box Score Bowie Baysox (14-25) 9, Akron RubberDucks (19-21) 0 WP: Garrett Stallings (1-2) LP: Doug Nikhazy (1-1) Save: Peter Van Loon (1) Summary Cody Morris tossed a perfect rehab inning and Doug Nikhazy struck out 10, but the Bowie Baysox scattered six Akron hits and
RubberDucks Game Recap | Box Score
Bowie Baysox (14-25) 9, Akron RubberDucks (19-21) 0
WP: Garrett Stallings (1-2) LP: Doug Nikhazy (1-1) Save: Peter Van Loon (1)
Summary
Cody Morris tossed a perfect rehab inning and Doug Nikhazy struck out 10, but the Bowie Baysox scattered six Akron hits and used two big innings to shutout the Akron RubberDucks 9-0 on Wednesday night at Canal Park.
Turning Point
Bowie added some late inning insurance to its 1-0 lead in the sixth inning. Coby Mayo launched a two-run home run to increase the lead to 3-0 Baysox. An Isaac Bellony RBI single and Anthony Servideo sac-fly stretched the Bowie lead to 5-0.
Mound Presence
Morris looked strong in his first rehab start since being placed on the Injured List on March 30. The right-hander opened the game getting Henston Kjerstad to flyout and Coby Mayo to pop out before striking out John Rhodes. Morris only needed 11 pitches (six strikes) in his inning of work. Nikhazy dominated the Baysox lineup at times following Morris. The left-hander struck out four the first time through the Bowie order and only allowed one run. The Baysox got to Nikhazy in the sixth, but he rebounded to strikeout the last three he face. Mason Hickman followed with a scoreless inning and a third. Cade Smith allowed four runs in his inning of work.
Rehab update:@CleGuardians Cody Morris tossed a perfect inning with a strikeout ⚔️ pic.twitter.com/5L0zfxC7fD

— Akron RubberDucks (@AkronRubberDuck) May 24, 2023
Duck Tales
Akron's offense was unable to capitalize on base hits throughout the game. The RubberDucks were only set down in order twice, but stranded nine and were 1-for-6 with runners in scoring position.
Notebook
10 strikeouts are a season high for Nikhazy and one away from tying his career high of 11 (7/9/2022)…Bryan Lavastida worked two walks to extend his team-long on-base streak to 14 games…Game Time: 2:27…Attendance: 2,065.
On the Pond
The RubberDucks will continue their series at Canal Park against the Bowie Baysox on Thursday, May 25 at 6:35 p.m. Akron right-hander Hunter Stanley (0-3, 4.99 ERA) will get the start against Bowie right-hander Chayce McDermott (3-2, 2.62 ERA). The game broadcast is on 640 WHLO, the 640 WHLO iHeartRadio channel, and akronrubberducks.com, and available on Bally Live. Tickets for all RubberDucks home games, are available at akronrubberducks.com/tickets.
Superman @peteyhalpin with another amazing catch!! pic.twitter.com/jqMKcXbAuh

— Akron RubberDucks (@AkronRubberDuck) May 25, 2023