May 31: Stanley and early offense help Akron to 5-2 win over Hartford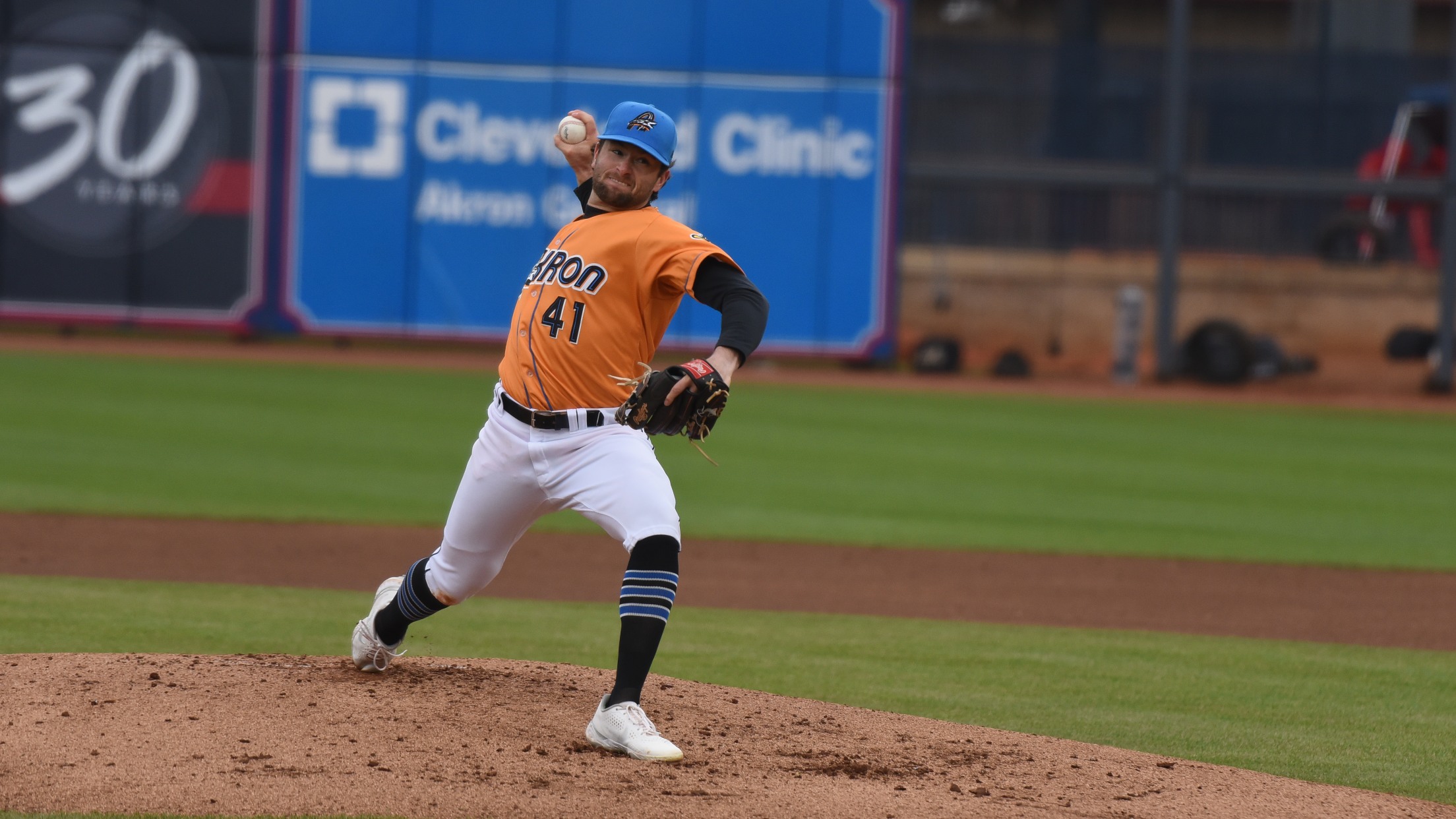 Hunter Stanley held Altoona to one run in a career-long 6 1/3 innings Friday night. (Kayla McMillen)
RubberDucks Game Recap | Box Score Akron RubberDucks (22-24) 5, Hartford Yard Goats (22-24) 2 WP: Hunter Stanley (2-3) LP: Nick Garcia (0-4) Save: Cade Smith (13) Summary A five-run first inning offensive explosion backed Hunter Stanley's strong start as the Akron RubberDucks even the series against the Hartford Yard
RubberDucks Game Recap | Box Score
Akron RubberDucks (22-24) 5, Hartford Yard Goats (22-24) 2
WP: Hunter Stanley (2-3) LP: Nick Garcia (0-4) Save: Cade Smith (13)
Summary
A five-run first inning offensive explosion backed Hunter Stanley's strong start as the Akron RubberDucks even the series against the Hartford Yard Goats with a 5-2 on Wednesday night at Canal Park.
Turning Point
Akron jumped all over Hartford in the first. Petey Halpin and Angel Martinez each singled to open up the game to set up a three-run home run by Jose Tena to make it 3-0 Akron. Later in the inning, Joe Naranjo doubled home Bryan Lavastida to make it 4-0 RubberDucks. Connor Kokx capped the scoring with a sac-fly to make it 5-0 Akron.
JOSE TENA FOR 3!!!!!

BOT 1: Akron 3 | Hartford 0 pic.twitter.com/d7Fc8Ao0g1

— Akron RubberDucks (@AkronRubberDuck) May 31, 2023
Hitting 🤝 Real Estate
All about location@joenaranjo_ doubles home a run to stretch the lead!

BOT 1: Akron 4 | Hartford 0 pic.twitter.com/WAibrIrpJS

— Akron RubberDucks (@AkronRubberDuck) May 31, 2023
Oh its the BIG inning!!@connorkokx lifts a sac-fly to score another!

BOT 1: Akron 5 | Hartford 0 pic.twitter.com/Mu9tqVjKeB

— Akron RubberDucks (@AkronRubberDuck) May 31, 2023
Mound Presence
The five runs were more than enough for Stanley, who dominated the Yard Goats offense for most of the outing. After surrendering a leadoff single, the right-hander set down the next 12 Hartford batters in a row. Stanley finished his outing after six and a third scoreless innings allowing five hits and striking out four. Randy Labaut allowed a run over an inning and a third. Trey Benton tossed an inning allowing a run, but exited with runners on the corners in the ninth. Cade Smith struck out Bladimir Restituyo to pick up the save.
Who else but @connorkokx making amazing plays!?! pic.twitter.com/HRNLwj9xei

— Akron RubberDucks (@AkronRubberDuck) May 31, 2023
Duck Tales
Akron's offense was held in check after the hot start. The RubberDucks picked up four hits the rest of the way, but seven of the nine Akron batters picked up hits in the victory.
Notebook
Tena's home run was his first since Sept. 18, 2022 against Bowie…Smith's save is his 13th save of the season and 21st consecutive save since his first Double-A save on Aug. 3, 2022…Game Time: 2:20…Attendance: 1,708.
On the Pond
The RubberDucks will continue their series at Canal Park with the Hartford Yard Goats on Thursday, June 1 at 6:35 p.m. Left-hander Jaime Arias (0-2, 6.89 ERA) will take the mound for Akron. The game broadcast is on 640 WHLO, the 640 WHLO iHeartRadio channel, and akronrubberducks.com, and available on Bally Live. Tickets for all RubberDucks home games, are available at akronrubberducks.com/tickets.