June 2: Hit by pitch gives Akron 4-3 walk-off win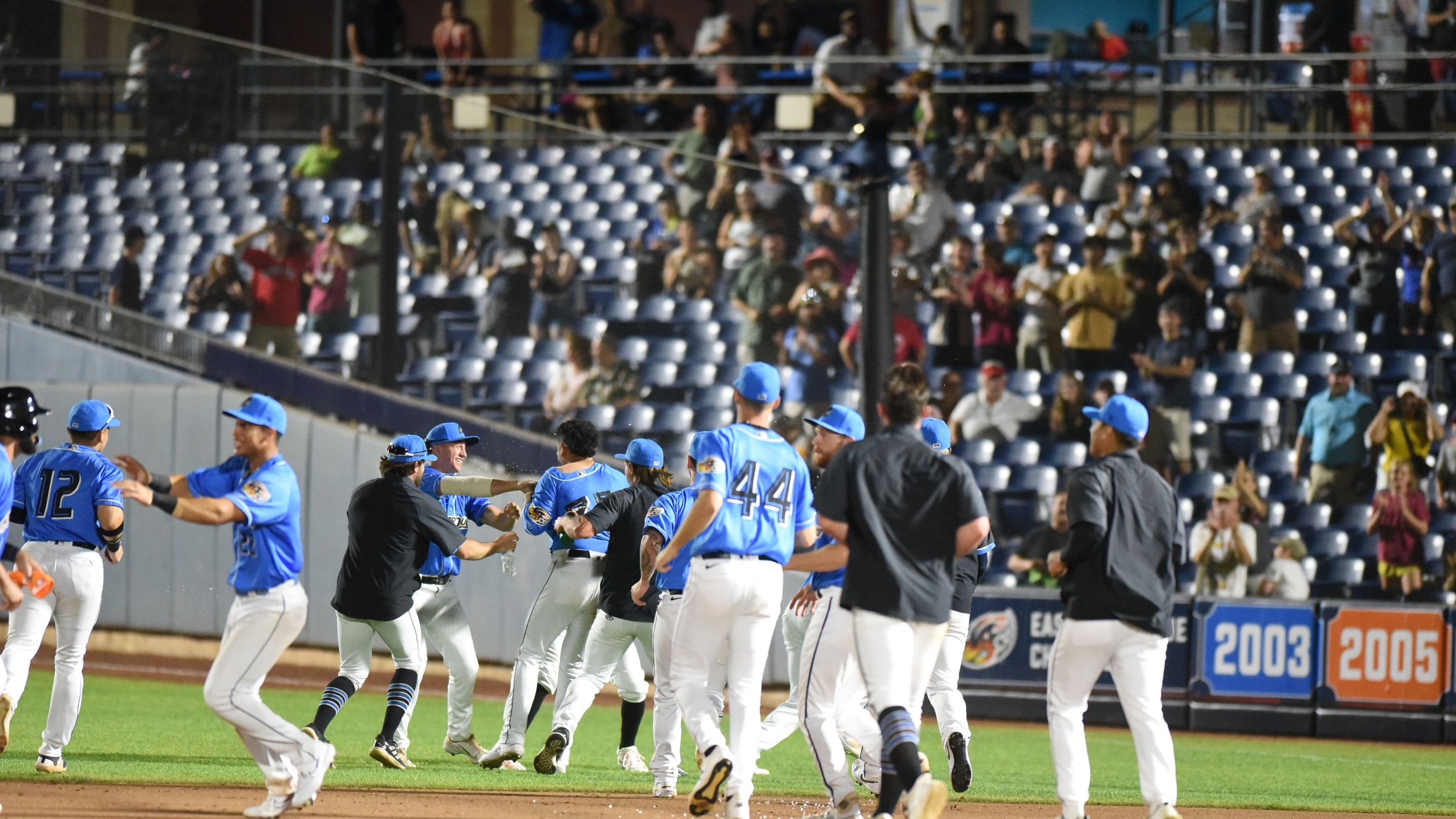 RubberDucks Game Recap | Box Score Akron RubberDucks (23-25) 4, Hartford Yard Goats (23-25) 3 WP: Bradley Hanner (5-2) LP: Michael Petersen (0-1) Save: N/A Summary Gabriel Rodriguez's hit-by-pitch with the bases loaded caps the late game comeback as the Akron RubberDucks walk-off the Hartford Yard Goats 4-3 on Friday
RubberDucks Game Recap | Box Score
Akron RubberDucks (23-25) 4, Hartford Yard Goats (23-25) 3
WP: Bradley Hanner (5-2) LP: Michael Petersen (0-1) Save: N/A
Summary
Gabriel Rodriguez's hit-by-pitch with the bases loaded caps the late game comeback as the Akron RubberDucks walk-off the Hartford Yard Goats 4-3 on Friday night at Canal Park.
Turning Point
Hartford took a 3-2 lead into the bottom of the ninth. Juan Brito saw eight pitches to work a leadoff walk. After an error and a flyout, Johnathan Rodriguez singled to load the bases with one out. Joe Naranjo tied the game with a sacrifice fly to score Brito. After Korey Holland was intentionally walked to reload the bases, G. Rodriguez was hit by the pitch to give Akron the 4-3 win.
Mound Presence
Tanner Burns got the start for Akron and looked dominant early striking out three of the first six he faced. Hartford eventually got to the right-hander for a solo home run in the third and two in the fifth, but overall, the Akron starter struck out six over five innings allowing just three runs. Erik Sabrowski tossed a scoreless inning with two strikeouts in his first outing since 2021. Mason Hickman struck out four over two scoreless innings. Bradley Hanner worked a perfect ninth.
Gold Glove play by the Gold Glove winner!@joenaranjo_ with an amazing play at first! pic.twitter.com/PRCT5tzBm9

— Akron RubberDucks (@AkronRubberDuck) June 3, 2023
Duck Tales
After Hartford jumped ahead in the early innings, Akron once again quickly answered in the bottom of the third. Jose Tena doubled with two outs to keep the inning alive for Bryan Lavastida. The RubberDucks catcher singled home Tena to knot the game at 1-1. Akron's offense used two-out magic once again in the eighth, this time to cut into the Yard Goats lead. Holland worked a two-out walk and G. Rodriguez was hit by a pitch to set runners on first and second for Connor Kokx, who lined a single into right to make it 3-2 Hartford.
AND WE ARE TIED!!@Lavastida_ singles up the middle to tie the game!

BOT 3: Akron 1 | Hartford 1 pic.twitter.com/VhMpbd0gSy

— Akron RubberDucks (@AkronRubberDuck) June 2, 2023
Getting closer!!@connorkokx lines a single into right to plate a run!

BOT 8: Hartford 3 | Akron 2 pic.twitter.com/f852lr6FKQ

— Akron RubberDucks (@AkronRubberDuck) June 3, 2023
Notebook
RubberDucks manager Rouglas Odor is now nine wins away from becoming the winningest manager in Akron franchise history (1989-present)…J.Rodriguez is 5-for-8 in his last two games after going 0-for-16 in his previous four…Sabrowski appeared in his first game since having season-ending Tommy John surgery in Aug. 2021…Game Time: 2:42…Attendance: 5,076.
On the Pond
The RubberDucks will continue their series at Canal Park with the Hartford Yard Goats on Saturday, June 3 at 7:05 p.m. Akron right-hander Jack Leftwich (3-4, 9.00 ERA) will take the mound against Hartford lefty Joe Rock (0-0, 3.38 ERA). The game broadcast is on 640 WHLO, the 640 WHLO iHeartRadio channel, and akronrubberducks.com, and available on Bally Live. Tickets for all RubberDucks home games, are available at akronrubberducks.com/tickets.