June 4: Late runs lift Akron over Hartford 3-1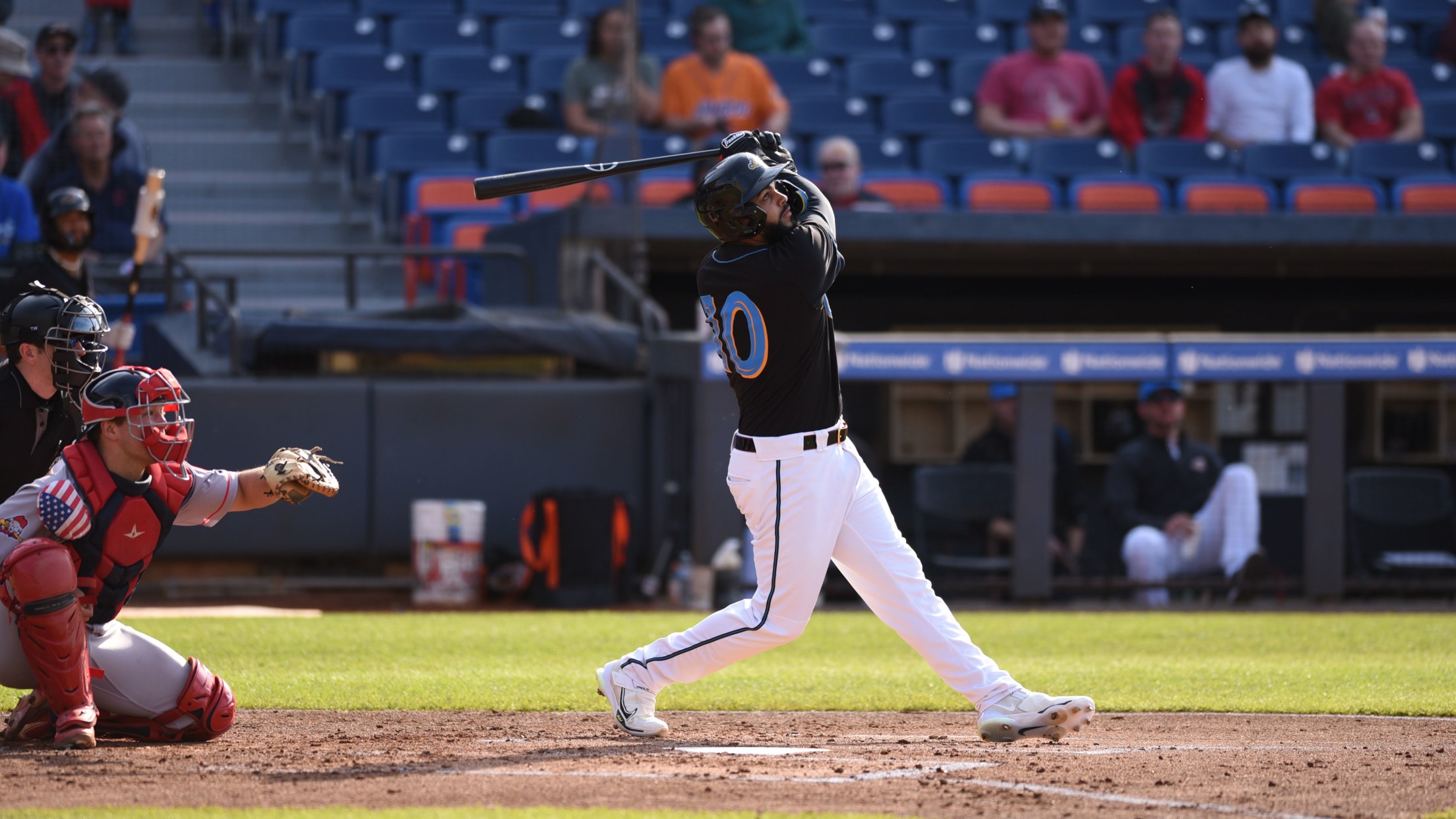 Johnathan Rodríguez homered for a second straight game Sunday in Richmond. (Kayla McMillen)
RubberDucks Game Recap | Box Score Akron RubberDucks (25-25) 3, Hartford Yard Goats (23-27) 1 WP: Cade Smith (1-0) LP: Austin Kitchen (2-2) Save: N/A Summary Johnathan Rodriguez and Juan Brito each drive in a run in the eighth inning to help the Akron RubberDucks to a 3-1 victory and
RubberDucks Game Recap | Box Score
Akron RubberDucks (25-25) 3, Hartford Yard Goats (23-27) 1
WP: Cade Smith (1-0) LP: Austin Kitchen (2-2) Save: N/A
Summary
Johnathan Rodriguez and Juan Brito each drive in a run in the eighth inning to help the Akron RubberDucks to a 3-1 victory and series win over the Hartford Yard Goats on Sunday afternoon at Canal Park.
Turning Point
Akron's offense broke the 1-1 tie in the bottom of the eighth. Angel Martinez and Jose Tena each opened the inning with back-to-back singles to put runners on first and second. Rodriguez lined one off the pitcher's mound into center to score Martinez and put Akron ahead 2-1. Brito kept the offense flowing by singling into left to give the RubberDucks a much-needed insurance run 3-1.
We have the lead!!!@jjrodz55 singles back up the middle to put us in front!

BOT 8: Akron 2 | Hartford 1 pic.twitter.com/u1NbmbpdgJ

— Akron RubberDucks (@AkronRubberDuck) June 4, 2023
Insurance is great!!

Juan Brito with a RBI single to stretch the lead!!

BOT 8: Akron 3 | Hartford 1 pic.twitter.com/J4ROPCfGzu

— Akron RubberDucks (@AkronRubberDuck) June 4, 2023
Mound Presence
Doug Nikhazy got the start for Akron and worked around baserunners for most of his outing. The left-hander allowed three hits, two walks and hit a batter in five innings, but struck out six and got a big double play to only allow one batter to score. Zach Hart and Davis Sharpe combined to toss two scoreless innings. Cade Smith struck out three over two scoreless innings to pick up the win.
Duck Tales
After Hartford took the early lead, Akron answered back in the sixth. Martinez went first to third on a Tena single, but the throw from Yard Goats right-fielder Zac Veen was wide of third base, which allowed Martinez to come home and knot the game at 1-1.
Speed!!!!

Jose Tena singles and then great baserunning forces the error to bring home the run!

BOT 6: Akron 1 | Hartford 1 pic.twitter.com/RBZ8uzWj4e

— Akron RubberDucks (@AkronRubberDuck) June 4, 2023
Notebook
RubberDucks manager Rouglas Odor is now seven wins away from becoming the winningest manager in Akron franchise history (1989-present)…Brito tormented his former organization collecting 10 hits and six RBI in the series…Game Time: 2:22…Attendance: 4,126.
On the Pond
The RubberDucks will have Monday off before traveling to Portland and New Hampshire for a 12-game in 13 days road trip starting on Tuesday, June 6 at 6:00 p.m. in Portland. The RubberDucks will return to Akron on June 20 to start a series against Binghamton. The game broadcast is on 640 WHLO, the 640 WHLO iHeartRadio channel, and akronrubberducks.com, and available on Bally Live. Tickets for all RubberDucks home games, are available at akronrubberducks.com/tickets.