June 6: Portland power and speed down RubberDucks, 6-2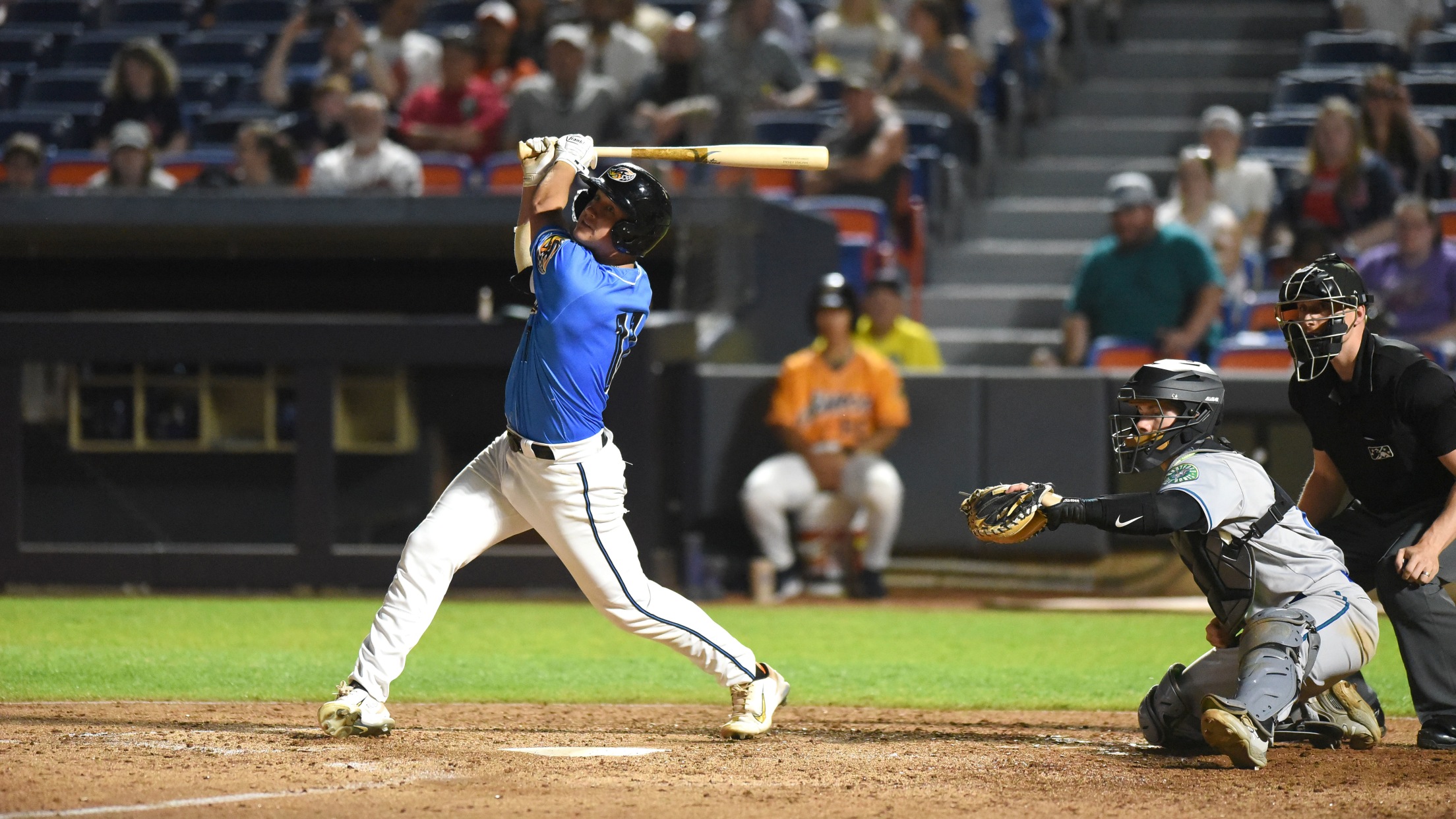 Petey Halpin had two doubles among three hits and an RBI Tuesday in Portland. (Kayla McMillen)
June 6, 2023 RubberDucks Game Recap | Box Score Portland Sea Dogs (33-19) 6, Akron RubberDucks (25-26) 2 WP: Brian Van Belle (3-3) LP: Hunter Stanley (2-4) Save: none Summary Akron center fielder Petey Halpin had three hits, including two doubles, but Portland hit two homers and stole six bases
June 6, 2023 RubberDucks Game Recap | Box Score
Portland Sea Dogs (33-19) 6, Akron RubberDucks (25-26) 2
WP: Brian Van Belle (3-3) LP: Hunter Stanley (2-4) Save: none
Summary
Akron center fielder Petey Halpin had three hits, including two doubles, but Portland hit two homers and stole six bases for a 6-2 Sea Dogs victory over the RubberDucks in the opener of a six-game series at Hadlock Field Tuesday night.
Turning Point
In a scoreless tie in the second inning, Akron right-hander Hunter Stanley allowed consecutive singles to left fielder Corey Rosier and center fielder Cedanne Rafaela. Rafaela stole second base – the first of his three in the game – before second baseman Nick Yorke and shortstop Marcelo Mayer hit consecutive sacrifice flies for a 2-0 Portland lead.
Mound Presence
After allowing two runs in the second inning, Stanley walked two of the first three batters in the fourth inning, before designated hitter Alex Binelas hit a three-run home run to right-center field, making it 5-0. Stanley lasted four innings, walking two batters and striking out four. Right-hander Mason Hickman pitched two innings, allowing a fifth-inning solo home run by third baseman Chase Miedroth and striking out three batters. Right-hander Trey Benton walked one batter and struck out two in two scoreless innings.
Duck Tales
The RubberDucks reached the scoreboard in the fifth inning against right-hander Brian Van Belle. Right fielder Johnathan Rodríguez walked, left fielder Alexfri Planez doubled to right-center field, and a passed ball scored Rodríguez. Halpin hit an RBI double to left-center field but was thrown out trying to reach third base on the play. Akron had only one hit over the final four innings. Van Belle worked six innings, and three relievers worked one each.
Angel Martínez fields a grounder while dodging the broken bat...almost like he practices every day😉 pic.twitter.com/JbrXSfRoer

— Akron RubberDucks (@AkronRubberDuck) June 6, 2023
Notebook
Third baseman Angel Martínez extended an 11-game hitting streak with a first-inning bunt single…Second baseman Juan Brito was hitless, ending an 11-game hitting streak he began with High-A Lake County and had continued for eight games with Akron…Designated hitter Korey Holland extended a five-game hitting streak…Akron is 3-4 against Portland, which has the Eastern League's best record…Game Time: 2:18…Attendance: 4,230.
On the Pond
The RubberDucks continue their series in Portland at 6:00 p.m. Wednesday at Hadlock Field. Akron left-hander Jaime Árias (0-2, 6.30 ERA) is scheduled to face Sea Dogs right-hander Sterling Sharp (1-0, 3.12 ERA). The game broadcast is on 640 WHLO, the 640 WHLO iHeartRadio channel, and akronrubberducks.com, and available on Bally Live. Tickets for RubberDucks home games are available at akronrubberducks.com/tickets.