RubberDucks Jose Tena and Jack Leftwich sweep Eastern League POTW honors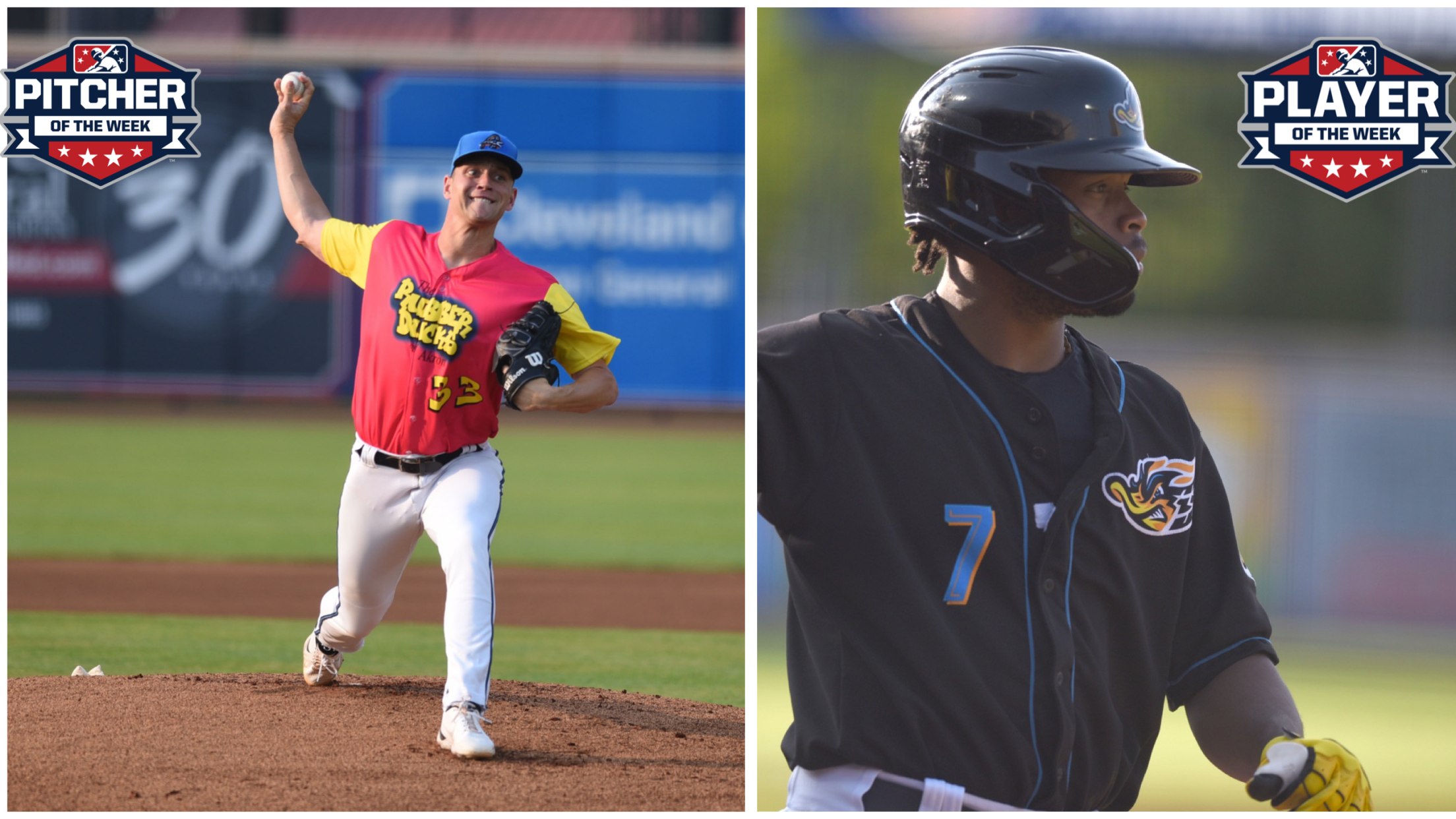 (AKRON, OHIO) June 5, 2023 – Akron RubberDucks infielder José Tena was named Eastern League Player of the Week and right-hander Jack Leftwich was named Eastern League Pitcher of the Week for Week 9, May 30-June 4. Tena went 11-for-25 with two doubles, a triple, six RBI and six runs
(AKRON, OHIO) June 5, 2023 – Akron RubberDucks infielder José Tena was named Eastern League Player of the Week and right-hander Jack Leftwich was named Eastern League Pitcher of the Week for Week 9, May 30-June 4.
Tena went 11-for-25 with two doubles, a triple, six RBI and six runs scored in the series against the Hartford Yard Goats. Tena hit his first home run of the season on May 31 to help Akron to a 5-2 win.
A 2017 free-agent signing by Cleveland from San Cristobal, Dominican Republic, the 22-year-old Tena is in his second season with Akron. In 36 games this season, he is batting .213 with one home run, eight doubles, 16 RBI and a team-high seven stolen bases.
Leftwich tossed six no-hit innings while striking out four in Akron's 15-1 win over Hartford on June 3.
A 2021 seventh-round pick out of Florida, the 24-year-old Leftwich is in his first season with the RubberDucks. In nine games (six starts) this season, Leftwich is 4-4 with a 7.26 ERA and 29 strikeouts over 31 innings pitched. His four wins are tied for third most in the Guardians organization and he has walked just nine batters over 31 innings.
Tena is the first member of the 2023 RubberDucks to be named Eastern League Player of the Week this season. Leftwich is the second RubberDucks pitcher to earn Eastern League Pitcher of the Week honors this season. Gavin Williams was named Pitcher of the Week after striking out eight over five hitless innings on April 20.
The Akron RubberDucks will hit the road to Portland and New Hampshire from June 6-18. The RubberDucks return to Canal Park on Tuesday, June 20, at 6:35 p.m. for the start of seven games in six days against the Binghamton Rumble Ponies. Friday, June 23 will be a special double header against Binghamton starting at 5:05 p.m.
Tickets to all RubberDucks home games are available by calling 855-97-QUACK or by visiting akronrubberducks.com.
The Akron RubberDucks are the Double-A affiliate of the Cleveland Guardians. The RubberDucks season at Canal Park runs all summer long through September 17. Fans can purchase tickets by calling 330-253-5151 from 9 a.m. to 5 p.m. on weekdays, or visit akronrubberducks.com/. For more information about the team, please call 330-253-5151, visit the website at akronrubberducks.com, Facebook page facebook.com/AkronRubberDucks, or on Twitter @AkronRubberDuck, and Instagram @akronrubberducks.