Endy's Electric in Curve Thursday Night Win
Endy Rodriguez hits two home runs in the win for Altoona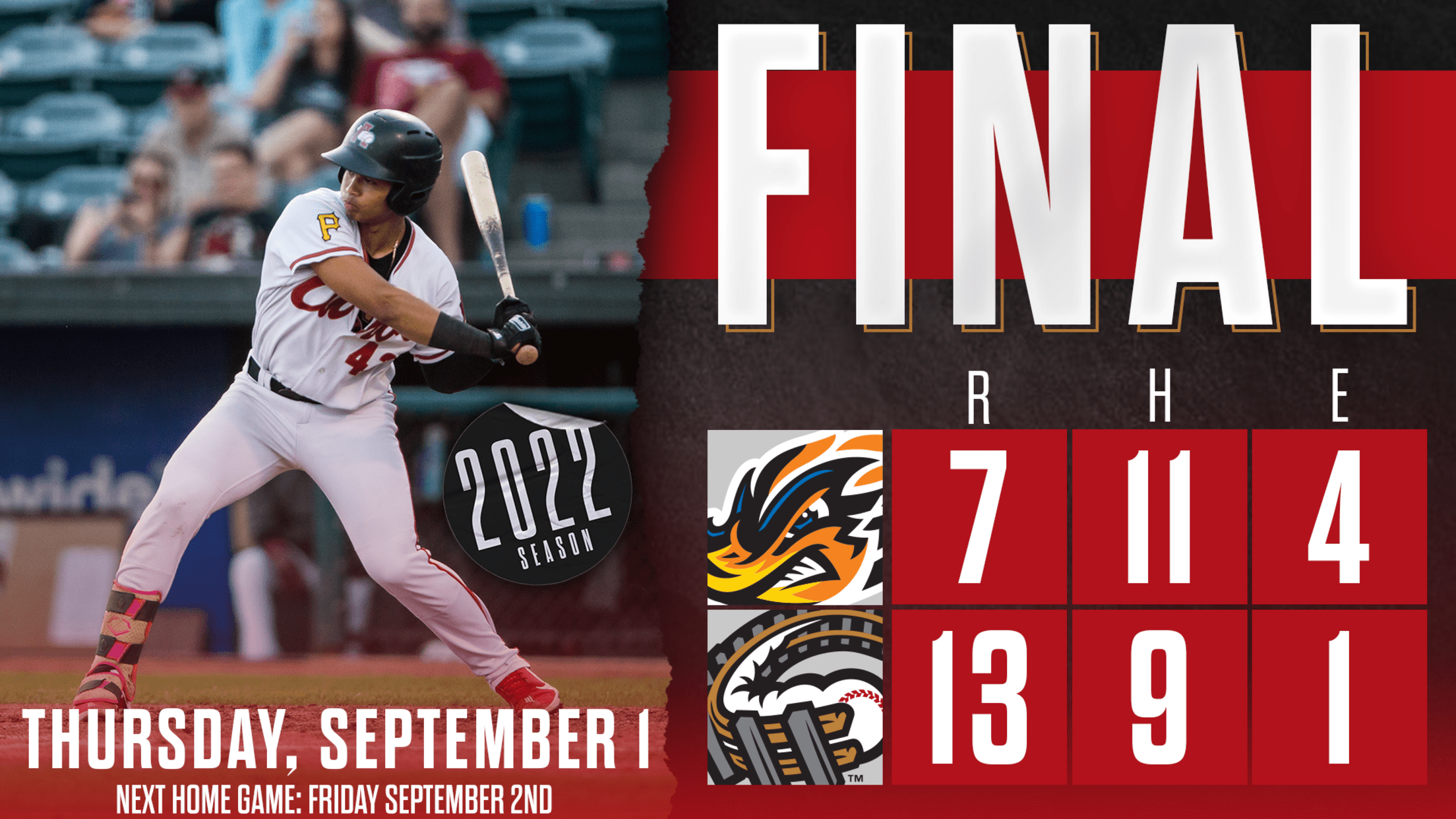 CURVE, Pa. – Endy Rodriguez hit two home runs and Nick Gonzales recorded three hits as the Curve took advantage of four Akron errors and defeated the RubberDucks, 13-7, on Thursday night at PNG Field. Altoona scored six runs in the bottom of the third inning off Thomas Ponticelli and
CURVE, Pa. – Endy Rodriguez hit two home runs and Nick Gonzales recorded three hits as the Curve took advantage of four Akron errors and defeated the RubberDucks, 13-7, on Thursday night at PNG Field.
Altoona scored six runs in the bottom of the third inning off Thomas Ponticelli and five runs in the eighth off Aaron Pinto. Fabricio Macias opened the third with a double to left field and advanced to third on a fielding error by Micah Pries. Liover Peguero scored Macias in the next at-bat and reached first base on an error by Jose Tena at short.
Gonzales followed with an RBI-double to center field before Rodriguez hit his first home run, a two-run shot left-handed to make it a 4-2 game. Henry Davis drew a walk before Aaron Shackelford doubled him home and later scored on a wild pitch to finish off the six-run frame.
Rodriguez followed his homer in the third with a solo home run in the fourth, a right-handed shot off Randy Labaut. It was the fifth time this season Altoona has had a player hit two home runs.
Matt Fraizer hit an RBI-single in the fifth inning to make it an 8-3 game. Akron, who scored a run in the first, third, and fifth innings, added a run in the sixth and three in the eighth on a Jhonkensy Noel home run to make it a one-run game entering the bottom of the eighth.
After a Peguero walk and a Gonzales single, Rodriguez worked a 3-2 count before being intentionally walked. Davis was then walked with the bases loaded to score a run before Shackelford brought home two more on a single to left. Connor Scott then brought two runs home on a fielder's choice and a throwing error by Angel Martinez.
Jeff Passantino allowed two runs on three hits with three walks and two strikeouts in 3.2 innings pitched on the start. Matt Eckelman made his first appearance with Altoona since 2019 and earned the win, allowing two runs on three hits in two innings of relief. Brad Case allowed three runs on four hits in 2.1 innings before Austin Roberts tossed a scoreless ninth inning.
Altoona stole four bases in the game and recorded nine hits. It is the second win of the week for the Curve.
Altoona continues a six-game series with the Akron RubberDucks, Double-A affiliate of the Cleveland Guardians, on Friday night at 6:00 p.m. RHP Gavin Williams gets the start for Akron, with Altoona sending RHP Kyle Nicolas to the mound.
For tickets or more information, visit AltoonaCurve.com, call 877.99.CURVE or stop by the PNG Field box office. Additionally, the Stockyard Team Store is open Monday-Friday from 9 a.m. to 5 p.m., during every home game and online 24/7/365.
Big night for the bats!

HIGHLIGHTS: https://t.co/pjF2kB611f pic.twitter.com/R3OeXx3E8Y

— Altoona Curve (@AltoonaCurve) September 2, 2022