Sod Poodles Split Saturday Doubleheader
Sod Poodles Take Series From Springfield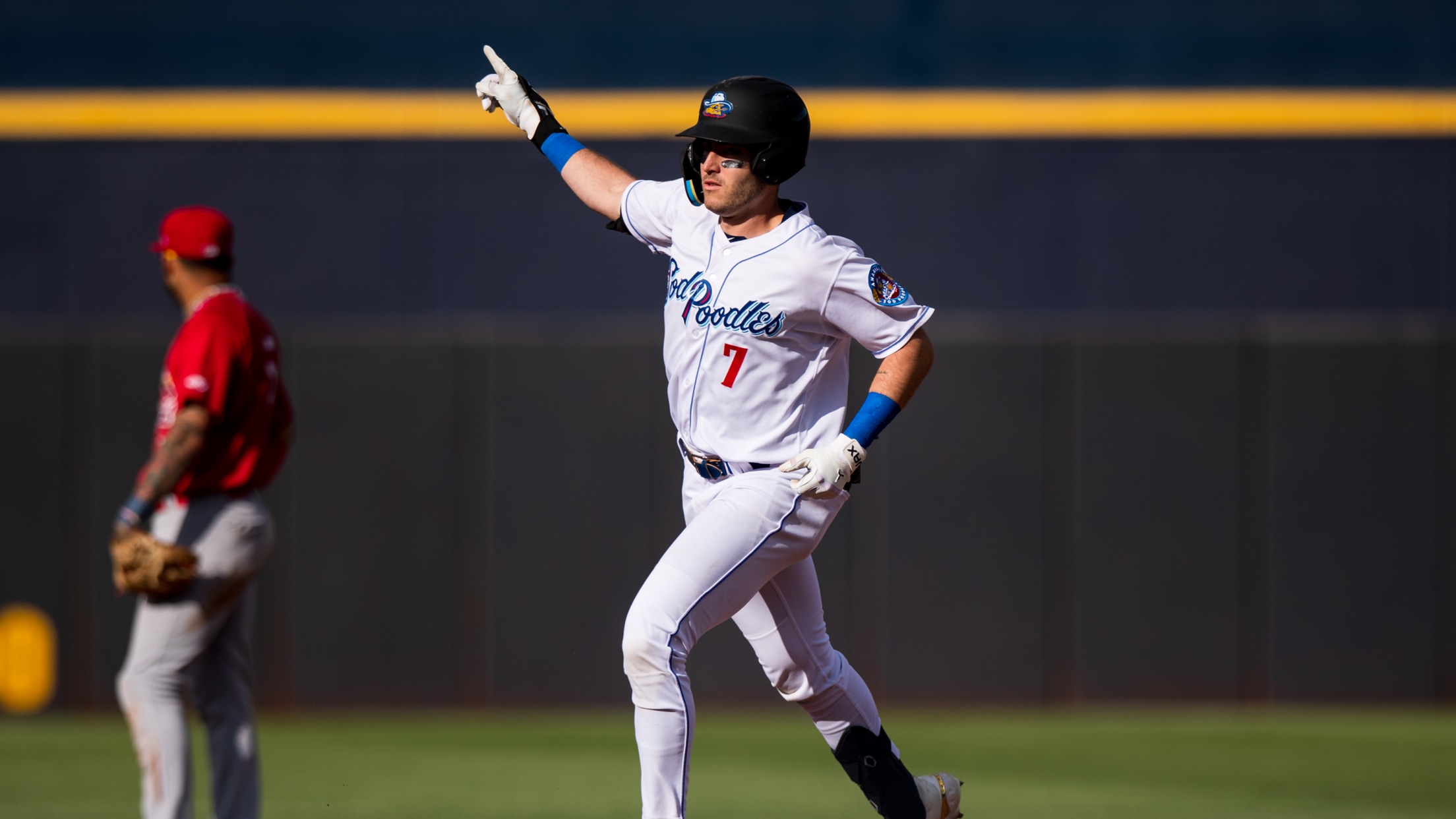 (John Moore)
Amarillo, Texas (June 3, 2023) – The Amarillo Sod Poodles split their doubleheader versus the Springfield Cardinals on Saturday night at HODGETOWN and locked down the series win. Amarillo launched back-to-back homers and outhit Springfield, 11-8, in game one but was unable to secure the victory and fell, 5-4. Game
Amarillo, Texas (June 3, 2023) – The Amarillo Sod Poodles split their doubleheader versus the Springfield Cardinals on Saturday night at HODGETOWN and locked down the series win. Amarillo launched back-to-back homers and outhit Springfield, 11-8, in game one but was unable to secure the victory and fell, 5-4. Game two was secured thanks to a stellar Deyni Olivero outing where he spun his first quality start of the year and got the run support needed to top the Cardinals, 6-1.
Game 1
The Cardinals tallied a run early in the first inning of game one. Springfield poked a lead-off double and drove the runner in with an RBI single. Back-to-back walks by Amarillo's starting arm Chad Patrick loaded the bags with two outs but he struck out his second batter of the inning to get out of the jam.
Amarillo mirrored the Cardinals' offensive thrust and knotted up the game in the bottom half. Ryan Bliss crushed a gapper into left center for his club-best 15th double and Seth Beer secured his return home with a line drive that was good for an RBI single.
The Sod Poodles got a runner into scoring position for the third straight inning in the bottom of the third. Jordan Lawlar mashed a one-out two-bagger but watched the next two Sod Poodles get retired before being able to make it across the dish.
Patrick fired three shutout frames since allowing a run in the first and came back out to hurl in the top of the fifth. He conceded a lead-off walk and a single but right fielder Neyfy Castillo cut down the lead runner as he was trying to extend to third. A walk gave Springfield runners on first and second who were able to score one on an RBI single.
The Sod Poodles were retired in order in their next trip to the dish and Jake Rice relieved Patrick of pitching duties in the top of the sixth. Amarillo's starter came out of the game after tossing five innings and surrendering two runs on five hits with as many walks and four punchies.
The Amarillo bats brought the ball back into their court in the home frame. Beer earned his second hit and was replaced by a pinch-running Nick Dalesandro on first. Caleb Roberts and A.J. Vukovich went back-to-back and launched balls out of the yard to secure a 4-2 lead over Springfield.
Rice's outing came to an end and Jackson Goddard's was ignited in the top of the seventh. Rice turned in a hitless 1.0 IP of relief with just one walk allowed.
Goddard issued a lead-off walk and Springfield brought the score even with a two-run homer in the next at bat. Another single was poked but the right hander retired the next three batters to close out the frame.
The Sod Poodles made a push for the win in the bottom of the seventh. Lawlar and Dalesandro flicked back-to-back one-out singles to get mounted on the corners. However, the next two batters were retired and the Soddies' seven-inning clash went into extra innings.
Kyle Backhus was the next arm to answer the call and came out to pitch in the top of the eighth. A passed ball and a hit-by-pitch got Cardinals on first and third with an RBI single trailing to bring the score to 5-4 in Springfield's favor.
Amarillo's offense came up for their final act in the bottom of the eighth. A fielder's choice eliminated the Soddies' ghost runner and a strikeout brought Amarillo down to their final out. Camden Duzenack slapped a single into right field but got into a rundown with the lead Sod Poodle being tagged out at the dish to end game one with a Springfield victory.
Game 2
Deyni Olivero got the nod for the Sod Poodles in game two and retired the first three batters he faced to bring up the Amarillo bats in the bottom of the first. In the second Sod Poodle at bat, Jordan Lawlar muscled Amarillo in front of the Cardinals with a solo bomb over the right field wall.
The Cardinals leveled the playing field in their next trip to the dish. Springfield answered Lawlar's bomb with a solo shot of their own to bring the score even but the lead found itself in Amarillo's hands once again in the next frame. Tim Tawa swatted his seventh long ball on the campaign to give Amarillo a one run buffer over the Cardinals.
Olivero fired a shutout top of the third and the bats went back to work in the home frame. Lawlar picked up his second hit while down to two outs and A.J. Vukovich pushed him all the way home after crushing a ball off the wall for an RBI two-bagger. Soddies got runners on the corners after Vukovich swiped third and Seth Beer was plunked. Deyvison De Los Santos secured Vukovich's return home with a base hit that was rifled into center field. Caleb Roberts continued to pile it on and hit a ball into the gap that was good for a two RBI triple. When the smoke finally cleared, the Soddies were up 6-1.
Both clubs turned in fruitless trips to the dish in the next two innings but Amarillo threatened to score in the bottom of the sixth. Tawa drew a two-out walk and Duzenack poked a single to trigger a Springfield pitching change. A balk called on the Cardinals reliever put a pair of ducks on the pond for Amarillo but they were left stranded following a strikeout that ended the inning.
After firing a quality start through 6.0 frames of one-run ball with two walks and six strikeouts, Olivero's day came to an end and Josh Green's began in the top of the seventh.
Josh Green struck out the first batter he faced but let up a single shortly after. The runner was pushed over to third on a wild pitch and a groundout but Green induced a fly out to slam the door on the Cardinals and walk away with a split doubleheader.
The Sod Poodles return to action tomorrow in the series finale of their six-game set versus the St. Louis Cardinals' Double-A Affiliate at HODGETOWN. Jeff Bain is scheduled to deliver the first pitch for Amarillo at 6:05 p.m.
NOTES:
CALEB BOMBERTS: Caleb Roberts turned in a 1-for-4 day at the plate in game one with a two-run blast and went 1-for-3 with a triple and two more RBI in game two. It was Roberts' third long ball in 23 games played this season with his last being launched on 5/17 @ Frisco. The lefty-bat has now swatted all of his bombs in 2023 when the team is behind in runs and while there are runners on base. It was his sixth multi-RBI performance this season and his seventh time in his last 10 games played (5/23-6/3) that he has earned at least one RBI. Through 10 games played at HODGETOWN this season, Roberts is slugging .611 with two bombs, as many doubles and triples and seven RBI with his SLG going for the third highest on the club while playing at home (10 G). His triple in game two was his third this season and his second at HODGETOWN which are both tied for first in those categories.
A VUK-LEAR BOMB: A.J. Vukovich went 2-for-4 with a homer in game one and went back-to-back with Caleb Roberts to mark the second time that Amarillo has achieved this in 2023 with Vukovich being on the tail end of both. Vukovich has also gone nuclear in back-to-back games for the second time this season with the last time being logged from 5/5-6 @ Corpus Christi. The 21-year-old is now tied for first on the club in dingers mashed at HODGETOWN with five this season. He has logged a hit in 20 of his last 24 games played dating back to 4/29 versus Frisco and is now on a five game hit streak (5/30-6/3). Dating back to 4/29, he is slashing .284/.303/.547 with five homers. His long balls across this stretch are tied third in the Diamondbacks organization with his .547 SLG going for sixth and his 13 XBH holding down the five spot.
SUGAR, SPICE AND JAKE RICE: Jake Rice came out to relieve in the first game of the twin bill and pitched a shutout frame while allowing just a walk. In eight games played at home this season, he has held his opponent both hitless and scoreless five times. In his last six appearances (4.1 IP) dating back to game one on 5/14 versus Midland, he has allowed just three hits total and is posting a .188 BAA (3-for-16) while allowing zero knocks in five of those contests. Across his 16 relief appearances this season, his opponent's bats are only hitting at a .212 clip (11-for-52).
A TAWA-RING SHOT: Tim Tawa launched a homer and turned in a 1-for-2 day at the plate in game two. Tawa has now blasted three homers in his last five games played (since 5/28) which is the second most in the Texas League across the stretch. Tawa's rocket in game two was his first homer, XBH and RBI off of a southpaw this season in 26 plate appearances facing off against lefty arms. Tawa is now in a four-way tie on the club for homers this season with seven in 42 games. The Stanford alum is now on a five game hit streak dating back to 5/28 @ San Antonio and is 7-for-18 (.389 AVG) across this stretch with four XBH, six RBI and five runs scored.
BAWLAR: Jordan Lawlar earned multi-hit efforts in both games of the doubleheader and walked away 4-for-7 with a homer, double, RBI and two runs scored across both contests. Lawlar's bomb came in the second Sod Poodle at bat in game two and secured the lead for his seventh long ball in 41 games this season. He is tied first on the club for homers with Tim Tawa, A.J. Vukovich and Ryan Bliss. The D-Backs' no. 1 rated prospect has now had two balls leave the yard in his last three games (since 5/31) and has launched three in his last 18 games dating back to 5/9 versus Midland. The Texas native has now launched five of his seven bombs at HODGETOWN with as many being swatted off of starting arms in 2023.
WELCOME TO OLIVERO GARDEN: Deyni Olivero spun his first quality start of the season in game two and pumped 6.0 innings of one-run, three-hit ball while striking out six and walking two en route to his second win of the season. Olivero has not held his opponent to one run through 6.0 innings since 7/14/2022 versus San Antonio and has not punched out six in a six inning start since 8/7/2022 @ Frisco when he punched out eight through 6.0 IP. It was additionally his first quality start since 9/3/2022 when he held his opponent to two runs through 6.0 IP while with Triple-A Reno. The right hander has now earned both of his wins this year on Saturday night (2 GS) and posts a 4.09 ERA (11.0 IP, 5 ER) with a 1.27 WHIP on this day of the week.