Sod Poodles Win 5th Straight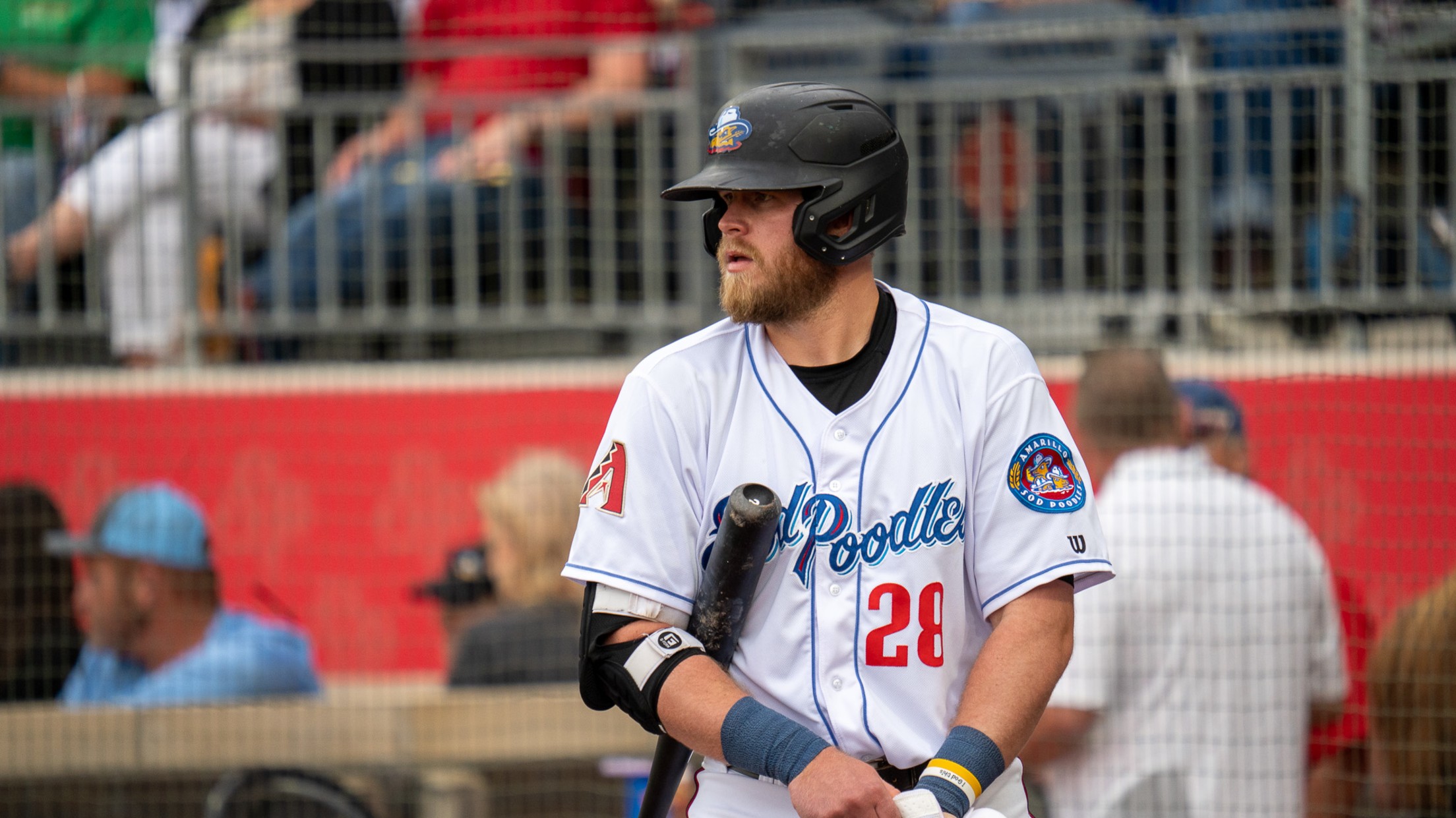 Amarillo, Texas (June 1, 2023) – The Amarillo Sod Poodles secured both games of their twin bill versus the Springfield Cardinals and extended their win streak to five games. Game one saw the Amarillo bats tie their season high of 18 hits and 13 runs scored in a 13-8 victory.
Amarillo, Texas (June 1, 2023) – The Amarillo Sod Poodles secured both games of their twin bill versus the Springfield Cardinals and extended their win streak to five games. Game one saw the Amarillo bats tie their season high of 18 hits and 13 runs scored in a 13-8 victory. The back end of the doubleheader was a closer battle between both clubs with Camden Duzenack walking it off with a two RBI single while down to two outs in the seventh to top the Cardinals, 3-2.
Game 1
Luke Albright got the nod for the Soddies and made his 10th start of the season in the first contest. He punched out the first batter of the game and induced a groundout for a quick two outs but the Cardinals got themselves on the corners to threaten an early score. Albright responded by serving his second punchie to end the frame with no damage allowed.
The Sod Poodles mirrored Springfield and found themselves with runners on first and third with two outs in the bottom half. A.J. Vukovich secured the early lead for Amarillo with a line drive laced into left field for an RBI single. Deyvison De Los Santos made it on board with an infield knock to load the bases and Springfield's starter Brandom Komar walked Adrian Del Castillo for a gifted score. Tim Tawa plated one more with another infield single before the carousel came to a halt, concluding the frame with a 3-0 Amarillo lead.
Springfield led off the next inning with a double and a single to put a pair of runners in scoring position. A two RBI single trailed and Amarillo's lead was cut to one run.
The Sod Poodles tallied another score in the bottom of the second. Ryan Bliss singled and swiped second to put a duck on the pond. Seth Beer flicked a ball into the outfield to plate the D-backs' no. 29 rated prospect and pad Amarillo's lead to 4-2.
Albright punched out the first batter he faced in the next defensive frame but let up a solo home run to trim the Soddies' lead down to one run once again. He struck out the next Cardinal to come to the dish and induced a fly out to end the inning.
Amarillo got a runner into scoring position in the third but was unable to capitalize with Springfield threatening another score in their next offensive opportunity. A lead-off single and a double spelled trouble for the Soddies, but Vukovich cut the lead runner down at the plate and a pair of ground outs followed to help Amarillo escape the frame without any harm to the score book.
Caleb Roberts reached base on a one-out walk and was pushed over to third after Beer mashed a gapper that was good for two bags in the fourth. However, two more outs were recorded before a Sod Poodle was able to make it across the dish.
Amarillo's starting arm came back out for the top of the fifth. He served his fifth punchie of the contest but after walking the second batter of the inning, he was replaced by a relieving Blake Workman. The Cardinals took a three run lead over the Soddies after Workman surrendered back-to-back home runs.
Mother Nature got in the way of the game's immediate continuation and was suspended until the next day with a doubleheader being scheduled. Game one was slated to continue through nine innings with the regularly scheduled game transforming into a seven-inning contest.
Once the game resumed, Workman was replaced by Mitchell Stumpo who recorded the final out of the frame via a ground out.
The Cardinals continued to pressure Amarillo's defense in the next away frame after hitting a one-out triple. Stumpo walked the next batter who then swiped second to put a couple of ducks on the pond for Springfield. The Soddies held tough and cut down the lead runner at the plate on a chopper to third and Stumpo fanned the next Cardinal to record the third out.
Amarillo cut into the deficit in the bottom of the sixth. Beer collected his third hit of the contest and De Los Santos his second in the form of a long ball that left the park at 110 miles per hour to bring the score to 7-6.
Springfield made another offensive push with a single and a walk in the next frame but Stumpo struck out the side for his second straight shut out frame.
Amarillo blew the game wide open in their next trip to the dish after hitting four XBH, including two homers, and scoring seven runs with two outs. Bliss singled and Jordan Lawlar swatted his sixth long ball of the season for the first pair of scores. A Roebrts walk followed with Beer smashing a double, his second of the game, down the left field line for another run. Vukovich tripled and De Los Santos plated him with a single to trigger a pitching change from Springfield. Del Castillo, while down to a full count, crushed a two-run bomb and the Soddies came back out to play defense while up 13-7.
Christian Montes De Oca got his night rolling in the top of the eighth and Stumpo came off the bump after dishing out 2.1 innings of two-hit ball while punching out four and walking two. Montes De Oca allowed one run after an RBI groundout scored a Cardinal but that was the extent of the harm.
Montes De Oca came back out and pumped a scoreless ninth to secure the Amarillo game one victory, 13-8.
Game 2
Neither club was able to score a run until the Sod Poodles muscled in front of Springfield in the bottom of the second. Vukovich slammed his sixth homer on the campaign in solo fashion to bring the score to 1-0.
The Cardinals made a push for their first score in the next frame. Amarillo's starter Jamison Hill got the inning rolling with his third strikeout but a walk and a single gave Springfield runners on the corners. Hill remained calm and induced a pop out and dealt the second punchie to work out of the jam.
The right hander held the Cardinals to just one hit through 4.1 innings before they were able to adjust and make an offensive push in the top of the fifth. A single and a double got runners in scoring position and a two RBI single gave the Cardinals a 2-1 lead over Amarillo.
This triggered an Amarillo pitching change with Kyle Backhus being the next Sod Poodle to take the reins. Hill walked off the diamond after dishing out 4.2 innings of work while allowing two earned on four hits and two walks while striking out five. Backhus held the line and left his inherited runner stranded.
The Sod Poodles knocked their fifth hit in as many trips to the dish in the home frame. Bliss earned a two-out hit and swiped his club-best 18th bag but was left stranded on second base.
After 1.1 shutout innings from Backhus, Conor Grammes came out to close in the seventh. The Cardinals got runners on the corners with one out but the Sod Poodles turned a clean 4-6-3 double play to bring up the Amarillo bats in their final act in the home frame.
Juan Centeno earned his third hit of the game and spearheaded the Sod Poodles seventh inning thrust with a lead-off double and was pinch-ran for by Caleb Roberts who represented the tying run. Tawa kept it rolling with a single that pushed Roberts over to third with a Springfield call to the bullpen being made shortly after.
Following the arm switch, Nick Dalesandro drew a walk to load the bases but a pop out in shallow left field followed to bring Amarillo down to their final out. However, Camden Duzenack was the man of the hour who laced a ball into left field to walk off the Cardinals and score the winning run on a two RBI single.
Amarillo locked down both games of their twin bill and now lead in their six-game series, 3-0, over the St. Louis' Cardinals Double-A affiliate. The Sod Poodles return to their regularly scheduled clash tomorrow evening at HODGETOWN with Chad Patrick set to deliver the first pitch for Amarillo at 7:05 p.m.
NOTES:
THE FANTASTIC FOUR: Seth Beer finished game one going 4-for-6 with two doubles, as many RBI and three runs scored. It was Beer's first four-hit outing since 6/26/2022 @ SL with Triple-A Reno and was the sixth four-hit performance of his career which spans five seasons (2018-2023). Beer also posted his fifth multi-RBI performance in 2023 and his first since 4/30/23 vs. SUG (RNO) when he also drove in two runs. His four hits are the most knocks earned in Amarillo this season with Leandro Cedeno being the last Sod Poodle to log four back on 8/18/2022 @ Midland. Cedeno was also the last Sod Poodle to collect four hits while at home which he did on 8/14/2022 versus Springfield.
*FLY ME TO THE MOON: *Deyvison De Los Santos turned in a 3-for-5 day at the plate with three RBI and two runs scored while sending a baseball into orbit at 110 MPH in the sixth inning of game one. It was De Los Santos' fifth long ball of the season, his fourth at home, and his third in 19 games dating back 5/9/23 versus Midland. He is now slugging .444 through 19 games at HODGETOWN this season which is good for the fifth highest among Sod Poodles with at least 15 games played at home. It was also his second three RBI performance in 2023 with both being earned at home and the last coming on 4/14/23 vs. CC.
THE LONG BAWL: Jordan Lawlar mashed a two-run homer in game one and finished the day 2-for-6 with two RBI and as many runs scored. It was the D-backs no. 1 rated prospect's sixth homer of the year and his first since 5/9/23 versus Midland and his first multi-RBI performance since he drove in four on 4/26/23 versus Frisco. The Texas native also extended his hit streak to seven games (5/23-5/31/23) and his on base streak to 11 games (5/16-5/31/23). Since the beginning of his hit streak, he is slashing .345/.424/.517 with 10 hits, two doubles, a homer and five RBI.
SO ANYWAYS I STARTED BLASTING: Amarillo's bats launched a season high three homers in game one with two being launched in the seventh inning alone. It took the 2023 Sod Poodles 47 games to post a three-homer contest whereas last season the club achieved this in just 10 games. The Sod Poodles swatted three homers in a game 22 times in 2022. Amarillo has now mashed multiple homers in a contest 16 times this season. The Sod Poodles' 18 hits and 13 runs scored also tied their season high in those categories.
GOT THAT DOG IN HIM: Adrian Del Castillo went 1-for-2 with a homer, three RBI, as many walks and a run scored in game one. Del Castillo has now swatted homers in back-to-back contests for the first time in his professional career (2021-2023, 3 seasons). He has now had three baseballs leave the yard in his last 16 games dating back to 5/12/23 versus Midland. The Miami, FL native extended his club-best active hit streak to 10 games (5/19-5/31/23) while notching the second longest active on base streak with 10 games as well. Across that date range, he is batting .406 (13-for-32) with two homers, as many doubles, eight RBI, nine walks and seven runs scored. Across his last 10 games played, he holds first place for AVG, RBI, OBP (.537) and SLG (.737) while tying second in homers among active Sod Poodles.
CAMDEN IS CLUTCH: Camden Duzenack was the hero in game two after walking it off with a two RBI single in the bottom of the seventh while down to two outs. Duzenack's multi-RBI night was his second in as many games and his third of the season while riding a three-game hit streak. Tonight marked just his second game at HODGETOWN this season and is now 3-for-6 while at home with a double and two RBI. In nine at-bats while there are RISP, he is now batting .444 (4-for-9) with five RBI across seven separate contests in 2023.