Soddies Bats Explode in Series Finale Win at San Antonio
Tawa Turns In Multi-Hit Effort Including A Homerun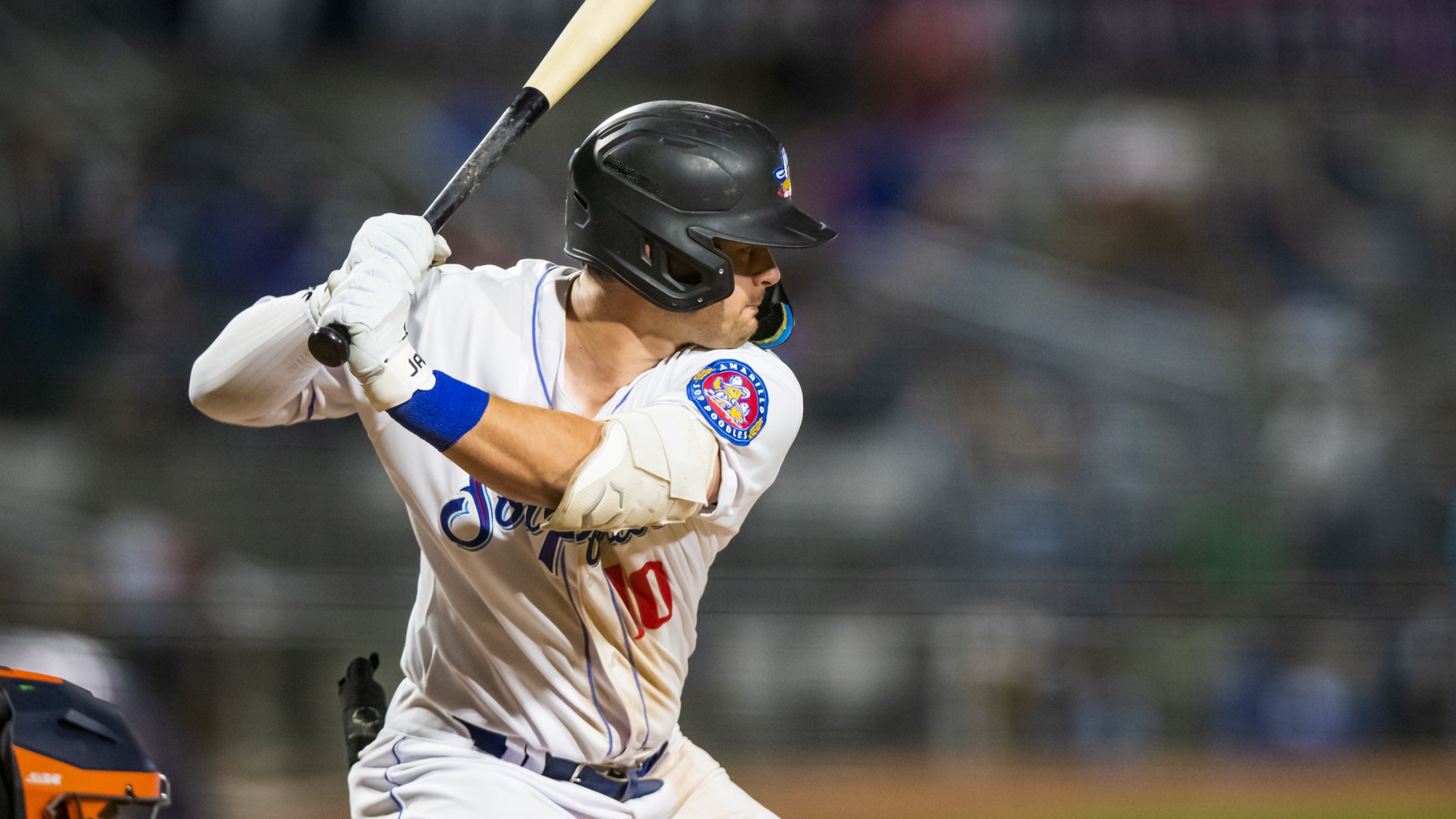 San Antonio, Texas (May 28, 2023) – The Amarillo Sod Poodles topped the San Antonio Missions, 9-3, and secured their second straight win in the finale of a six-game set at Nelson Wolff Stadium. Amarillo crushed six extra base hits and the bullpen did not concede a run through 5.0
San Antonio, Texas (May 28, 2023) – The Amarillo Sod Poodles topped the San Antonio Missions, 9-3, and secured their second straight win in the finale of a six-game set at Nelson Wolff Stadium. Amarillo crushed six extra base hits and the bullpen did not concede a run through 5.0 innings of relief to plow through the Missions.
Amarillo was retired in order in their first trip to the dish to bring up the Missions' bats. Amarillo starting pitcher Deyni Olivero got the first two batters out but let up a two-out walk and a single. A weak ground ball squeaked through the infield but shortstop Ryan Bliss was able to recover it and catch the lead runner in a run down in the third base line for the final out.
The Soddies' first hit of the contest came off the bat of Nick Dalesandro in the form of a stand-up one-out triple in the top of the third. A fielder's choice prevented a Sod Poodles score as Dalesandro was tagged out at home with a ground out trailing to close the frame.
The Missions' succeeded in pushing one across in their next offensive opportunity. A balk called on Olivero moved a runner from first to second and San Antonio brought him home with an RBI single.
Amarillo responded with runs of their own to secure the lead in the top of the fourth. Camden Duzenack poked a lead-off double and Tim Tawa crushed his fifth homer of the season to put Amarillo up 2-1.
San Antonio turned the tide in the home frame with a pair of runs. A lead-off single and a swiped bag was capitalized on with an RBI double for the first score. The second run was plated on another RBI double to grant them a 3-2 advantage over the Sod Poodles.
The lead did not stay with the Missions for long. Dalesandro drew a walk and swiped his ninth bag of the year to plant himself on second. A pair of bunt singles and a base hit secured Dalesandro's return home with a Caleb Roberts deep fly ball scoring another in sacrifice fashion to bring the score to 4-3 in Amarillo's favor.
Olivero's afternoon drew to a close after the fourth inning and was relieved of pitching duties by Conor Grammes who dealt a 1-2-3 fifth with two punchies. Amarillo's starting arm walked off the diamond after hurling four innings with three earned runs allowed on six hits and two walks, fanning one in the process.
San Antonio threatened to tie the game in their next chance to hit. A lead-off walk was issued and the runner made it to third on a wild pitch and a ground out. However, Grammes kept cool and retired the next two batters to strand the Mission on third base.
Grammes' closed out his Double-A debut after the sixth inning and left the game with 2.0 scoreless IP while striking out three and walking one. Christian Montes De Oca was the next Sod Poodle to answer the call and took over the hill in the seventh.
Montes De Oca fired a hitless frame and the Sod Poodles came back out to hit in the eighth. Back-to-back doubles from Seth Beer and Tawa pushed one across with an Adrian Del Castillo RBI single scoring Tawa. The Soddies threatened to tack on more after a single and a fielding error juiced the bases with two outs. Duzenack sent a blooper into shallow right field that fell into a hole and cleared the bases to put Amarillo up by six.
The Missions roped a pair of singles with two outs in their next trip to the dish to give them runners on the corners but Kyle Backhus punched out his second batter of the frame to halt the offensive thrust.
Backhus surrendered a lead-off single in the ninth but fanned one and worked a double play ball to close the game with a Sod Poodle win.
The Sod Poodles return to HODGETOWN on Tuesday for Amarillo's first meeting this season with the Springfield Cardinals, the St. Louis Cardinals' Double-A affiliate, for a six-game home stand. First pitch is slated for 7:05 p.m.
NOTES:
TAWA HITS FOR PAWA: Tim Tawa turned in a 2-for-5 day at the plate with a home run, a double and three RBI. It was the righty-bat's second three-RBI performance this season with his first being logged on 4/29/23 vs. FRI. Tawa now has nine multi-hit performances on the campaign. It was just his second time poking multiple XBH with his last multi-XBH performance coming on 5/6/23 @ CC. With his three RBI day, he improves his batting average with RISP to .361 (13-for-36) and has now smashed four doubles and two homers in this situation.
NEW KID ON THE BLOCK: Conor Grammes made his Double-A debut in the series finale at San Antonio and fired 2.0 hitless innings of relief with a walk and three strikeouts in route to his first win. Dating back to 5/18/23 with High-A Hillsboro, the right hander is notching a four game no earned run streak (5.0 IP) and has punched out 10 batters and walked three across the stretch. In 11 games this season, he has dealt at least three punchies in four of them and at least two in seven.
CASH THE CHECK: Camden Duzenack went 3-for-4 with two doubles, a walk, three RBI and a run scored. It was Duzenack's first three-hit and three-RBI game since 9/6/2022 with Triple-A Reno when he went 3-for-4 with two triples and four RBI. His pair of two-baggers are good for his first two XBH on the road at the Double-A level this year. He is now 4-for-9 while there are runners in scoring position this season while driving in five.
HE JUST DON'T BLISS: Ryan Bliss went 2-for-5 with an RBI and a run scored for his club-best 23rd multi-hit outing. The former Auburn Tiger has now hit safely in 17 of his last 19 games played dating back to 5/4/23 @ CC and is slashing .375/.419/.663 with six doubles, five homers, a triple and 12 RBI across the stretch. The shortstop is slashing .380/.408/.620 on the season with his average ranking second, his SLG ranking first and his OBP ranking fifth across the D-Backs organization. Among fellow Diamondbacks minor leaguers, he holds the crown for hits (65) and total bases (106) while coming in sixth for RBI (26).
KYLE HAS STYLE: Kyle Backhus delivered 2.0 scoreless innings of relief while punching out three and scattering as many hits. Across nine relief appearances on the road this season (14.0 IP), the southpaw is logging a 0.64 ERA (1 ER) and has punched out 15 batters while walking just one and holds a 1.00 WHIP. Backhus came into the game when the Sod Poodles were up in runs and now totes a .178 BAA (8-for-45) and has allowed just one RBI while fanning 16 when playing with the lead. The Texas native has now punched out eight and walked just two batters in day games this season.