DeLoach Caps Rally With Walk-Off Hit in 10th
Travs come back from five down for win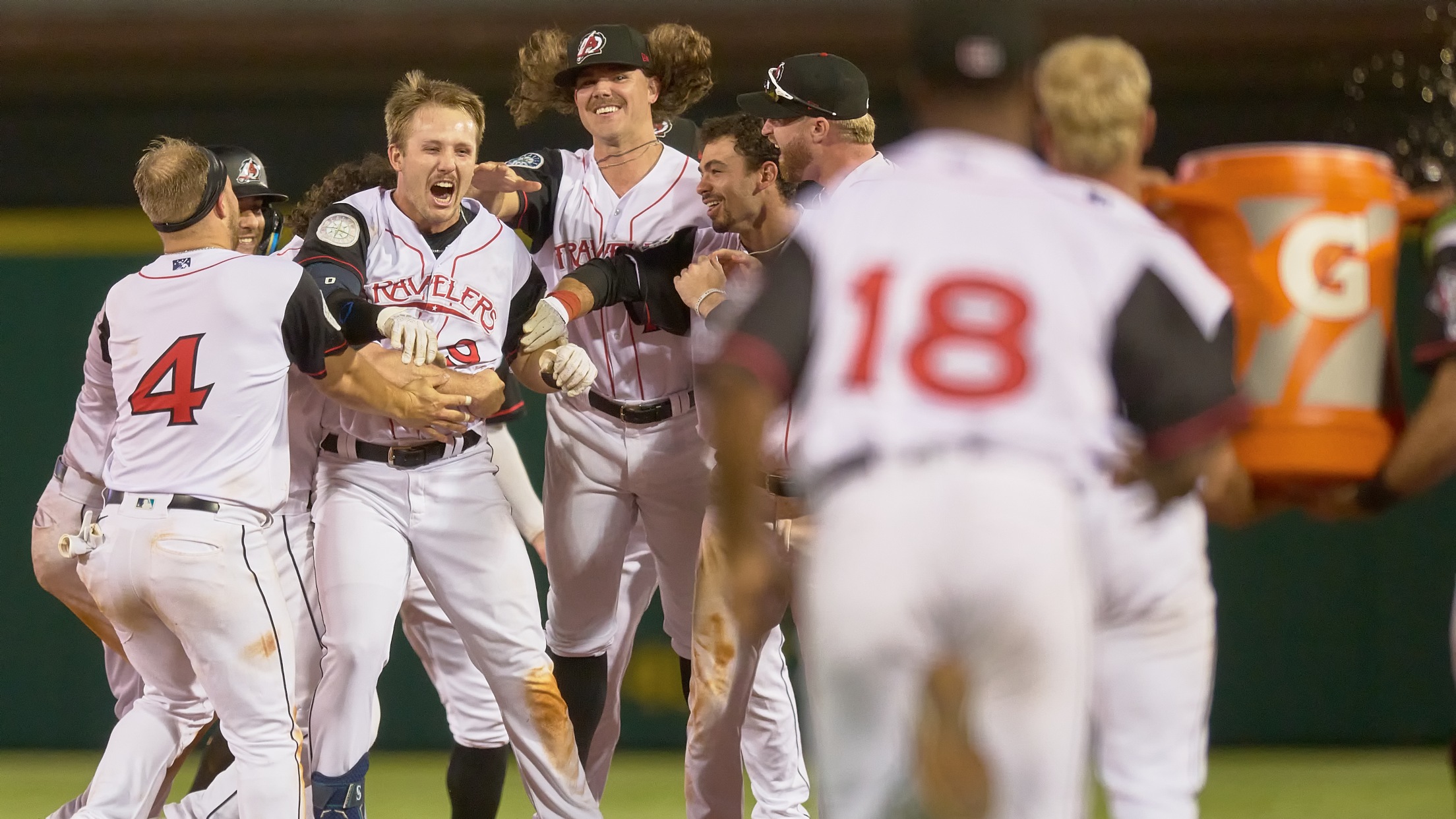 Zach DeLoach and the Travs celebrated his walk-off hit. (Mark Wagner)
North Little Rock, AR—Zach DeLoach ripped a walk-off hit with two out in the 10th inning to send the Arkansas Travelers to a 7-6 win over the Northwest Arkansas Naturals in the series opener. The winning run was the Travs only lead of the night and they trailed by five
North Little Rock, AR—Zach DeLoach ripped a walk-off hit with two out in the 10th inning to send the Arkansas Travelers to a 7-6 win over the Northwest Arkansas Naturals in the series opener. The winning run was the Travs only lead of the night and they trailed by five runs in the fifth inning. Arkansas got the offense going in the fifth inning on a two-run homer by Cade Marlowe to start the comeback and they would go on to score two runs in three consecutive innings. Devin Sweet and Travis Kuhn each pitched two scoreless innings to close out the game with Kuhn picking up the win.
Moments That Mattered
* Sweet entered in the seventh inning with the bases loaded and none out and kept his team within two runs not allowing any of the three inherited runners to score.
* DeLoach made the Naturals pay for an intentional walk in the 10th, connecting for the game winning hit off lefty Walter Pennington.
Notable Travs Performances
* 1B Jake Scheiner: 2-4, BB, run, 2B, 3 RBI
* RF Zach DeLoach: 2-5, run, 2B, RBI
* CF Cade Marlowe: 2-4, run, HR, 2 RBI
News and Notes
* The walk-off win was the Travs first of the season.
* Arkansas has had three games go extra innings in the last six contests.
Up Next
The series continues on Wednesday night with right-hander Taylor Dollard (0-1, 0.82) on the hill against lefty Angel Zerpa (1-2, 4.50). It is the Dog Days of Summer with dogs allowed in the ballpark. First pitch is at 6:35. The game will also be broadcast on 93.3 The Fish, the First Pitch App and milb.tv.