Extra Inning Contest Goes to Wichita
Teams combined for only eight hits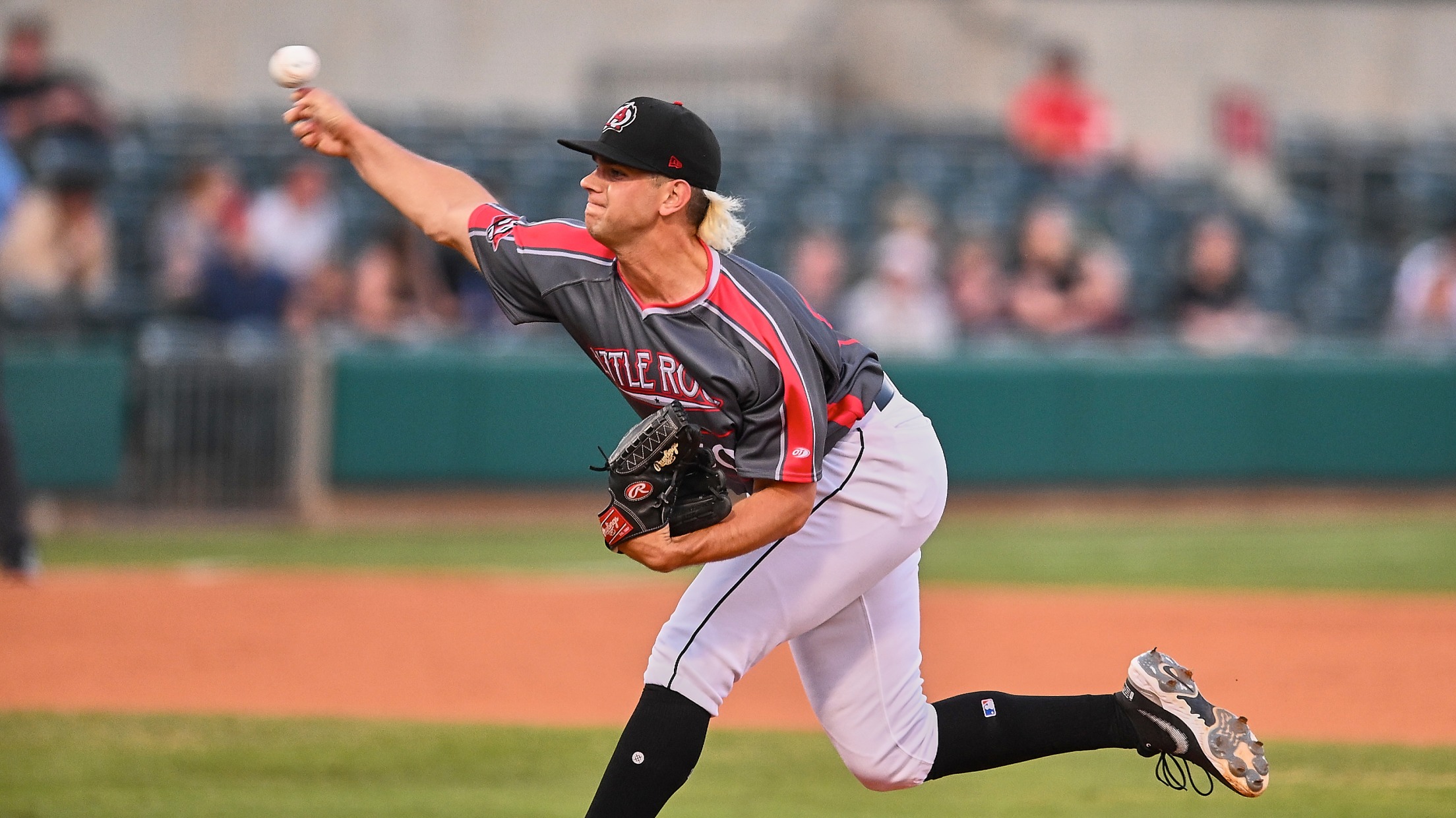 Taylor Dollard retired the first 13 hitters of the game. (Mark Wagner)
North Little Rock, AR—The Arkansas Travelers dropped their first extra inning game of the season, 3-1 in 10 innings to the Wichita Wind Surge. Travs pitchers held Wichita to only two hits in the game. Taylor Dollard retired the first 13 hitters he faced and fired five shutout innings with
North Little Rock, AR—The Arkansas Travelers dropped their first extra inning game of the season, 3-1 in 10 innings to the Wichita Wind Surge. Travs pitchers held Wichita to only two hits in the game. Taylor Dollard retired the first 13 hitters he faced and fired five shutout innings with six strikeouts. The game was scoreless until the sixth inning when the Travs tallied before Wichita tied it in the seventh and it remained tied into extra innings.
Moments That Mattered
* Arkansas had the go-ahead run at third base with one out in the eighth inning after Kaden Polcovich walked, stole second and went to third on a wild pitch. But a fly out and a strikeout prevented him from scoring.
* Wichita's two runs in the 10th came without a base hit. The inning started with a sacrifice bunt and the throw to third was just late. Following a walk, a pair of sacrifice flies got the decisive runs home.
Notable Travs Performances
* 2B Kaden Polcovich: 1-3, 2 BB, run
* RHP Taylor Dollard: 5 IP, H, 6 K
News and Notes
* While it was the Travs first extra inning contest of the season, it was Wichita's fourth.
* Dollard's 13 in a row retired was the longest such stretch of the season for a Travs pitcher.
Up Next
Arkansas looks to snap back into the win column on Saturday night with right-hander Connor Jones (0-1, 4.63) on the mound against righty Ben Gross (0-0, 5.19). It is Dizzy the Ballpark Pup's Birthday Bash with dog collars for the first 300 dogs into the ballpark. First pitch is at 7:05 and the game will be broadcast on 93.3 The Fish, the First Pitch App and milb.tv.