Four Missions Pitchers No-Hit Travelers
Travs were shut out for the fifth time this season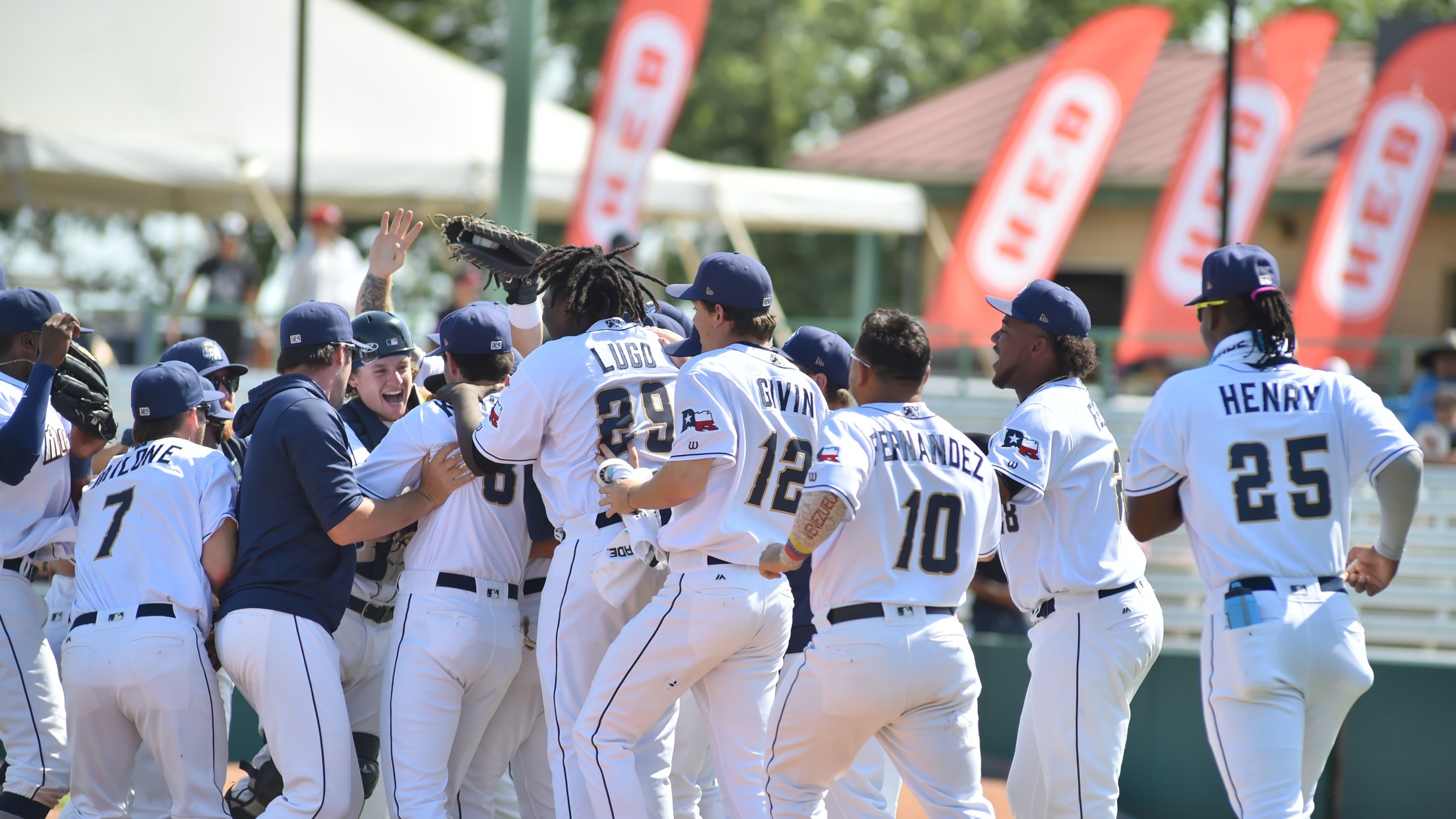 The Missions celebrated the final out of their no-hitter. (San Antonio Missions)
San Antonio, TX—Four San Antonio Missions pitchers combined to no-hit the Arkansas Travelers in a 4-0 shutout on Sunday afternoon. Lake Bachar (3 IP), Moises Lugo (3 IP), Carlos Belen (2 IP) and Kevin Kopps combined on the first no-hitter against Arkansas since April of 2019. Travs starter Stephen Kolek
San Antonio, TX—Four San Antonio Missions pitchers combined to no-hit the Arkansas Travelers in a 4-0 shutout on Sunday afternoon. Lake Bachar (3 IP), Moises Lugo (3 IP), Carlos Belen (2 IP) and Kevin Kopps combined on the first no-hitter against Arkansas since April of 2019. Travs starter Stephen Kolek pitched in to the seventh inning for his longest outing of the season. With the loss, the Travs drop the series to the Missions and finish the 12 game road trip to Texas with a 14-19 record.
Moments That Mattered
* The closest Arkansas came to a hit was when Zach DeLoach lined out to third base in the fifth inning. Connor Hollis had to jump and reach above his head to make the catch.
* The Travs did not have a baserunner until Cade Marlowe worked a walk with two out in the eighth inning capping an eight pitch plate appearance. Joe Rizzo also reached base drawing a walk with two out in the ninth.
Notable Travs Performances
* RHP Stephen Kolek: L, 6.1 IP, 5 H, 4 R, 3 ER, 3 BB, 5 K
* RHP Michael Stryffeler: IP, H, 2 K
News and Notes
* The no-hitter was the first in the Texas League this season.
* Jack Larsen had his 18 game on-base streak snapped.
Up Next
After an off day on Monday, the Travs return to action on Tuesday night opening a six game homestand against the Northwest Arkansas Naturals. Right-hander Emerson Hancock is expected to come off the injured list to start for the Travs. It is Mug Club night at Dickey-Stephens Park with first pitch set for 6:35. The game will also be broadcast on 93.3 The Fish, the First Pitch App and milb.tv.