Travs Drop Third Straight
Team remains in playoff contention despite second straight one-run loss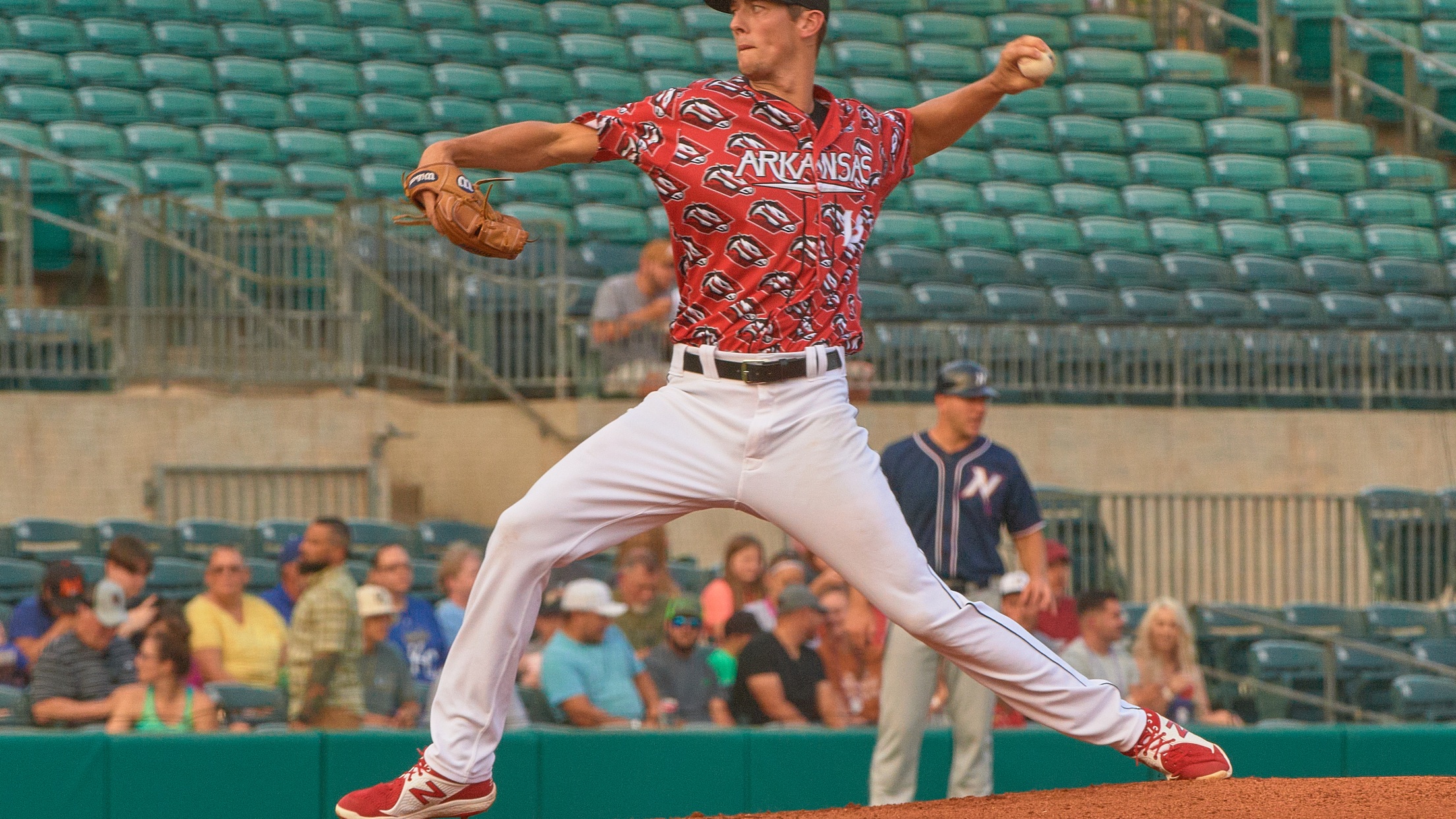 Brandon Williamson posted 10 strikeouts in 6 innings. (Mark Wagner)
Wichita, KS—The Arkansas Travelers lost a third consecutive game as they were dropped by the Wichita Wind Surge on Friday night, 2-1. Starter Brandon Williamson was outstanding for the Travs striking out 10 over six innings and allowing only one run while working out of multiple tough situations. Wichita's Cole
Wichita, KS—The Arkansas Travelers lost a third consecutive game as they were dropped by the Wichita Wind Surge on Friday night, 2-1. Starter Brandon Williamson was outstanding for the Travs striking out 10 over six innings and allowing only one run while working out of multiple tough situations. Wichita's Cole Sands was a bit better though as he shut out Arkansas for five innings on the way to his fourth victory of the season. Kody Funderburk followed with three perfect innings before running into trouble in the ninth but ended the game with the tying and go-ahead runs on base.
Moments That Mattered
* With the score 1-0 going to the bottom of the seventh, Ernie De La Trinidad greeted Travs reliever Nate Fisher with a solo shot pushing the Wichita lead to two.
* Zach DeLoach gave the Travs life with a leadoff double in the ninth. He came in to score on a check swing infield hit by Kaden Polcovich when the throw to first got away. Jordan Cowan followed with a base hit to put the tying run at second but pinch-hitter Jose Caballero struck out to end the game.
Notable Travs Performances
* DH Zach DeLoach: 2-4, run, 2 2B
* LHP Brandon Williamson: L, 6 IP, 6 H, R, BB, 10 K
News and Notes
* Arkansas went from the third inning to the ninth without a hit.
* After Friday's games, the Travs remain 0.5 games behind Frisco for the second spot in next week's championship series. Northwest Arkansas is 1.0 behind the RoughRiders and Tulsa is still alive as well but is 1.5 games out. All four clubs have two games remaining.
Up Next
The Travs look to snap their three game slide on Saturday night with right-hander George Kirby (0-1, 3.54) on the mound against righty Austin Schulfer (6-7, 4.37). First pitch is scheduled for 6:05 and the game will be broadcast on AM 920 the Sports Animal, the First Pitch App and milb.tv.