T-Rat Talk: Alex Hall
Catcher's baseball journey goes from Perth to Milwaukee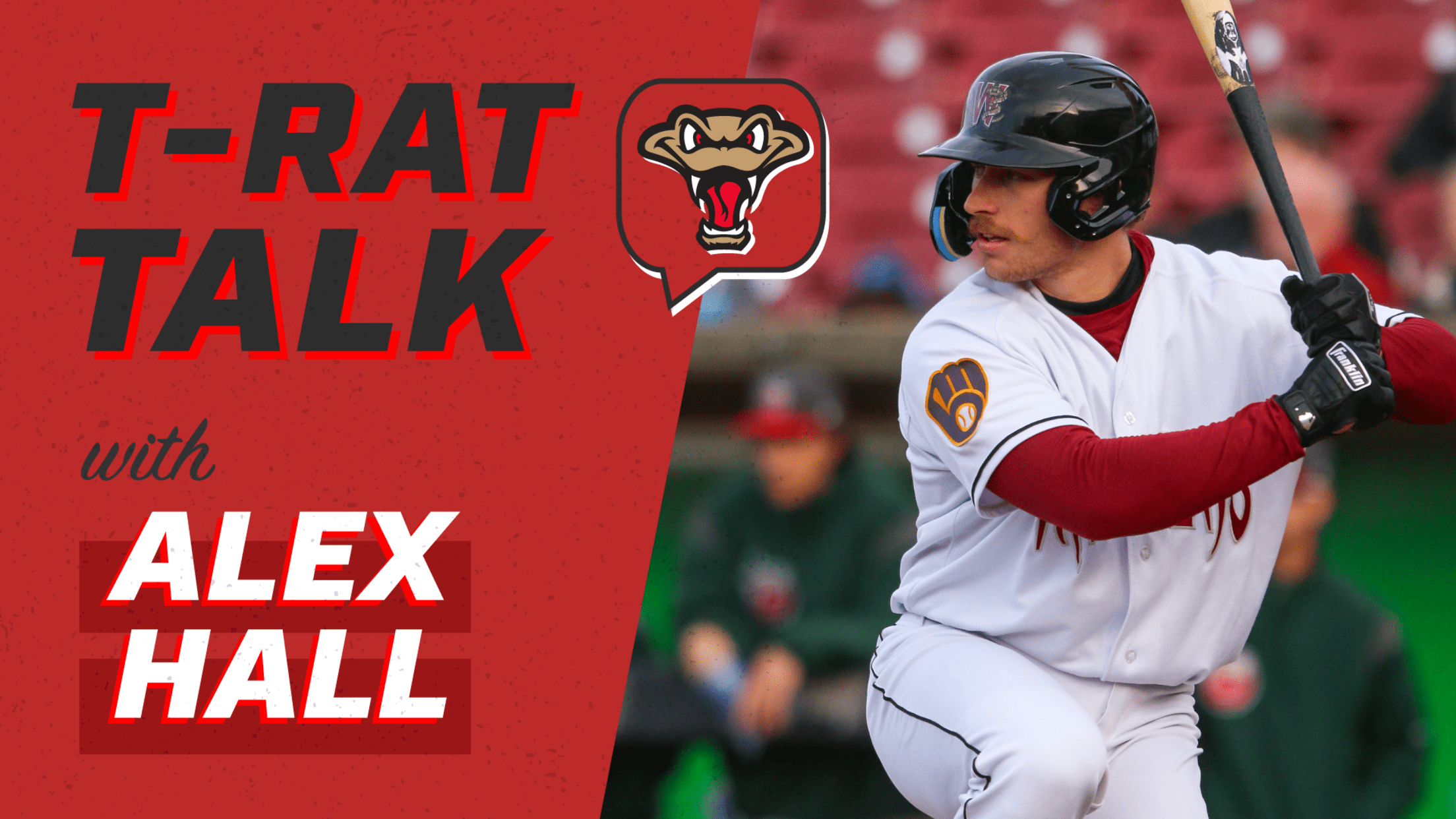 Baseball players spend their entire lives dreaming of their first MLB game, but Timber Rattlers catcher Alex Hall had about eight minutes to prepare for his.
Baseball players spend their entire lives dreaming of their first MLB game, but Timber Rattlers catcher Alex Hall had about eight minutes to prepare for his.
Hall was playing cards in the Timber Rattlers clubhouse on a Thursday afternoon when he was called into the manager's office for an urgent meeting: The Brewers were placing starting catcher Omar Narvaez on the injured list, and needed a backup catcher for a game in a couple of hours. The Brewers AAA and AA affiliates were too far away from Milwaukee for anyone to make the trip in time, so Hall was instructed to pack his bags and head to Milwaukee.
"I thought it was a joke," Hall said, "but when I got there, it was everything I expected and probably more, just because I've never been there. But it was an amazing time, great people. It was a day that will never be forgotten."
Timber Rattlers manager Joe Ayrault was away from the team during the series, but participated in the meeting with Hall via video chat.
"I had goosebumps, my son was with me in the truck, borderline teary-eyed driving down the road, so happy for the kid. He's been working his can off all season long in the role he's been in, not much playing time but he's made the most of his opportunities, and just an unbelievable story," Ayrault told the Rattler Radio Podcast on June 5.
What a great story Alex Hall turned out to be on a memorable night for the Brewers: pic.twitter.com/jLqzv9IGVc

— Todd Rosiak (@Todd_Rosiak) June 3, 2022
Hall's day in the majors was the latest chapter in a baseball journey that has taken him all the way around the world. Born in Perth, on Australia's west coast, Hall had played baseball at a junior level in national tournaments when a position change set his career trajectory in motion.
"I was actually an infielder, but I wasn't very good at it and so I swapped with catcher. And then I kind of was pretty good at that back in Australia, so that kind of set the tone and that's what I wanted to do," Hall said.
Hall was spotted behind the plate by another Australian catcher with Brewers ties: Brisbane native David Nilsson played in the majors with Milwaukee from 1992-1999, at one point joining pitcher Graeme Lloyd to form the first all-Aussie battery in MLB history. Nilsson remains active in the sport in his home country, and it was on his recommendation that the Brewers signed Hall to his first professional contract in 2017.
Hall had just turned 19 years old when he made his US debut with the 2018 Arizona Summer League Brewers, but at that point he had already logged 54 professional appearances in his age 17 and 18 seasons with the Australian Baseball League's Perth Heat. Hall has played parts of five seasons in that league, batting .272 with a .352 on-base and .429 slugging across 140 contests and logging over 800 innings behind the plate.
Stateside, meanwhile, Hall has faced the challenge of having to stay sharp and wait his turn. 2022 is his fourth season in the minors, but the 52 games he played between Carolina and Wisconsin last season were a career high. Despite limited opportunities at the plate, Hall is a career .249 hitter in the minors with a .307 on-base, .379 slugging and 45 extra base hits.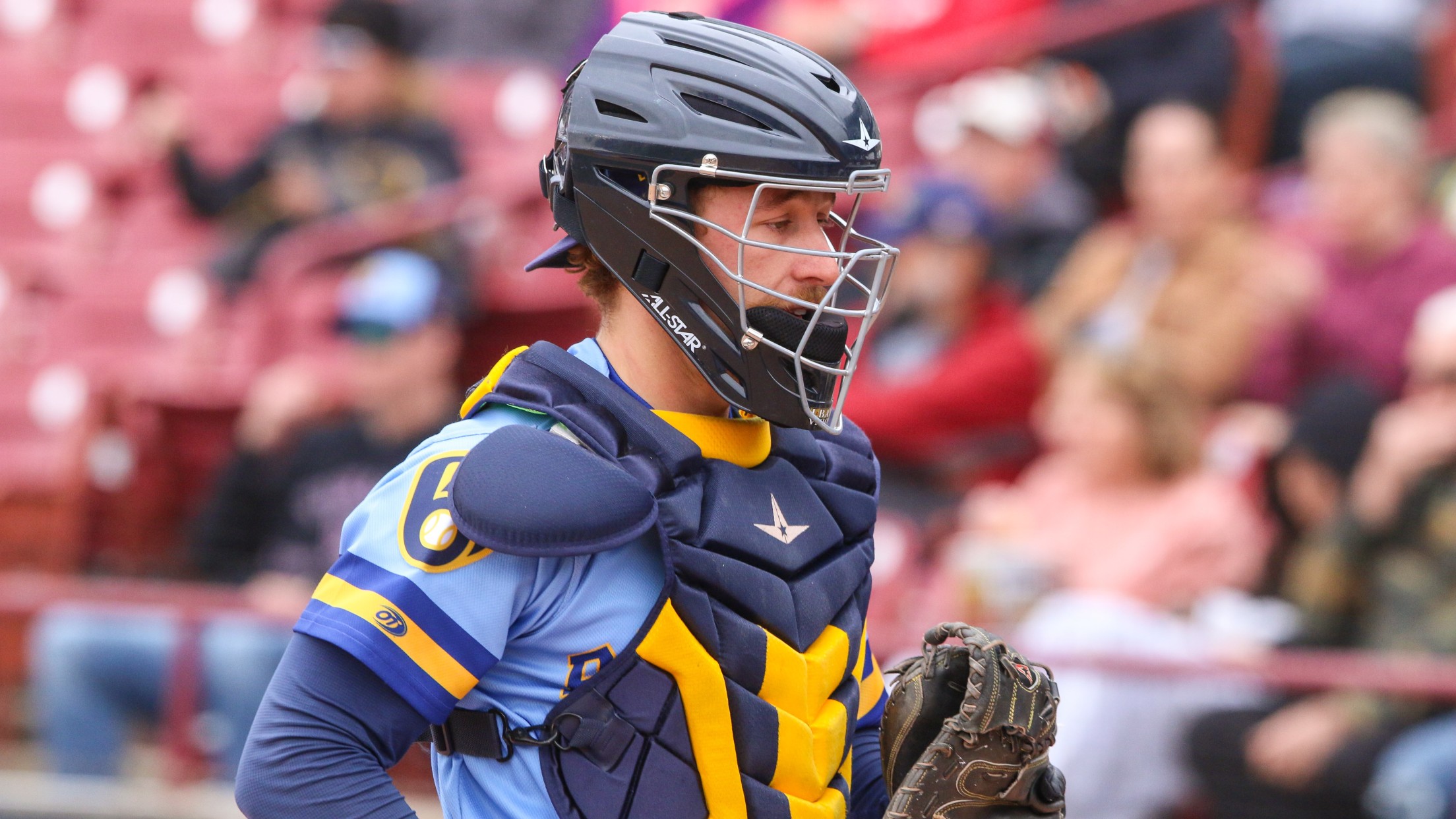 To start the 2022 season Hall reached base safely in ten of his first 12 games, driving in nine runs. That stretch, however, covered a span of 40 days. With teammates Darrien Miller and Wes Clarke also catching regularly, Hall has had to wait for chances.
"It's honestly just getting the work in whenever you can in the cage, with the hitting coaches," Hall said when asked how he stays sharp in limited duty at the plate. "But I pride myself in my catching more than anything, so I'd rather be a good catcher than have a good day at the plate, as long as we win I'm a lot happier if I helped the pitching staff do a lot better. But it's honestly just reps and staying confident in yourself."
The waiting game, however, is not easy. As recently as this spring Hall said he was struggling and wondering if he would continue with professional baseball.
"I'm glad I stuck with it," Hall said. "I had some great support, especially with Joe Ayrault, just helping me out whenever he could, and some good family members back home."
Hall's family, teammates and coaches, of course, could not have predicted the experience he was about to have. His call to the majors came on such short notice that he arrived into the Brewers clubhouse just eight minutes before first pitch and emerged into the dugout during the game's second batter. Minor league catchers are sometimes called upon to work the final innings of major league spring training games but Hall had never done that, so his first opportunity to meet Brewers manager Craig Counsell was in the home dugout at American Family Field during the first inning.
"I didn't get nervous until probably the fourth inning, when I started to think about situations where I could come in," Hall said.
Hall didn't get into the game that night, but he did get to witness another memorable moment for a teammate: 2019 Timber Rattlers pitcher Peter Strzelecki pitched the final two innings of that contest for his major league debut and picked up the win as the Brewers rallied late to beat the Padres. The game was a reunion of sorts, as Hall caught Strzelecki's first professional game in Arizona in 2018.
Hall was also a part of the early professional careers of several current Timber Rattlers: 2022 Wisconsin relievers Cam Robinson and Brady Schanuel and starting pitcher Justin Jarvis all pitched to Hall in his first professional season in 2018, outings that were also some of the first of their professional careers.
"We've been with each other for most of my pro ball career, so it's just a good relationship," Jarvis told the Rattler Radio podcast after he pitched to Hall and allowed one run over six innings on June 5. "He mixes pitches well, and I'm not a big shake-off guy so I like my catchers to just put down what I need to be throwing and he's been doing it for me this year."
That June 5 game was Hall's first contest back with the Timber Rattlers: The Brewers ironed out their catching situation and returned him to Wisconsin following that single game in Milwaukee. He rejoined the Timber Rattlers armed with a few new bats, batting gloves, a leather belt and a fresh pair of shower shoes, but Hall had to wait to clear waivers before he could return to the Rattlers' lineup. In his first game back with Wisconsin, he hit his first home run of the season.
"The goal is definitely to get back (to Milwaukee). I guess you can't press it too much, just kind of let things happen how they happen and hopefully things will work out and we'll get back there," Hall said.
In the meantime, however, Hall's stint with the big league club has drawn notice around the globe. There are only three Australian-born players who have appeared in an MLB game this season, so Hall's callup was a big deal for the entire baseball community back home.
"Basically, the big baseball group from back in Australia reached out; there were a lot of requests and stuff like that. Coaches from other teams back home. It was a nice surprise, I was glad they reached out," Hall said.
In the weeks since his adventure Hall has settled back in with the Timber Rattlers and maintains a simple set of goals for the rest of the year.
"To have a good year, catch really good for the team, help out the pitching staff in any way I can, and just be happy," Hall said.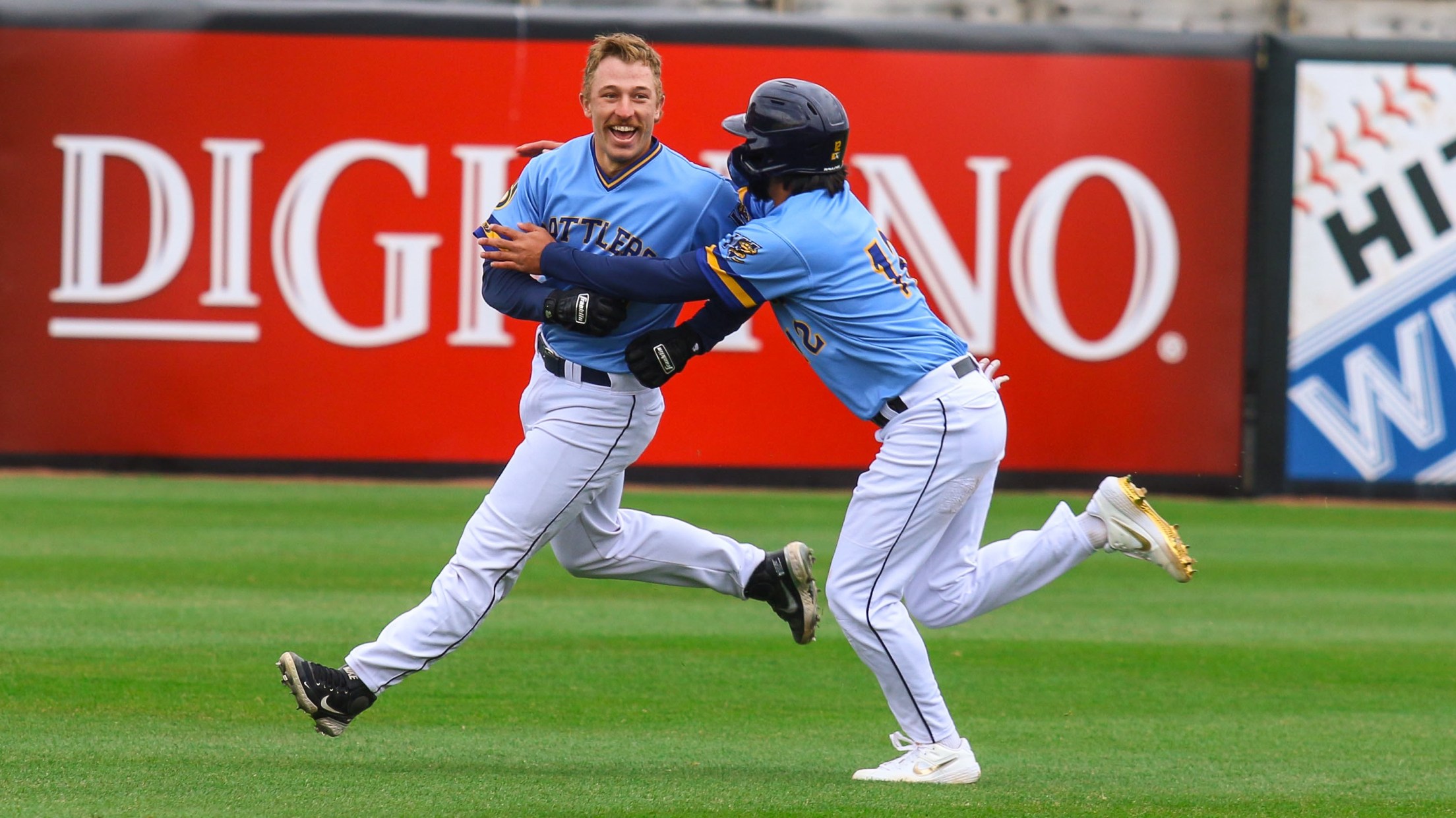 😲ALEX HALL ON MOTHER'S DAY! #WalkOffCity

The Timber Rattlers #WIN in Walk-Off fashion!🐍#TRatNation pic.twitter.com/J6R5ySD2uF

— Wisconsin Timber Rattlers (@TimberRattlers) May 8, 2022