Déjà Vu: Shuckers Fall 13-2 For Second Straight Night
Valerio Goes Perfect 4-for-4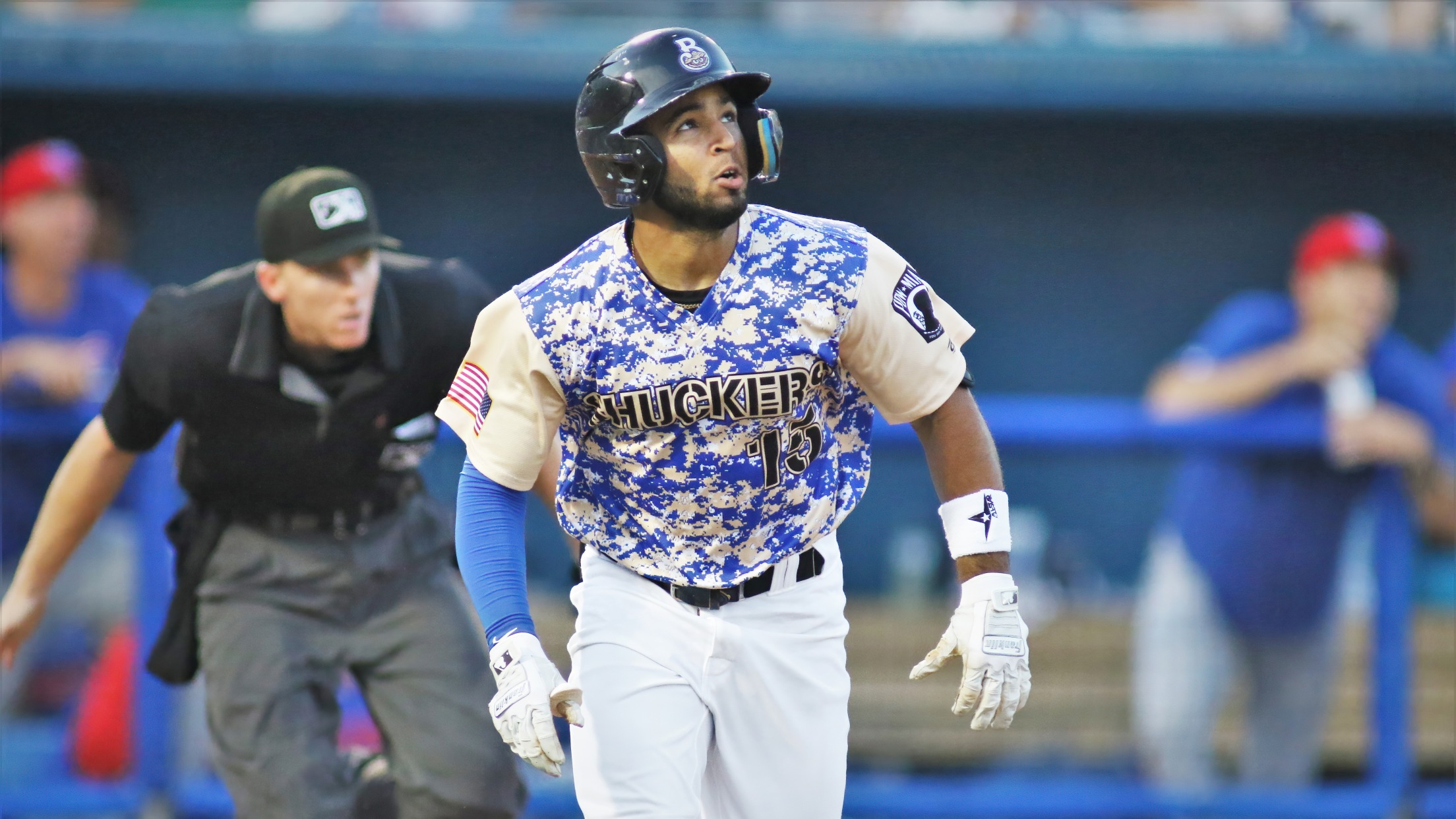 (Photo - Mike Krebs)
For a second consecutive night, the Biloxi Shuckers (58-67, 24-34 2nd Half) fell 13-2 to the Mississippi Braves (59-66, 30-27) at MGM Park. Unlike Tuesday night, the Shuckers and M-Braves went scoreless through the first three frames. Biloxi did have a scoring chance in the first when Felix Valerio singled
For a second consecutive night, the Biloxi Shuckers (58-67, 24-34 2nd Half) fell 13-2 to the Mississippi Braves (59-66, 30-27) at MGM Park.
Unlike Tuesday night, the Shuckers and M-Braves went scoreless through the first three frames. Biloxi did have a scoring chance in the first when Felix Valerio singled with one out and Garrett Whitley followed with a single off LHP Dylan Dodd (W, 1-4). Both runners advanced 90 feet on a flyout to deep center by Thomas Dillard but a flyout ended Biloxi's scoring threat.
Mississippi struck for a run in the top of the fourth inning on a solo home run by Drew Lugbauer, his 25th of the year. The M-Braves tagged on four more in the top of the fifth on a three-run homer by Logan Brown and an RBI single by Lugbauer, widening the Mississippi advantage to 5-0.
Biloxi cracked the scoreboard with a pair of runs in the home half of the sixth. Whitley walked and raced in to score on a double to center by Dillard. Wes Clarke then doubled off the center field wall, putting men at second and third while chasing Dodd from the game. RHP Jason Creasy (H, 7) got a flyout but walked Ethan Murray to bring up Yeison Coca, who plated Dillard with a sacrifice fly to left, pulling Biloxi within a trio at 5-2.
The M-Braves would pull away in the top of the eighth, scoring six runs including a three-run homer by Lugbauer, his second of the night, moving Mississippi ahead 11-2. A two-run homer by Andrew Moritz in the top of the ninth inning finished the scoring for the M-Braves. With the loss and a win by the Montgomery Biscuits, the Shuckers have been officially eliminated from playoff contention.
The Shuckers continue their final home stand of 2022 on Thursday night. Biloxi is scheduled to send RHP Victor Castañeda (3-6, 4.07) to the mound against M-Braves RHP Tanner Gordon (8-5, 5.50) for a 6:35 pm first pitch. The game can be seen on MiLB.TV and heard locally on WGCM AM 1240/FM 100.9 or online here. Individual tickets and group outings are available for the final home stand of the 2022 season by calling (228) 233-3465 or visiting biloxishuckers.com.
ABOUT THE BILOXI SHUCKERS:
The Biloxi Shuckers are the Double-A Affiliate of the Milwaukee Brewers. The Shuckers are members of the Southern League and play at MGM Park in Biloxi, Mississippi. For more information please visit biloxishuckers.com and follow us on Twitter @biloxishuckers and at facebook.com/biloxishuckers.