Tickets On Sale For Hancock Whitney Classic As Mississippi State Returns To MGM Park
Bulldogs To Take on Nicholls State on March 14 and Ragin' Cajuns on March 15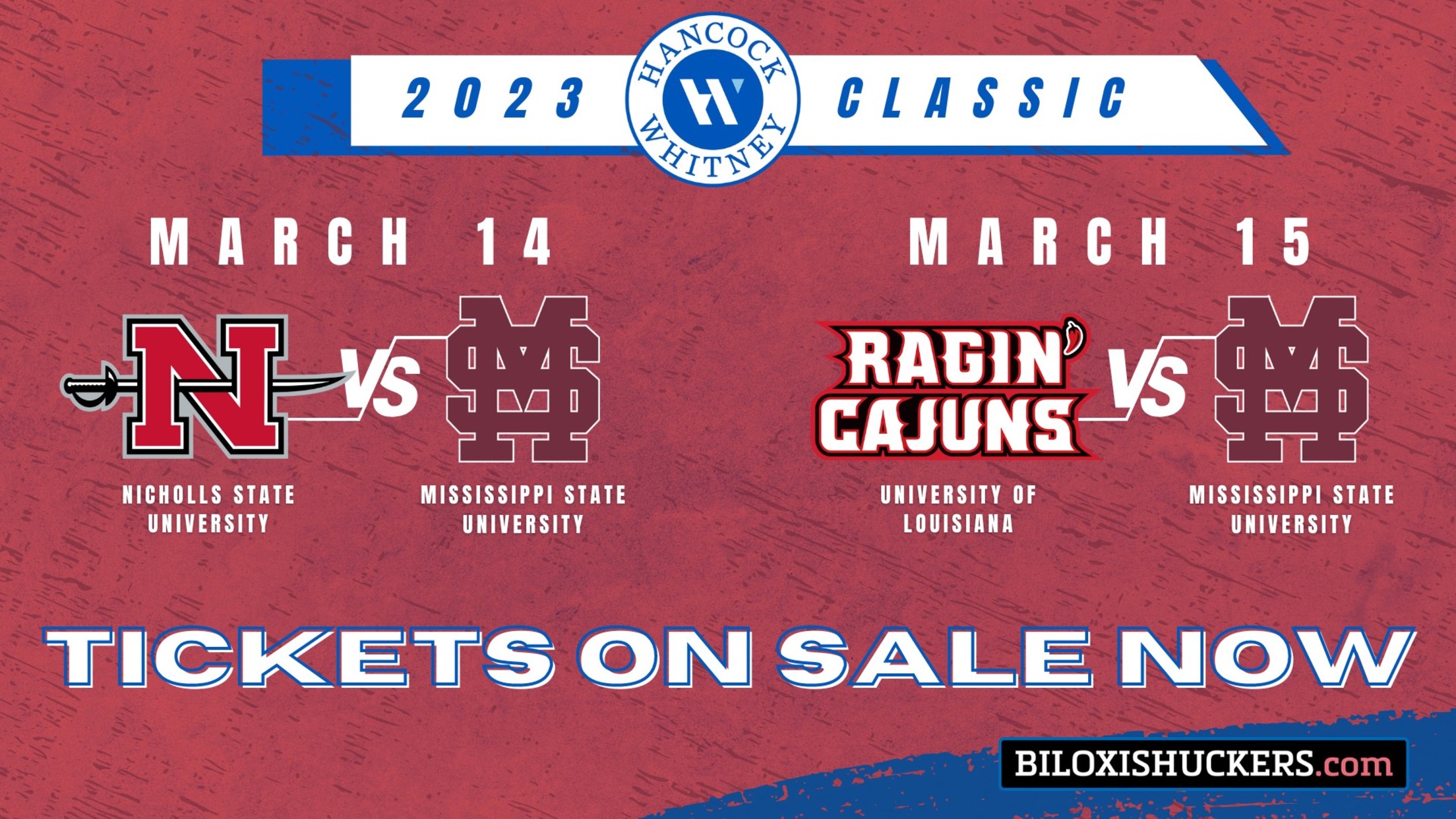 Tickets for Mississippi State's pair of games at MGM Park in 2023 are now on sale. The Diamond Dawgs will participate in the Hancock Whitney Classic again as they take on Nicholls State on Tuesday, March 14, before matching up with the University of Louisiana on Wednesday, March 15. PURCHASE
Tickets for Mississippi State's pair of games at MGM Park in 2023 are now on sale. The Diamond Dawgs will participate in the Hancock Whitney Classic again as they take on Nicholls State on Tuesday, March 14, before matching up with the University of Louisiana on Wednesday, March 15.
Tickets are available for purchase through Ticketmaster, the official ticket provider of the Biloxi Shuckers, or at the MGM Park Box Office during regular hours, Monday through Friday from 9 am to 5 pm. Hospitality area reservations can be made through the Shuckers by calling (228) 233-3465.
"We're thrilled to partner with our friends at Hancock Whitney again to bring Mississippi State back to MGM Park for the third time in four years," said Biloxi Shuckers General Manager Hunter Reed. "There are so many Mississippi State fans on the Coast and it's a wonderful opportunity to have the Diamond Dawgs play down here in front of a home crowd, even when they are away from Dudy Noble Field."
Mississippi State appeared at MGM Park for the Hancock Whitney Classic in 2020 and 2022, taking on the Texas Tech Red Raiders in a pair of two-night engagements. Each of the four contests for the Bulldogs at MGM Park have drawn some of the largest crowds in the ballpark's history as Mississippi State won three of their four matchups in Biloxi.
"Hancock Whitney is honored to join again with the Biloxi Shuckers in bringing the Hancock Whitney College Classic back to South Mississippi and MGM Park," said Hancock Whitney Mississippi Gulf Coast President Brent Fairley. "This electrifying series creates opportunities for fans to see some of college baseball's finest athletes in action at a premier event that helps further strengthen Coastal Mississippi's economic and community vitality."
"We are excited about our trip to Biloxi this upcoming season," remarked Mississippi State head coach Chris Lemonis. "I would like to thank Ken Young, Hunter Reed, Trevor Matifes and the rest of the Biloxi Shuckers' staff for putting this on. We have had great experiences playing at MGM Park. We enjoy coming to Biloxi to give our fans on the coast a chance to see us play. We feel it's important to play across our state and the Shuckers do an unbelievable job of hosting. We have two quality opponents in Louisiana and Nicholls State this season. It's a great time to be down there with spring break and the other baseball tournaments going on, which will make for a fun couple days."
Group outings, Shuck Nation memberships and Flex Plans for the 2023 Biloxi Shuckers season are available now by calling (228) 233-3465 or visiting biloxishuckers.com. The Shuckers begin the 2023 season on April 7 at Trustmark Park against the Mississippi Braves before their home opener at MGM Park on April 11 against the Pensacola Blue Wahoos.
ABOUT THE BILOXI SHUCKERS:
The Biloxi Shuckers are the Double-A Affiliate of the Milwaukee Brewers. The Shuckers are members of the Southern League and play at MGM Park in Biloxi, Mississippi. For more information please visit biloxishuckers.com and follow us on Twitter @biloxishuckers and at facebook.com/biloxishuckers.