Purchasing Tickets In Advance
Tickets can be purchased online at www.BiloxiShuckers.com/tickets. Purchasing online gives control to the fan to hand select their desired seating. Due to the Shuckers having exclusively digital ticketing, the Biloxi Shuckers highly advise fans to purchase their tickets in advance online in order to save them both time and money. Fans can save up to 23% off of their tickets by purchasing them prior to the day of the game. Tickets can also be purchased in person at the MGM Park Box Office located on the northeast side of the ballpark. The Box Office is open Monday-Friday from 10 a.m. to 5 p.m on non-gamedays. The Box Office is closed on Federal holidays. Box Office operating time on game days varies.
** There are no refunds or exchanges for individual game tickets. **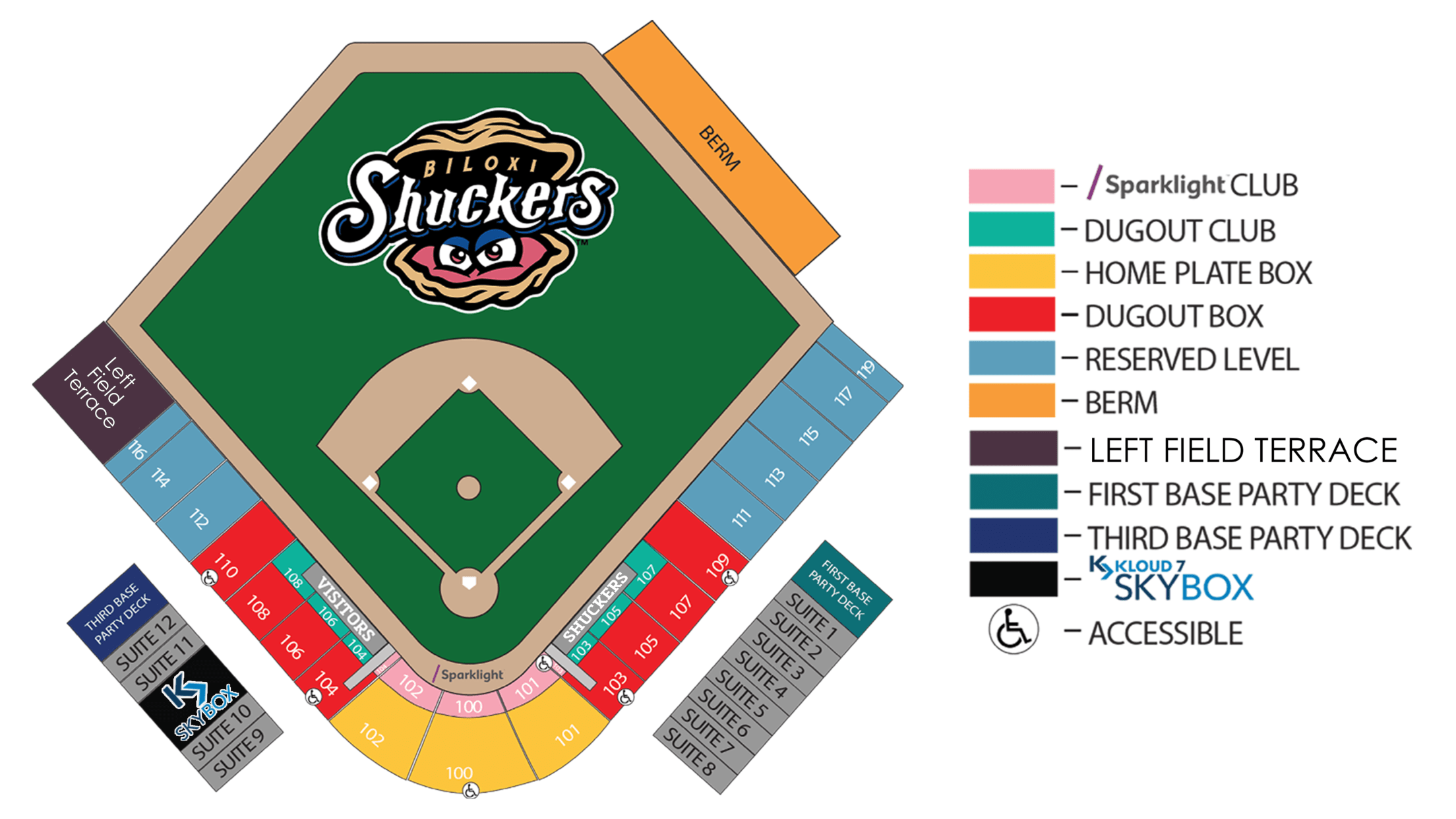 Rain Check Policy
If an official game is not played, (that being 4 1/2 innings if home team is leading, or 5 innings if game is tied or if visiting team is leading), the ticket may be used as a rain check. In this case, this ticket may be exchanged for a ticket of equal value, based on seating availability, for any future 2022 regular season, non-restricted home game. Exchanges are accepted exclusively at the MGM Park Box Office. Tickets for official games which are suspended after becoming official contests do not qualify as rain checks.
Resale and Distribution of Tickets
Shuckers' tickets are the property of the Biloxi Shuckers and may not be sold or distributed. Attempted or actual resale or distribution of tickets at any price is prohibited. Shuckers' management reserves the right to confiscate any tickets being sold or distributed.
Gate Times
Gates will open 65 minutes prior to the start of the game unless otherwise noted. Please check www.BiloxiShuckers.com or call (228) 233-3465 for updated gate times.
Age Requirements For Ticket Purchases And Discounts
Children ages 2 and older require a paid ticket for entrance into MGM Park. Children ages 2-12, seniors ages 65 and above, and military with a valid ID qualify for a $1.00 discount off the Reserved Level, Dugout Box Level and Home Plate Box Level for all non-restricted home games. Please mention the discount when purchasing the tickets at the MGM Park Box Office
Berm Tickets
Berm seating is only available for purchase on the day of the game. The price is $8 for non-restricted home games. It is important to note that there are no physical, assigned seats in the berm. It is a general admission grass hill in right field. You may not bring lawn chairs into the berm but you are welcome to bring towels or blankets to sit on. A berm ticket will also allow you to stand anywhere along the concourse within the stadium but you cannot enter the seating bowl.
Re-Entry Policy
Fans are allowed to re-enter MGM Park with a valid ticket and a stamp on your hand. Make sure you get your hand stamped by a ticket taker on your way out of the gates if you are planning on coming back into the ballpark. You are and your belongings are subject to be search upon re-entering into MGM Park.
Contact Information
MGM Park Box Office
105 Caillavet St
Biloxi, MS 39530
(228) 207-3612
Will Call
The Will Call window is located at the MGM Park Box Office. For your protection, Will Call tickets are only released to the individual whose name appears on the order, Ticketmaster account header card, or Will Call envelope. A valid photo ID, as well as the credit card used to make the purchase, is required to pick up tickets. The Shuckers will allow you to drop off tickets for another individual by providing the full name of the recipient, as well as your name and contact information. The Shuckers are not responsible for any tickets left by anyone outside of the Shuckers organization. Will Call tickets may be picked up any time after the order has been processed. For questions regarding Will Call procedures, please contact the MGM Park Box Office at (228) 207-3612.