Barons Legend, Michael Jordan, Celebrates his 60th Birthday
60 years, two tricennials, six decades, 21,915 days. No matter the verbiage, Michael Jordan has packed his 60 years of life to the fullest. He accomplished many things in his life and will be remembered for eternity as, arguably, the best basketball player of all-time. Jordan's passion for basketball was
Barons Announce 2023 Coaching Staff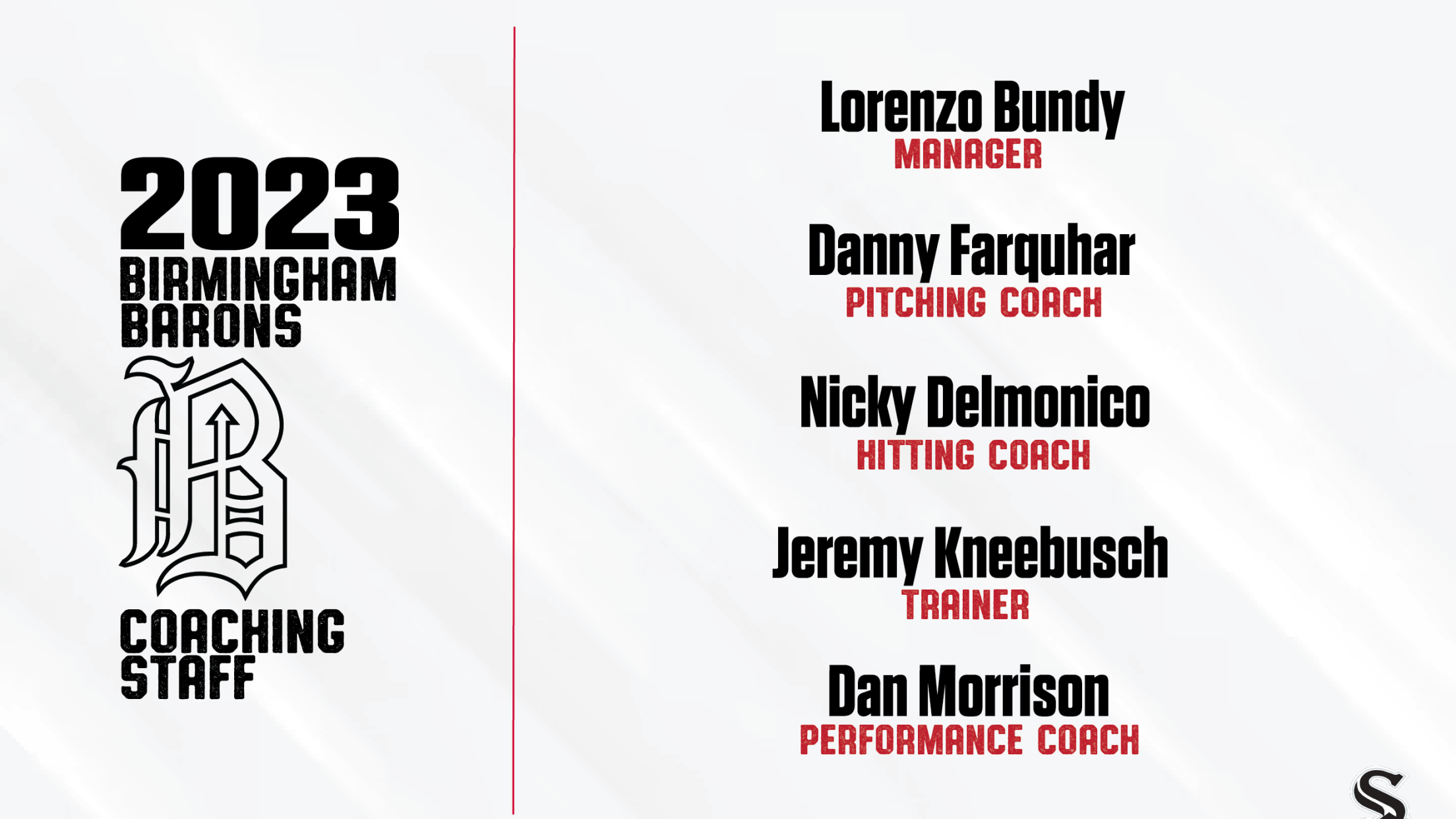 The Birmingham Barons, in conjunction with the Chicago White Sox, are excited to announce the Birmingham Barons coaching staff for the 2023 season. Barons 2023 Coaching Staff - Manager - Lorenzo Bundy - Pitching Coach - Danny Farquhar - Hitting Coach - Nicky Delmonico - Trainer - Jeremy Kneebusch -
Barons Close Out 2022 Season Against Lookouts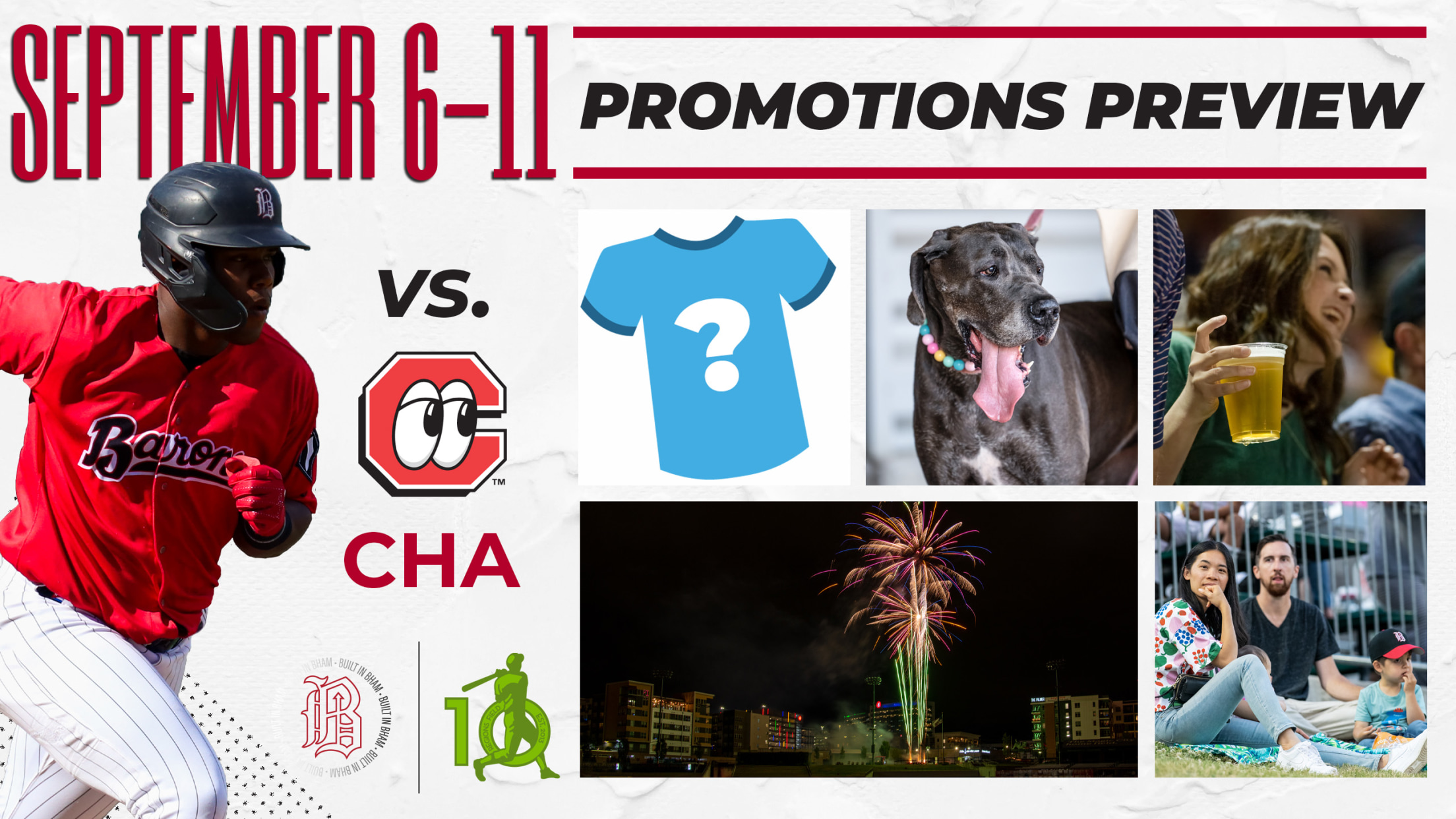 The Barons return to Regions Field this week for the final home stand of the season against the Chattanooga Lookouts, Double-A affiliate of the Cincinnati Reds. The series kicks off with a Mystery T-Shirt Tuesday, Wet Nose Wednesday, and Thirsty Thursday. Fireworks light the skies on Friday and Saturday with
Barons Announce 2023 Official Schedule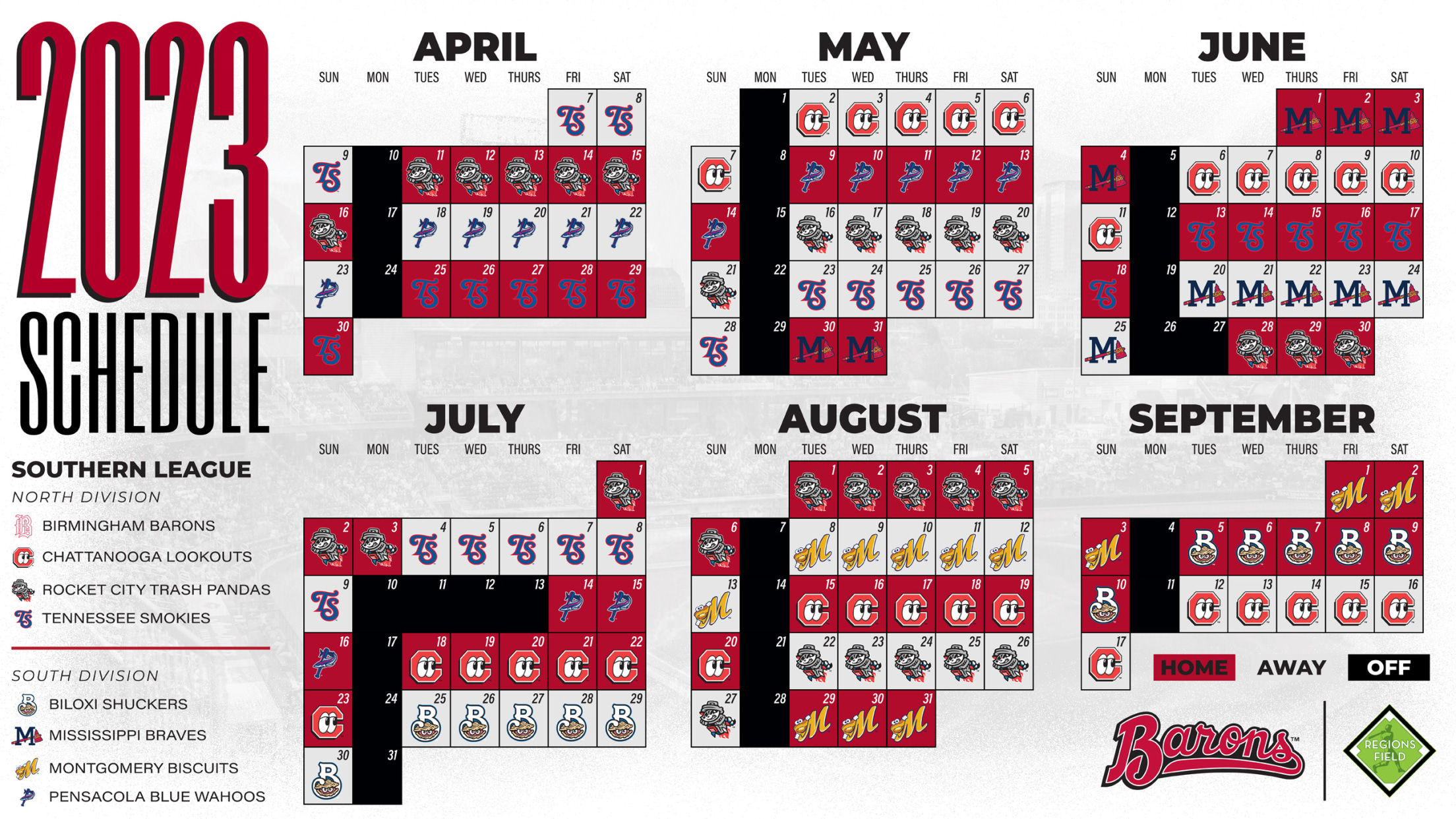 BIRMINGHAM, Ala. – The Birmingham Barons are excited to announce that their eleventh season at Regions Field will begin on Friday, April 7th and conclude on Sunday, September 17th. The Barons schedule will be made up of six-game series that start on Tuesday and end on Sunday, with some exceptions
Barons Announce New Partnership with Coolray Heating, Cooling, Plumbing, and Electrical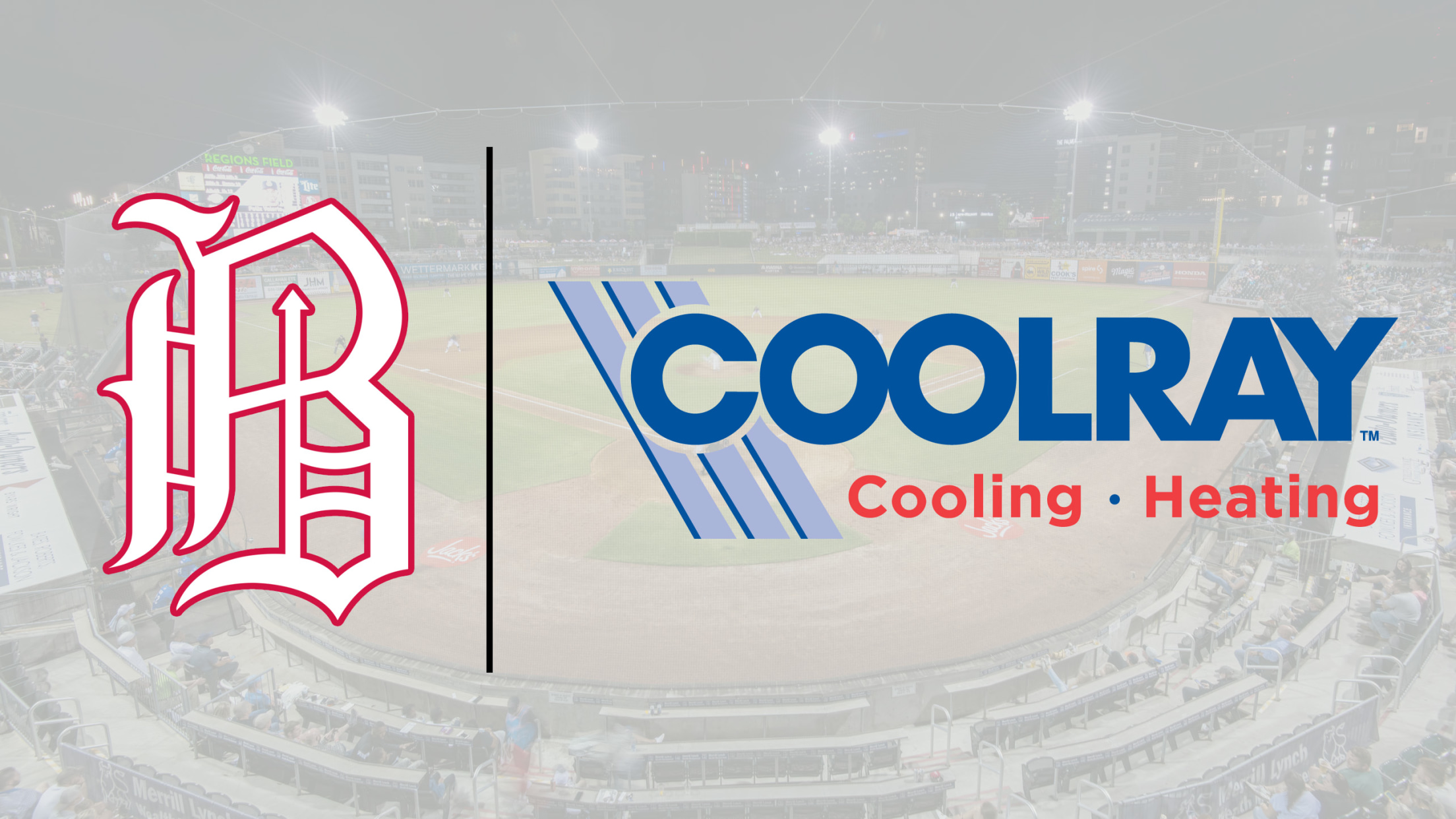 Unveiled to the public on Saturday, August 6th, Coolray Heating, Cooling, Plumbing and Electrical and the Birmingham Barons have announced a new partnership. Coolray has entered the Birmingham market with a full service of residential HVAC services. Features of the partnership include signage at Regions Field, home of the Barons.
Birmingham Faces North Division Rival Tennessee, August 16th-21st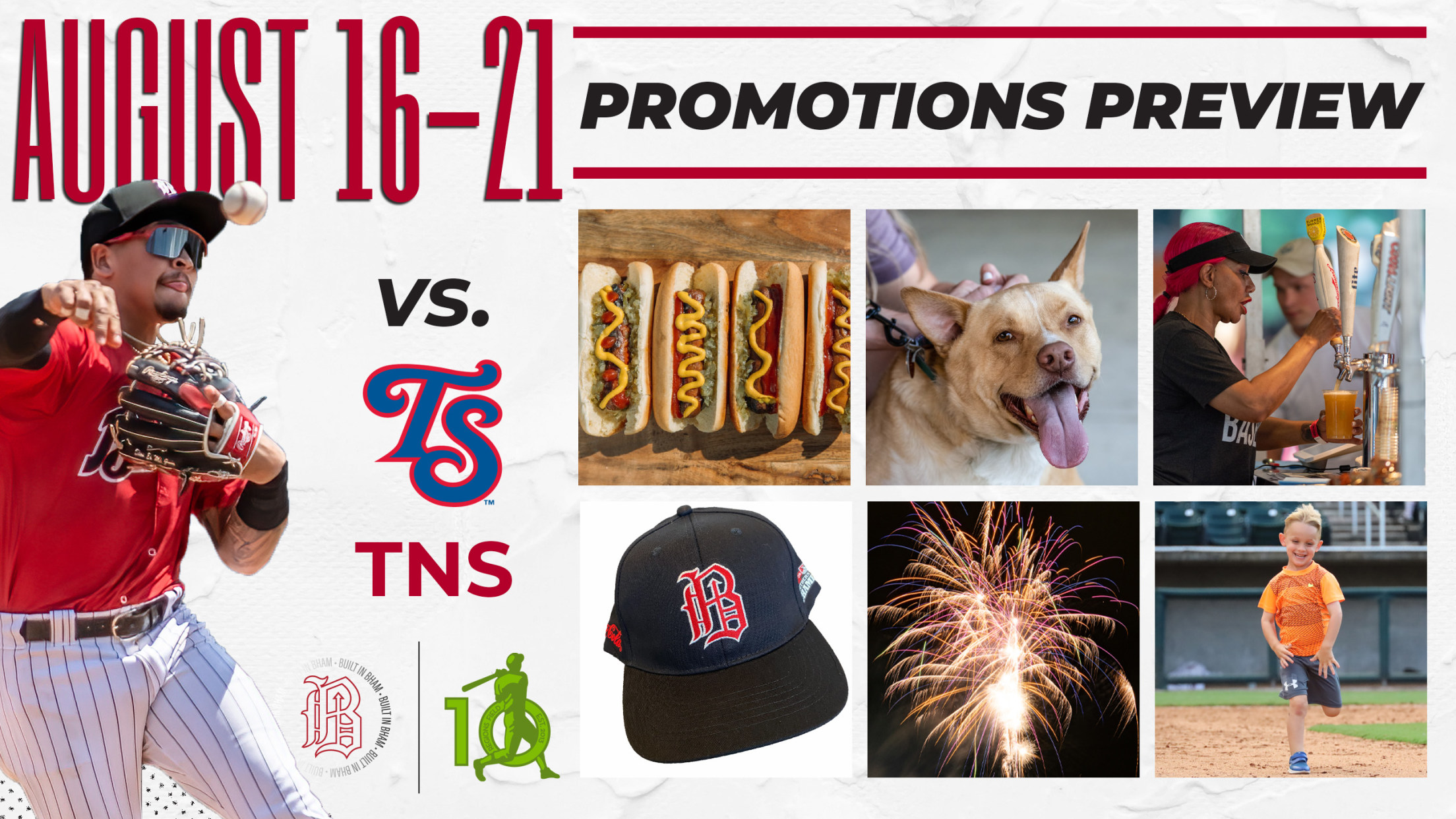 Following a road series against the Pensacola Blue Wahoos, the Barons are back at Regions Field tomorrow, Tuesday August 16th for their final matchup against division leading Tennessee Smokies, Double-A affiliate of the Chicago Cubs. T-Shirt Tuesday returns to Birmingham with a UAB themed design followed by weekly staples, Wet
Barons' Barren Offense Isn't Enough
On Tuesday, the Barons and Lookouts offered up a southpaw showdown. For Birmingham, they sent their stud lefty Garrett Davila while Chattanooga used Andrew Abbott. Despite the overall poor record in the second half, Chattanooga looked to add to their impressive run as of late, as they just finished taking
Chattanooga Dominates in Extras to Steal Game 5
For the third straight game, neither Birmingham nor Chattanooga wasted much time cracking the score column. Emilio Vargas was not to blame, though. After striking out the first two Lookouts of the game, Birmingham's starter watched as Elly De La Cruz slapped yet another double that yet again surpassed a
Lookout! Cincinnati's Farm System is Stacked
Unlike the night before, things started rapidly on Friday night. Birmingham's Scott Blewett ran into the train that is Matt McLain right now as he sent a wall-scraper over the wall for his second long ball of the series. As a result, Chattanooga quickly gained a 2-0 lead. That said,
For those who didn't attend Thursday night's game, you missed out on arguably the best Thirsty Thursday yet. Not only was the ballgame as enticing as ever, but fans were also treated with a free hour of drinking because of the rain delay that pushed first pitch from 7:05 to
Dueling Debuts Leans in Lookouts' Favor
Wednesday night's matchup between the Barons and Lookouts placed two newcomers against one another. Included in the Luis Castillo trade, Levi Stoudt made his Cincinnati Reds debut for the Chattanooga Lookouts. Conversely, Birmingham's newest arm, Matthew Thompson, earned the promotion from High-A Winston-Salem earlier this week. Early on, there was
Barons Welcome Lookouts, August 2-7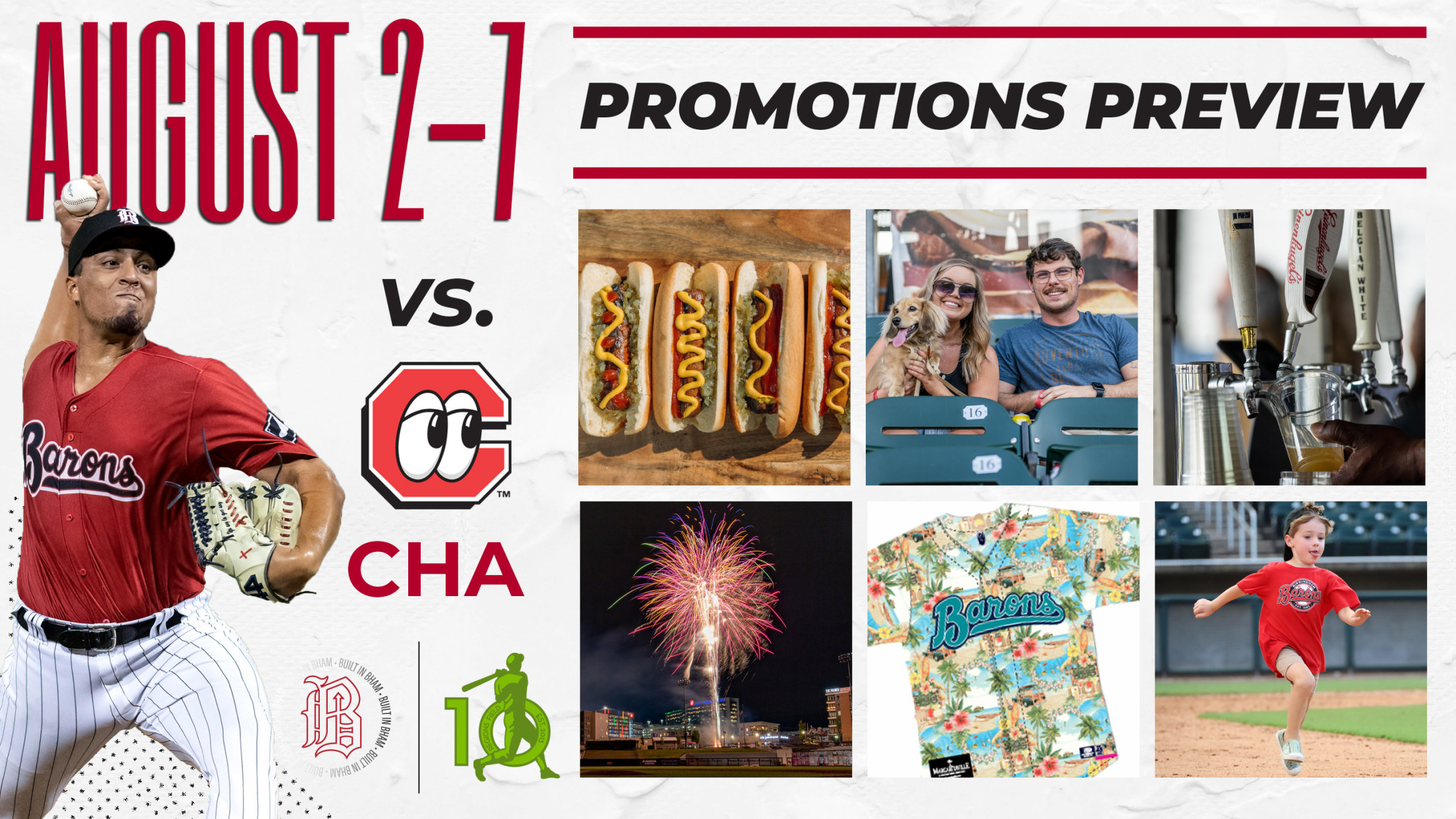 After over two weeks away, the Barons return to Regions Field on Tuesday, August 2nd for a six game series against the Cincinnati Reds Double-A affiliate, the Chattanooga Lookouts. Despite this being their fourth matchup of the year, it's the first time Chattanooga visits Birmingham. Fans of both teams will
Birmingham Powers Their Way to 11-6 Victory
Saturday night's big win pushed Birmingham back atop the Southern League standings. However, doing so came at the price of everyone's precious time, as the game lasted a season-long three hours and thirty-four minutes without any delays. Nevertheless, the ballgame was entertaining because both sides went blow for blow until
Barons Beginning, Middle, & End Up Losing 3-2 
Friday night's battle between the Barons and Smokies displayed some spacious, drawn-out baseball. Throughout the night, neither side definitively dominated nor garnered commanding control of the game. With such a low-scoring game, pitching fired on all cylinders. Specifically, Sean Burke for Birmingham and D.J. Herz for Tennessee pitched admirably. The
Barons Bats Beat Smokies Defense in 7-1 Win
The Barons (44-49) picked up another win against the Smokies (50-43) in a 7-1 victory at Smokies Stadium for the series lead. After four and a half scoreless innings, Tennessee got on the board with their only run of the game, but the Barons quickly responded with an RBI single
Colas Homers Twice in 8-3 Win Over Smokies
The Barons (43-49) evened up their current road series in Tennessee with an emphatic 8-3 win over the Smokies (50-42). Oscar Colas led the charge with his second multi-home run game in less than a week, while the Birmingham pitching and defense blanked their opponent for a total of seven
Tennessee Mounts Late Comeback to Earn Hard-Fought 7-6 Victory
In the series opener against the Smokies, Birmingham jumped out to a relatively early lead. However, their bullpen, which has undoubtedly been better as of late, dropped the ball in the end. As for their starting pitcher, Birmingham's Emilio Vargas pitched very well for the most part. His final line,
Gonzo Colas! Gonzo Muno! Gonzo Colas Again!!
It's only fitting that on the same day Barons' announcer Curt Bloom finally gets called up to the big leagues, the Barons' bats explode with three home runs. After 30+ years announcing Birmingham baseball, Bloom called his first White Sox regular season game on Sunday. Simultaneously, his Barons salvaged the
Season Low in Hits Result in 5-1 Barons' Loss
Saturday night's showcase between the Barons and Trash Pandas furthered the narrative the night before illustrated. Although Birmingham's enjoying a solid second half, the genuine better team reigns from Huntsville, Alabama, and not Birmingham. Specifically, the apparent deciding factor between these two teams is pitching prowess. Offensively speaking, Birmingham not
Rocket City's Bats Blast them to 7-2 Victory
Following the league-wide All-Star break, Birmingham returned to action on Friday to face their in-state rival, the Rocket City Trash Pandas. In the first half, Rocket City cruised to a northern division victory. In the second half, though, Birmingham's turned around their year by leading the standings thus far. However,
Biscuits Bury Birmingham 15-5
Sunday's series finale between the Barons and Biscuits did not go accordingly. Seeing that the all-star break was approaching, both sides wanted a fast ballgame, but, like the rest of this series, Sunday's game approached the three-hour mark. Overall, pitching was not the strong suit on Sunday, as the two
Barons' Bats Burn Biscuits with 8-Run Inning
On a night where Birmingham struggled out the gate, it only took one inning to turn things around entirely. Before then, though, the Biscuits' bats carried the load. Sean Burke started the night for Birmingham, hoping for a change of fortune. However, the 6'6" right-handed pitcher struggled again, lasting just
Montgomery Gifted Birmingham a Loss for Christmas in July
Christmas came early this year in Birmingham, Alabama, as the Barons debuted their Elf-inspired uniforms. For the Barons, playing the role of Buddy, also known as the starter, was Garrett Davila. The team's lone southpaw entered Friday enjoying a two-game win streak but endured a rough outing for the first
Barons Walk-Off Victorious for Third Time This Week
Thirsty Thursday night at Regions Field generated a much more energetic crowd and ballgame. Following the marathon game the night before, both sides improved their pace tremendously, despite the highly competitive environment. Both Birmingham and Montgomery started one their better arms on their staff, with Jason Bilous and Sean Hunley
Biscuits Halt Birmingham's Win Streak at Four
Wednesday's matchup between the Biscuits and Barons swallowed the souls of those watching, especially for Birmingham's faithful. Neither team showcased poor effort in any regard, but the pace of play was extraordinarily slow. Specifically, not even three full innings into the night, both sides combined for nine full counts. Consequently,