Former Mudcat Burnes Named 2021 NL Cy Young
Corbin Burnes becomes first former Mudcats pitcher to earn Cy Young Award honors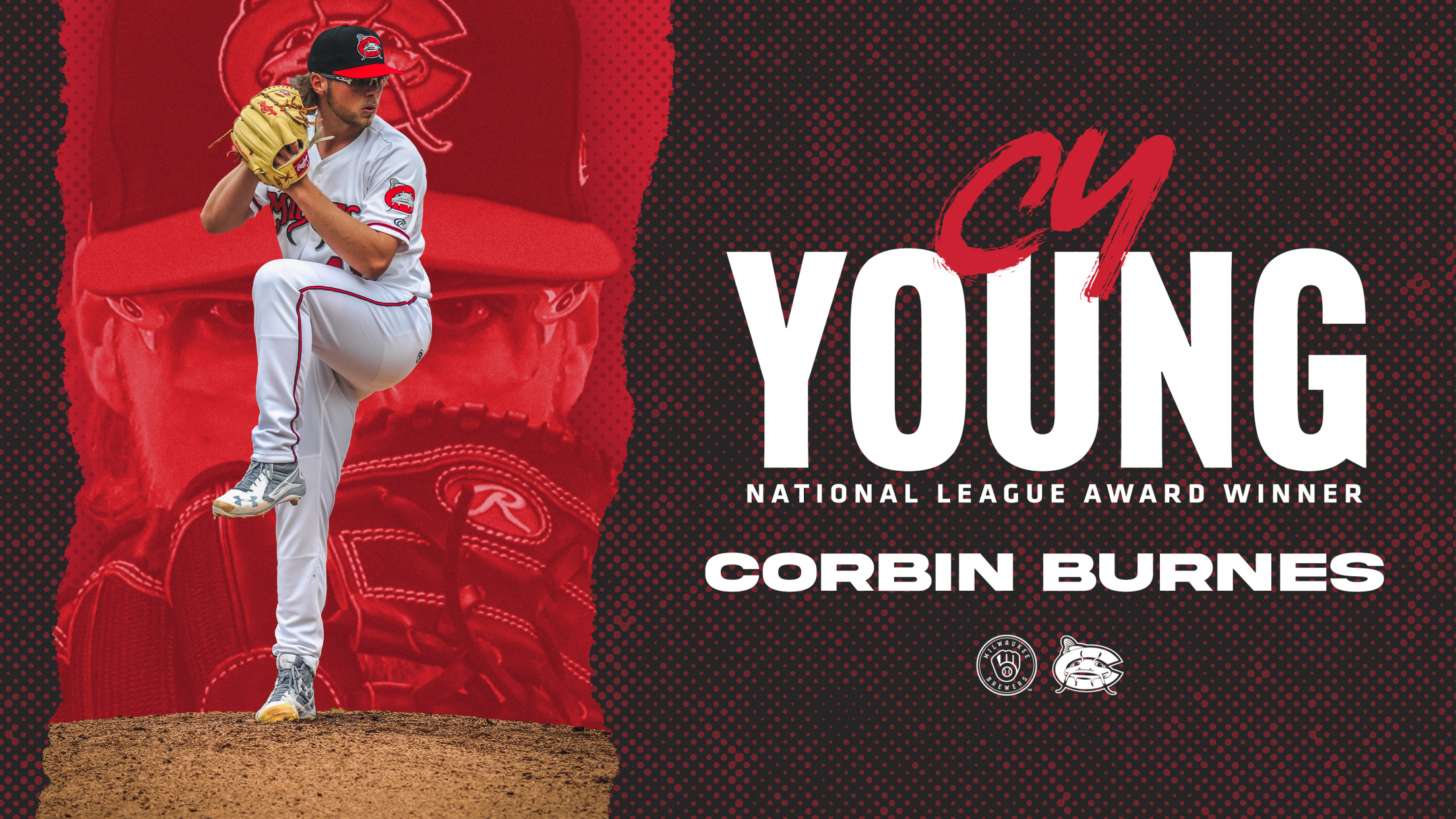 Milwaukee Brewers right-handed starter, and former Carolina Mudcats pitcher, Corbin Burnes has been named the 2021 National League Cy Young Award winner as voted upon by the Baseball Writers' Association of America (BBWAA). Burnes is the first former Mudcats player to earn Cy Young honors and joins both Rollie Fingers
Milwaukee Brewers right-handed starter, and former Carolina Mudcats pitcher, Corbin Burnes has been named the 2021 National League Cy Young Award winner as voted upon by the Baseball Writers' Association of America (BBWAA). Burnes is the first former Mudcats player to earn Cy Young honors and joins both Rollie Fingers (1981) and Pete Vuckovich (1982) as the only Brewers to win the award.
Burnes, 27, went 11-5 with a 2.43 ERA over 28 starts and 167.0 innings pitched in 2021. He also led the Majors in ERA, strikeout rate (35.6%), K/BB ratio (6.88) and FIP (1.63).
A native of Bakersfield, CA, Burnes' historic 2021 season started with him totaling 58 strikeouts before issuing his first walk, setting a MLB record. He also matched a record with 10 consecutive strikeouts in a game against the Chicago Cubs on August 11. He also combined with Josh Hader to throw the second no-hitter in Brewers history on September 11 in Cleveland.
goat
/ɡōt/

used to refer to or describe a person or thing that is considered to be the best ever in a particular field, category, etc., especially in sports.

𝙨𝙚𝙚: 𝘾𝙤𝙧𝙗𝙞𝙣 𝘽𝙪𝙧𝙣𝙚𝙨, 𝙈𝙞𝙡𝙬𝙖𝙪𝙠𝙚𝙚 𝘽𝙧𝙚𝙬𝙚𝙧𝙨 🐐 pic.twitter.com/NIgGhHHsAD

— Carolina Mudcats (@CarolinaMudcats) November 17, 2021
Burnes pitched for the Mudcats during the 2017 season before receiving a promotion to Double-A Biloxi in late May. He went 5-0 with a 1.05 ERA that season and totaled 56 strikeouts against 16 walks over 10 starts and 60.0 innings pitched. Burnes also pitched to a 0.88 WHIP and .181 average against in 2017 with Carolina.
That 2017 season later concluded with Burnes being named the Brewers Minor League Pitcher of the Year after going a combined 8-3 with a 1.67 ERA with High-A Carolina and Double-A Biloxi. He also totaled 140 strikeouts and 36 walks over 145.2 innings and 26 starts overall in 2017.
Burnes went on to make his Major League debut with the Brewers during the 2018 season.