Grand Slam Giveaway Plan Back for 2022
The 2022 Grand Slam Giveaway ticket and souvenir item plan includes game tickets, three replica jerseys, a souvenir hat, and short sleeve hoodie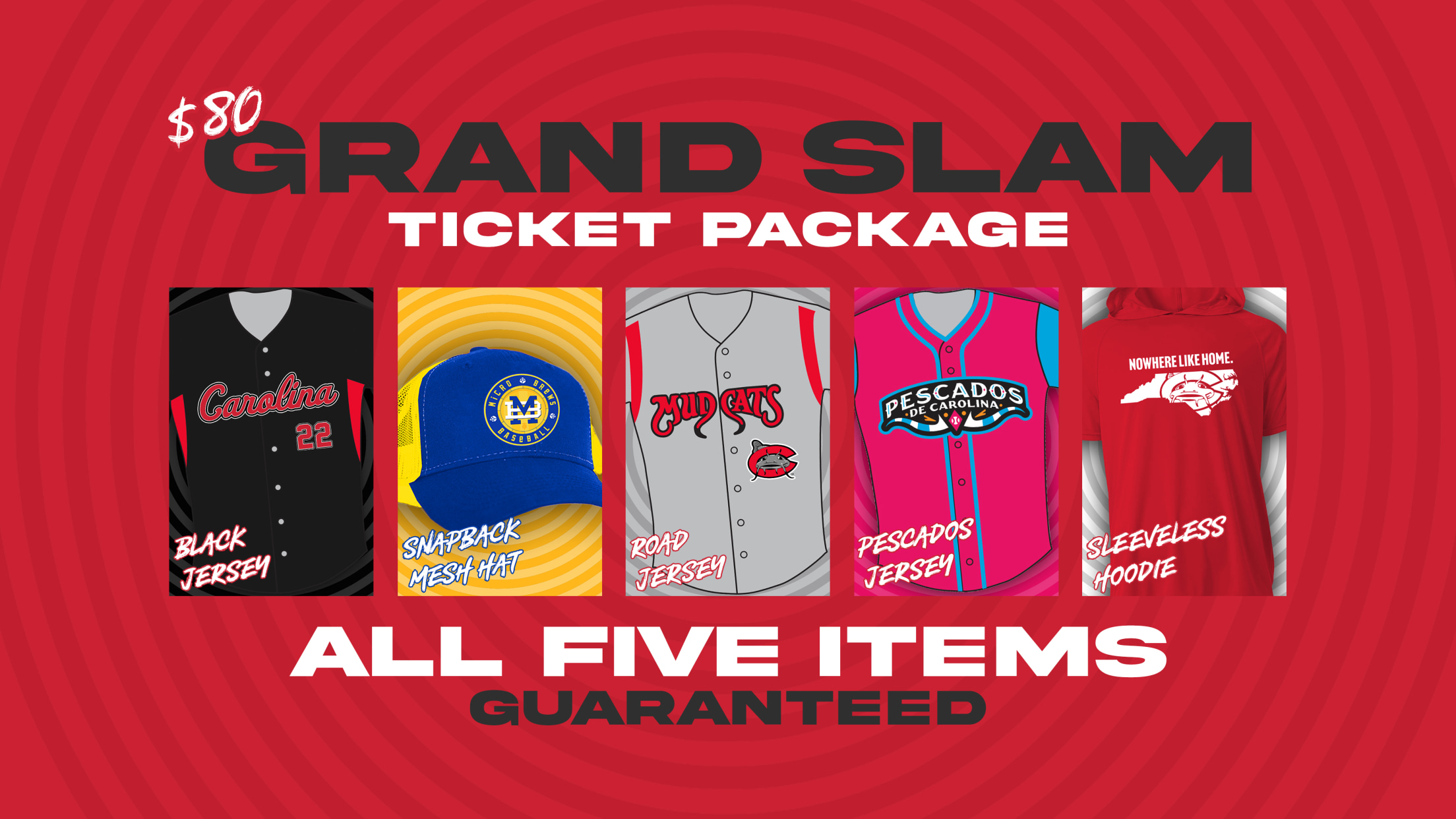 The 2022 Grand Slam Giveaway ticket and souvenir item plan includes three replica jerseys, a souvenir hat, and short sleeve hoodie
ZEBULON – The Mudcats are thrilled to bring back the enormously popular Grand Slam Giveaway ticket plan for the 2022 season. The 2022 Grand Slam Giveaway plan is $80 and guarantees plan holders five souvenir night giveaway items and a box seat ticket to each souvenir giveaway game scheduled throughout
ZEBULON – The Mudcats are thrilled to bring back the enormously popular Grand Slam Giveaway ticket plan for the 2022 season. The 2022 Grand Slam Giveaway plan is $80 and guarantees plan holders five souvenir night giveaway items and a box seat ticket to each souvenir giveaway game scheduled throughout the upcoming 2022 season at Five County Stadium.
The 2022 Grand Slam Giveaway plan items include a special edition black Mudcats jersey, a Micro Brews hat, a replica Mudcats road gray jersey, a Pescados de Carolina replica jersey, and a short sleeve hoodie.
Souvenir giveaway game dates and quantities have yet to be announced. Those along with the full calendar of promotions, events, theme nights, and additional souvenir giveaways for the 2022 season will also be announced at a later date.
Grand Slam Giveaway ticket plan holders must be present at Five County Stadium by the end of the third inning on the respective souvenir game night to receive their giveaway item.
This souvenir-centric ticket plan is perfect for fans looking to stock up on several unique gift ideas while also securing tickets to five great games at Five County Stadium. Orders for the Grand Slam Plan, the Joey Wiemer 17-Game Plan, and season tickets can all be placed online now at www.carolinamudcats.com, by calling the Mudcats at (919) 269-CATS (2287), or by visiting the team front office in Zebulon.
The Carolina Mudcats are the official Single-A affiliate of the Milwaukee Brewers. First established in 1991, the Mudcats are entering their 31st consecutive season of baseball at Five County Stadium in Zebulon, N.C. Season ticket packages for the 2022 season are on sale now at www.carolinamudcats.com/season and by calling (919) 269-2287. Opening Day 2022 is scheduled for Friday, April 8 against the Down East Wood Ducks at Five County Stadium.
###