Grand Slam Ticket Package Back for 2023 Season
The 2023 Grand Slam Ticket Package features the five Grand Slam souvenir giveaway items and a ticket to each Grand Slam night for just $85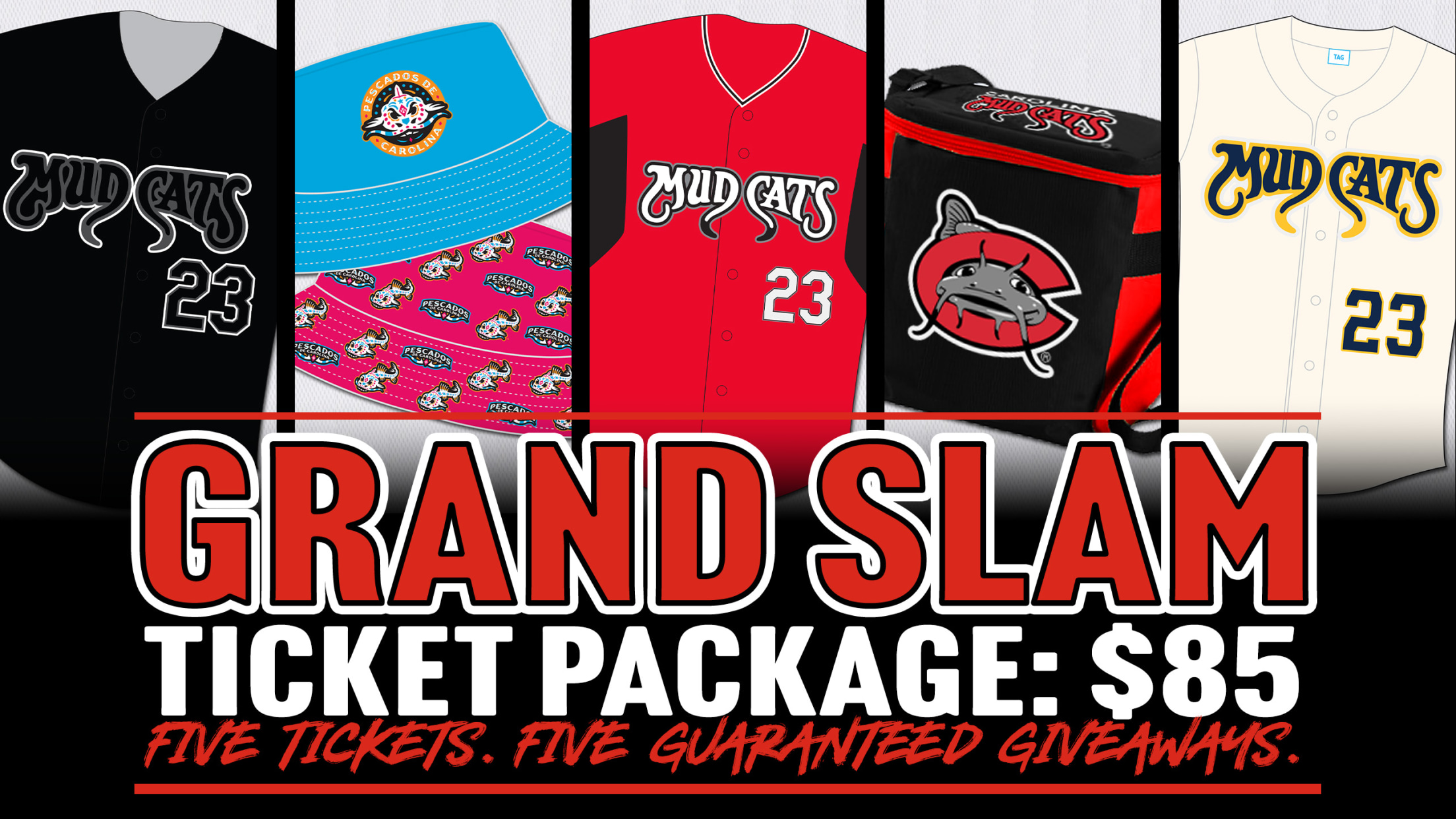 ZEBULON – Back by popular demand, the Carolina Mudcats are excited to announce the return of the souvenir-centric Grand Slam Ticket Package for the 2023 season. Starting at just $85, the Grand Slam Ticket Package guarantees plan holders each of the five pre-determined Grand Slam level souvenir giveaway items and
ZEBULON – Back by popular demand, the Carolina Mudcats are excited to announce the return of the souvenir-centric Grand Slam Ticket Package for the 2023 season. Starting at just $85, the Grand Slam Ticket Package guarantees plan holders each of the five pre-determined Grand Slam level souvenir giveaway items and a ticket to each of the five Grand Slam giveaway games scheduled throughout the upcoming season at Five County Stadium.
Grand Slam Ticket Package orders can be placed online at carolinamudcats.com, by calling (919) 269-2287, or by visiting the team front office in Zebulon.
The 2023 version of the Grand Slam Ticket Package features five of the Mudcats' 10 planned souvenir giveaway items including a replica of Carolina's new black Friday night home jersey, a reversible Pescados de Carolina bucket hat, a replica of the Mudcats' alternate red jersey, a Mudcats themed cooler bag, and a Brewers inspired replica Mudcats jersey. Fans must be in attendance on each Grand Slam souvenir giveaway night to receive each item.
The Grand Slam souvenir giveaway night dates, as well as additional souvenir giveaway items, and the full season calendar of promotions, events and theme nights for the 2023 season will be announced at a later date.
The new black game jersey design will be worn by the players during each Friday night home game scheduled throughout the 2023 season. It replaces a similar Friday night home jersey first introduced during the 2023 season.
The Brewers Weekend jersey will also coincide with game jerseys worn by the Mudcats players. The game worn Brewers Weekend jerseys will be auctioned off online following the 2023 season.
The Mudcats recently announced their 2023 regular-season schedule beginning on Friday, April 7 with the season opener in Fayetteville against the Woodpeckers. The first home game of the 2023 schedule is set for Tuesday, April 11 against the Salem Red Sox at Five County Stadium.
Season ticket packages, mini plans, group options, as well as luxury suite packages and DRB Homes Sky Lounge reservations in the US Foods Club Level are all available now by visiting carolinamudcats.com, by calling (919) 269-2287, and by visiting the Five County Stadium front office in Zebulon.
The Carolina Mudcats are the officially licensed Class-A affiliate of the Milwaukee Brewers. First established in 1991, the Mudcats have provided affordable family fun for over 30 years at Five County Stadium in Zebulon, N.C. Follow the Mudcats online at www.carolinamudcats.com, and on social media at facebook.com/carolinamudcats, twitter.com/carolinamudcats, tiktok.com/@carolinamudcats and instagram.com/carolinamudcats.
#