Bunnies fall 7-2 at Field of Dreams
Fedko went 1-for-3 with a run and an RBI; four Bunnies relievers fired scoreless outings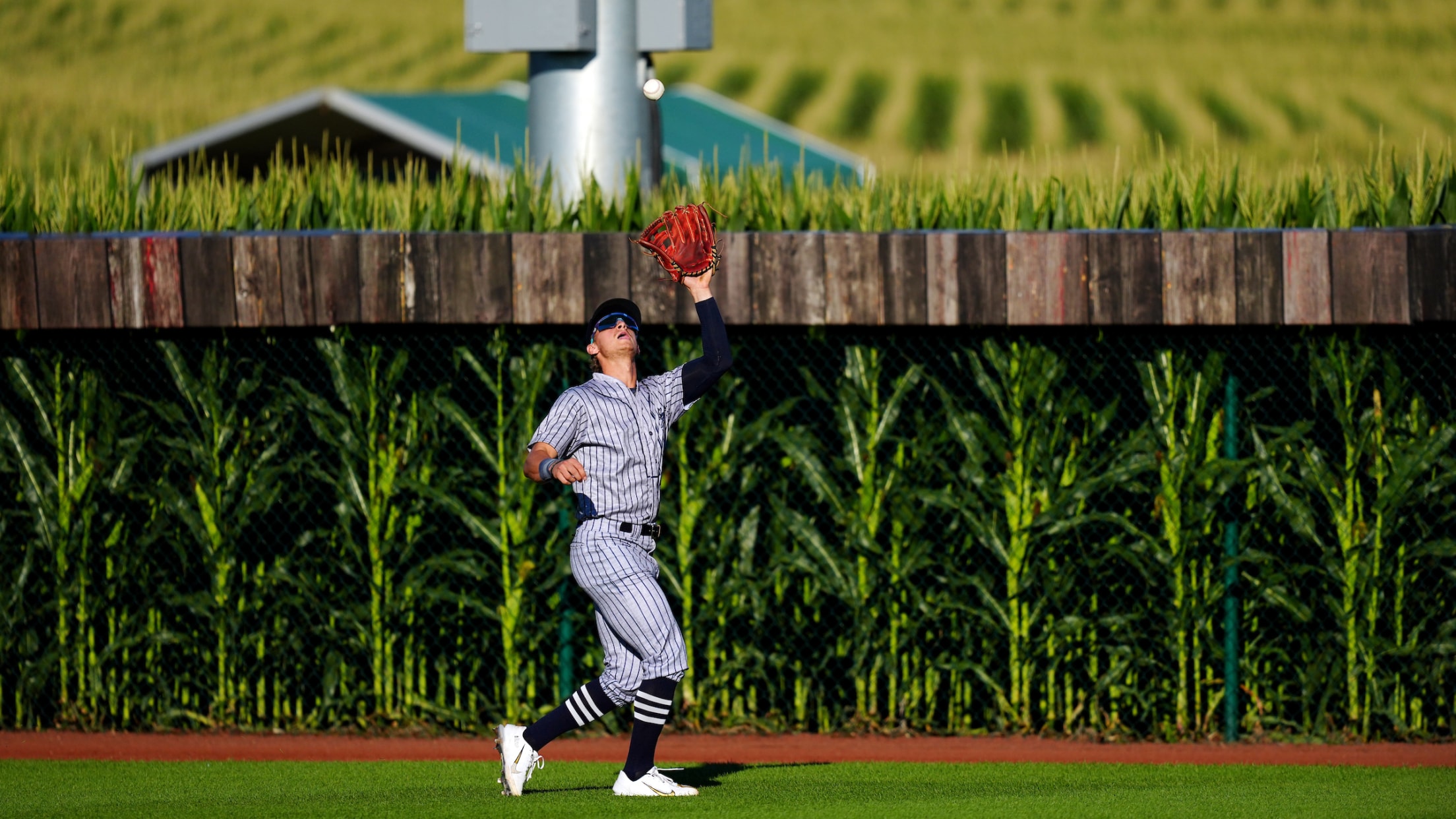 Kyler Fedko of the Cedar Rapid Bunnies catches a fly ball against the Davenport Blue Sox at MiLB Field at Field of Dreams on Aug. 9, 2022 in Dyersville, Iowa. (Daniel Shirey/MLB Photos)
Dyersville, IA – In a historic first-ever Minor League game at the MLB Field of Dreams Stadium, the Cedar Rapids Bunnies fell 7-2 to the Davenport Blue Sox on Tuesday evening. Jake Rucker went 2-for-3 with a double and a run scored, Kyler Fedko went 1-for-3 with a run and
Dyersville, IA – In a historic first-ever Minor League game at the MLB Field of Dreams Stadium, the Cedar Rapids Bunnies fell 7-2 to the Davenport Blue Sox on Tuesday evening. Jake Rucker went 2-for-3 with a double and a run scored, Kyler Fedko went 1-for-3 with a run and an RBI while four Bunnies relievers fired scoreless outings. The Bunnies fall to 60-42, 18-19 in the second half.
Aaron Sabato laced a two-out single in the first for the first-ever Minor League base hit at the Field of Dreams Stadium, followed by a Rucker single. Both were stranded as the Davenport starter settled in.
Cedar Rapids fell behind early, trailing 5-0 through three. Derek Molina entered in the bottom of the third and retired each of the five men he faced. Matt Mullenbach took over in the fifth and tossed a scoreless frame.
Rucker led off the seventh with a bloop double into center, scoring just two pitches later as Fedko bounded an RBI single back up the middle. Fedko stole second and moved to third on a Mikey Perez single then scored courtesy of a Jeferson Morales sacrifice fly.
Miguel Rodriguez went three up, three down in the bottom of the seventh before Hunter McMahon dealt a 1-2-3 eighth.
Alerick Soularie and Will Holland each doubled to round out the Bunnies' offensive output.
Game two of the series is set for 6:30 p.m. CT on Wednesday at Modern Woodmen Park.
To keep up to date on information regarding the Kernels 2022 season please visit www.kernels.com or follow our Facebook and Twitter feeds and subscribe to our Kernels email newsletter.