Lookouts Unveil 2022 Schedule
Opening Day set for Tuesday, April 12 vs. Birmingham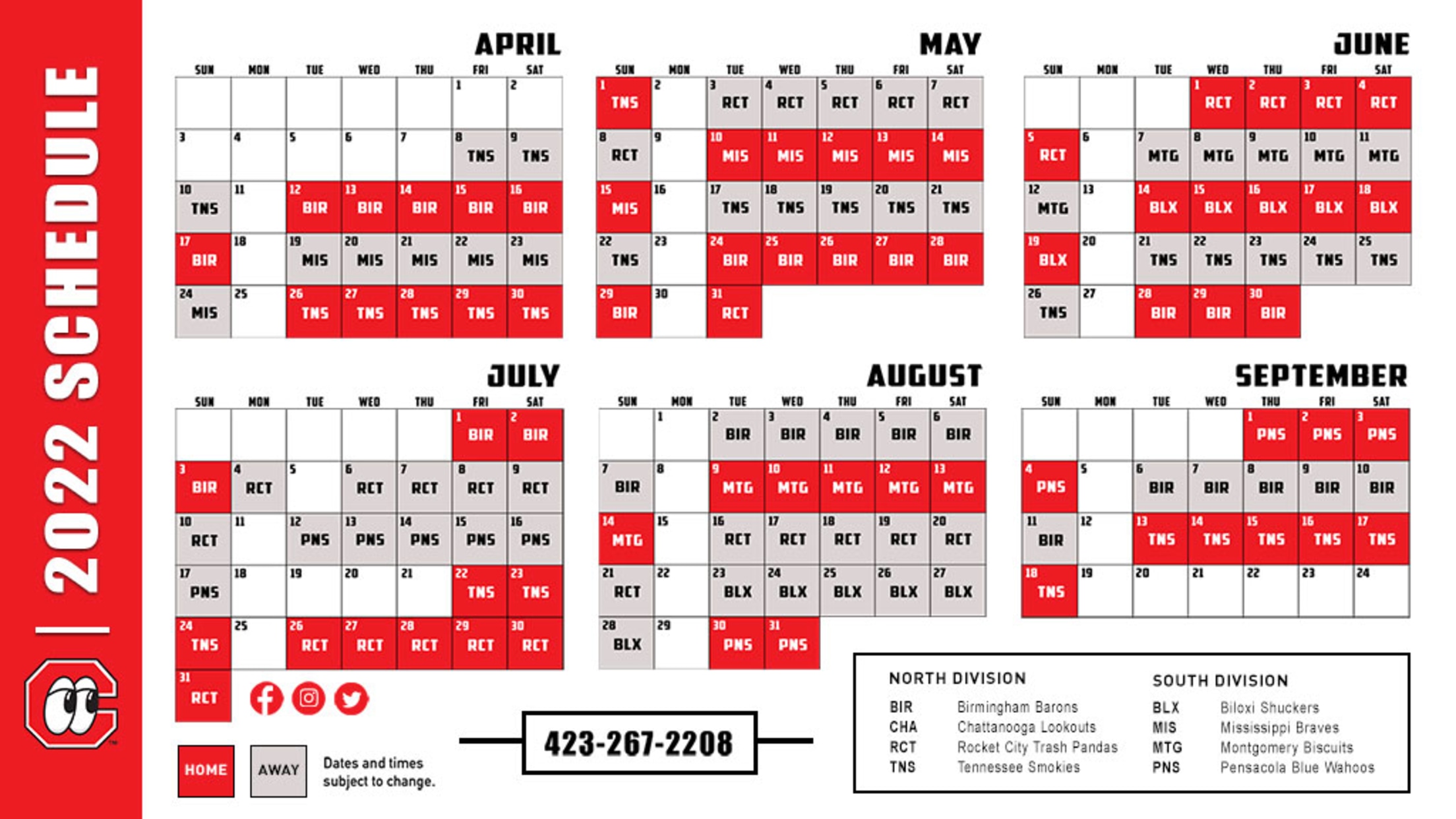 CHATTANOOGA, Tenn. – The Chattanooga Lookouts are excited to announce their schedule for the 2022 Double-A South season. The Lookouts season will begin on the road against the Tennessee Smokies on Friday, April 8 with Opening Day at AT&T Field set for Tuesday, April 12 against the Birmingham Barons. "We
CHATTANOOGA, Tenn. – The Chattanooga Lookouts are excited to announce their schedule for the 2022 Double-A South season. The Lookouts season will begin on the road against the Tennessee Smokies on Friday, April 8 with Opening Day at AT&T Field set for Tuesday, April 12 against the Birmingham Barons.
"We were overwhelmed by the amazing support we received from our community in 2021," said Lookouts President Rich Mozingo. "2022 is going to be a great season and we already can't wait for Opening Day on April 12."
CLICK HERE FOR THE LOOKOUTS FULL 2022 SCHEDULE
The 2022 season features 69 home games, up from 60 in 2021. The full 138-game schedule brings the return of an April Opening Day and runs from Friday, April 8 through Sunday, September 18. The Lookouts will play 30 games each against their North Division rivals (Birmingham, Tennessee and Rocket City) as well as 12 games each against the Double-A South Division (Biloxi, Mississippi, Montgomery, and Pensacola).
Chattanooga will be home for a season-long 12-game homestand, May 24 – June 5 versus Birmingham and Rocket City and a 9-game homestand July 22 – 31 versus Tennessee and Rocket City. Montgomery and Biloxi will both play a 6-game set at AT&T Field after an absence in 2021. The Mississippi Braves will come to town May 10 – 15.
The Lookouts will be home for a number of holiday weekends in 2022 including Memorial Day weekend (May 27 – 29), Father's Day (Sunday, June 19), Independence Day weekend (July 1 – 3) and Labor Day weekend (September 2 – 4). Chattanooga ends the season against the Tennessee Smokies with a six-game set at AT&T Field September 13 – 18.
Season tickets, 7, 14 and 21 game mini-plans are on-sale now and can be reserved by calling the Lookouts Ticket Office at 423-267-4849. The Lookouts Team Store is open for business Monday to Friday 9am to 5pm. Fans are encouraged to check out the lineup of fall gear available. Lookouts gift cards are also available. Stay tuned for 2022 promotions announcements and keep up with the Lookouts year-round at Lookouts.com, and by following us on Facebook, Twitter and Instagram.