Fireflies To Host 3 Skills Camps for Kids This Summer
Kids can enhance their baseball skills by learning from Fireflies players & staff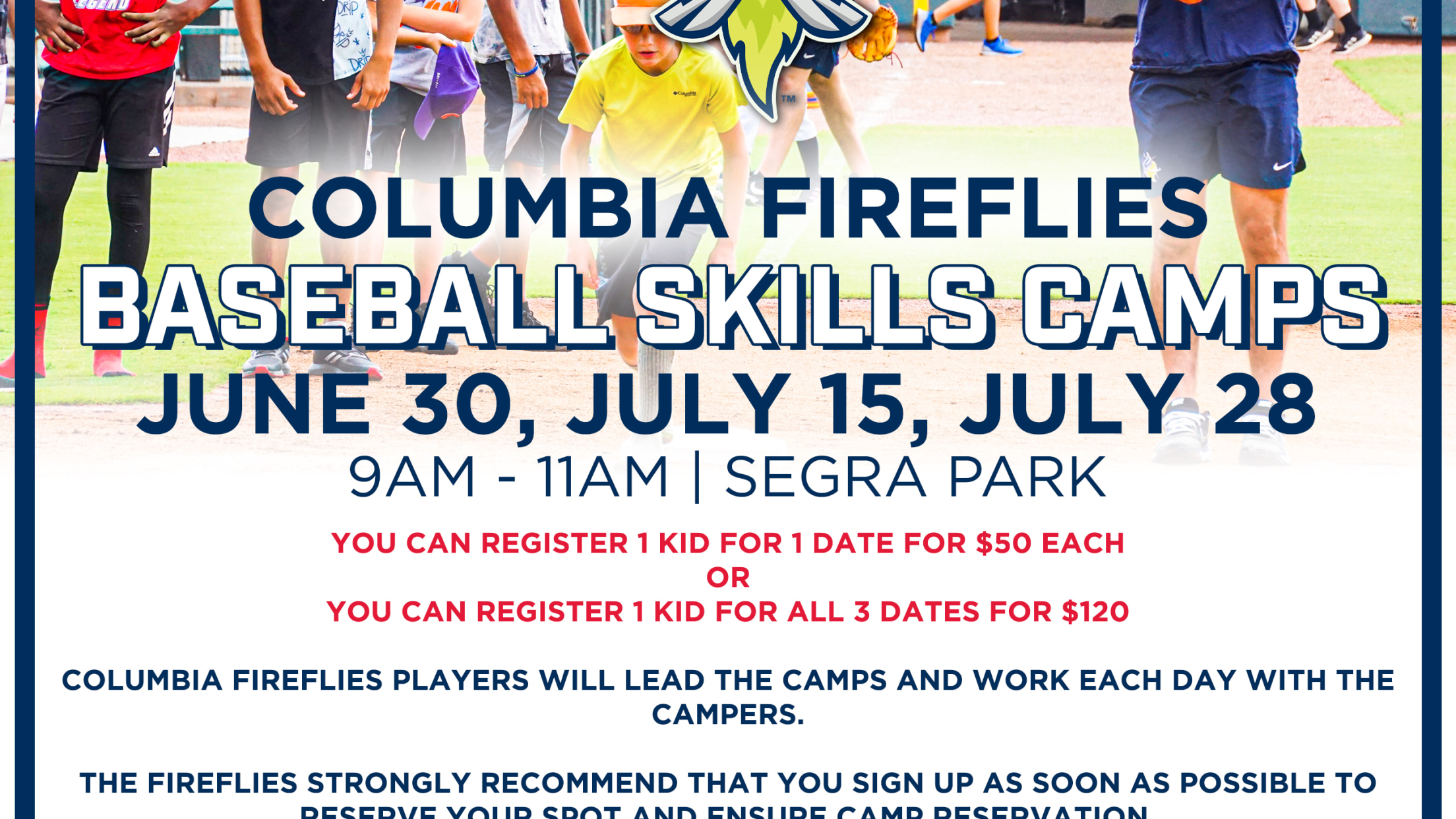 COLUMBIA, SC – The Columbia Fireflies today announced that the team will host three one-day Baseball Skills Camps this summer on different weekends throughout late June and July. Kids interested in honing their skills and learning from Fireflies players and members of the coaching staff can attend one individual camp
COLUMBIA, SC – The Columbia Fireflies today announced that the team will host three one-day Baseball Skills Camps this summer on different weekends throughout late June and July. Kids interested in honing their skills and learning from Fireflies players and members of the coaching staff can attend one individual camp date or purchase all three camp dates as a package deal. The dates for the camps are Friday, June 30, Saturday, July 15 and Friday, July 28.
Each camp is for children ages 8-14 and costs $50 per child. Children can attend all three camps for a discounted rate of $120. Camp will run from 9-11 am with lunch provided after the end of camp. With registration, each camper will also receive a ticket to the Fireflies game taking place at Segra Park the night of each camp respectively. All attendees must bring their own glove, helmet and bat. Cleats are prohibited for the camps.
Those interested in signing up for the camp can book for each individual date or for the three-date package here. For more information, contact Aydan Fields via email or you can call his direct line at 803-888-3014. Members of the Bang Back Pinball Lounge Fireflies Kids Club are encouraged to call Aydan to receive a discounted rate for the camp.
Interested members are encouraged to book quickly as there are a limited number of participants who can book each date and this event will sell out quickly!
The Fireflies will return home to Segra Park June 6 to welcome the Salem Red Sox to town. The Fireflies will host RiverBanks Zoo and Garden Night with a Carter Jensen Lion Bobblehead Giveaway presented by Safe Federal Credit Union Friday, June 9. Tickets are still available at FirefliesTickets.com.