Big Seventh the Difference for SA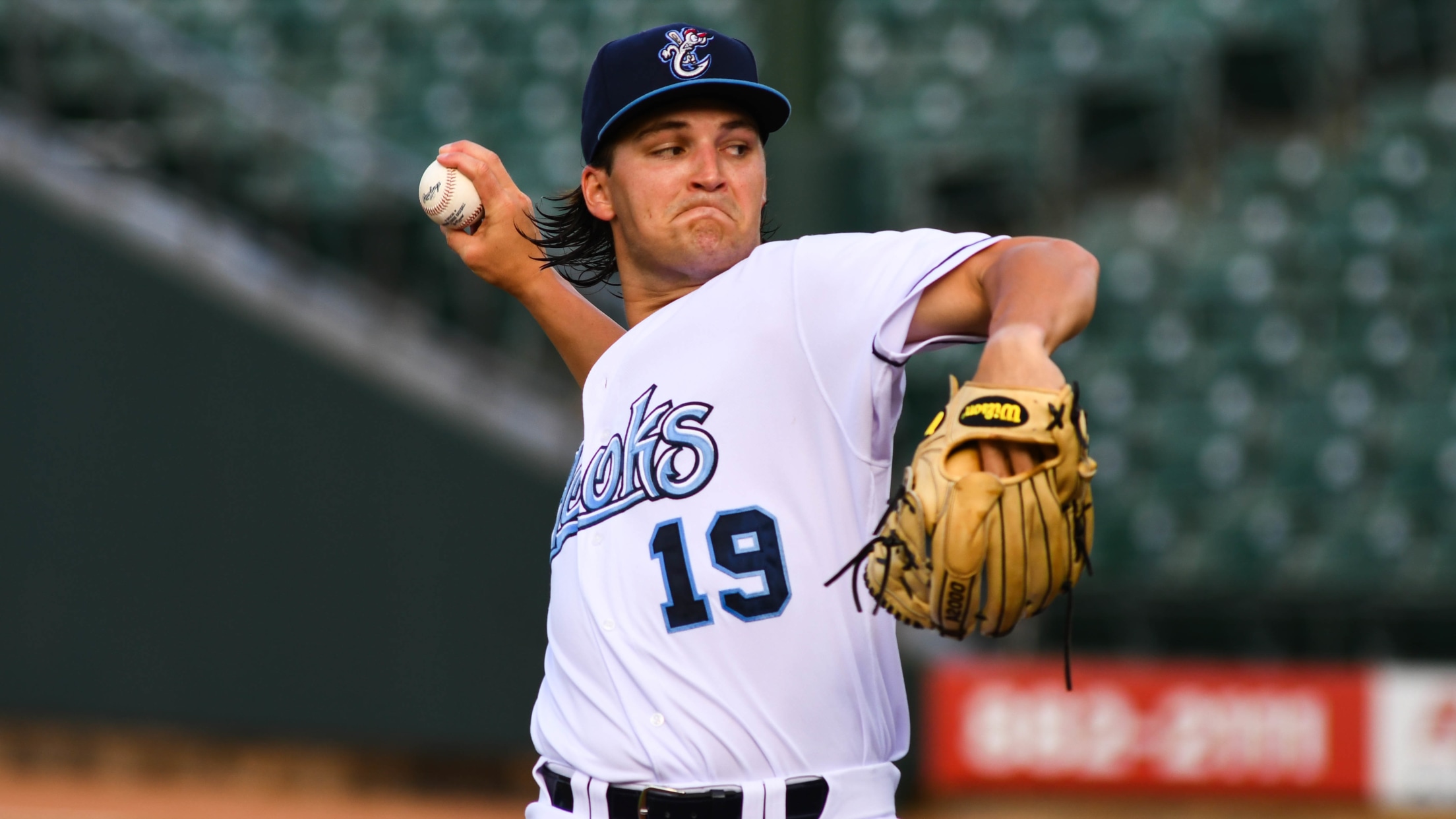 Brett Daniels held the Missions to three runs in five innings for a no-decision Thursday night. (Charlie Blalock)
SAN ANTONIO – The Missions broke a 3-3 stalemate with a five-run seventh inning, and then fended off a late Hooks rally to edge Corpus Christi, 8-6, Thursday night at Wolff Stadium. The Hooks winning streak is snapped at three games. With the game level, the Missions sent nine men
SAN ANTONIO – The Missions broke a 3-3 stalemate with a five-run seventh inning, and then fended off a late Hooks rally to edge Corpus Christi, 8-6, Thursday night at Wolff Stadium.
The Hooks winning streak is snapped at three games.
With the game level, the Missions sent nine men to bat in the decisive frame. Nineteen-year-old Jaime Melendez, who worked a 1-2-3 sixth to start his night of relief, was chased after throwing 27 pitches in seventh. Esteury Ruiz started the scoring with a two-run, broken-bat single into right field. Ruiz had notched a two-out, two-run knock in the second, giving him four RBIs on the day.
Ethan Skender kept the seventh-inning surge alive with a line drive base hit into left, handing San Antonio a 7-3 lead. Eguy Rosario was next and made it a five-run game with a double to left-center.
Michael Horrell, who logged the last two outs in the home seventh, retired all five of the men he faced.
Brett Daniels made the start for the Hooks, holding the Missions to three runs in five innings of work for a no-decision.
Corpus Christi had the first four on base in the third but was forced to settle for two runs, thanks in part to an around-the-horn double play. Ross Adolph's line drive single into right accounted for the lone RBI in the inning. The second run came home thanks to a throwing error.
Lefty Jerry Keel bounced back to keep the Hooks at bay in the fourth and fifth before losing the lead in the sixth on a two-out RBI single by Korey Lee.
David Hensley, who walked and scored in the sixth, opened the eighth with a base hit against Mason Fox. Thanks to a stolen base and passed ball, Hensley was able to cross the pay station via a two-out single by Matthew Barefoot.
Trailing 8-4 in the ninth, CC sent seven men to bat against Henry Henry. Hensley, batting .447 in his last 12 games, delivered a base hit to right with the bases loaded, bringing the Hooks within three. Corey Julks made it home on a force play at second for the second out. Henry though induced a fly out to center to end the game.
The Hooks, who have 2-1 lead in the series, list right-hander Tyler Brown as their starter Friday night. First pitch 7:05.