Hooks Wrap 2021 with 9-1 Win
Seven CC hurlers limit SA to six hits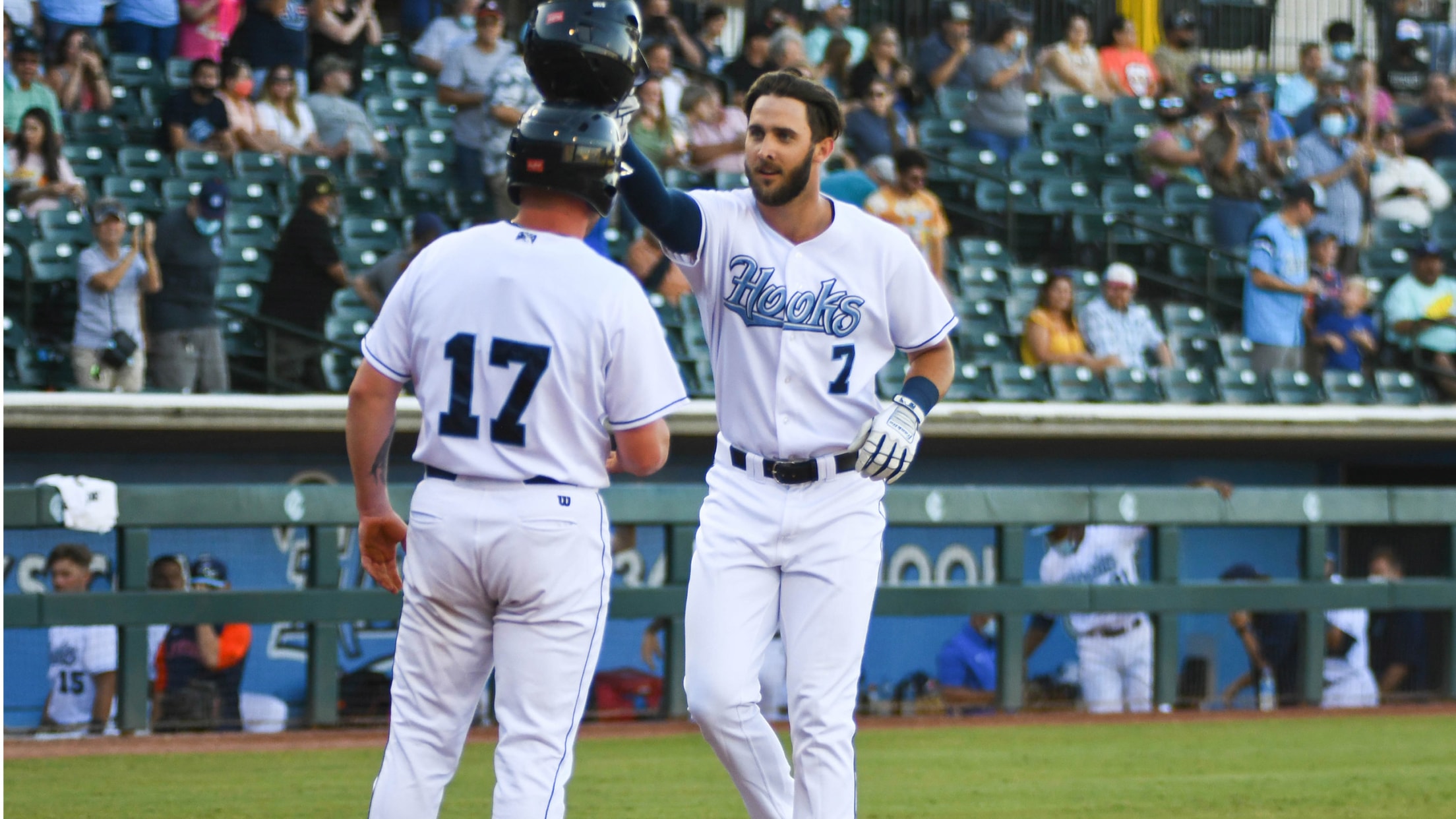 (Charlie Blalock)
SAN ANTONIO – A three-run home run by David Hensley highlighted a six-run first inning Sunday evening as the Hooks routed the Missions, 9-1, before 4,475 fans in the season finale at Wolff Stadium. Corpus Christi won five of its last seven in 2021. The first six CC hitters reached
SAN ANTONIO – A three-run home run by David Hensley highlighted a six-run first inning Sunday evening as the Hooks routed the Missions, 9-1, before 4,475 fans in the season finale at Wolff Stadium.
Corpus Christi won five of its last seven in 2021.
The first six CC hitters reached base, including doubles by Scott Schreiber, Enmanuel Valdez and Alex McKenna. Matt Waldron, pitching for the first time since August 17, was chased from the contest without recording an out. Ross Adolph capped the surge by belting a two-out RBI triple against Brandon Komar.
Hensley, who clubbed his eighth home run of the year, finished 2021 by hitting .418 with a 1.144 OPS over his final 14 games. His .293 season average led the Hooks, slotting fourth in the Double-A Central.
After 10 batted in the first, Corpus Christi sent nine men to the plate in the second, creating a 9-0 advantage. Valdez's second double of the day produced the eighth run and Luke Berryhill chased home a pair with a two-out single up the middle.
Joe Perez, who reached base four times, notched five hits and two walks in his final 11 plate appearances of the year.
Jimmy Endersby led the charge on the hill, blanking the Missions over the first three frames.
The lone SA marker came in the fourth on back-to-back doubles against Jose Bravo.
Layne Henderson, R.J. Freure, Devin Conn, Michael Horrell and Nick Hernandez each tossed a scoreless inning of relief.
Hernandez finished his campaign by permitting just four earned runs over a stretch of 20 appearances for a 0.99 ERA. The University of Houston product struck out 45 in 37 1/3 innings while going 6-for-7 in save chances down the stretch.
Hooks pitchers logged a 2.28 ERA and 0.98 WHIP over the final 10 games, while holding the Missions to a .189 batting average in the 4-2 series win.
Corpus Christi won the season set against San Antonio, going 20-16. This includes a 12-6 mark at Wolff Stadium.