Dragons 2023 Preview, Part 4: Shortstop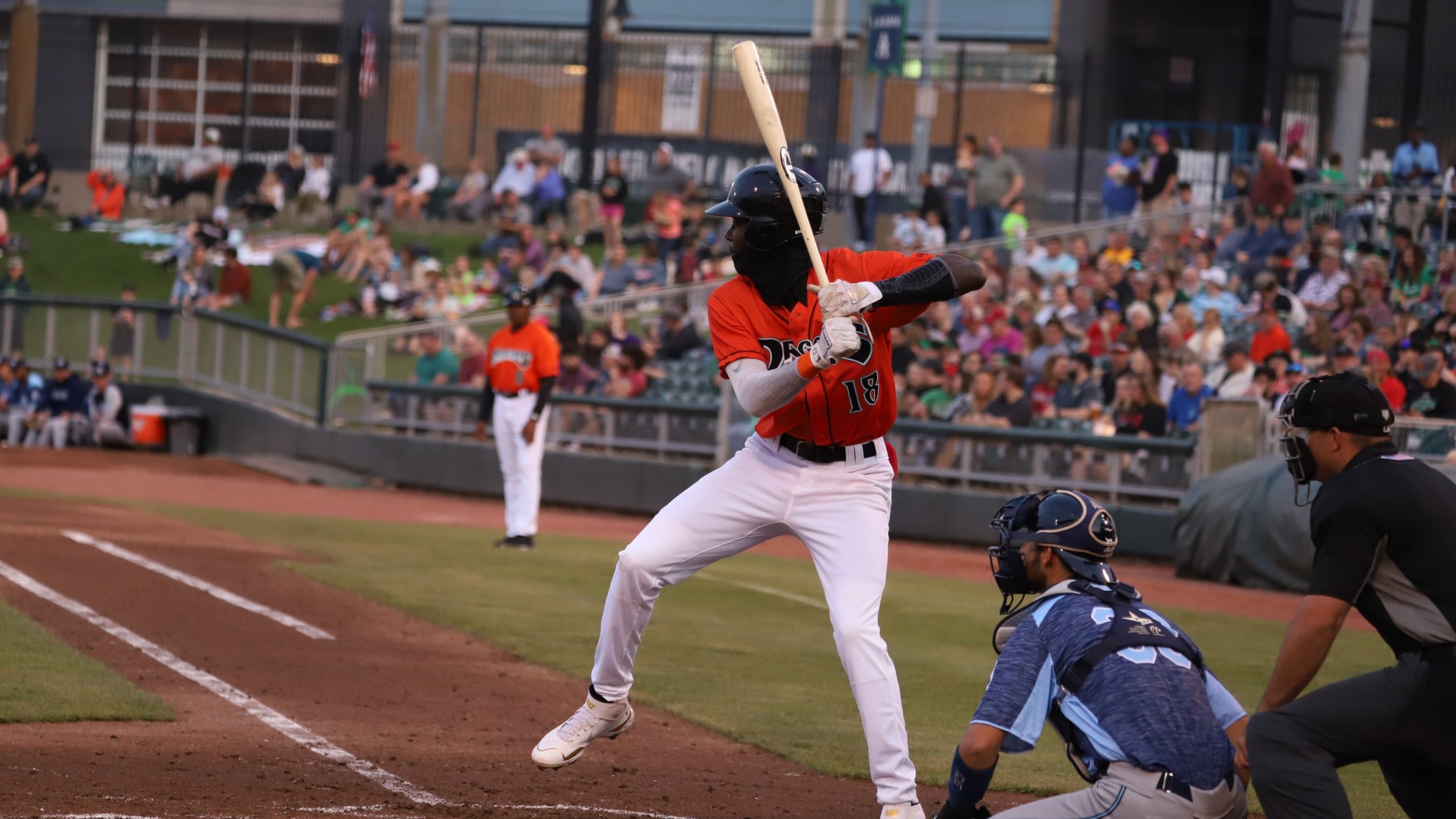 The process of selecting the opening day roster for the Dayton Dragons is about to move on to the next stage as spring training games begin on Monday in Arizona. The Dragons work-out group will play the Lake County Captains, the High-A affiliate of the Cleveland Guardians, on one of
The process of selecting the opening day roster for the Dayton Dragons is about to move on to the next stage as spring training games begin on Monday in Arizona. The Dragons work-out group will play the Lake County Captains, the High-A affiliate of the Cleveland Guardians, on one of the back fields at the Guardians spring complex in Goodyear. The next day, the same two teams will play at the Reds minor league complex nearby. The Dayton spring group will also play games in March against the Great Lakes Loons (Dodgers affiliate), Fort Wayne TinCaps (Padres affiliate), Wisconsin Timber Rattlers (Brewers affiliate), and Winston-Salem Dash (White Sox affiliate), all in the Phoenix area. A total of 17 games are scheduled, plus several intersquad games.
At this point in the process, if you were in Arizona and looking to watch the players who will come to Dayton on April 4, you might be better off watching the Chattanooga (Double-A) workout group. Players often start the spring training process a level higher than they end up due to the enormous trickle-down effect that takes place when the Reds begin trimming their big league roster. The Reds began the spring with 66 players in big league camp, and they will finish with 26. So 40 players will eventually be sent down, placed on the injured list, or in some cases, released. That creates an avalanche of player movement in the system, and the final result is often that guys who start the spring with one minor league workout group end up a level lower.
There are approximately 166 players currently in Reds minor league camp competing for jobs with the Reds four full-season farm clubs including the Dragons. That number will grow to nearly 200 once the Reds finish cuts from big league camp at the end of March.
The Dragons annual home opening night game at Day Air Ballpark is scheduled for Tuesday, April 11th against the Great Lakes Loons at 7:05 p.m. The Dragons will open their 23rd season in the Midwest League with a road series at the Lake County Captains in Eastlake, Ohio beginning Thursday, April 6th at 6:35 p.m.
Dragons season ticket plans are available now, which feature the Dragons new Business Club and Family Club. The season ticket packages are loaded with special benefits. Call the Dragons at (937) 228-2287 or go to daytondragons.com/tickets for more information.
This is part four of an eight-part series previewing the 2023 Dragons. Players listed here are candidates for positions on the Dragons season-opening roster.
This preview is an unofficial projection of possible roster candidates. Minor League rosters are not established until April 4. Spring training variables including performance, injuries, trades, and additional player acquisitions will impact the roster accordingly.
The Shortstop
Click links on each name for career stats and player information.
Candidates: Edwin Arroyo
In 2022, Dragons fans at Day Air Ballpark got a first-hand look at the emergence of generational star prospect Elly De La Cruz. De La Cruz was highly-regarded when the season began, but as has happened many times, when a prospect gets to Dayton, he receives added attention and exposure, and with De La Cruz and all his talent, production, and enthusiasm, it created the perfect storm.
When De La Cruz was promoted to Chattanooga in mid-July, his time in Dayton was locked in as perhaps the finest performance ever by a Dragons player. De La Cruz became the first player in Dragons history and first Midwest League player since 1999 (Corey Patterson, Lansing) to hit at least .300 with at least 20 home runs and at least 25 stolen bases. With the Dragons in 2022, De La Cruz played in 72 games and batted .302 with 20 home runs.
De La Cruz earned multiple honors and awards for his outstanding 2022 season. He was selected as Reds Minor League Player of the Year; selected as one of three finalists by Baseball America as the national Minor League Player of the Year; named as the Midwest League's "Top MLB Prospect" by Minor League Baseball and was also named as the shortstop on the MWL Full-Season All-Star Team (one player selected per position). In a late-season Baseball America survey of Midwest League managers, De La Cruz was named the league's "Most Exciting Player," "Best Batting Prospect," "Best Power Prospect," and "Fastest Baserunner."
De La Cruz is now regarded as one of the top prospects in baseball, and some credible outlets have suggested that his talent level could someday make him the game's best player. Time will tell.
When De La Cruz moved up from the Dragons in 2022, he was replaced at the shortstop position in Dayton by Noelvi Marte, the consensus #2 prospect in the Reds organization at the time. Marte is now primarily viewed as a third baseman and is expected to move up to Chattanooga. But the new Dayton shortstop in 2023 is expected to be yet another mega-prospect that will thrill the fans at Day Air Ballpark.
Edwin Arroyo was acquired by the Reds at the 2022 trade deadline from the Seattle Mariners in the deal that sent MLB all-star Luis Castillo to Seattle. Marte came to Cincinnati in the same trade. Both players were shortstops at the time of the deal, and they were the top two prospects in the Seattle organization. Upon arrival, they were slotted in as the #2 and #3 prospects in the Reds system, behind only Elly De La Cruz. Both players are considered top 100 prospects in all Minor League Baseball by most ranking services.
Arroyo is currently ranked as the Reds #2 prospect by ESPN, and #3 by both MLB.com and Baseball America. He was also named by Baseball America as the Reds "Best Defensive Infielder."
With several of the Reds top prospects being shortstops (De La Cruz, Marte, Arroyo, Matt McLain), there has been an ongoing litany of predictions in the media as to which players will eventually be moved to new positions and where they will go, as baseball rules allow only one shortstop on the field at a time. Marte, it appears, has now been moved to third base. McLain has played some second base and played center field in college, and De La Cruz has played some third base. Interestingly, no one has suggested moving Arroyo anywhere. He is so good defensively at shortstop that the consensus thinking has been that to move him away from that position would be a mistake.
Here is the MLB.com report on Arroyo:
"(Arroyo) has the chance to be a dynamic up-the-middle player. He swings the bat well from both sides of the plate and was productive each way, showing the ability to make hard contact with a line-drive approach. He's added a good amount of strength to his wiry build already, and that led to more power than anticipated out of the gate, though he's still more of a hit-over-power type. He could become even more of an impact hitter as he tightens up his approach…If he continues to hit at all, Arroyo could be an elite-level player because there's no doubt he's going to be able to play shortstop for a long time. He has excellent hands and actions at the premium position, with more than enough arm to make throws from all over the infield. Assuming he gets his bearings with his new organization, he should continue to prove he has the tools to be an everyday shortstop in the big leagues."
Arroyo was drafted by Seattle in the second round in 2021 out of the Arecibo Baseball Academy in Puerto Rico. Amazingly, Arroyo can not only throw with both hands, but he played shortstop right-handed and pitched left-handed in high school.
Arroyo began his first full season of professional baseball in 2022 season with the Mariners Low-A club, Modesto. He was the third youngest player in the California League, but he enjoyed a big season as a hitter. The switch-hitter played in 87 games and batted .316 with 13 home runs and 21 stolen bases. He appeared in 27 games at Daytona after the trade. For the year, Arroyo led all of Low-A baseball in hits while finishing second in triples (10), third in total bases, tied for fourth in runs (92), seventh in RBI (83), and seventh in extra base hits (49). Baseball America named him as the Low-A All-Star shortstop for the year across Minor League Baseball (30 teams).
In summary, Arroyo is a player who is emerging. Baseball America says, "In an organization filled with shortstop prospects, Arroyo has the best glove." His improvement as a hitter in 2022 lifted him into a different category as a prospect. It would be difficult for any player to compete with the accomplishments of De La Cruz in 2022, and any comparisons to De La Cruz would be unfair to any player, but the fact is, Arroyo will start the 2023 season in Dayton as one of the most highly-regarded prospects the Dragons have ever had.
In Dragons history, there have been only nine players who began their season in Dayton ranked as the Reds #3 prospect or higher by Baseball America. The list includes Jay Bruce, Adam Dunn, Homer Bailey, and Hunter Greene. Arroyo will be the newest addition to that list.
Next up: Third Basemen
More Information:The Dayton Dragons are the affiliate of the Cincinnati Reds and play 66 home games at beautiful Day Air Ballpark, in the heart of the Water Street District. Contact the Dragons by calling at (937) 228-2287, emailing at [email protected], or go to daytondragons.com. For more information, please visit the following links:
#