Shorebirds Player Feature: Jared Beck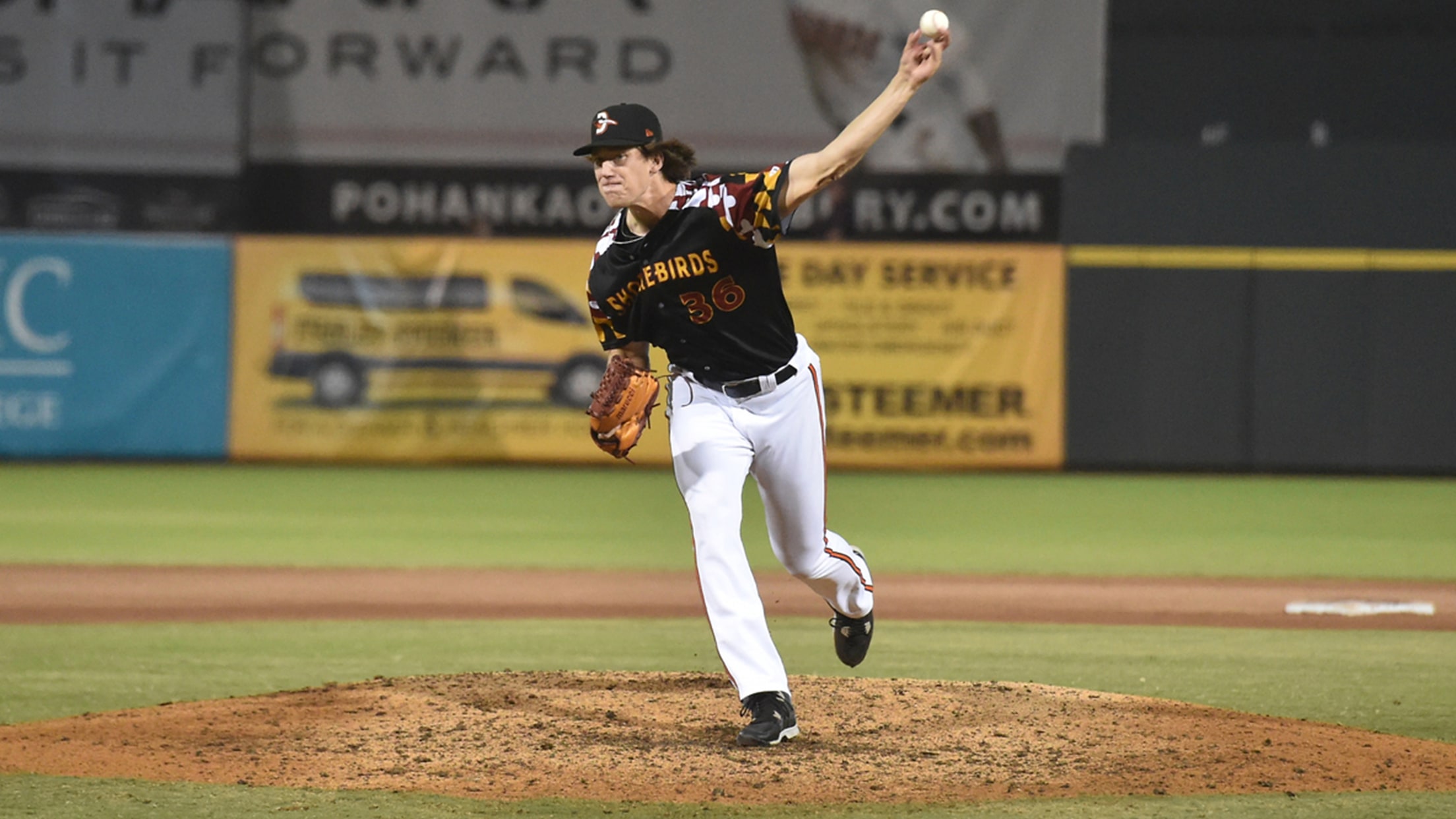 The end-of-season glimpse the parent Orioles got of their 13th-round selection in July's First-Year Player Draft in a Shorebirds uniform was a brief one. And for Jared Beck, a southpaw who checks in a tick below seven feet tall, that's just fine. Every professional career begins somewhere, and the 22-year-old's
The end-of-season glimpse the parent Orioles got of their 13th-round selection in July's First-Year Player Draft in a Shorebirds uniform was a brief one.
And for Jared Beck, a southpaw who checks in a tick below seven feet tall, that's just fine. Every professional career begins somewhere, and the 22-year-old's commenced with low Single-A Salisbury.
"Everyone's kind of in the same boat, being shipped in and dropped off here and not really knowing a lot of people." Beck says. "It's just about making these bonds with the team and getting the morale going. I think it's really cool when it's like that."
When the draft was moved back five weeks to the major league All-Star break, some observers wondered if recently picked players would have time to sign, get acclimated to new organizations and be assigned to an affiliate. It was assumed that most would wind up in the Rookie-level Florida Complex League, where Orioles coaches and talent evaluators could see what they had to work with.
But in mid-August, those freshly signed draftees started making their move up the organizational chain – in this case, from the FCL in Sarasota to Salisbury. With three weeks left in the regular campaign and the postseason hopes long gone, the Shorebirds roster turned over significantly.
And in the middle of the movement was Beck, a product of Division II St. Leo University, which counts among its alumni former major league pitchers Jim Corsi and Bob Tewksbury, as well as longtime executive J.P. Riccardi.
There wasn't a lot of time for gradual introductions to professional baseball, not with a clubhouse full of young players, all eager to make an impression and set the stage for a move up the organizational ladder.
"I think we've got a team where a lot of guys are trying to work hard to get where they want to be," Beck says. "So it's a step in the right direction, for sure. I think it's good for everyone to be around talent like this. I was ready to get going. I think I did a good job proving myself this year, showing I could be out here with these guys. I think everyone else had that in mind, too."
To say Beck stands out in a crowd would be an understatement. At 6-foot-10, he towers over some of his teammates. On the mound, he's a tangle of long arms and powerful legs, trying hard to work in concert.
It's not as easy as it sounds, though Beck is determined to increase his velocity, iron out his mechanics and learn to repeat his delivery.
"I think maybe someday I could be (a power pitcher), but I'm kinda working on my body still," he says between pregame workouts at Perdue Stadium on the season's final weekend. "I think I had a step in the right direction this season back in college – working with my body and trying to know my body more – but I think there's a lot left in the tank."
Beck made significant strides between his freshman and sophomore years at St. Leo. The same guy who was knocked around to the tune of an 7.29 ERA and 1.920 WHIP as a freshman morphed into a more reliable arm as a sophomore, posting a 4-4 record, 3.95 ERA and 1.259 in eight college starts in 2022. His strikeouts per nine innings increased from 9.7 to 13.8, while his walks per nine innings dropped from 7.0 to 4.5.
When those long limbs and a focused determination click, good things happen. And the Orioles, always on the lookout for good pitching prospects, were intrigued enough to draft the tall lefty.
Beck knows that mechanics are the key to his eventual success, and he's clearly honed in on a cleaner delivery that can become a constant.
If only it were that easy. There's a reason guys like 6-foot-10 Hall of Famer Randy Johnson and 6-foot-11 Jon Rauch, an 11-year major leaguer who worked mostly in relief, are anomalies. Size matters, but mechanics can be tricky. More than a few tall ballplayers have had trouble getting out of their own way.
"It's real easy to get out of whack just by tiny movement because our leverage is so long," Beck says. "I think getting more mass on me, filling out rather than getting taller, I think that's going to help me a lot and help me become a better baseball player."
Beck's cameo with the Shorebirds didn't come without tangible goals, however. Though fully aware the calendar was not his ally, Beck was fully engaged in what he wanted to accomplish during the regular season's waning days.
"Just for this season, get out there and get my pitch count up a little bit and see what I can do against these hitters towards the end of the season," he said. "And towards the offseason, there's a lot of work to be done. A lot of velo (work), I'm going to work on off-speed. I'm going to try to transform myself into a better pitcher."
Unlike some of the higher draft picks, who knew one another from the showcase circuit, Beck wasn't already friends with a lot of his new Shorebirds teammates. But that just plays into the way he approaches his craft.
"You could probably psyche yourself out before you got here – like it's weird not knowing so many people – but I like to go in with an open mind," says Beck, a native of Davenport, Iowa. "Everyone's been so nice. I've never been East at all, so it's a lot different."
But Beck isn't comparing himself to other Delmarva pitchers. He says there's plenty of introspection that will take place, with his own growth and advancement the key factors.
"At a young age, there were guys throwing harder than me, and that was kind of motivation for me to work harder," he says. "But I knew deep down I had the stuff; I could pitch, and I had the mentality for that. Just putting everything together and working with mechanics … and getting bigger, that's going to help me. And it has so much already. But there's so much more in the tank."
But he doesn't see what lies ahead as challenges, at least not in the conventional sense.
"I'd say the biggest challenge is … I don't really see it as a challenge, I see it as kind of an opportunity," Beck says. "Show what I've got, show off my skills. … I'm just going to let it happen."