Blue Jays Beat Threshers 3-1 in Rain-Shortened Independence Day Game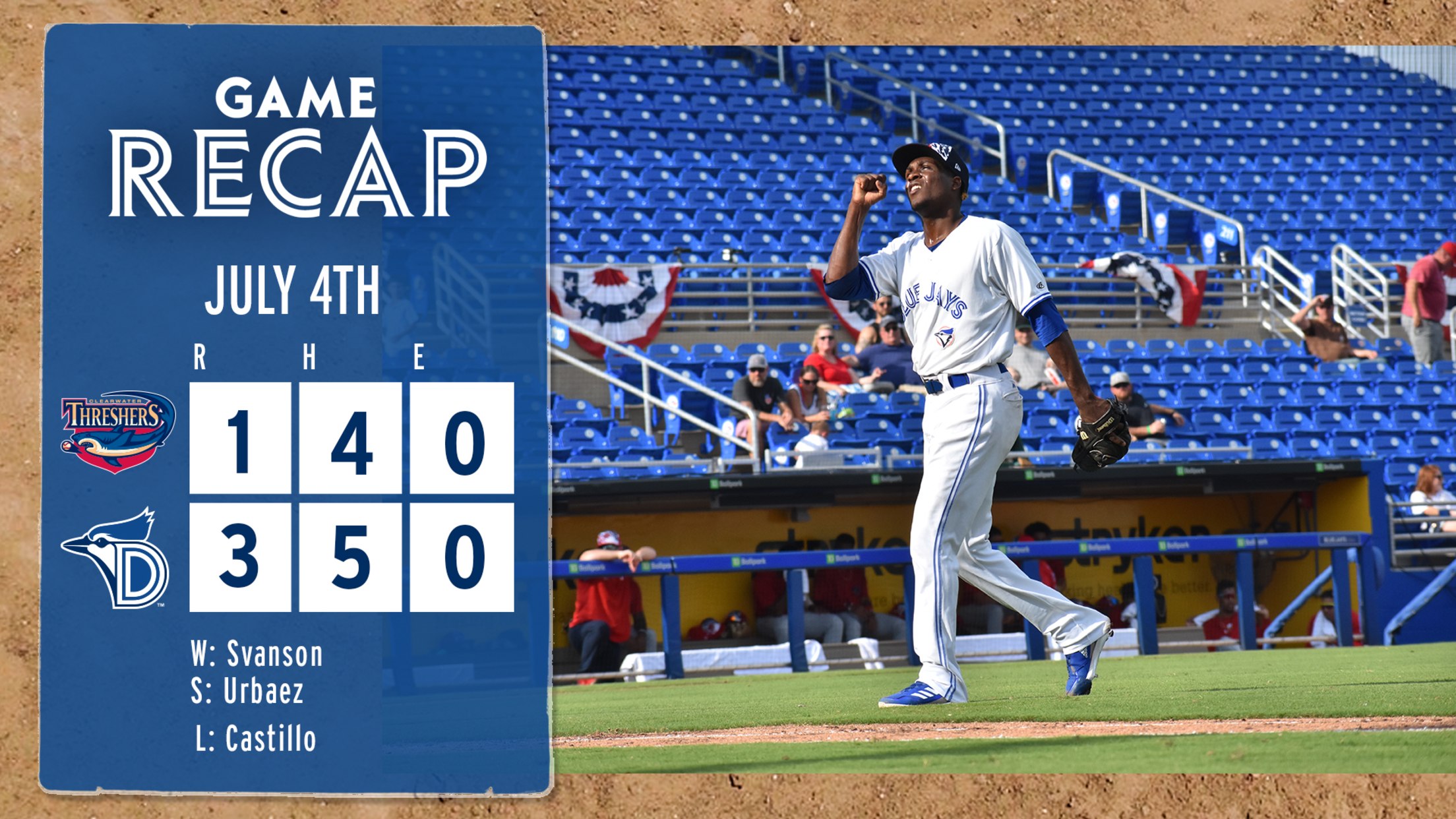 The Dunedin Blue Jays claimed a victory over the Clearwater Threshers at TD Ballpark after Monday's game was called in the middle of the seventh inning due to field conditions. Clearwater opened up the scoring in the first inning, hitting three singles off of Blue Jays starter Matt Svanson before
The Dunedin Blue Jays claimed a victory over the Clearwater Threshers at TD
Ballpark after Monday's game was called in the middle of the seventh inning due to field
conditions. Clearwater opened up the scoring in the first inning, hitting three singles off
of Blue Jays starter Matt Svanson before he got out of the inning, stranding runners on
second and third.
But the Dunedin lineup came right back in the bottom of the frame, loading the
bases with no outs on Threshers starter Starlyn Castillo, and scoring runs on a fielder's
choice by Adriel Sotolongo, and a groundout by Roque Salinas to take a 2-1 lead.
Dunedin tacked on another run in the third on a Salinas RBI-single to make it 3-1.
Matt Svanson settled right in after that first inning, finishing with five innings
pitched, just the one run allowed and six strikeouts, including retiring the final 10 batters
he faced. Geison Urbaez came on to pitch in the sixth and seventh and recorded two
perfect innings, striking out 3 and earring his third save of the year.
Blue Jays pitching retired the final 16 Clearwater hitters they faced, and Dunedin
earned their 34th win of the season, improving to 6-3 in the second half. The teams
have the day off on Tuesday, and will continue this series at TD Ballpark on Wednesday
night, first pitch scheduled for 6:30 p.m.