Bulls Announce New & Returning Food Offerings for 2023 Season
Opening Night 2023 set for Friday, March 31 at Durham Bulls Athletic Park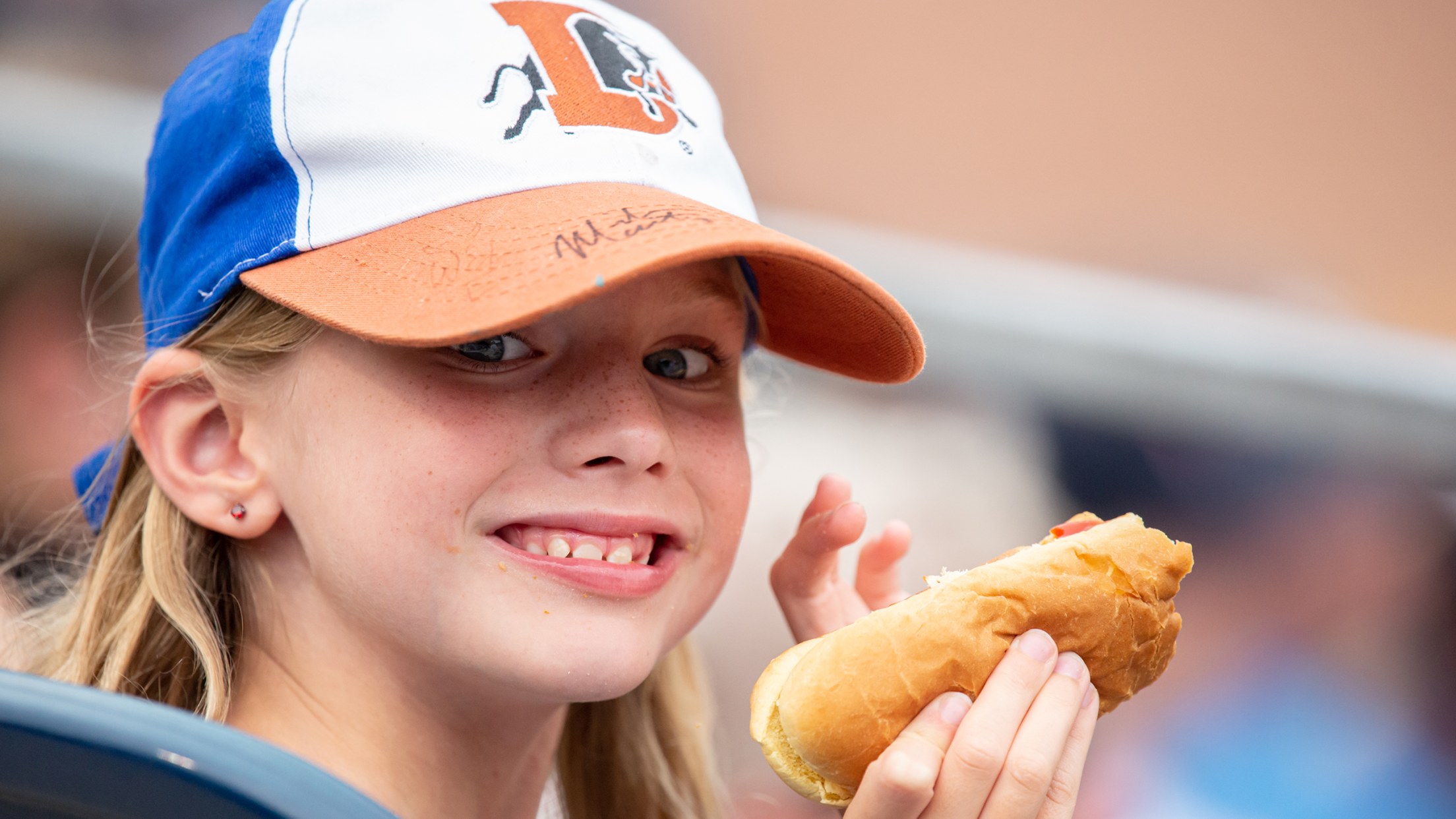 With Opening Night set for this Friday, the Durham Bulls have unveiled new and exciting food and drink options that will be available at Durham Bulls Athletic Park, in addition to some fan-favorites returning for the 2023 season. Bulls fans will once again enjoy value for their buck, with almost
With Opening Night set for this Friday, the Durham Bulls have unveiled new and exciting food and drink options that will be available at Durham Bulls Athletic Park, in addition to some fan-favorites returning for the 2023 season.
Bulls fans will once again enjoy value for their buck, with almost no price increases for the 2023 season, in addition to Dollar Dog Nights, Kids Eat Free Wednesday and Tacos & Tallboys Tuesdays.
Dollar Dog Nights
Dollar Dog Nights are back at the DBAP, with new Sahlen's All Beef Hot Dogs available for just a buck during every Thursday evening home game.
Kids Eat Free Wednesday
Kids 12 and under can get a voucher at Lowes Foods Fan Assistance good for a free hot dog, chips and Pepsi soda.
Tacos and Tallboys Tuesday (starting May 16)
Tacos and Tallboys Tuesdays will also debut starting on Tuesday, May 16, with $2 tacos and $5 select tallboy beers available for Tuesday night home games.
The DBAP will also feature some new additions and returning favorites:
Bottomless Fountain Soda
Durham Bulls Athletic Park will now feature free refills on souvenir cups. Self-service machines will be located throughout the ballpark for fans, giving fans the ability to skip the line and enjoy more of the action.
New Bavarian Pretzel
What goes great with your favorite lagers and pilsners at the DBAP? Our new Bavarian Pretzel, located at the hot dog stands and bars throughout the ballpark.
Weldon Mills Cocktails at The 42 Bar
The 42 Bar at Jackie's Landing will feature premium offerings from Weldon Mills Bourbon, including Rockfish Bourbon served in a souvenir rocks glass, plus other premium offerings including vodka, gin and tequila from Weldon Mills.
New Food Court Grab & Go
A new Grab & Go location has been added in the main concourse, offering fans a quick and easy way to get their favorite beverages, plus freshly grilled sausages, hot dogs and butter-topped popcorn.
More Condiment Options
Bulls fans will have more choices than ever with more condiment options for your food, including Chipotle, BBQ, Honey Mustard and Garlic Aioli sauces joining Ketchup, Mustard, Relish, Chopped Onion, Mayo and Brown Mustard
Sausage Stand
Foot long corn dogs make their triumphant return to the DBAP for 2023! We have also added a new smoked sausage, and our Topped Twister Fries. The first month will feature Chorizo Sausage, queso and peppers in celebration of Los Toros de Bravos.
Wings Stand
Bone in Wings are back at the ballpark and are available once again at the Wing Stand behind home plate. Fans will also see improved chicken tender and fry offerings.
Eat Like A Local
Derby Roasters has been added as a new partner for the 2023 season, serving hot and cold coffee, plus pastries on the third base main concourse. They join other local favorites including Pie Pushers, El Jefecito, Two Roosters Ice Cream, Rita's Italian Ice, Loco Pops and Magnificent Concessions.
Beer Bats
A smash hit last season, Beer Bats will return on select theme nights in 2023. Add to your collection and grab all the different logos!
The Bulls begin their Back-to-Back Triple-A National Championship defense on Opening Night 2023 at the DBAP on Friday, March 31. First pitch against the Norfolk Tides, the Triple-A affiliate of the Baltimore Orioles, is set for 6:35pm. Tickets for that game and all 75 home contests are now available at DurhamBulls.com.
For more information on full-season and mini plan packages, please call 919.956.BULL.