Professional Sports Catering Menu
Professional Sports Catering LLC (PSC) is the official food & beverage provider for Southwest University Park including Chihuahuas games! PSC manages gameday food and beverage including concessions, premium areas, the WestStar Club, and suites. They will also manage food and beverage service for all non-gameday events at Southwest University Park.
The Chihuahuas and PSC uses mobile ordering for general seating and in-seat ordering for Club seat members. Club memberships include the Dugout Club, Home Plate Club and WestStar Club. Suites features this new upgraded service.
Mobile ordering is available at each concession stand via QR codes and website links. In addition, the ballpark concourse features self-service kiosks to expedite some food and beverage sales.
With a mobile ordering & cashless system, Southwest University Parks looks to decrease transaction times, create faster moving lines, create fewer points of contact for fan and staff safety, and improve overall guest satisfaction.
FIND THE SIGN TO SKIP THE LINE
Find the QR at the concession stand. Scan it. Order. Pay. Pick-up!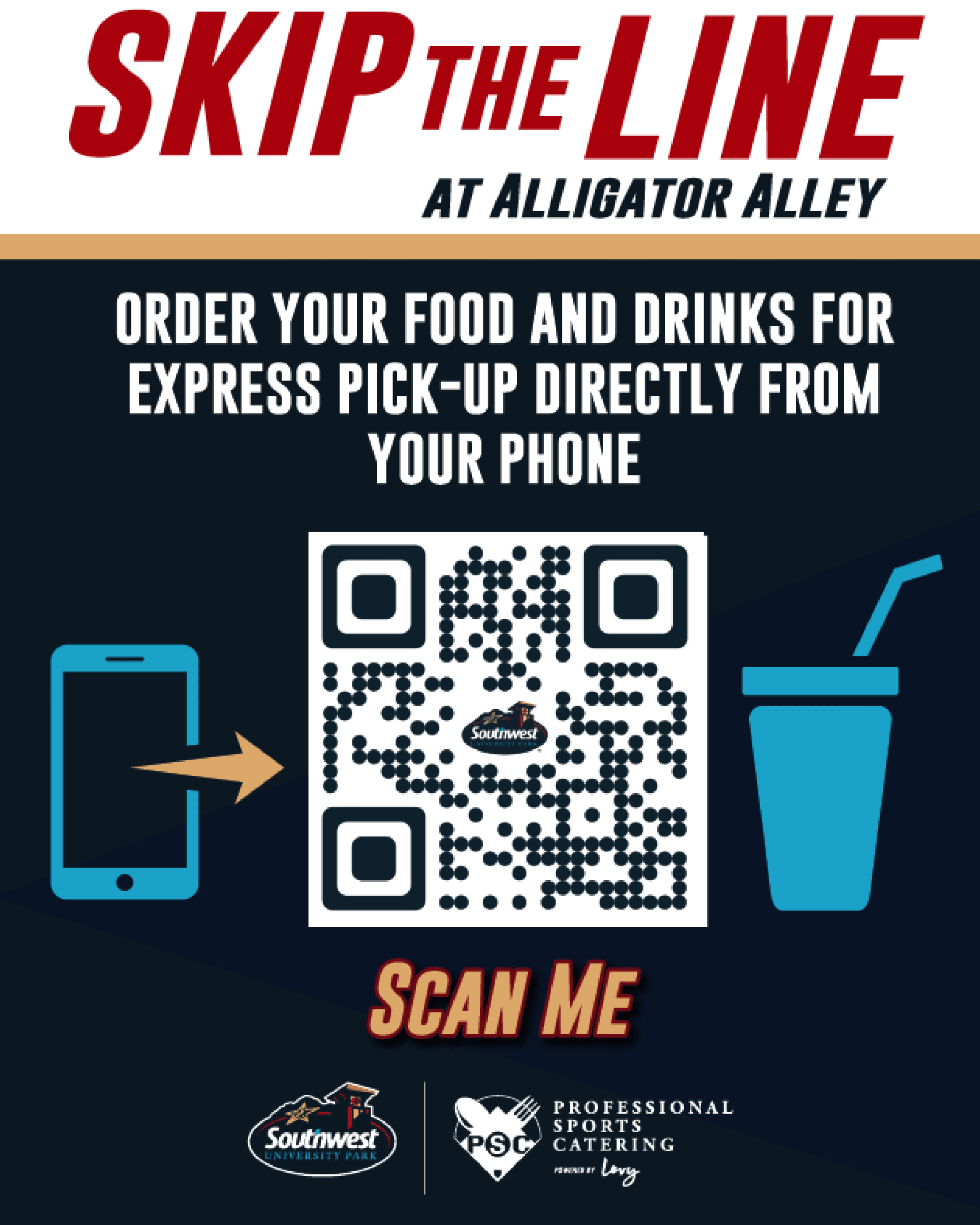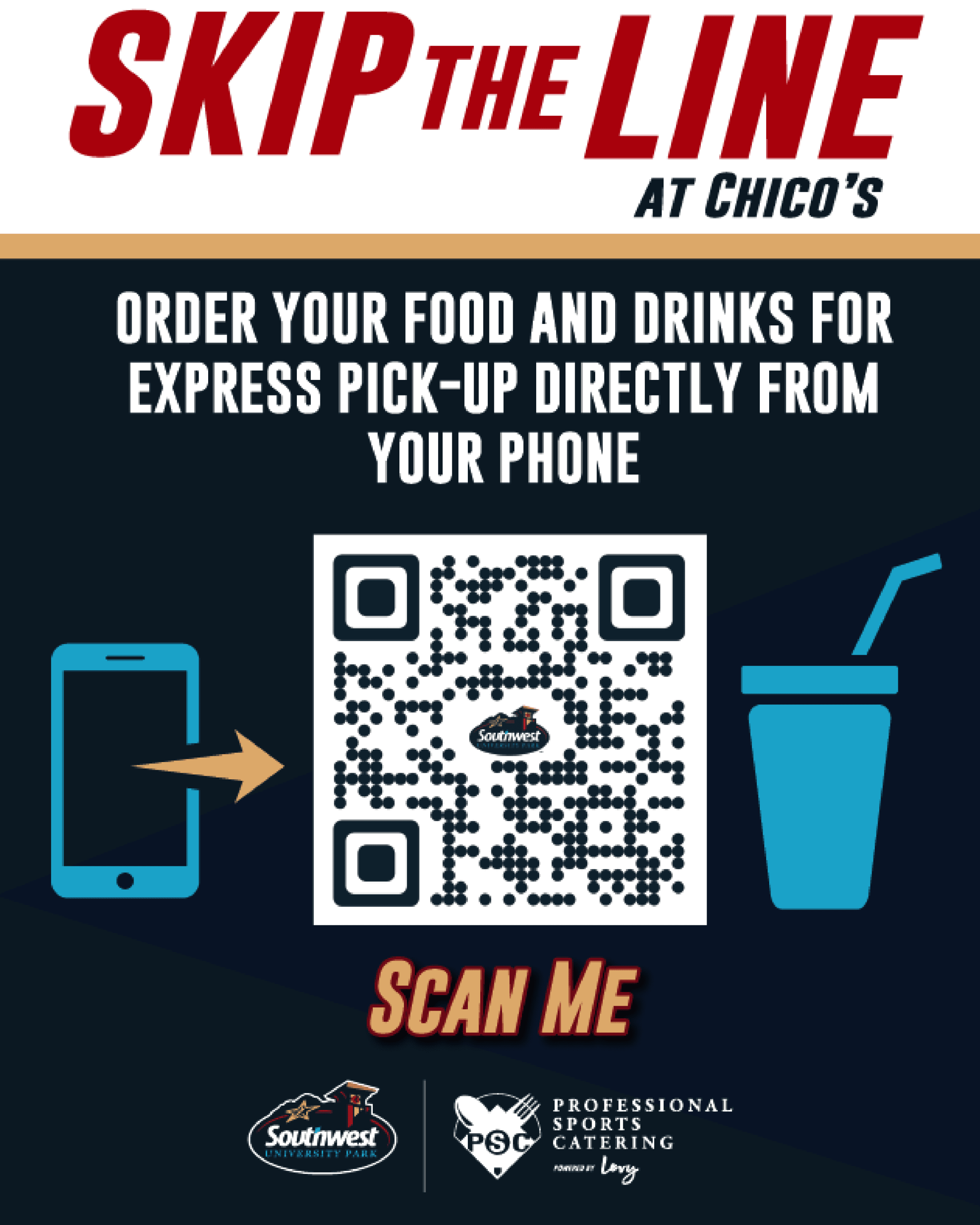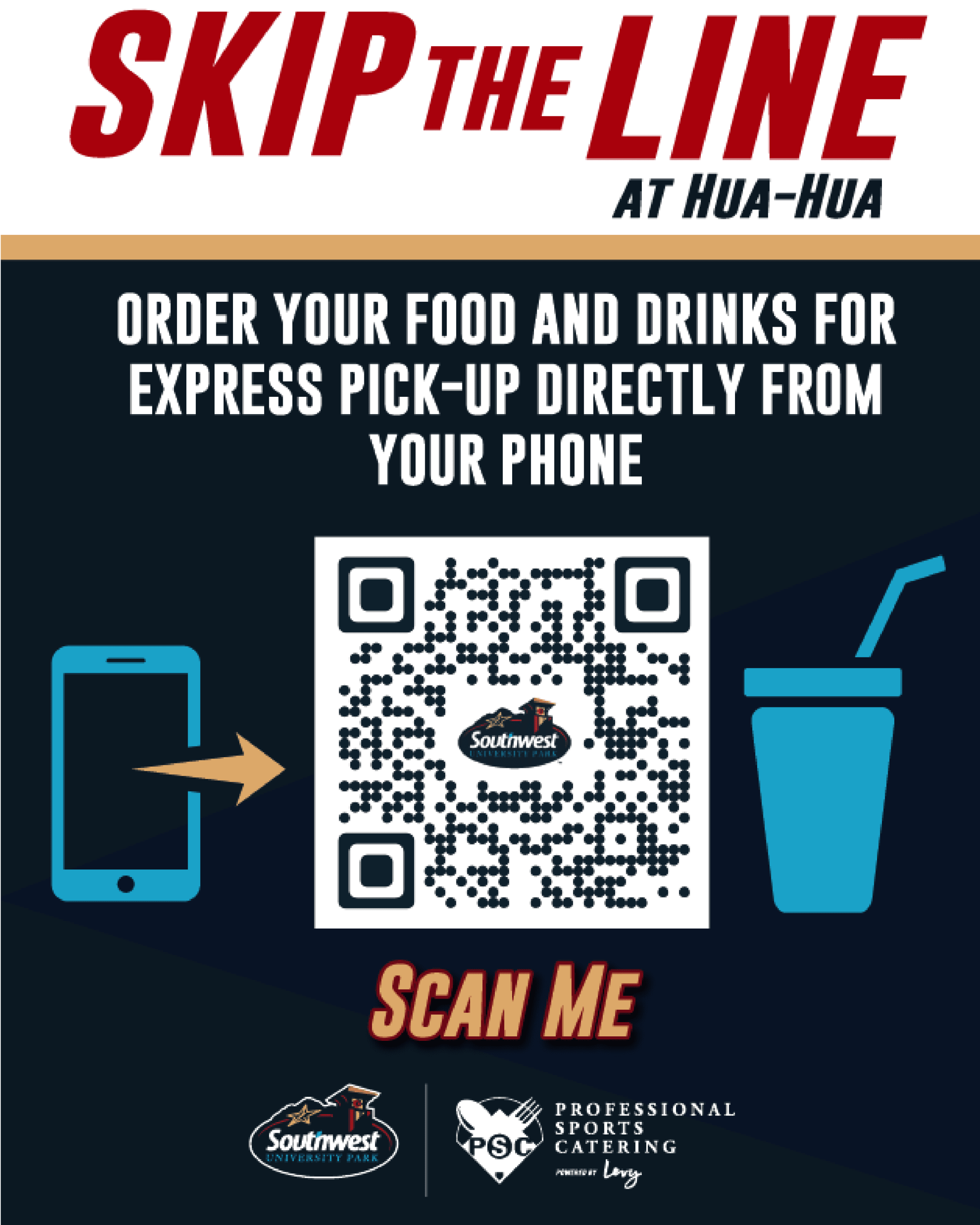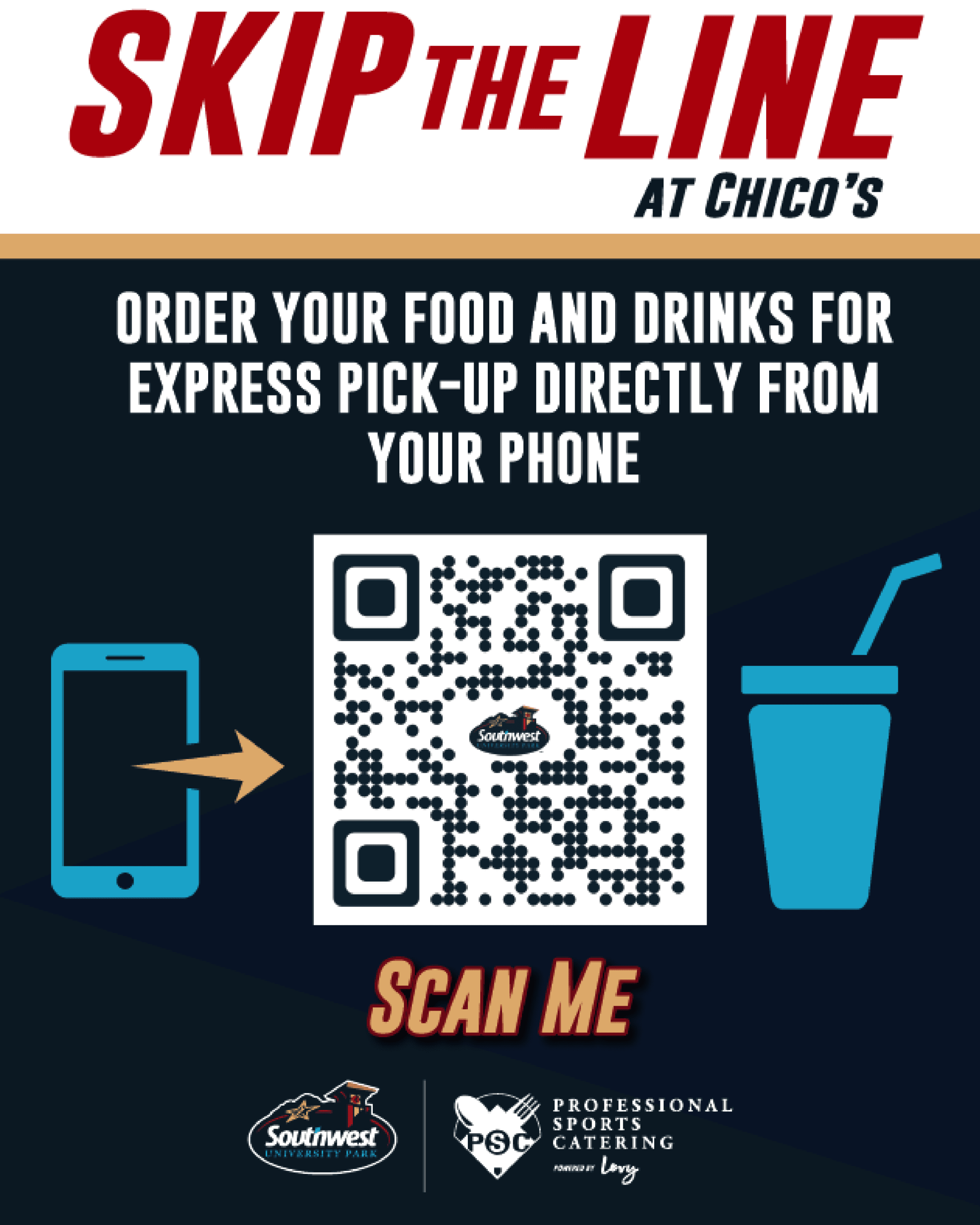 WESTSTAR CLUB MENU
TUESDAY, MAY 10 | 6:35 P.M.
Entrée - $22
Three Tacos: Carnitas, Blackened Shrimp, Steak
Sides
Refried Beans
Cilantro Lime Rice
Garnishes
Salsa Roja
Salsa Borracha
Corn Tortillas
Sour Cream
Cilantro
Diced Onion
Shredded Monterrey Jack Cheese
Dessert - $9
Churro Sunday: Vanilla & Chocolate Ice Cream with Toppings
WEDNESDAY, MAY 11 | 6:35 P.M.
Entrée - $22
Build your own Pasta Bar:
Cavatappi Pasta
Fettucine Pasta
Spaghetti Pasta
Meats
Grilled Chicken
Shrimp
Beef
Sauces
Marinara Sauce
Alfredo Sauce
Pesto Sauce
*_Sides
*_Garden Salad with choice of Ranch or Italian Dressing
Parmesan Cheese
Crushed Red Peppers
Garnishes
Breadsticks**
Dessert - $10** Banana Split: Vanilla & Chocolate Ice Cream, Fresh Fruit, & Toppings
THURSDAY, MAY 12 | 6:35 P.M.
Entrée - $25
Sliced Brisket
Baby Back Ribs
Sides
Cream Corn
Spicy BBQ Bacon Beans
Garnishes
BBQ Sauce
Carolina Sauce
Butter
Dessert - $9
Funnel Cake Fries a la Mode
FRIDAY, MAY 13 | 6:35 P.M.
Entrée - $27
Rib Eye Steak with Lemon Cream Sauce
Sides
Baked Potatoes
Bacon-Wrapped Asparagus
Garnishes
Sour Cream
Shredded Cheese
Butter
Bacon Bits
Dessert - $9
Assorted Cakes
SATURDAY, MAY 14 | 6:35 P.M.
Entrée - $22
Chicken Flautas
Sides
Refried Beans
Spanish Rice
Garnish
BBQ Sauce
Carolina Sauce
Pickles
Sliced Onion
Dessert - $8
Cookie Sandwiches with Assorted Toppings
SUNDAY, MAY 15 | 12:05 P.M.
Entrée - $22
Country Fried Steak
Garnish
Jalapenos
Dessert - $9
Brownies a la Mode
Menu items subject to change without notice.