Palma's Go-Ahead Blast Leads Woodpeckers to Win Over GreenJackets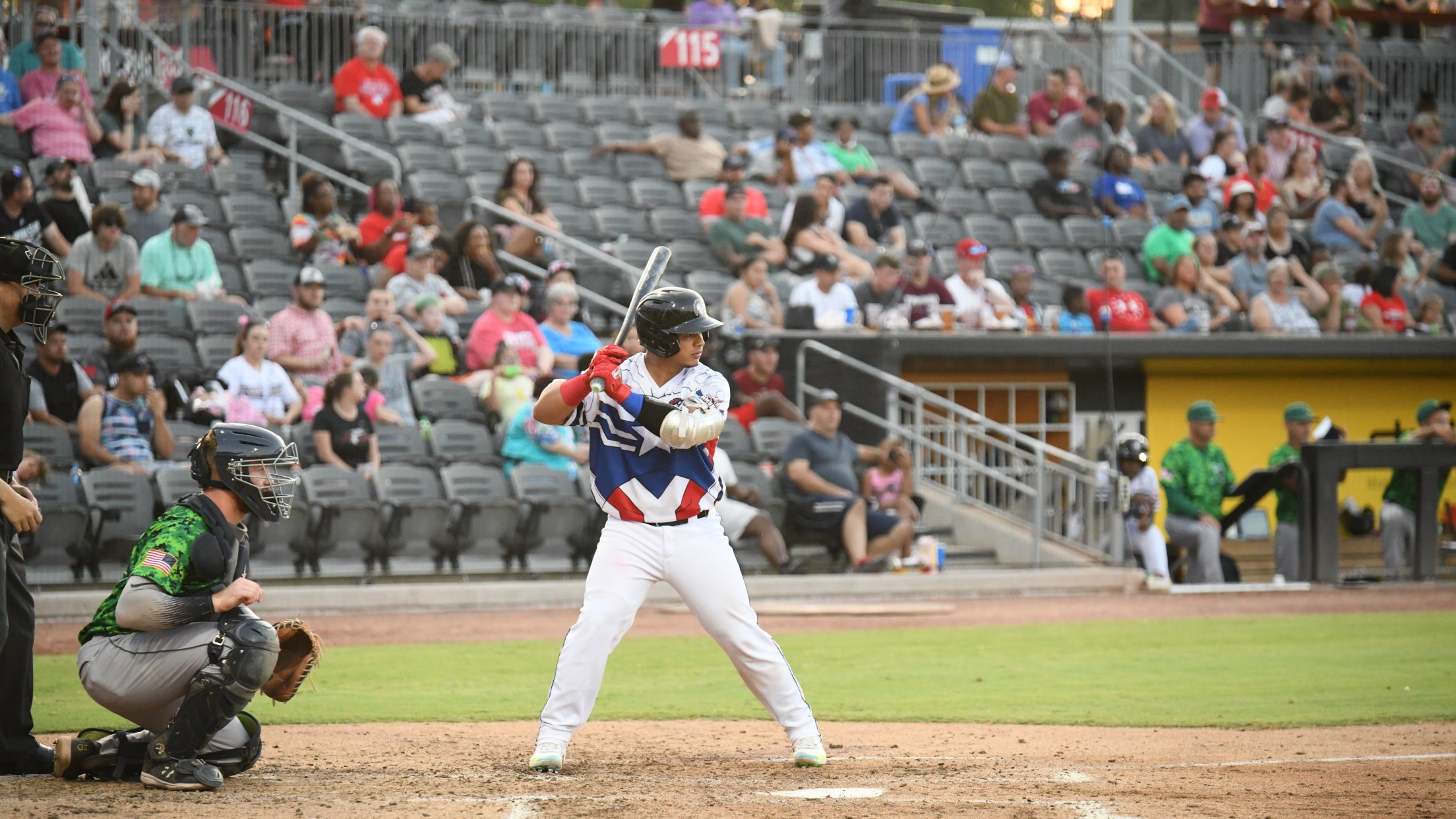 Fayetteville, NC - The Fayetteville Woodpeckers(32-34) got a huge shutout performance on the mound and a clutch go-ahead swing late in the game to top the Augusta GreenJackets (36-31) 6-5 on Friday night at Segra Stadium. With the game tied 5-5 in the bottom of the eighth inning, catcher Miguel
Fayetteville, NC - The Fayetteville Woodpeckers(32-34) got a huge shutout performance on the mound and a clutch go-ahead swing late in the game to top the Augusta GreenJackets (36-31) 6-5 on Friday night at Segra Stadium.
With the game tied 5-5 in the bottom of the eighth inning, catcher Miguel Palma pulled an 0-2 breaking ball into the left field bullpen off reliever James Acuna (L, 1-1) for the 6-5 lead. In the ninth, Christian Mejias secured the win, retiring the top three hitters in the Augusta order and closing his night with a stretch of ten straight outs.
Half of Fayetteville's runs came during their first trip to the plate, in response to a two-run top of the first inning by Augusta. Cody Orr was plunked by AJ Smith-Shawver and Logan Cerny reached on a single to put two runners on for Joey Loperfido, who singled home Orr. After Justin Williams struck out, Palma came up with his first big swing of the game, a two-run double that vaulted Fayetteville ahead 3-2.
In the third, Miguel Ullola allowed a two-run double to Brandon Parker that put Augusta back in front. Parker later scored on a wild pitch and Augusta exited the third inning with a 5-3 lead.
The Woodpeckers comeback started in the sixth inning thanks to a pair of Augusta fielding errors and two unearned runs charged to Juan Mateo. Palma reached on a throwing error by third baseman Geraldo Quintero and eventually scored on an RBI single from Rainier Rivas. After Jaxon Hallmark singled to put runners on the corners with two outs, Cody Orr reached on a grounder and bad throw from shortstop Cal Conley. Rivas scored on the play and tied the game 5-5.
While Fayetteville was handed a pair of runs, Mejias kept the Augusta offense in check from the moment he entered the game in the fifth inning. He allowed just two baserunners over five shutout innings and preserved the tied game until Palma's big swing in the eighth.
The six-game series is now even 2-2 going into Saturday night. Saturday's first pitch at Segra Stadium is scheduled for 7:05 pm EST. The Woodpeckers will start RHP Zack Matthews (2-3, 8.00 ERA) and Augusta will counter with RHP Luis Vargas (2-3, 4.50 ERA)
FULL BOX SCORE: https://www.milb.com/gameday/669745/final/box