Whitley Shines in Rehab Start as Woodpeckers Fall in Series Opener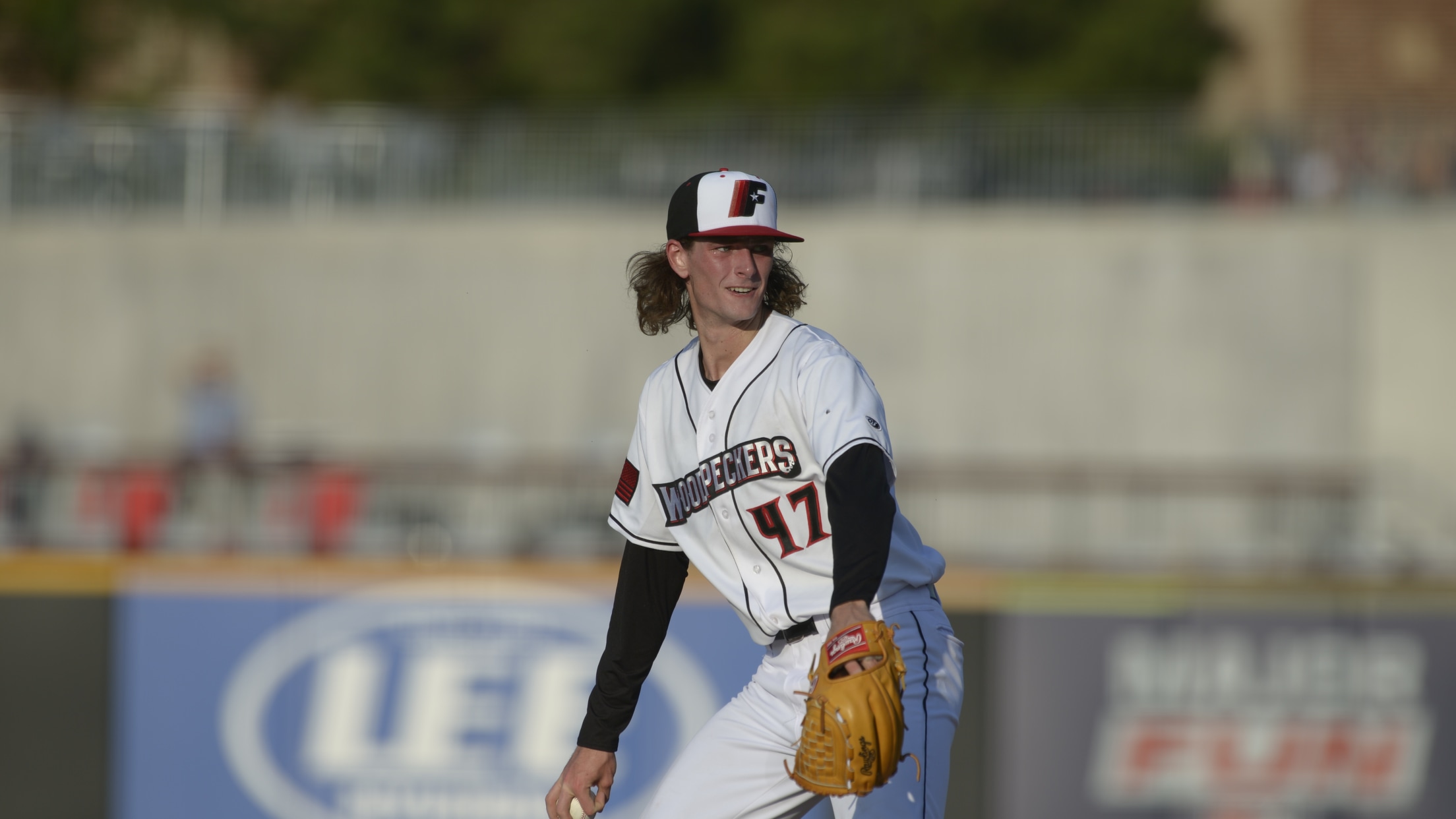 Zebulon, NC - Forrest Whitley put together another strong outing in his rehab assignment Tuesday night at Five County Stadium, but a late rally from the Carolina Mudcats (35-35, 1-3) pushed them past the Fayetteville Woodpeckers (32-37, 1-3), 8-5 in the series opener. Whitley pitched three perfect innings in his
Zebulon, NC - Forrest Whitley put together another strong outing in his rehab assignment Tuesday night at Five County Stadium, but a late rally from the Carolina Mudcats (35-35, 1-3) pushed them past the Fayetteville Woodpeckers (32-37, 1-3), 8-5 in the series opener.
Whitley pitched three perfect innings in his second rehab start with Fayetteville. The #4 prospect in the Houston Astros system struck out the final five batters he faced, throwing 24 strikes on 37 pitches.
The Woodpeckers took an early lead in the top of the second when Justin Williams came in to score on a double play ball. However, the Mudcats answered in the bottom of the fifth against reliever Alex Santos. Jheremy Vargas tied the game with a sacrifice fly before Jesus Chirinos singled home a run for the 2-1 Carolina advantage.
Fayetteville did not wait long to retake the lead. In the top of the seventh, Joey Loperfido drew a one-out walk which was immediately followed by a double from Williams. With runners at second and third, Logan Cerny stepped in and ripped a double off the wall in left to score both Loperfido and Williams to push the Woodpeckers ahead, 3-2. The next batter, Miguel Palma, made it three straight two-base hits with a double down the line to bring home Cerny and extend the lead to two.
The Mudcats cut the lead in half in the bottom half thanks to a two-out rally. Jackson Chourio sent a triple to dead center field and Jeferson Quero chased him home with a base hit. The following inning, Chirinos singled to right to bring home the tying run. Moments later, an errant throw by Loperfido on what could have been an inning-ending double play ended up in the outfield, allowing Vargas to score the go-ahead run.
Williams led off the eighth with a single before advancing to second on a wild pitch. With two outs, Tyler Whitaker came through with a game-tying base hit to make it 5-5. But the Mudcats responded in the bottom half with three runs off of Woodpeckers reliever Fabricio Reina (L, 2-3), including an RBI single from Eduardo Garcia followed by an RBI double by Zack Raabe and a sacrifice fly hit by Chirinos. Carolina closer Michele Vassalotti came on for the ninth and struck out the Woodpeckers in order to end the ballgame.
The two teams will play the second game of the six-game series Wednesday night at Five County Stadium. RHP Bryant Salgado gets the start for Fayetteville while the Mudcats look to make it two in a row with RHP Alexander Cornielle. First pitch is scheduled for 7:00 ET.
FULL BOX SCORE: https://www.milb.com/gameday/669925/final/box