HOMESTAND HIGHLIGHTS: May 30 - June 4
Presented by Lancia Homes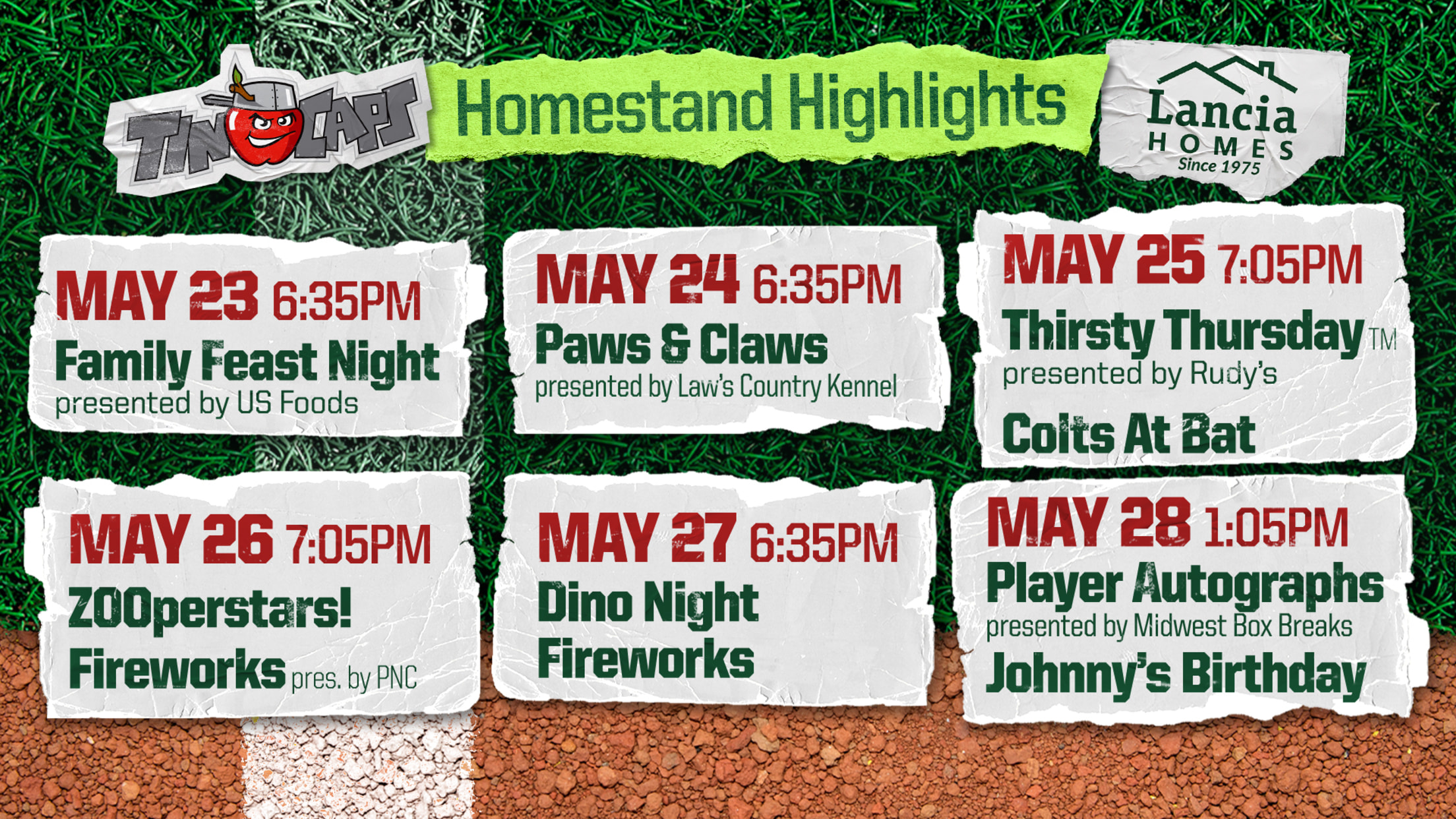 vs. South Bend Cubs (Chicago Cubs affiliate) Tuesday, May 30 (6:35 p.m.) - Family Feast Night presented by US Foods ($2 hot dogs, pizza slices, popcorn & soft drinks) - TICKETS ----- Wednesday, May 31 (6:35 p.m.) - Paws & Claws presented by Law's Country Kennel (pets welcome with purchase
RECAP: Zabala, Merrill Homer as 'Caps Down Cubs 5-2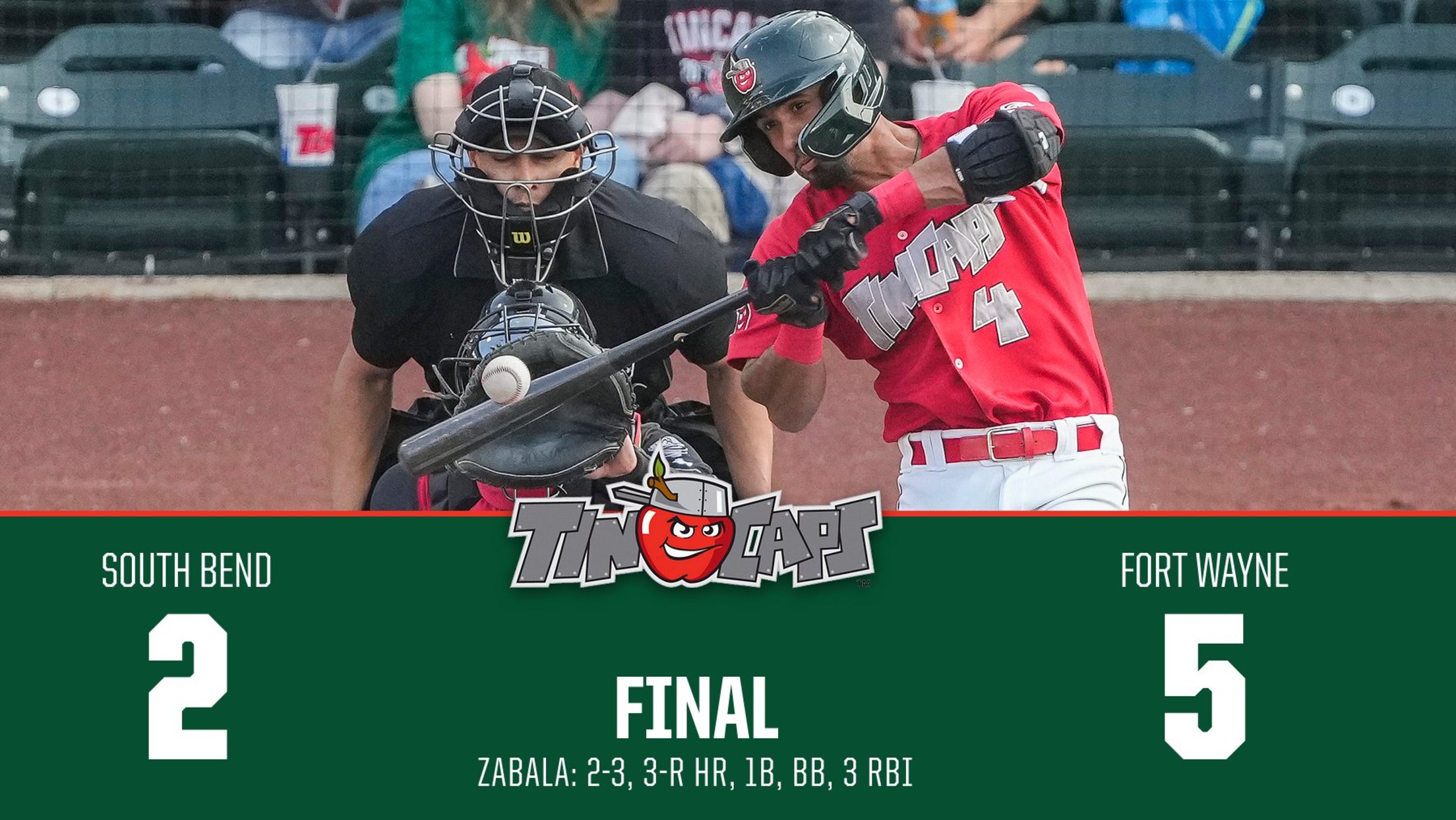 Box Score FORT WAYNE, Ind. – TinCaps catcher Juan Zabala blasted a three-run homer, shortstop Jackson Merrill (No. 1 Padres prospect) legged out an inside-the-park home run, and Fort Wayne beat the South Bend Cubs (Chicago Cubs affiliate), 5-2, on a warm Wednesday night at Parkview Field. Fort Wayne starting
JERSEY AUCTION: Mental Health Awareness + Daisies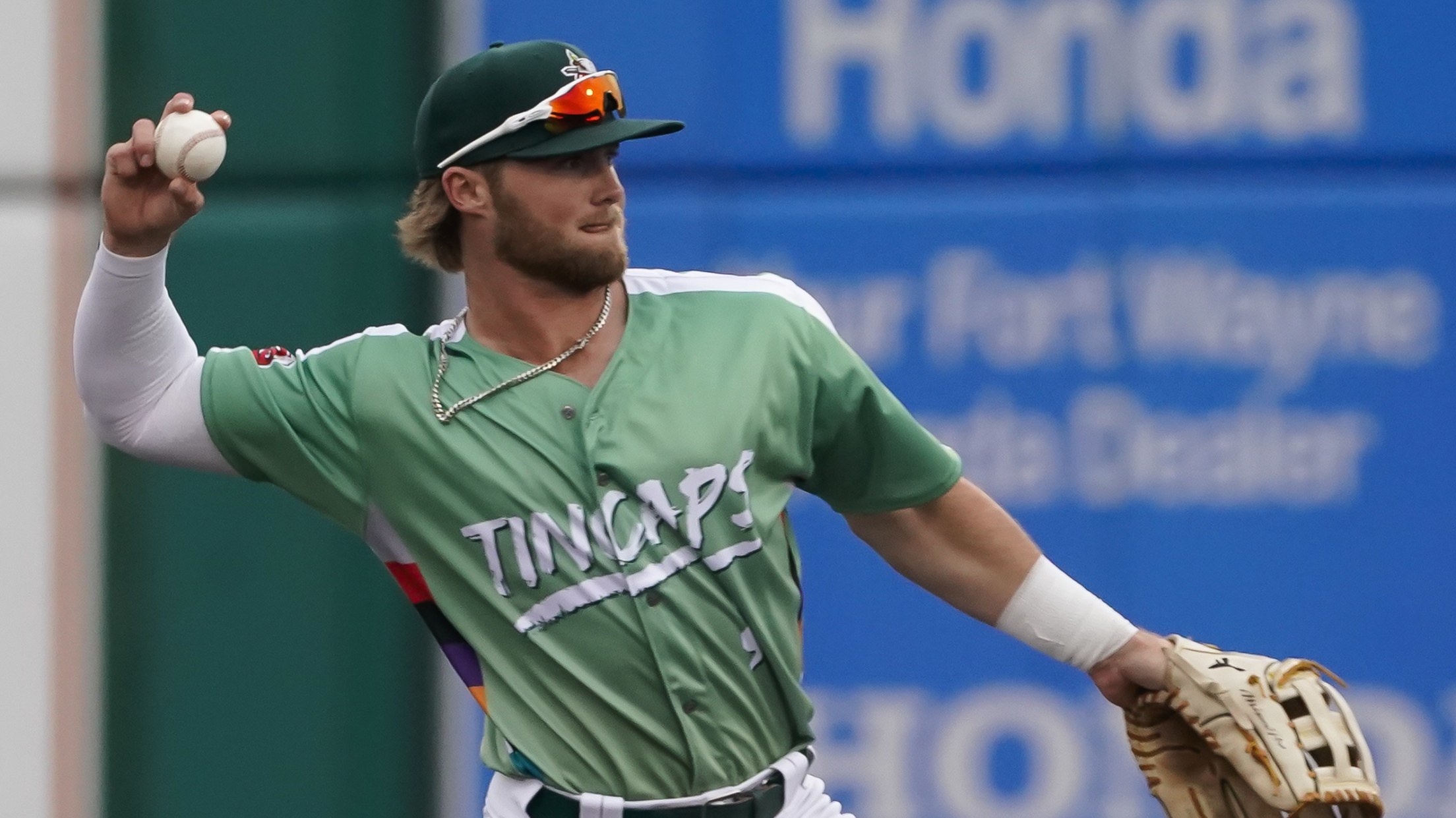 The Fort Wayne TinCaps currently have two live jersey auctions at TinCapsJersey.com! On Saturday, May 13, the TinCaps wore special jerseys for Mental Health Awareness Night. Proceeds benefit Fort Wayne's chapter of the National Alliance on Mental Illness (NAMI). The green jerseys feature a semicolon on the front for suicide
DAISIES: Monument Unveiling June 3 at Memorial Park
TinCaps and City of Fort Wayne Parks and Recreation Partner to Celebrate All-American Girls Professional Baseball League Team Members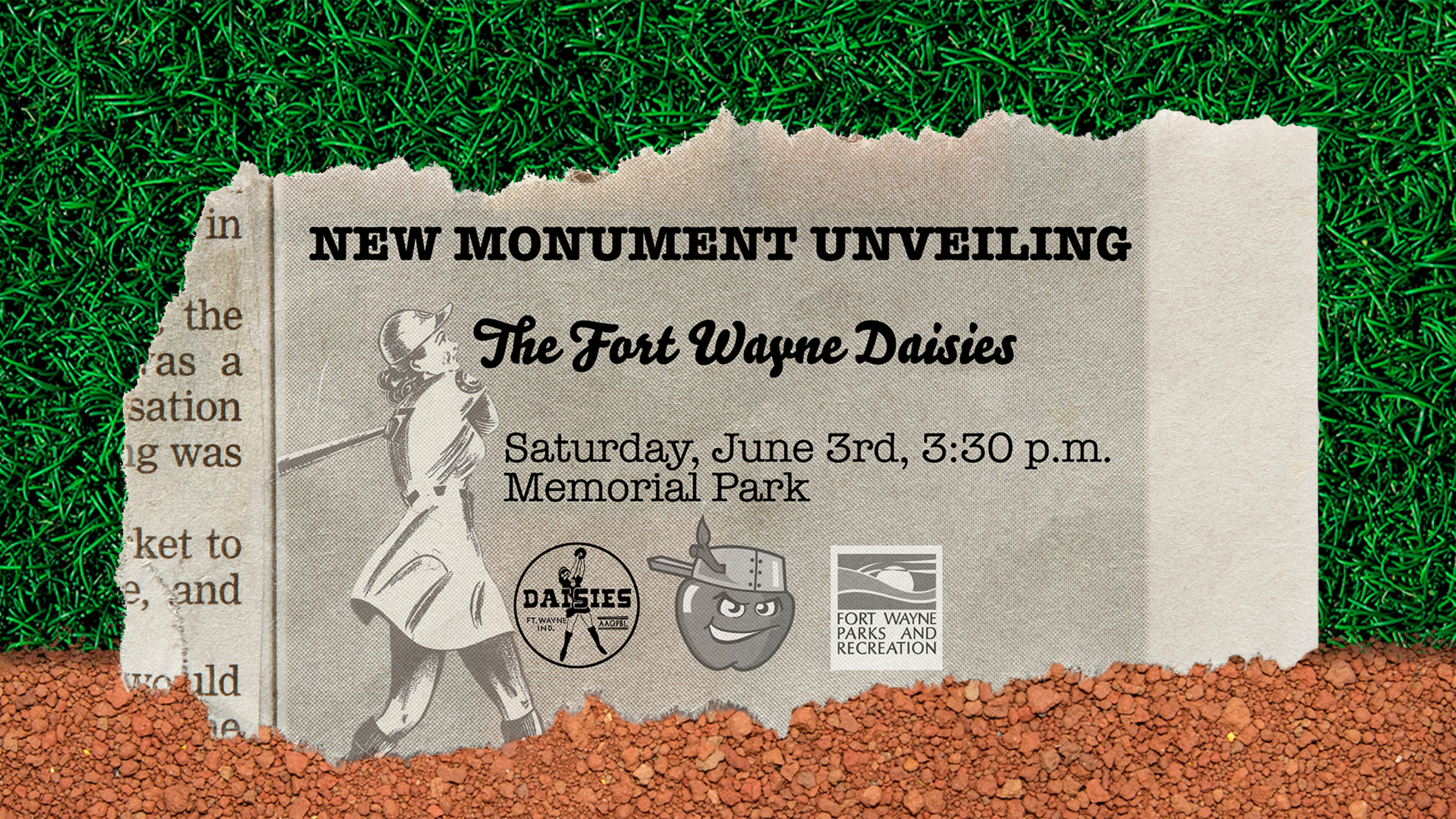 FORT WAYNE, Ind. – The TinCaps, in partnership with the City of Fort Wayne Parks and Recreation Department, are set to unveil a new monument on Saturday, June 3 (3:30 p.m.) at Memorial Park to celebrate the Fort Wayne Daisies of the All-American Girls Professional Baseball League (AAGPBL). The Daisies
KIDS CLUB: Clinic with Players on June 3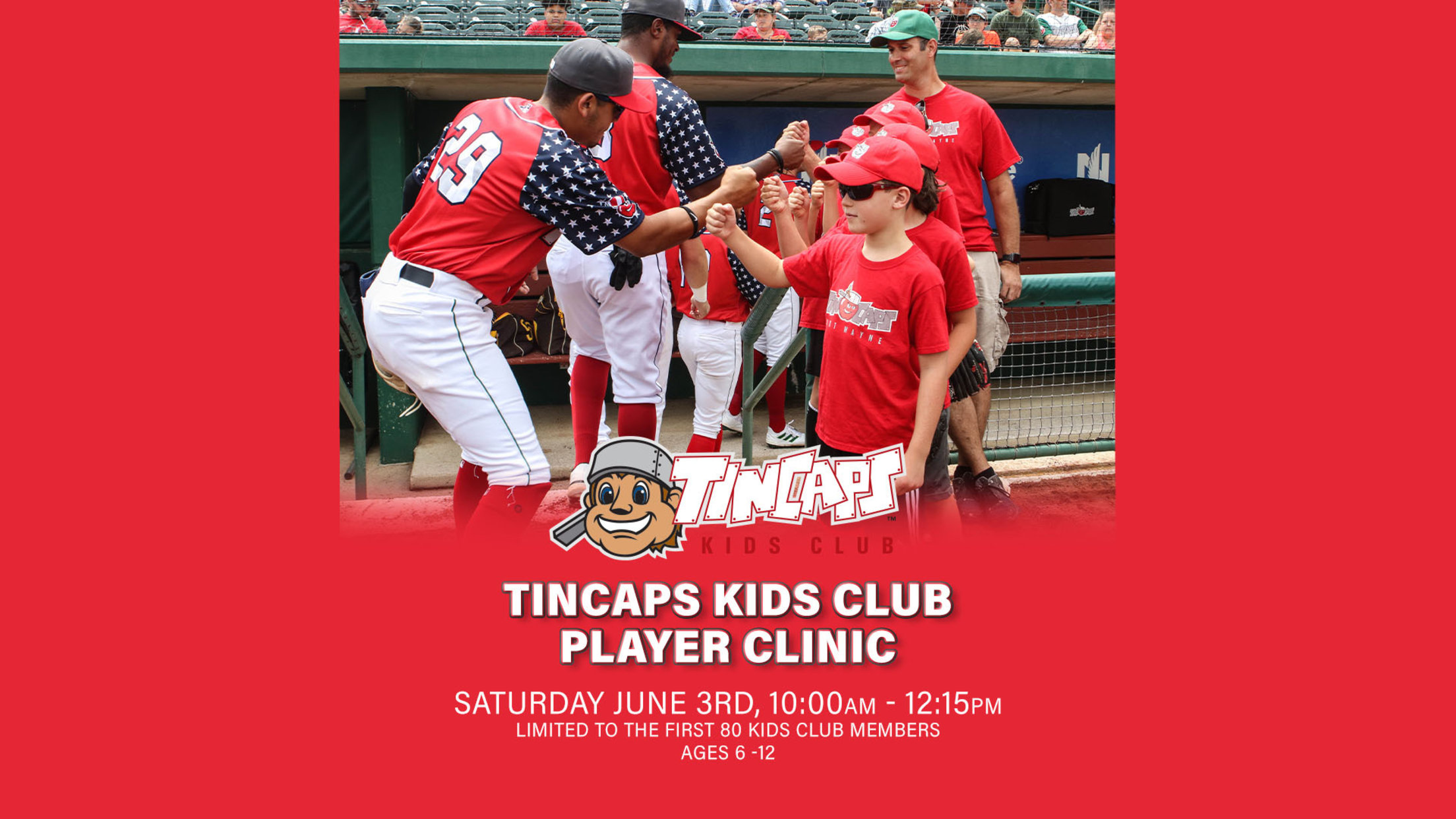 FORT WAYNE, Ind. – The Fort Wayne TinCaps are excited to announce an exclusive Kids Club event. Members are invited to a clinic with TinCaps players at Parkview Field on Saturday, June 3 (10 a.m. – 12:15 p.m.). This event is only open to members of the TinCaps Kids Club,
BLOOD DRIVE: Tuesday, June 6
FORT WAYNE, Ind. – Looking for a way to give back to the community, but don't have a lot of time to volunteer? In partnership with the Red Cross, the community is invited to help save lives by donating blood at the Step Up to the Plate Blood Drive on
BROADCASTS: How to Watch & Listen
Video of Every Game on Bally Live App and MiLB.TV, Plus All Games on 1380 The Fan & 100.9 FM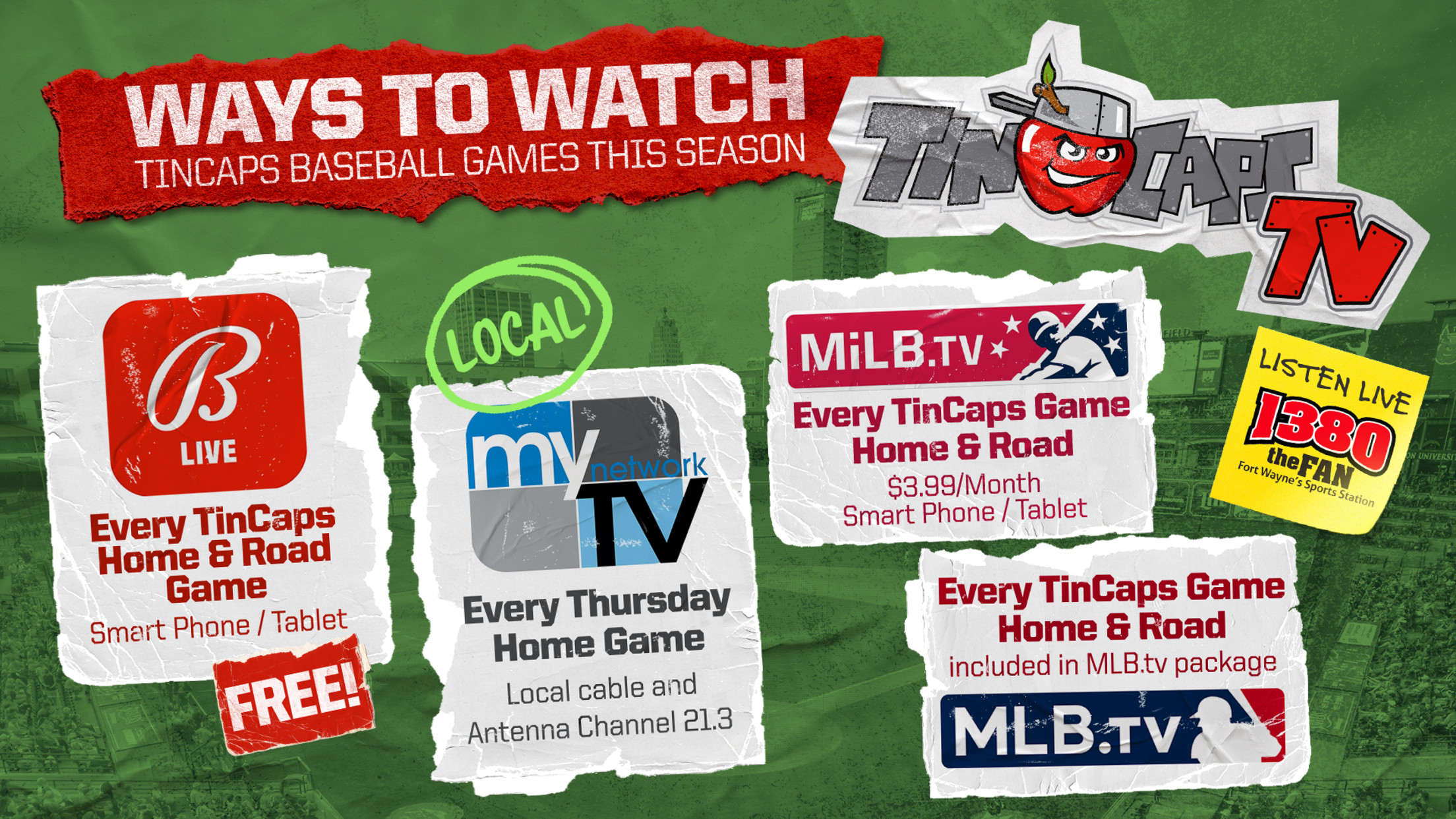 FORT WAYNE, Ind. – Fans will have more ways than ever before to watch and listen to Fort Wayne TinCaps games during the 2023 season. In fact, for the first time, fans can watch every single TinCaps game for free. All 132 games — home and road — will be
FEATURE: TinCaps Toss Franchise's 3rd No-Hitter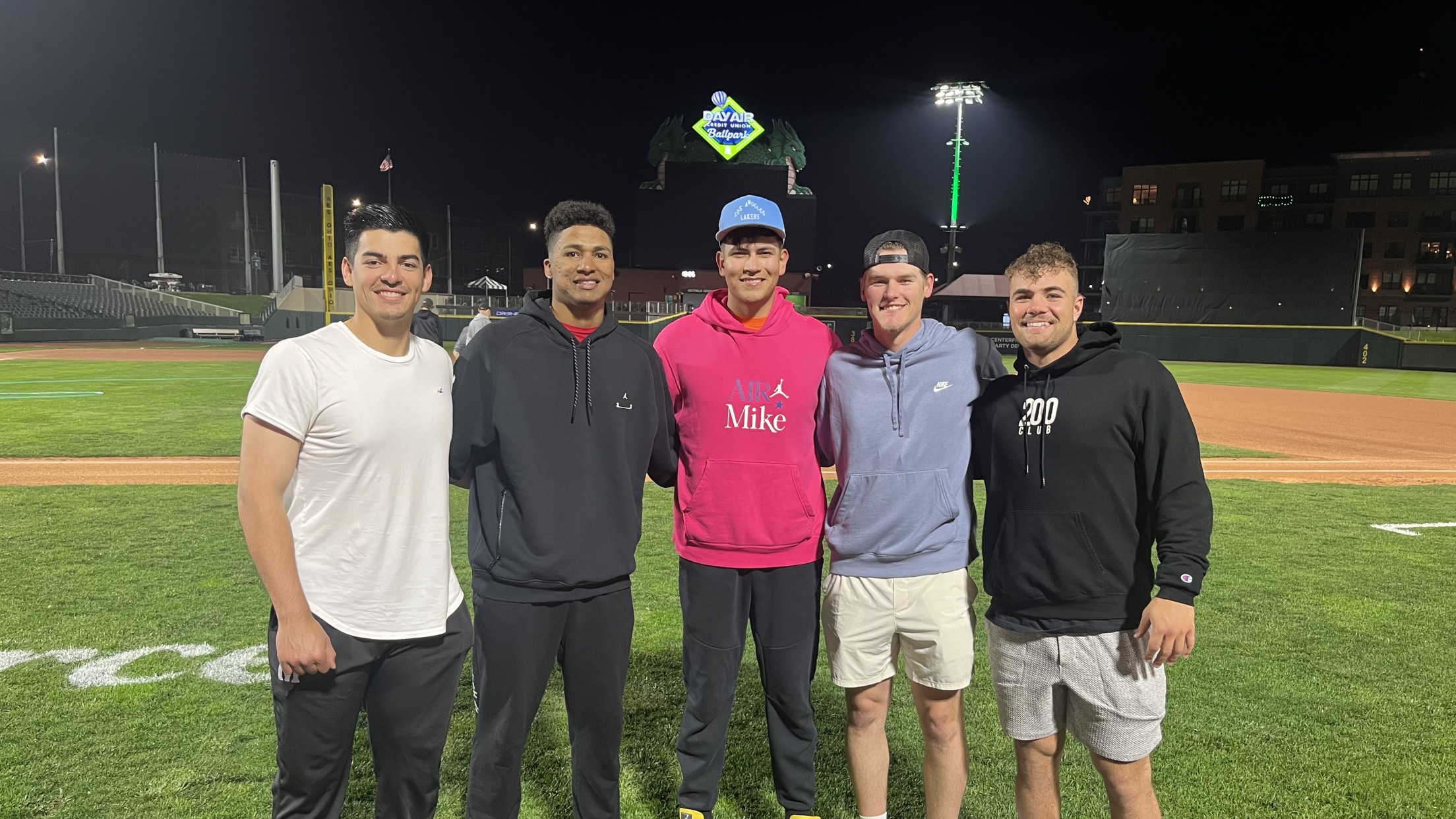 DAYTON, Ohio – TinCaps pitchers Jairo Iriarte, Alan Mundo, and Adam Smith combined to throw the first Fort Wayne no-hitter in a decade at Dayton this May. The historic accomplishment marks just the third time the TinCaps have thrown a no-hitter in the 30-year history of the franchise. It's only
260 To The Show: Former Players in MLB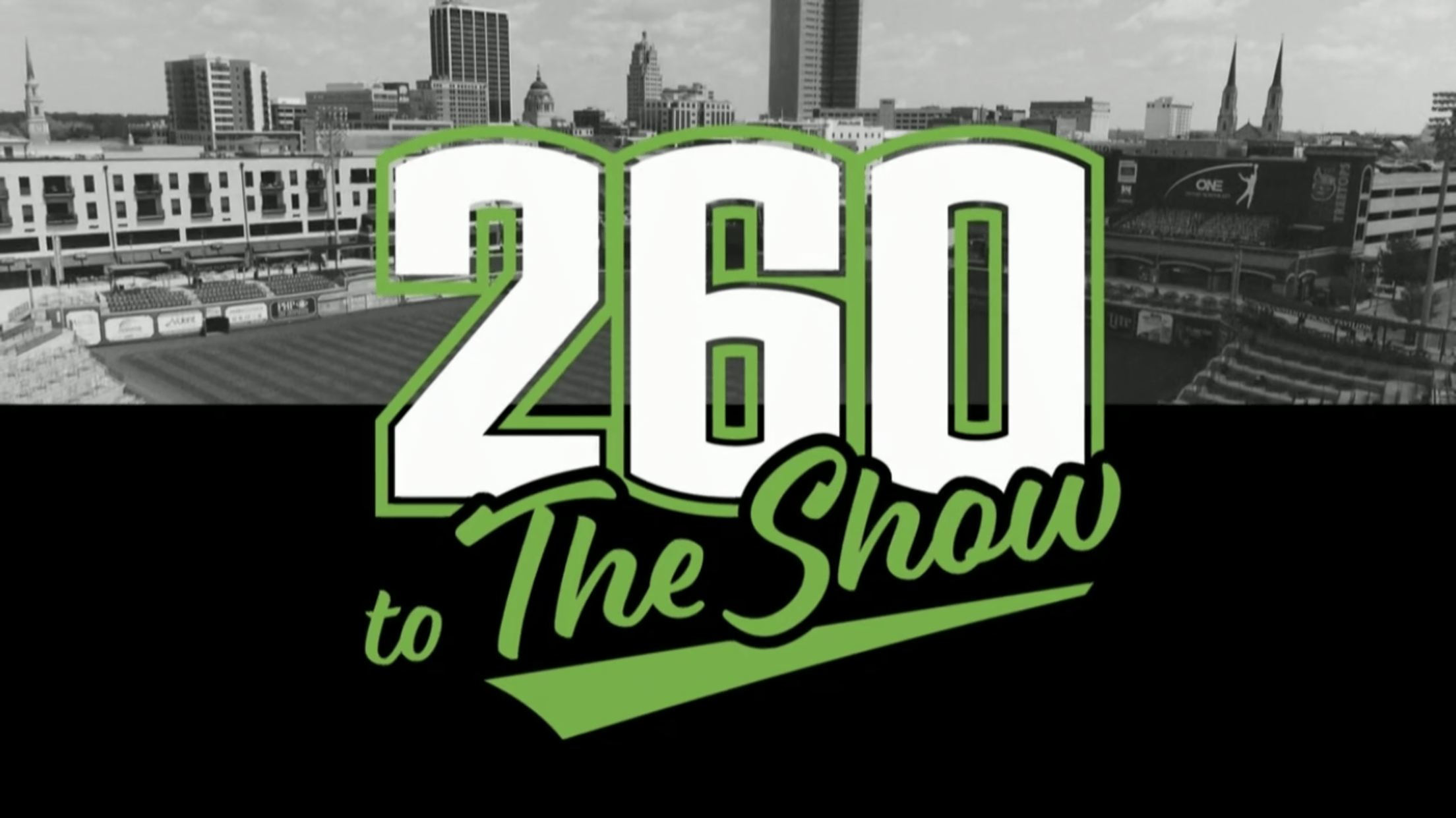 FORT WAYNE, Ind. – As the 2023 Major League Baseball season began Thursday, 37 former Fort Wayne TinCaps and Wizards populated Opening Day rosters. See list below. The 37 Fort Wayne alumni span across 21 different big league teams. To begin the year, the active roster for the TinCaps' parent
TinCaps & Lawnganics Team Up for Community Events 
Supporting Humane Fort Wayne and Fort Wayne Community Schools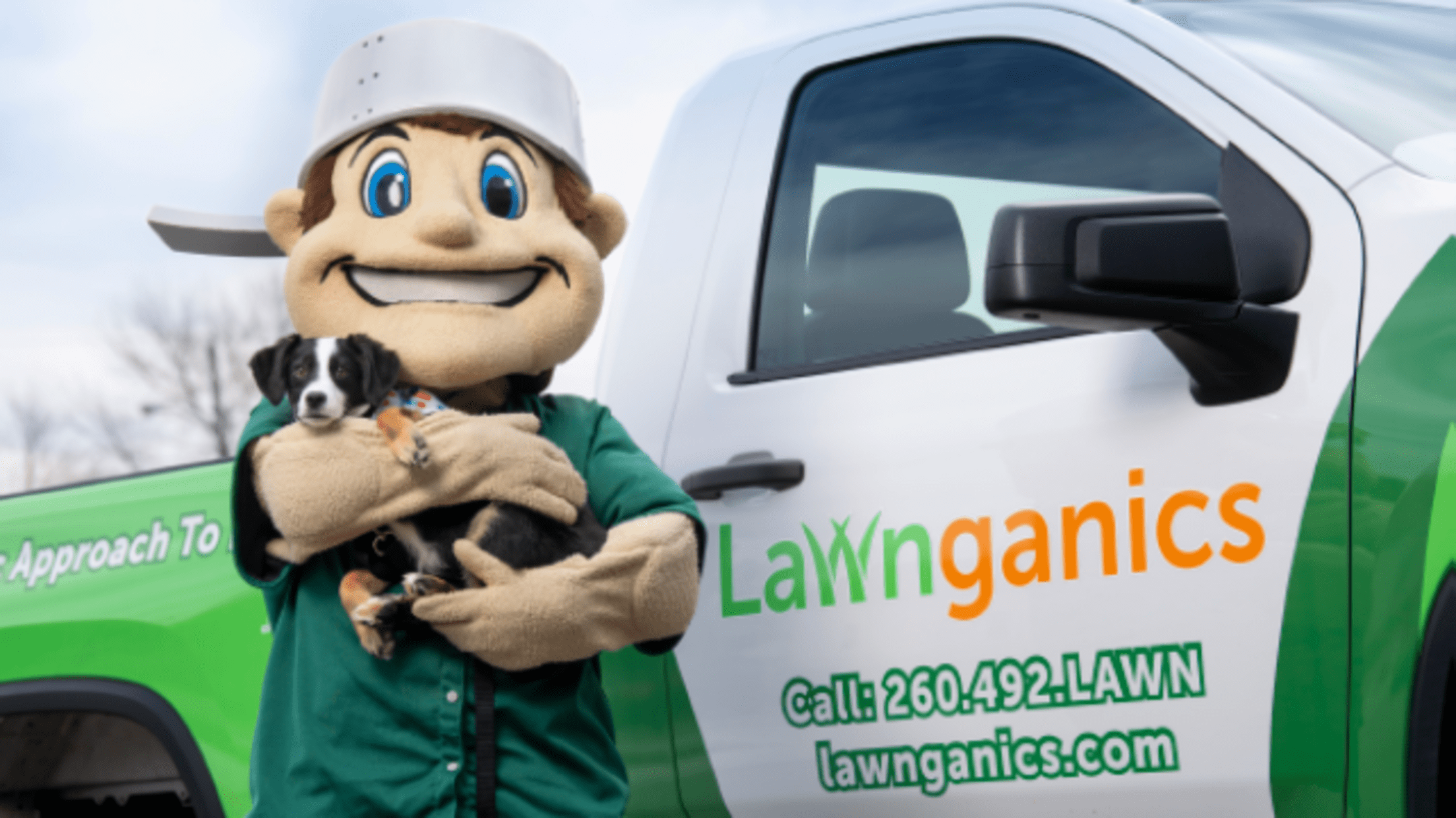 FORT WAYNE, Ind. – The Fort Wayne TinCaps and Lawnganics are partnering together on two campaigns to raise financial support and awareness for Humane Fort Wayne and the Fort Wayne Community Schools Family & Community Engagement Center. Lawnganics' mission of "safer, better, and healthier for families, kids, and pets" resonates
RECAP: Mears Homers, But Cubs Take Opener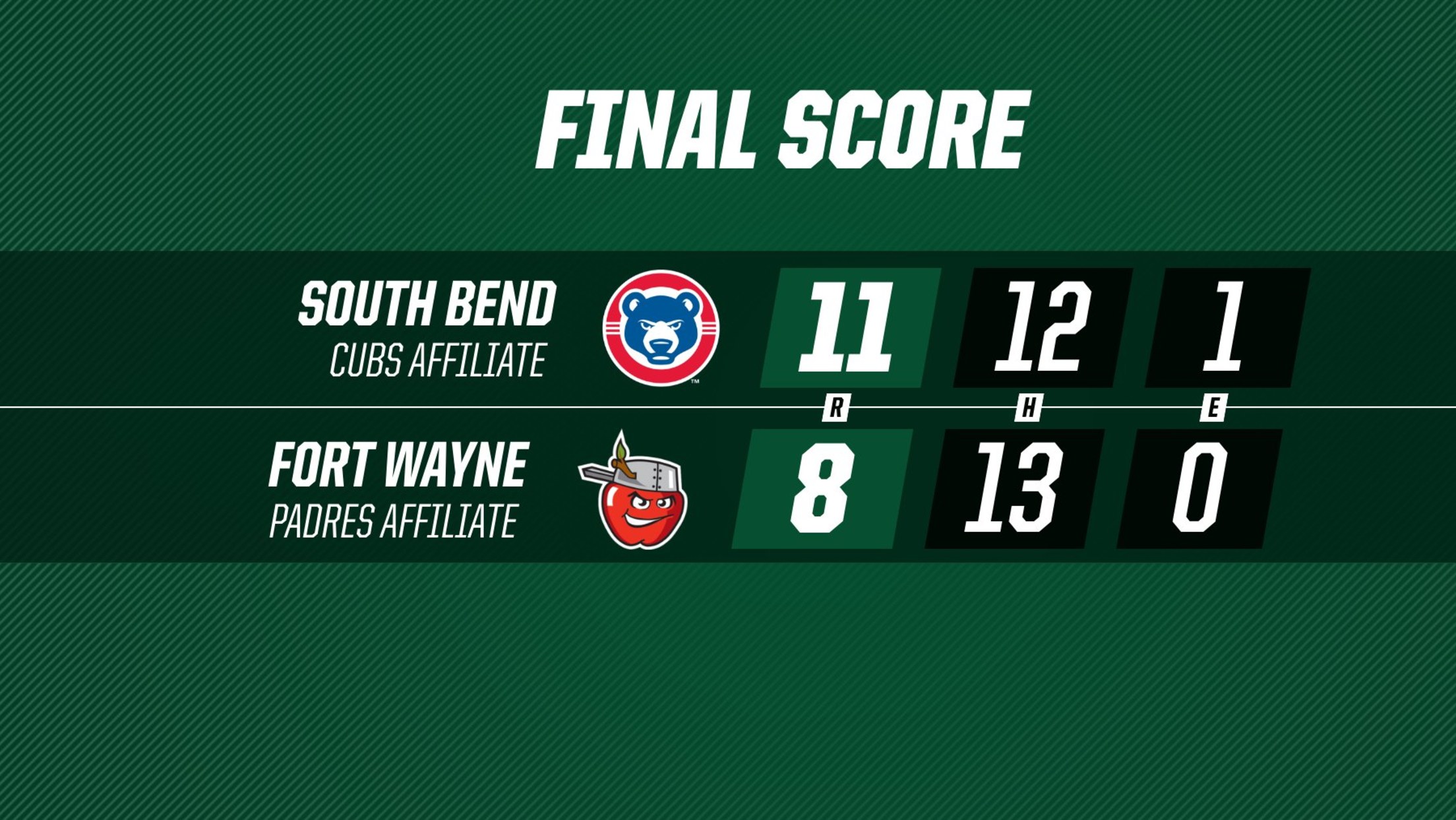 Box Score FORT WAYNE, Ind. -- The TinCaps brought the tying run to the plate in the bottom of the ninth inning on a warm Tuesday night at Parkview Field, but the South Bend Cubs survived in the series opener, 11-8. The game featured 25 combined hits, including eight Cubs
RECAP: TinCaps Edged in Series Finale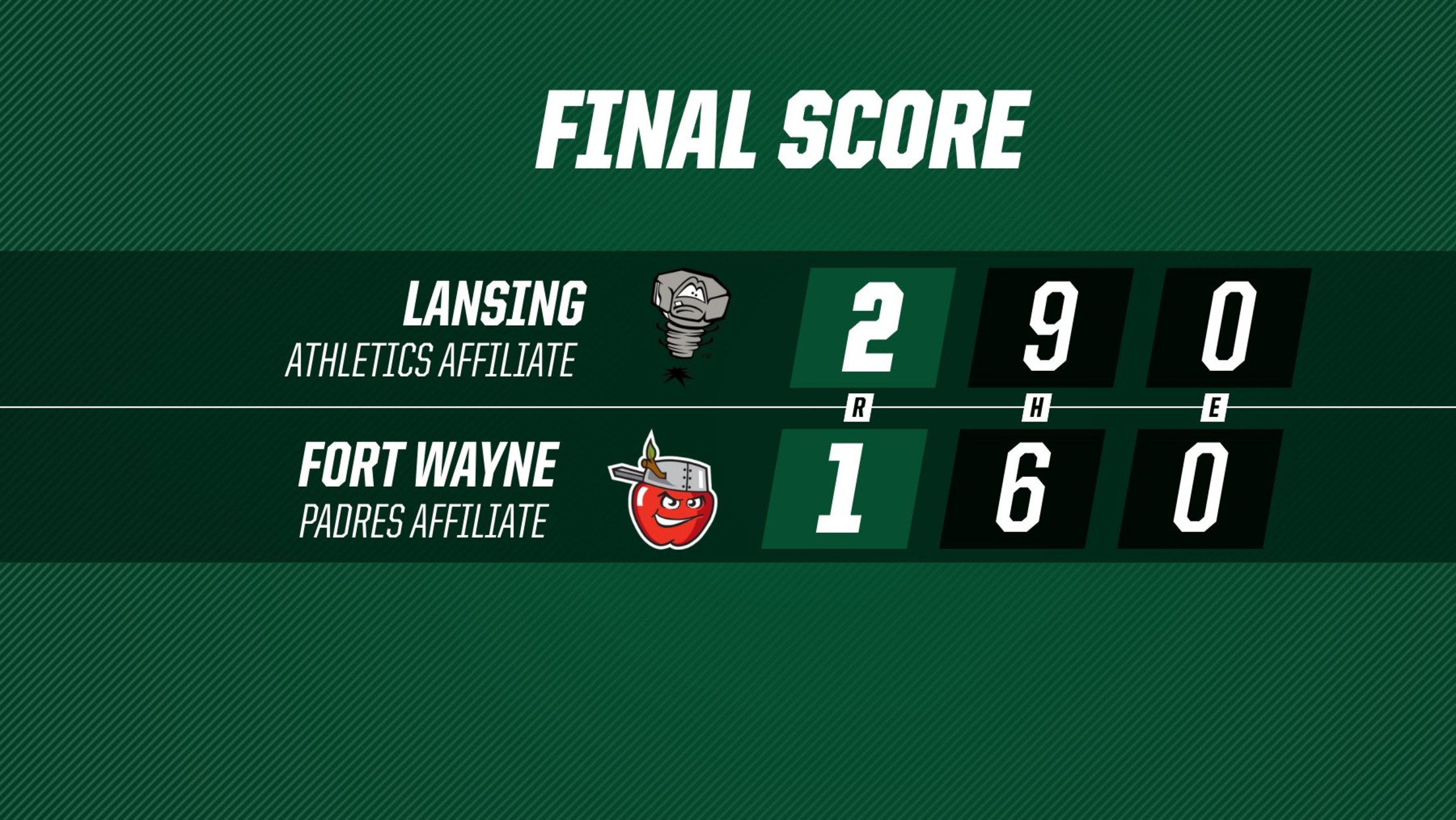 Box Score FORT WAYNE, Ind. – TinCaps right fielder Joshua Mears (No. 14 Padres prospect) drove in a run for the seventh straight game, but Fort Wayne dropped the series finale, 2-1, against the Lansing Lugnuts (Oakland A's affiliate) Sunday afternoon at Parkview Field. Despite the loss, the TinCaps won
HERO OF THE GAME: Nominate A Local Hero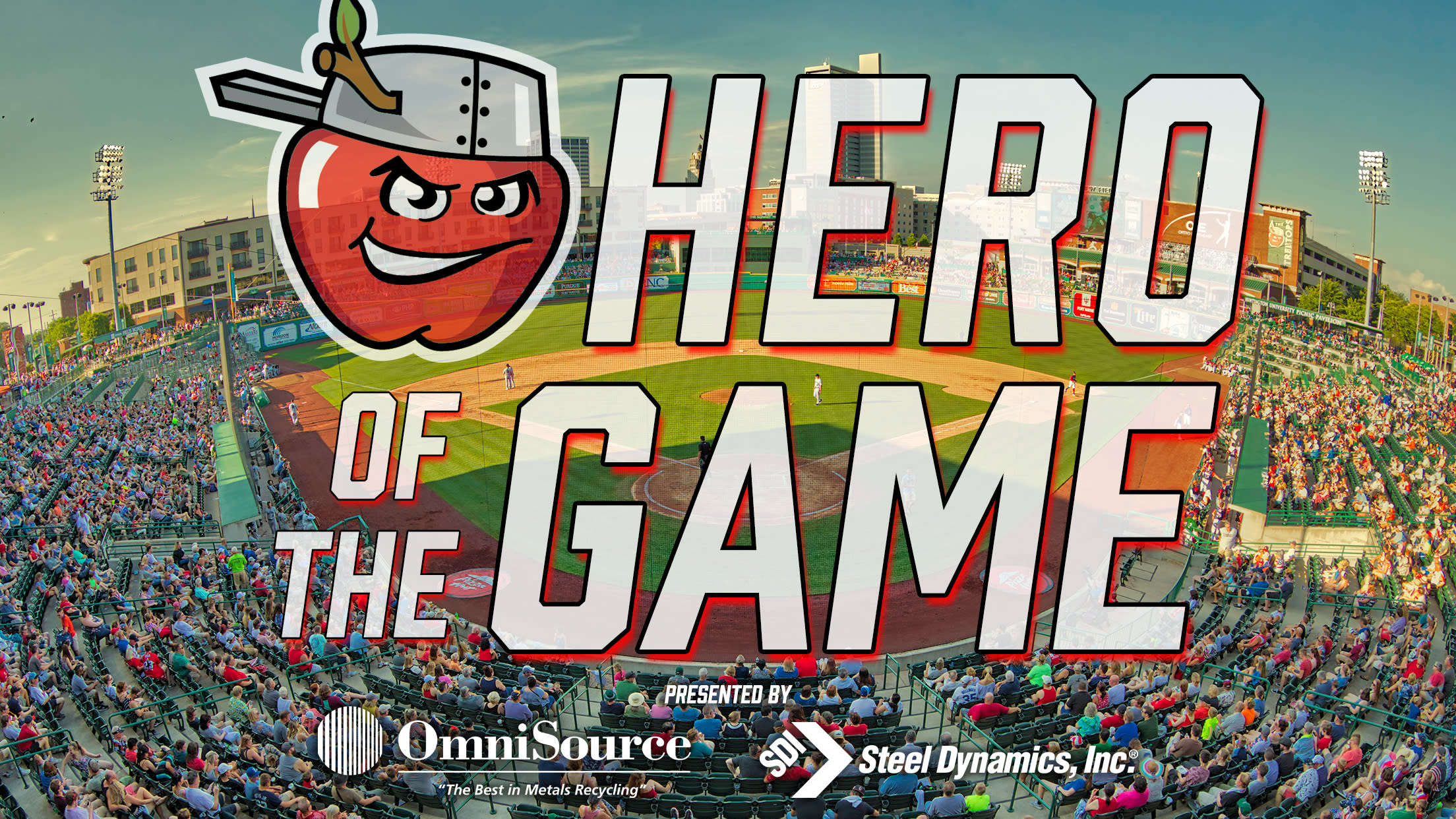 The Fort Wayne TinCaps, along with OmniSource LLC and Steel Dynamics Inc., are saluting local heroes throughout the 2023 season and need your help! The team is seeking nominations for military (active duty and veterans), first responders, healthcare workers, and educators to be honored as a "Hero of the Game"
NEW FOOD & DRINKS: Check Out Menu
From Black Bean Burgers to Beer Bats to Bourbon Slushies
FORT WAYNE, Ind. – Parkview Field's award-winning food and beverage department is excited to announce more than 20 new menu items for the 2023 Fort Wayne TinCaps season. While fans can still enjoy their classic favorites like hot dogs, peanuts, and Cracker Jack, now they can also try everything from
HOMESTAND HIGHLIGHTS: May 23-28
Presented by Lancia Homes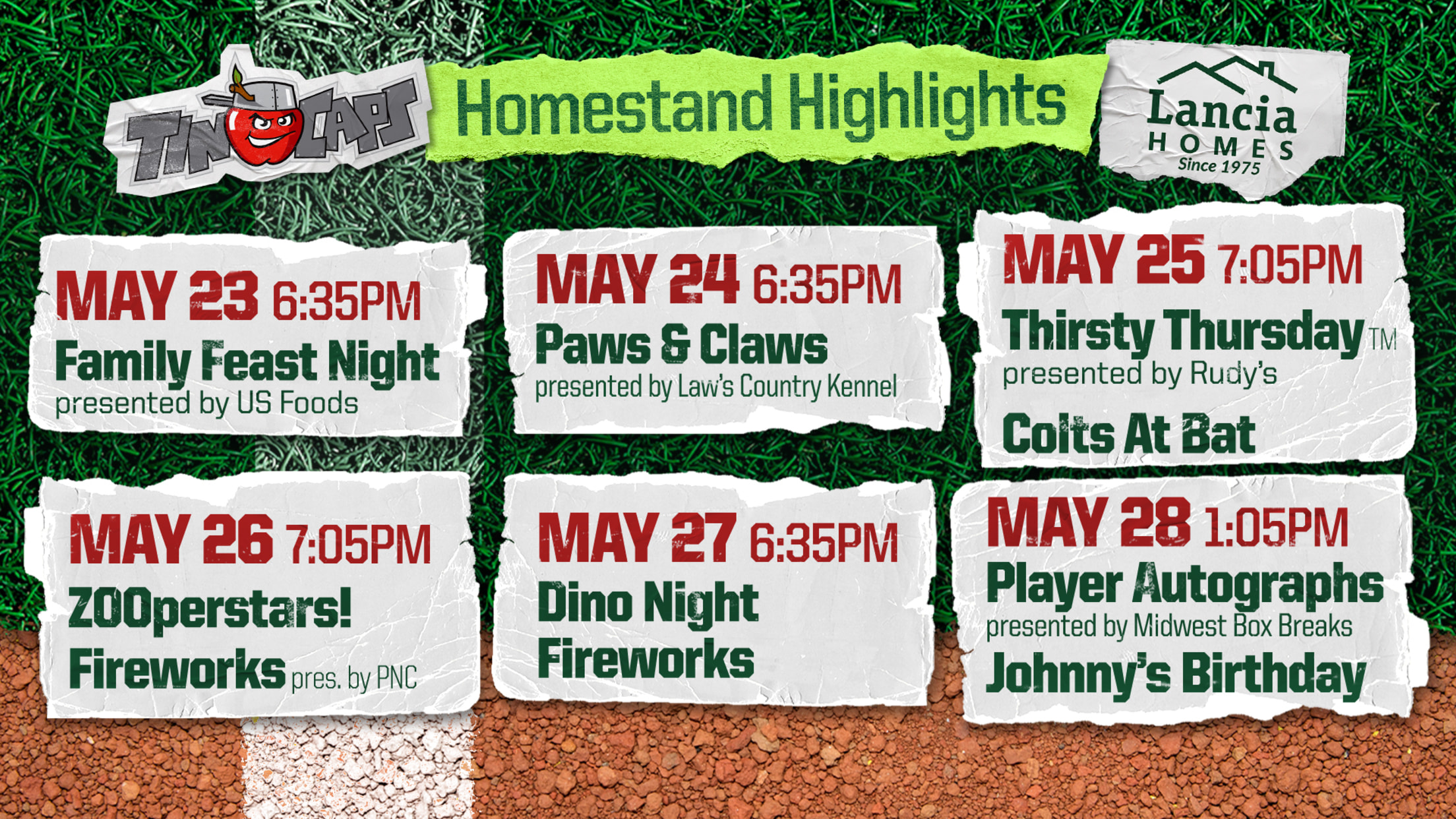 vs. Lansing Lugnuts (Oakland A's affiliate) Tuesday, May 23 (6:35 p.m.) - Family Feast Night presented by US Foods ($2 hot dogs, pizza slices, popcorn & soft drinks) - TICKETS ----- Wednesday, May 24 (6:35 p.m.) - Paws & Claws presented by Law's Country Kennel (pets welcome with purchase of
SPECIAL TICKET + PICNIC: Sunday, May 28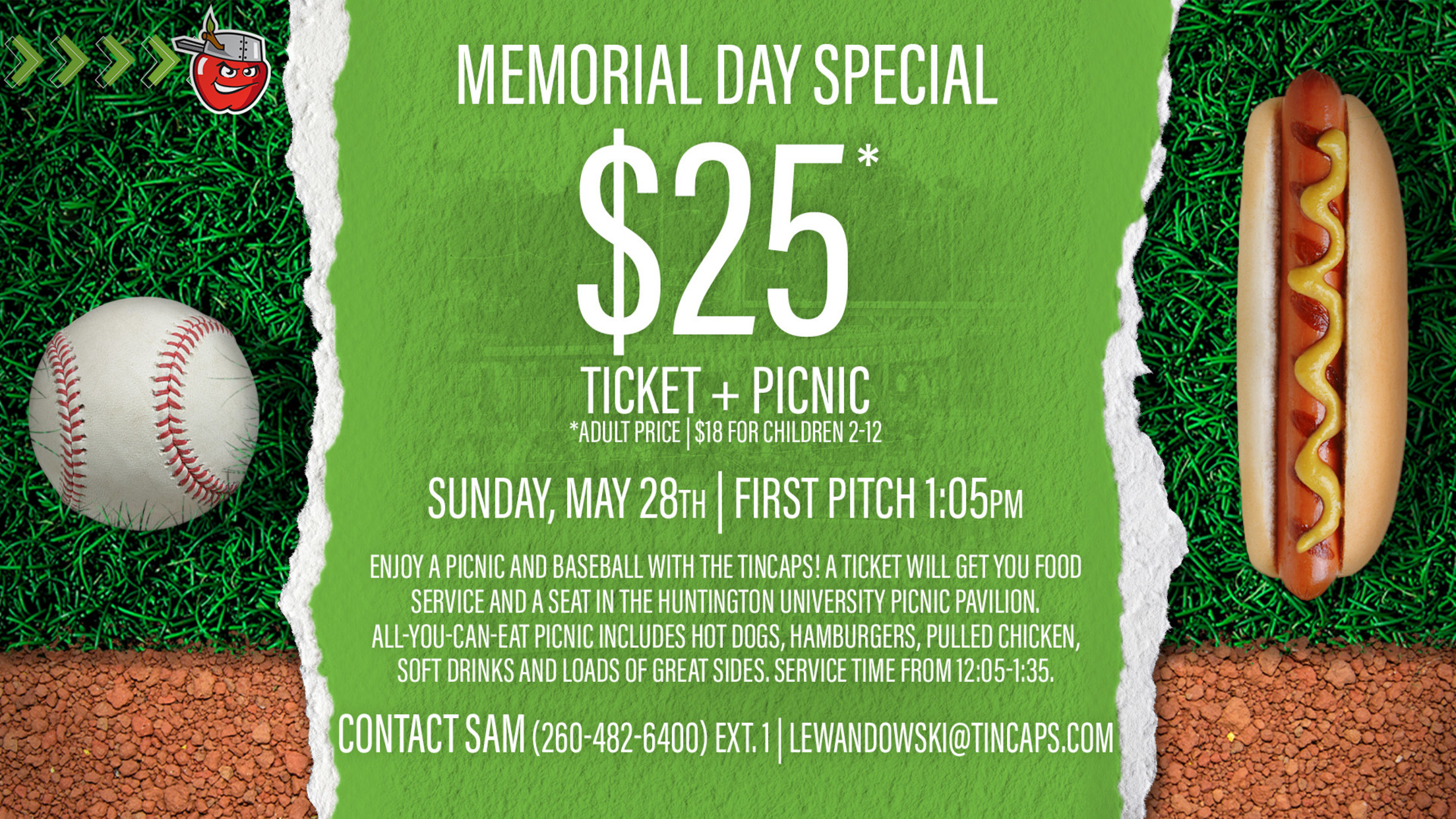 The TinCaps host the Lansing Lugnuts at Parkview Field over Memorial Day Weekend, including on Sunday, May 28 at 1:05 p.m. For this special day, fans have the unique opportunity to purchase a ticket to the ballpark's Huntington University Picnic Pavilion. For $25, you receive access to an exclusive section
KIDS CLUB: Johnny's Birthday Bash on May 28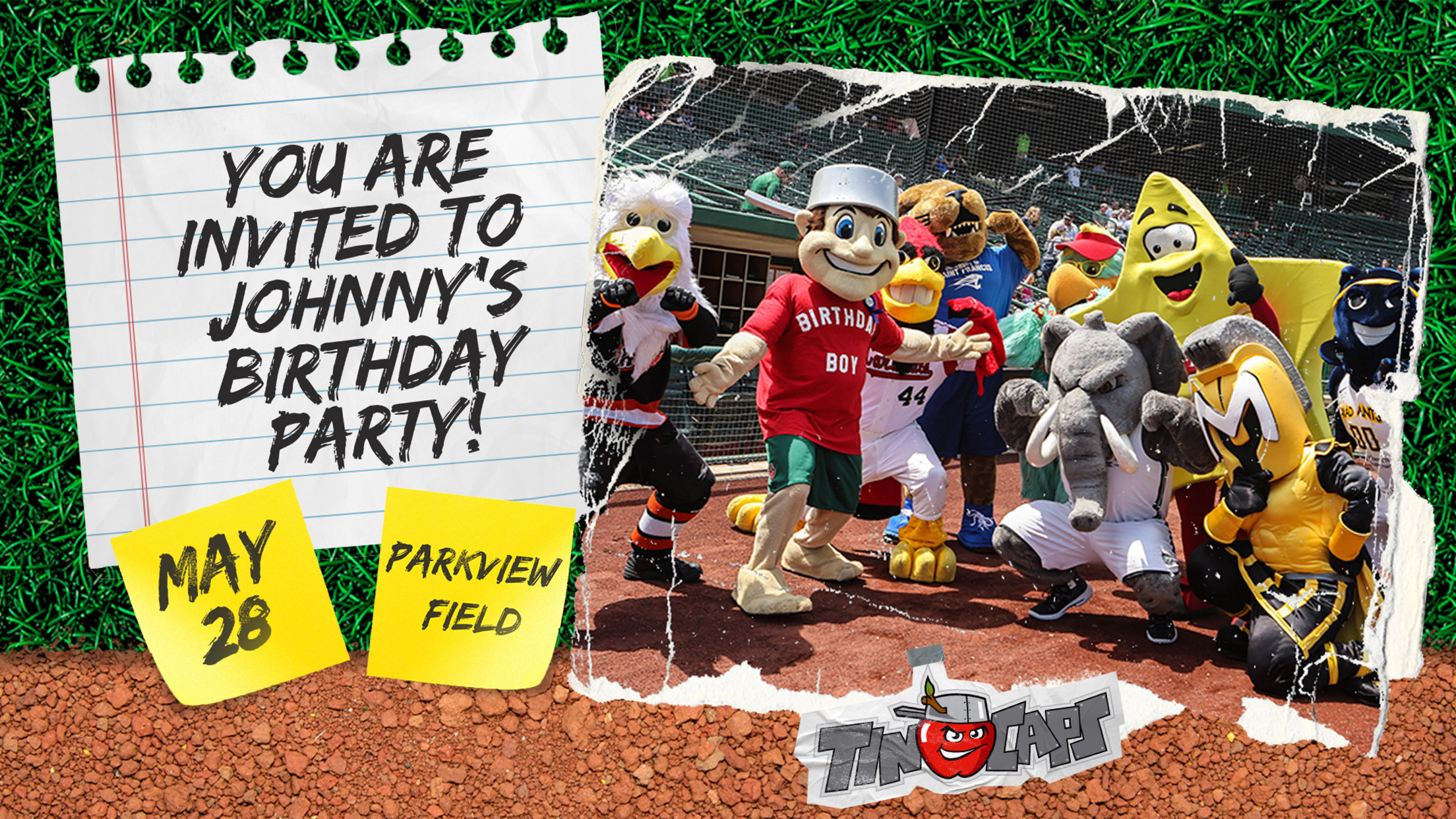 FORT WAYNE, Ind. – Mascot Johnny TinCap will be celebrating his birthday at Parkview Field on Sunday, May 28 as the TinCaps take on the Lansing Lugnuts in a 1:05 p.m. game. This year, Johnny has decided that instead of receiving presents for himself, he'd like fans to help him
RECAP: 'Caps Win Fourth Straight in Front of Sellout Crowd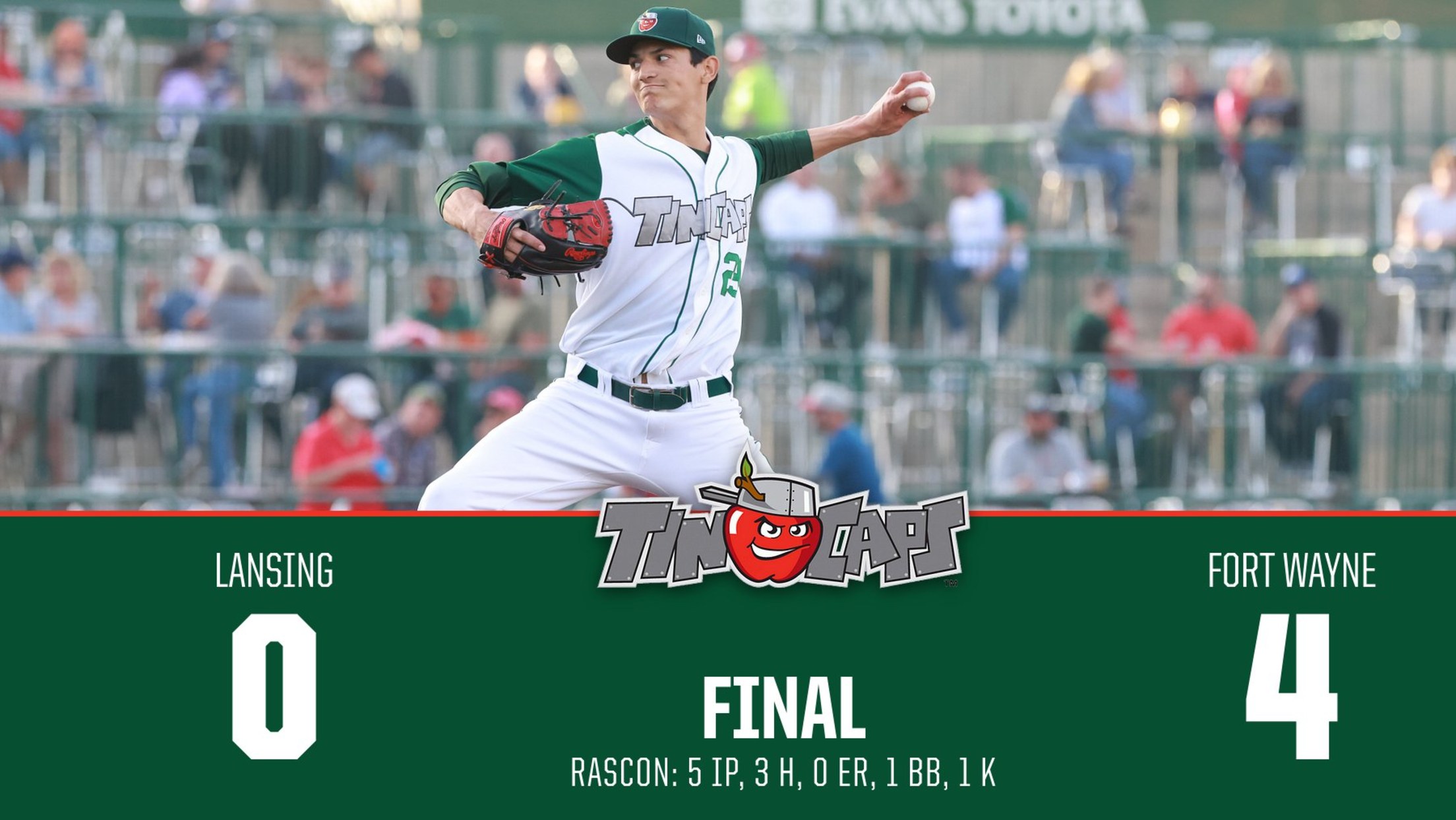 Box Score FORT WAYNE, Ind.– TinCaps second basemanLucas Dunnripped an RBI triple in the fifth inning, starting pitcherBodi Rascontossed five shutout frames, and Fort Wayne blanked the Lansing Lugnuts (Oakland A's affiliate) again Saturday night, 4-0, at Parkview Field before a sellout crowd of 7,323. The 'Caps are on a
RECAP: 'Caps Out-Duel Lansing with Bergert's Gem, Mears' Walk-Off Double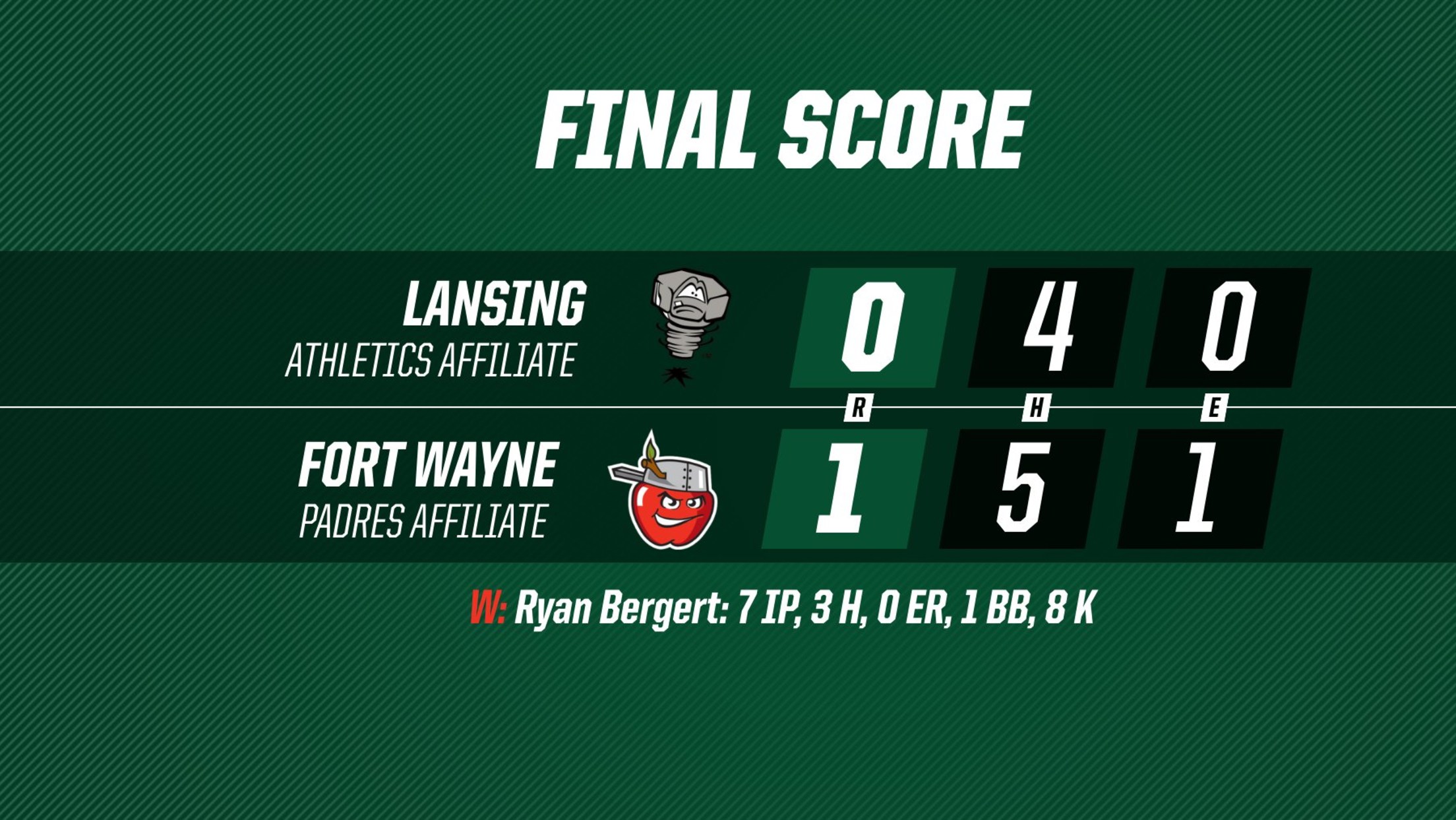 Box Score FORT WAYNE, Ind. –TinCaps outfielder Joshua Mears hit a slicing fly ball that split the right-center field gap, driving in left fielder Lucas Dunn for the game-winning run in the bottom of the 10th inning. That sent Fort Wayne to a 1-0 walk-off win over the Lansing Lugnuts
RECAP: Farmer's Blast, Big 6th Inning Lifts 'Caps to 8-1 Win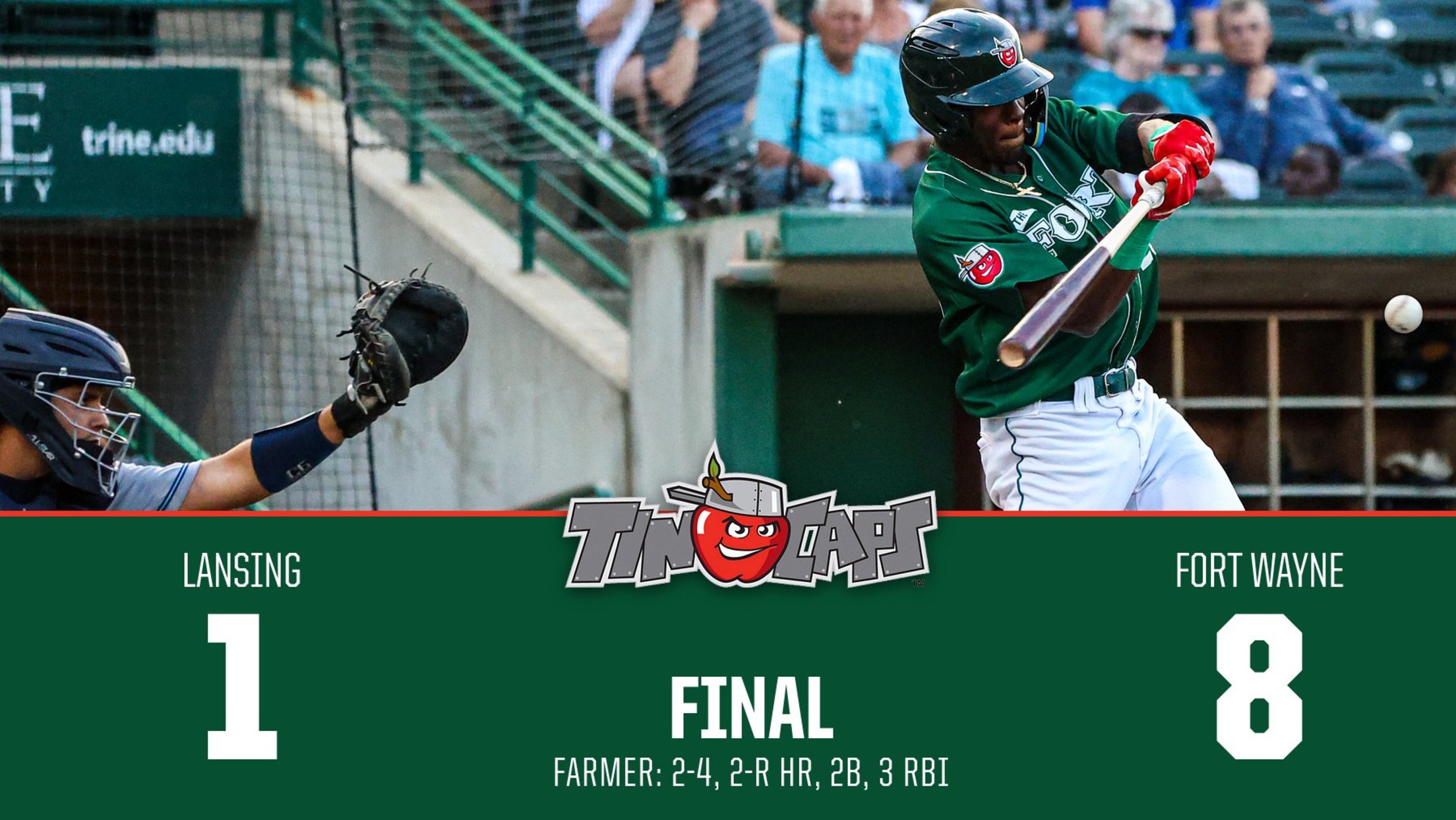 Box Score FORT WAYNE, Ind. – TinCaps left fielder Justin Farmer hit a two-run bomb and drove in three runs Thursday night, capping off a huge five-run sixth inning to beat the Lansing Lugnuts (Oakland A's affiliate), 8-1, at Parkview Field on Colts At Bat Night. The 'Caps have won
MWL PITCHER OF THE WEEK: Jairo Iriarte
No. 11 Padres Prospect Recognized After 6 No-Hit Innings at Dayton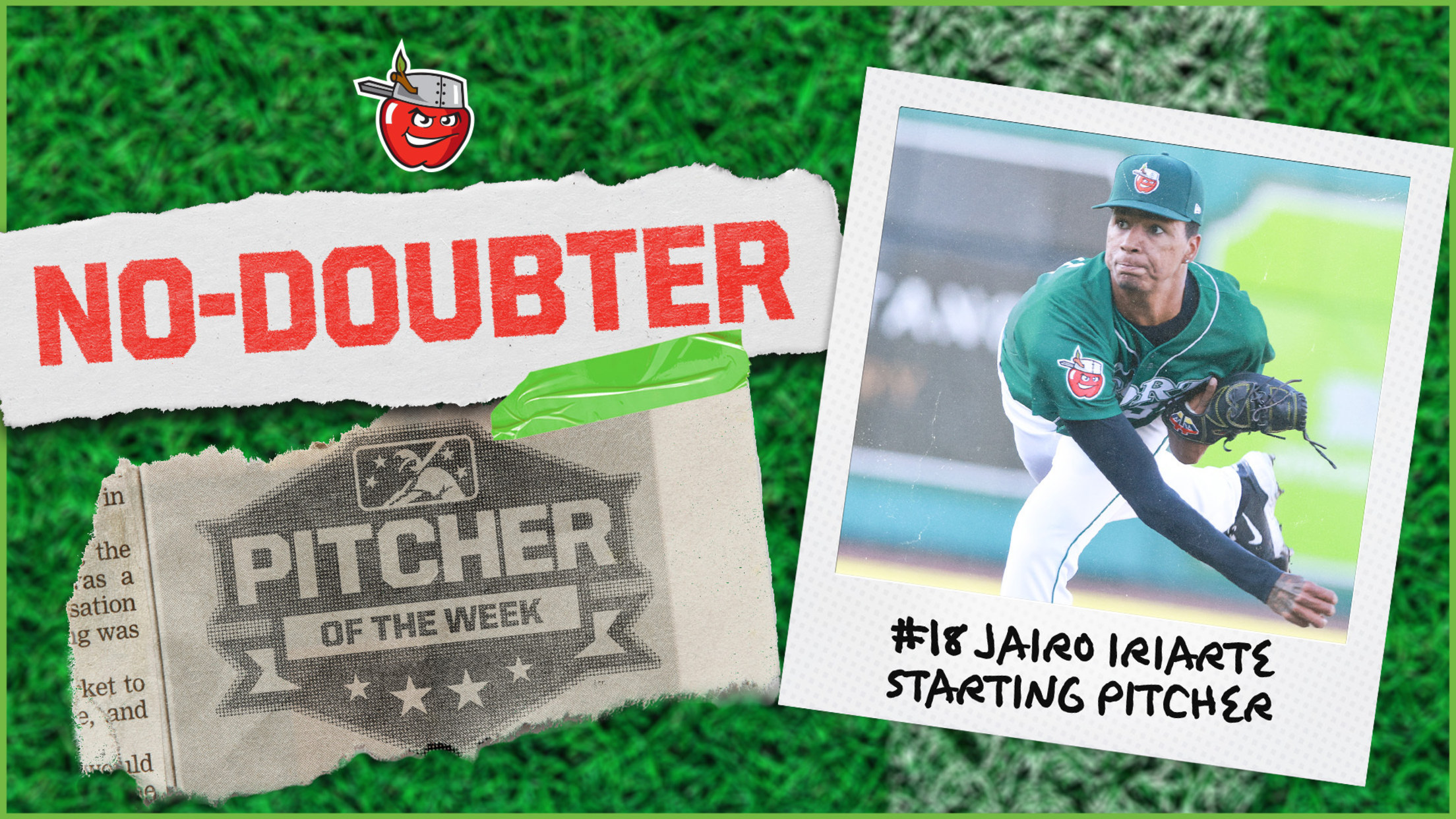 FORT WAYNE, Ind. – Fort Wayne TinCaps starting pitcher Jairo Iriarte (pronounced: HIGH-roh EER-ee-ahr-tay) has been named the Midwest League Pitcher of the Week, Minor League Baseball announced Monday. Iriarte threw six no-hit innings at Dayton last Tuesday, teaming up with Alan Mundo and Adam Smith for just the third
COLTS AT BAT: Thursday, May 25 (Grover Stewart Appearance)
Grover Stewart, Colts Cheer, Blue & More at Game on Thursday, May 25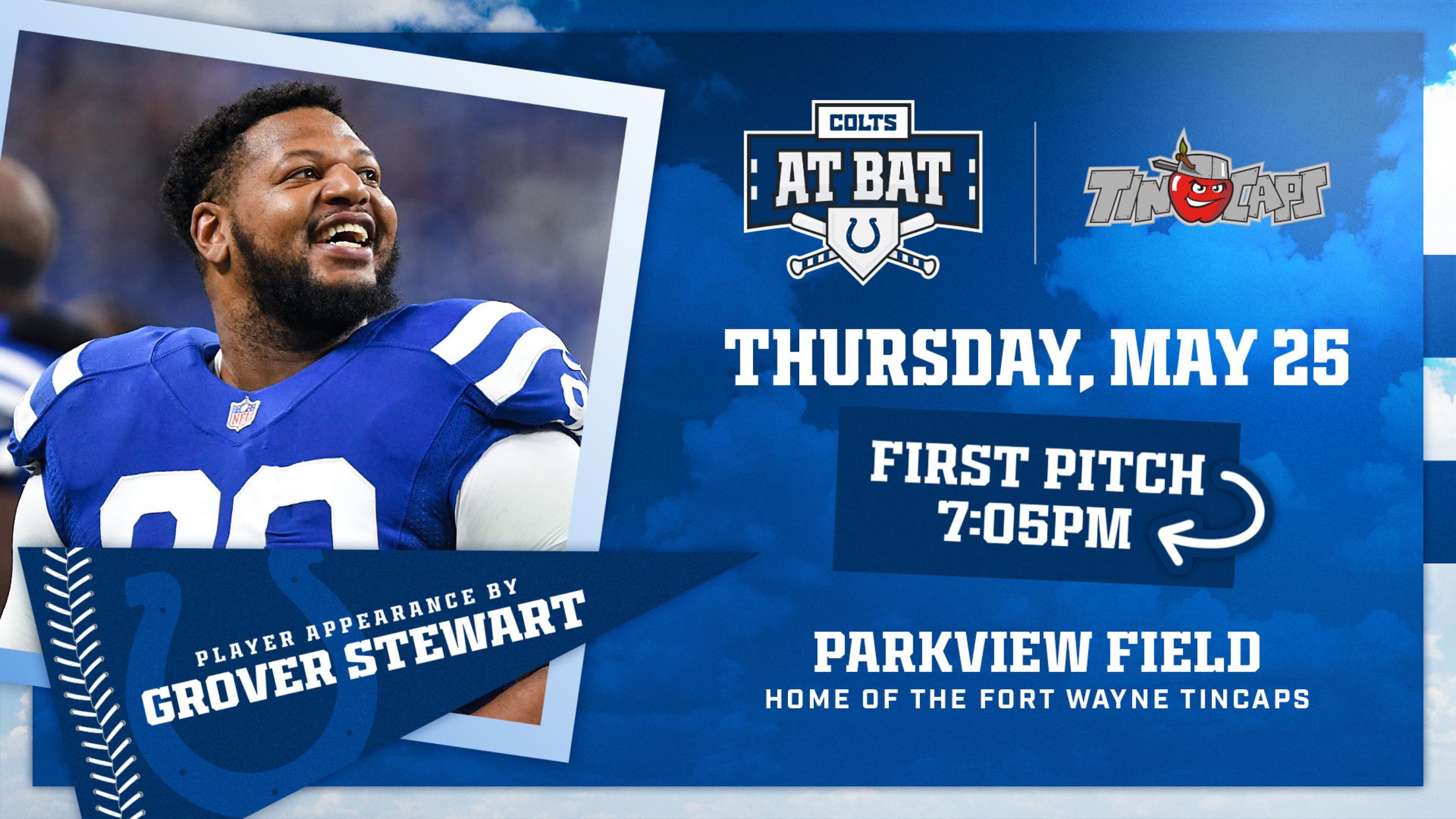 FORT WAYNE, Ind.– The Indianapolis Colts will once again visit Parkview Field for a Fort Wayne TinCaps game as part of the "Colts At Bat" tour onThursday, May 25when the TinCaps host the Oakland A's-affiliated Lansing Lugnuts. Fans will have the chance to meet defensive tackleGrover Stewart,Colts Cheer, and Blue
RECAP: Kollar Shines, Marsee Homers as TinCaps Take Down Lansing 5-3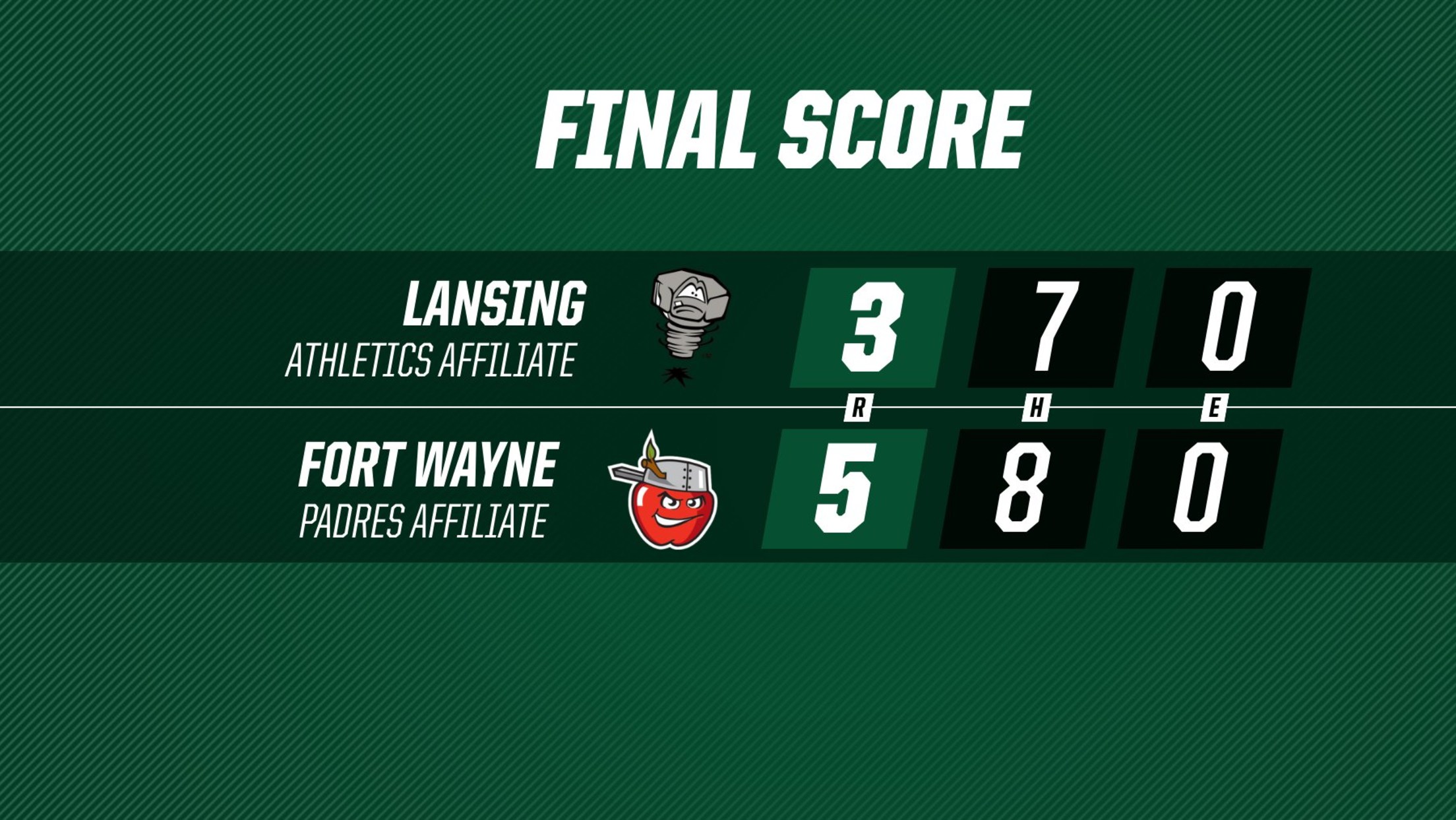 Box Score FORT WAYNE, Ind. – TinCaps starting pitcher Jared Kollar tossed five shutout innings Wednesday night, center fielder Jakob Marsee homered, and Fort Wayne beat the Lansing Lugnuts (Oakland Athletics affiliate) at Parkview Field, 5-3. The 'Caps have won six of their last nine. Kollar struck out three and
RECAP: TinCaps Fall in Homestand Opener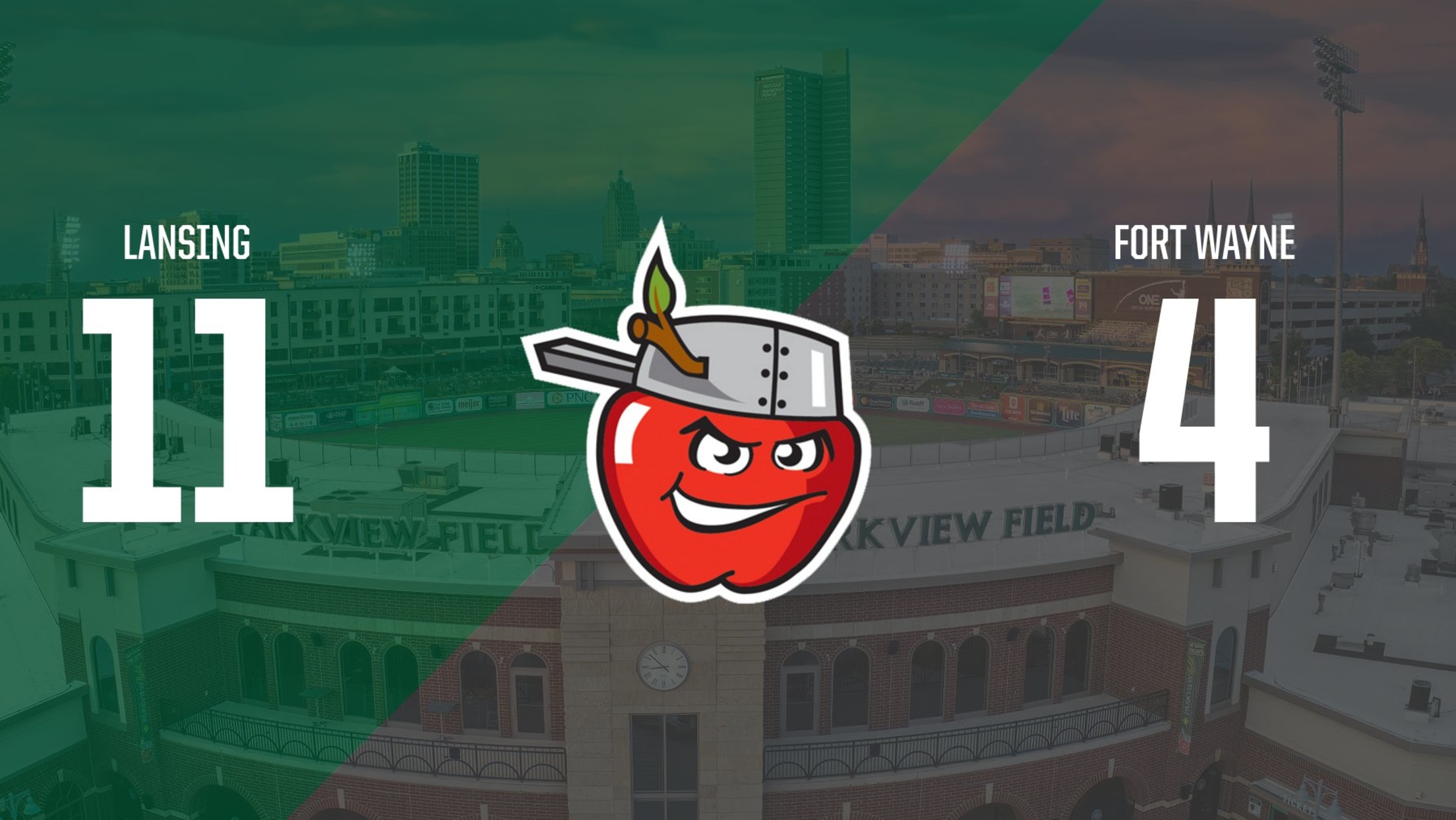 Box Score FORT WAYNE, Ind. – TinCaps first baseman Nathan Martorella had a pair of hits and two walks in an 11-4 loss to the Lansing Lugnuts (Oakland Athletics affiliate) on a picture-perfect Tuesday night at Parkview Field. Fort Wayne third baseman Lucas Dunn opened the scoring in the first
RECAP: Martorella Salami Lifts 'Caps to Comeback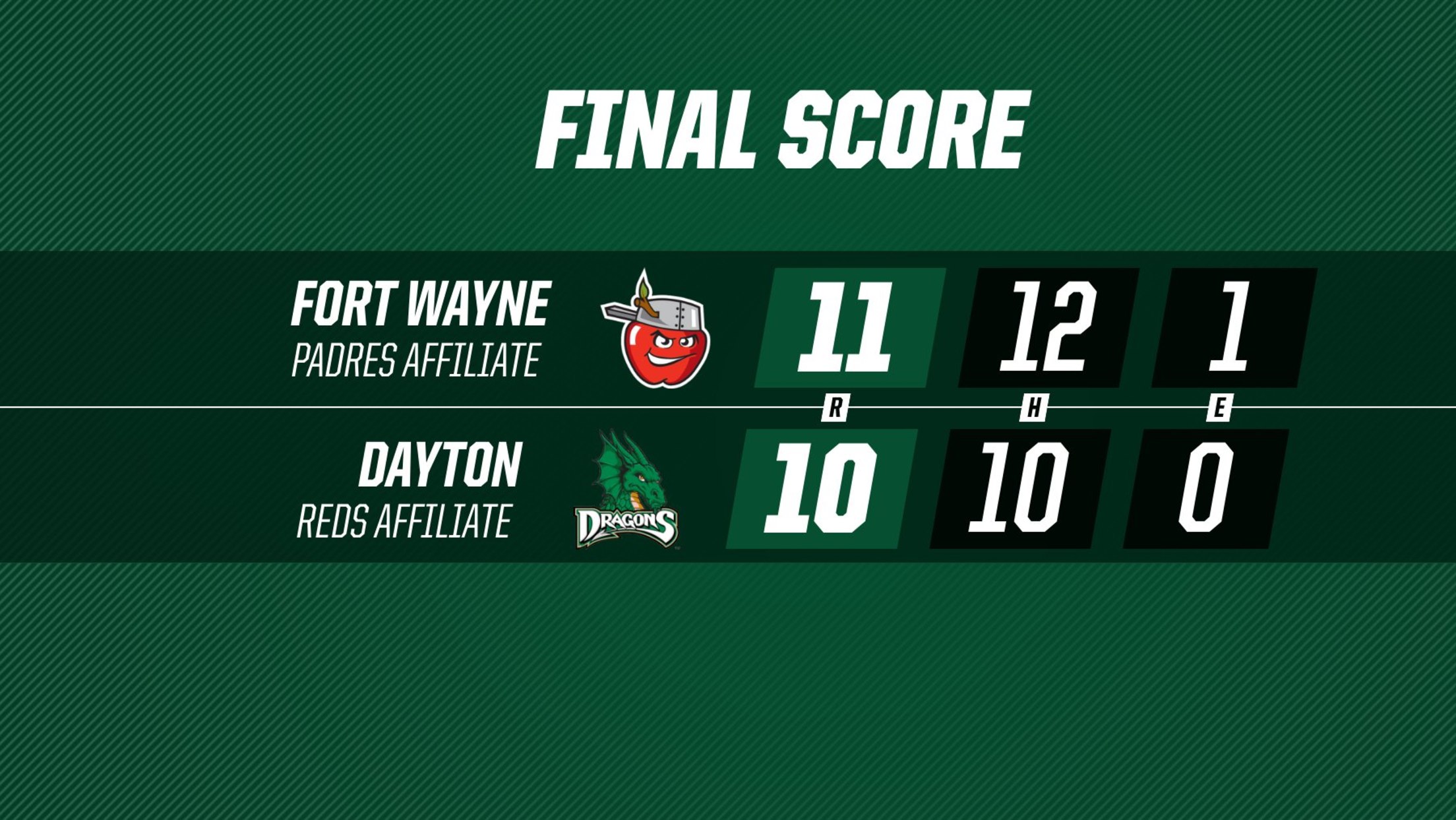 Box Score DAYTON, Ohio -- The series started with a no-hitter. It ended with a slugfest. And the TinCaps delivered the final blow, defeating the Dayton Dragons (Cincinnati Reds affiliate), 11-10, on a beautiful Sunday afternoon. Fort Wayne, which has won five of its last seven games, took the series.