COACHING STAFF: Mathews Returns to Manage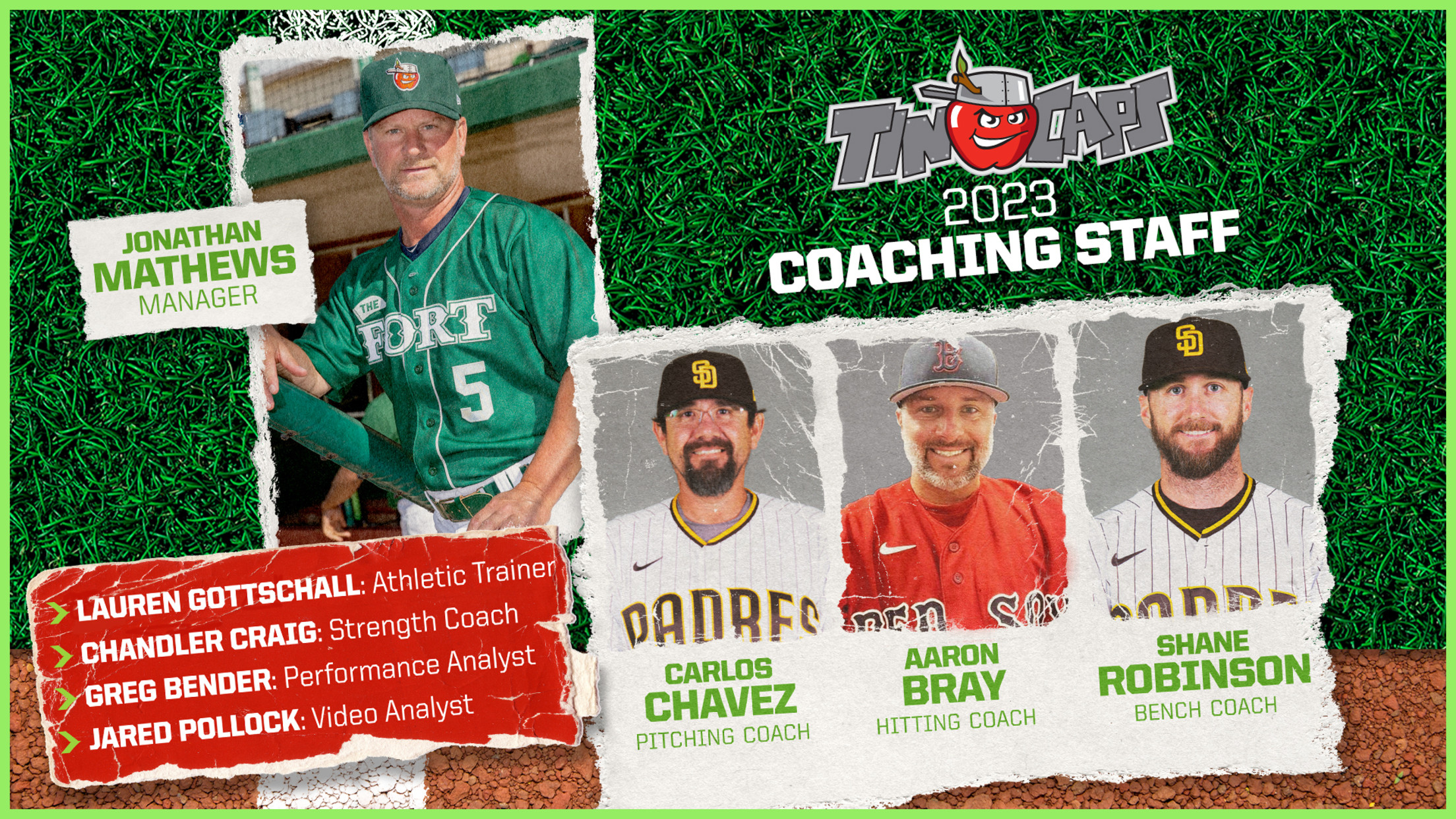 FORT WAYNE, Ind. – The San Diego Padres announced the 2023 High-A Fort Wayne TinCaps coaching staff on Wednesday afternoon. Former TinCaps hitting coach Jonathan Mathewsis set to return as the team's manager. Mathews will be joined by a new crew in Fort Wayne, including pitching coach Carlos Chavez, hitting
FORT WAYNE, Ind. – The San Diego Padres announced the 2023 High-A Fort Wayne TinCaps coaching staff on Wednesday afternoon. Former TinCaps hitting coach Jonathan Mathewsis set to return as the team's manager. Mathews will be joined by a new crew in Fort Wayne, including pitching coach Carlos Chavez, hitting coach Aaron Bray, athletic trainer Lauren Gottschall, and strength coach Chandler Craig. Greg Bender is back for a second season as the team's performance analyst, while Jared Pollock comes aboard as video analyst.
Mathews, 50, served as Fort Wayne's hitting coach from 2018-21. He joined San Diego's organization in 2017 as a member of the major league coaching staff. Last year he was the hitting coach for the Triple-A El Paso Chihuahuas, who won the Pacific Coast League's East Division.
"I truly enjoyed the three seasons I previously spent with the TinCaps," Mathews said. "As a Midwesterner, I'm very excited to call Parkview Field home again. Obviously Mike Nutterand company run a first-class operation. I can't wait to work with the rest of our staff as we look to develop future Padres and provide an entertaining team that fans in Fort Wayne can be proud of."
The Centerville, Iowa, native played collegiately at Indian Hills Community College (Iowa) and the University of New Orleans. A left-handed batter and thrower, he was selected by the Colorado Rockies in the 1994 MLB Draft. After a season as a first baseman in Colorado's minor league system, Mathews transitioned to coaching at the University of Iowa and with the Minnesota Twins' organization. In 1997, he was the hitting coach for the High-A Fort Myers Miracle, whose lineup included future Hall of Famer David Ortiz and future MLB All-Star A.J. Pierzynski. Mathews managed the rookie-level Elizabethton Twins in 1998 and '99. He then returned home to coach at Indian Hills, where he also taught economics, from 1999-2012 before jumping back into professional baseball. Mathews coached in the Baltimore Orioles' farm system in 2013 and for the next three years in the Arizona Diamondbacks' system.
Mathews has followed in the footsteps of his father, Rick, a longtime baseball coach and scout who works for the Rockies. Now Jonathan's own kids, twins Claire and Merrick, are also following their dad. They're sophomores at Indian Hills, playing softball and baseball, respectively. The Mathews family continues to live in Centerville, a city of about 5,400 people near the Missouri state line.
"We're thrilled to welcome Jonathan Mathews back to the Summit City," said TinCaps President Mike Nutter. "First and foremost, we admire him as a person, and we know he's a great baseball mind and leader as well. We look forward to working with the rest of the new staff, too, and we wish the best to our guys from last year as they begin new assignments elsewhere."
From Fort Wayne's 2022 staff, manager Brian Esposito is now Triple-A El Paso's bench coach. Jimmy Jones, who spent the previous two seasons as TinCaps pitching coach, has become El Paso's assistant pitching coach. Athletic trainer David Bryan was promoted to the Double-A San Antonio Missions. Bench coach Jhonaldo Pozo has assumed that role with the Single-A Lake Elsinore Storm.
Meanwhile, Chavez, 50, the new pitching coach was a professional right-handed pitcher himself from 1992-2007, mostly as a reliever, including time in the systems of the Orioles, who drafted him out of New Mexico Junior College, the Brewers, Marlins, A's, and Dodgers. He coached for eight years in the Oakland A's organization, spending 2017 in the Midwest League with Beloit. Last year was his first season as a Padre, working in the Arizona Complex League. Born in El Paso, he's played and coached in Mexico as well.
Bray, 35, is from Charlotte and set UNC Charlotte's all-time career record for hits. A left-handed batter and right-handed thrower, he was drafted by the Houston Astros in 2009 and played two seasons of Minor League Baseball, primarily as an infielder. In that time, he was teammates with future MLB All-Stars Jose Altuve and J.D. Martinez. Bray was an assistant minor league hitting coach for the Boston Red Sox last year. He's also coached at his alma mater and in the Southern Collegiate Baseball League, in addition to instructing at "The Athletic Barn" in North Carolina.
_Update: In January, Shane Robinson was hired as the TinCaps' bench coach. The Padres announced in March they have since hired Jerry Downs as bench coach and Brian Burres as pitching coach. _
Downs, 29, is originally from Colombia, but moved to Miami during his childhood. He was a 15th round pick by the Boston Red Sox in 2015 and spent five years playing in their organization, reaching Double-A Portland in 2019. While Downs was with Single-A Greenville in 2015, he was teammates with future MLB stars Andrew Benintendi, Rafael Devers and Yoán Moncada. He played the last two summers with the High Point Rockers of the Atlantic League (MLB partner league). Downs is the older brother of Jeter Downs, who made his major league debut with the Red Sox in 2022 and is currently with the Washington Nationals.
Burres, 41, is from Oregon and was selected in the 31st round of the 2000 MLB Draft by the San Francisco Giants. He made 106 appearances across six seasons from 2006-2011 with Baltimore, Toronto, and Pittsburgh. Burres played professionally until 2017, when he finished his career in the Venezuelan Winter League. He managed the Cowlitz Black Bears, a West Coast League collegiate summer team, in 2021.
Gottschall is in her third season with the Padres. After interning in 2021, she worked in the Arizona Complex League last year. Originally from California, she earned a master's degree in athletic training at the University of Arkansas, on top of a bachelor's degree in sports medicine at Pepperdine University. Prior to joining the Padres in 2021, Gottschall gained experience with the Dodgers and D-backs. She's the second female staff member in Fort Wayne's three decades as a franchise, following Allyse Kramer, the club's athletic trainer from 2017-19.
Craig, a Texas Tech alum, was most recently an assistant strength and conditioning coach with the Red Sox.
Bender is a New Jersey native who graduated from Stevens Institute of Technology with a degree in applied mathematics.
Pollock hails from the Philadelphia area and graduated from the University of South Florida, where he was the baseball team's head manager.
Also, after being recognized for maintaining the Midwest League's Visiting Clubhouse of the Year in 2022, Sam Lewis and Hunter Sosenheimer will be back as the team's clubhouse managers.
Mathews and the TinCaps begin their 2023 season on April 6 at West Michigan. Opening Day at Parkview Field is set for Tuesday, April 11 (6:35 p.m.) against the Cleveland Guardians-affiliated Lake County Captains.
Season tickets and group outings are on sale now. Click here for more information. Tickets to individual games will go on sale in February (date to be announced later).
At the major league level last year, the Padres advanced to the National League Championship Series. San Diego's Single-A affiliate, Lake Elsinore, won the California League title, led by top Padres prospect, shortstop Jackson Merrill. Click here to learn more about San Diego's highest-rated prospects.
2023 Fort Wayne TinCaps Staff
Manager: Jonathan Mathews
Pitching Coach: Carlos Chavez
Hitting Coach: Aaron Bray
Bench Coach: Jerry Downs
Assistant Coach:
Athletic Trainer: Lauren Gottschall
Strength Coach: Chandler Craig
Performance Analyst: Greg Bender
Video Analyst: Jared Pollock