Honoring the History of Black Baseball in Greenville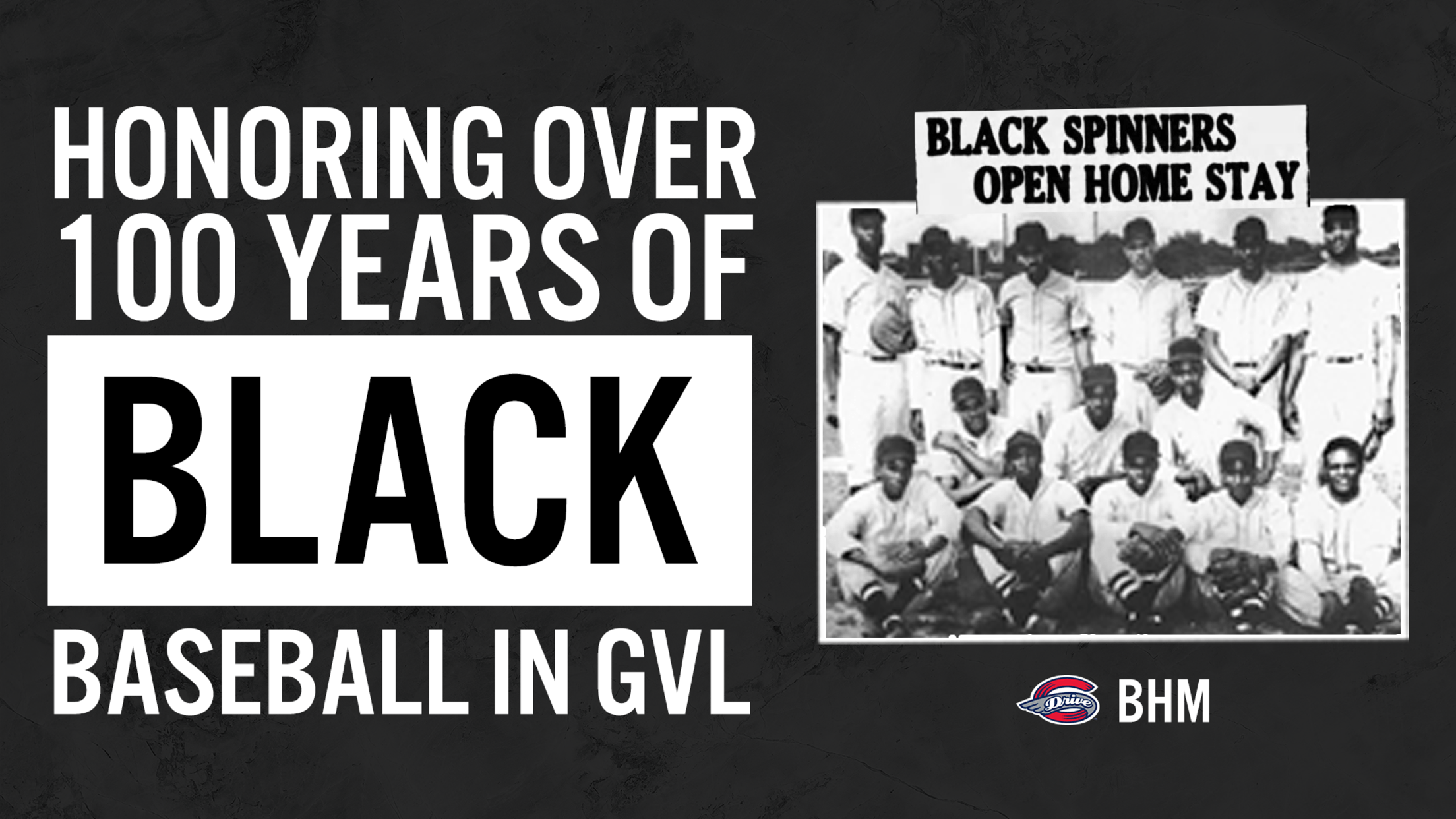 From 1921 to 1969, the semi-professional Greenville Black Spinners played against rival teams from across the Southeast at Mayberry Park, as well as Meadowbrook Park, in what is now Unity Park. The Black Spinners had a long history here in Greenville and throughout Black History Month, we'll be highlighting and
Drive Announce 2023 Coaching Staff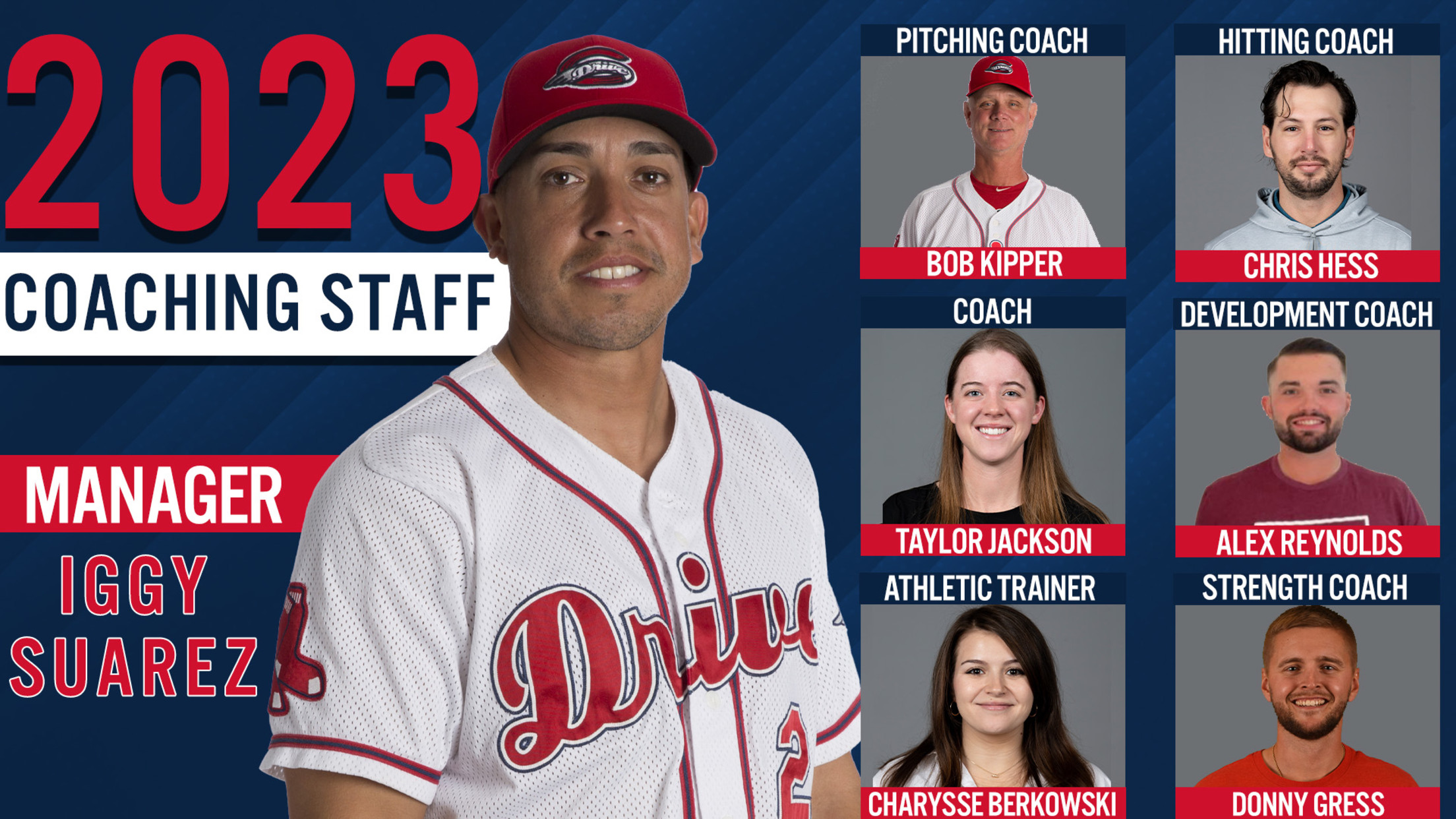 The Greenville Drive, High-A Affiliate of the Boston Red Sox, announced their 2023 Field Staff today, highlighted by the return of manager Iggy Saurez and pitching coach Bob Kipper for their fifth-straight seasons, while adding assistant coach Taylor Jackson to the top staff — making her the first female on-field
Drive Kickoff 2023 Season with Hot Stove Event at Urban Wren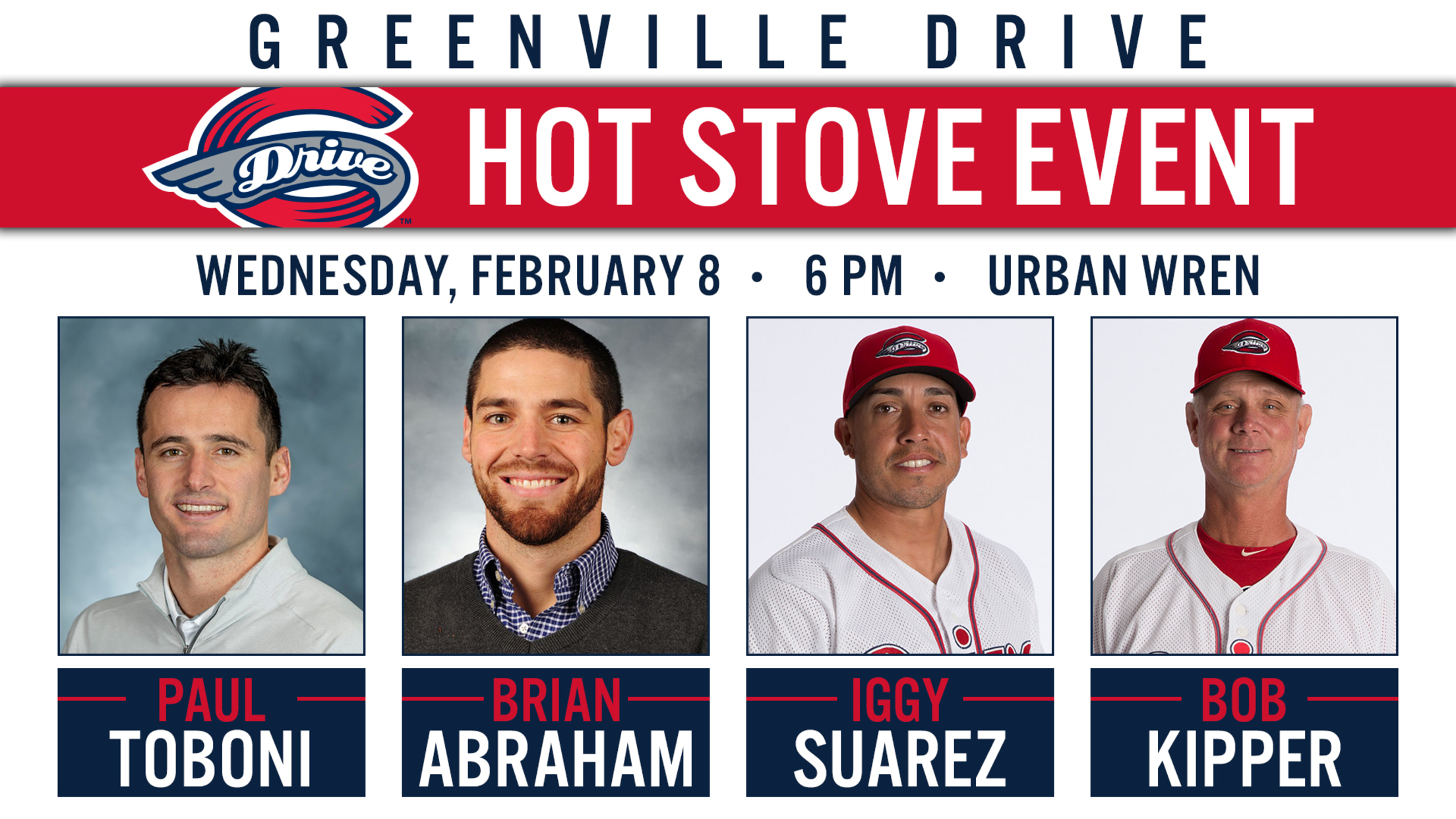 WHILE NOT REQUIRED, WE PLEASE ASK THAT YOU RSVP FOR THE HOT STOVE EVENT BY CLICKING HERE. With the start of the Greenville Drive's 2023 season at Fluor Field less than three months away, the team announced that they will host their annual Hot Stove event on Wednesday, February 8th.
Drive, West End Events at Fluor Field to Host 2023 Seasonal Job Fair
The Greenville Drive and West End Events at Fluor Field have announced a hiring event for 2023 seasonal positions, that will take place in the Champions Club at Fluor Field on Saturday, February 11th from 9 AM to 12 PM. Individuals 16-years and older interested in 2023 seasonal positions are
Second Date for Dinner at the Diamond Added!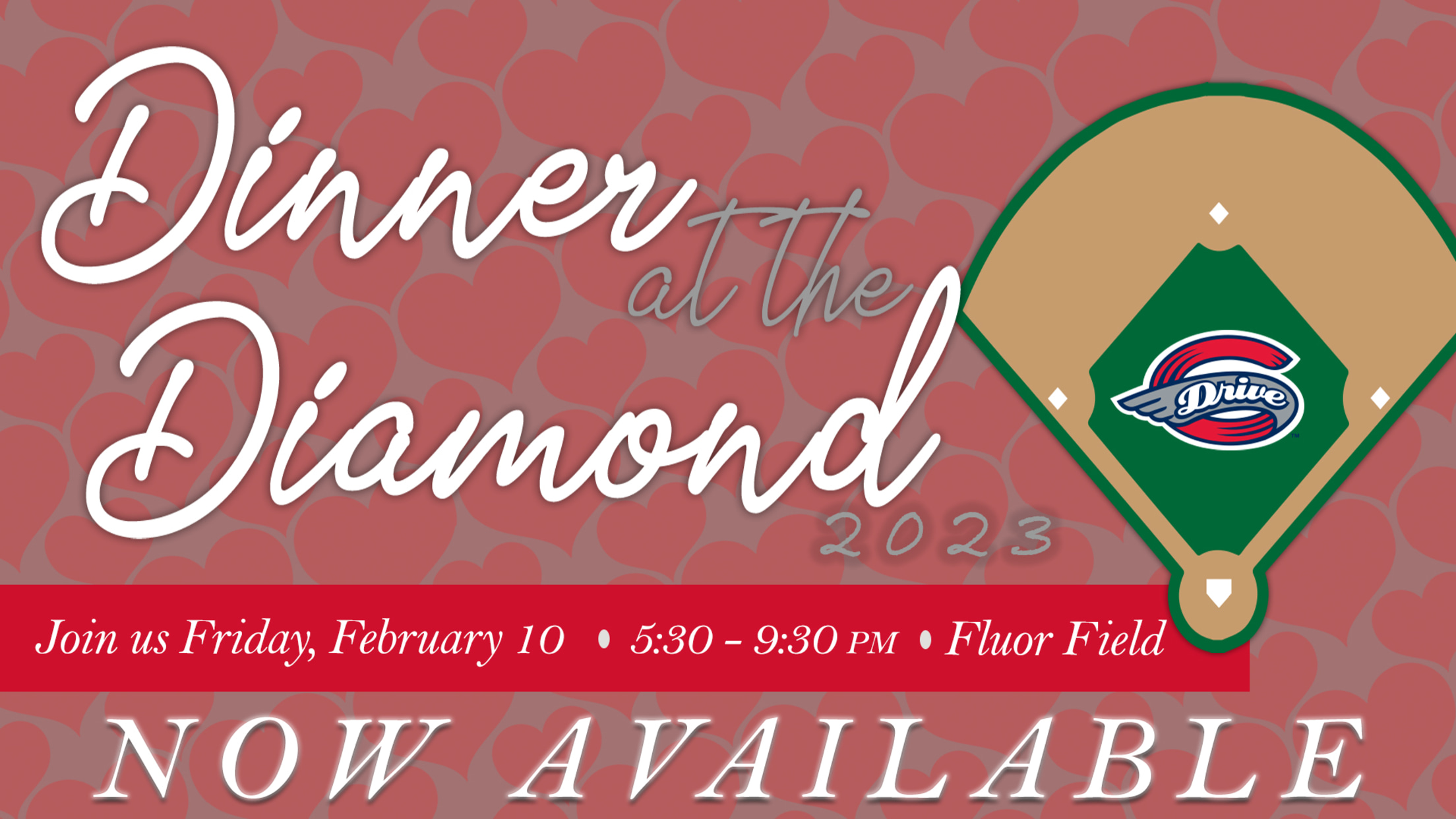 Saturday's seating for Dinner at the Diamond was such a hit, that it's sold out! Therefore we've added a second date - Friday, February 10th! Don't swing and miss this Valentine's Day, as Dinner at the Diamond from the Greenville Drive presents to you and your sweetheart an opportunity to
Be The Next Face of the Greenville Drive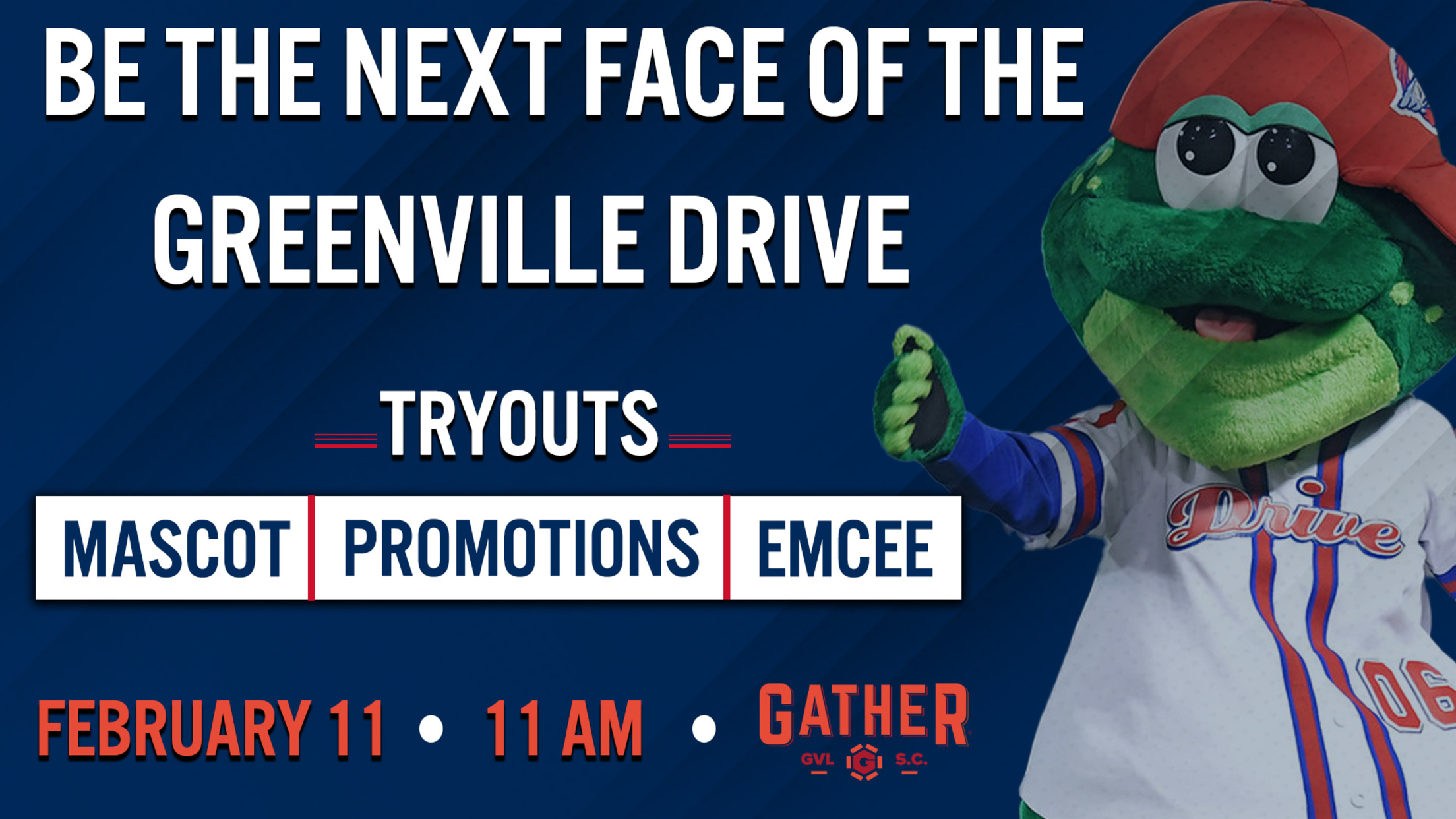 Think you have what it takes to be the next face of the Greenville Drive? The Drive are looking for fun, enthusiastic candidates who are motivated to represent the organization at home games and in the community. The Promo Team is an integral part of home Drive games and devote
Get Ready to Join the Drive Ticket Plan Holder Family Today!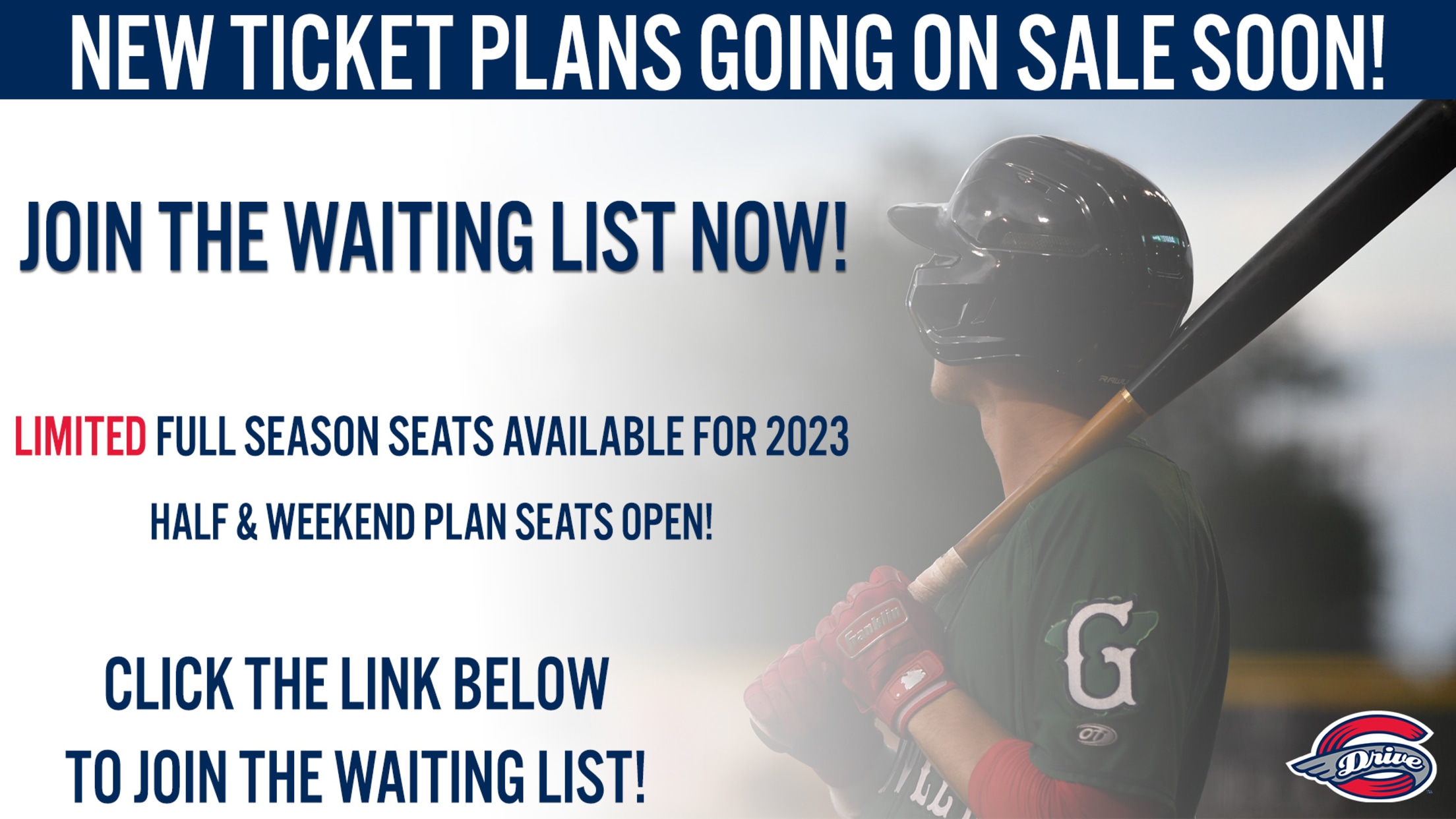 As we get ready to ring in the New Year, that means we're getting closer to Opening Day and the Drive's 17th season in Downtown Greenville at Fluor Field! There's no better option to take in Drive baseball than with one of our family-friendly, affordable ticket plans! Whether you want
Rafaela, Kavadas barreling toward Boston
Free-swingers, big thumpers loom large among Red Sox All-Stars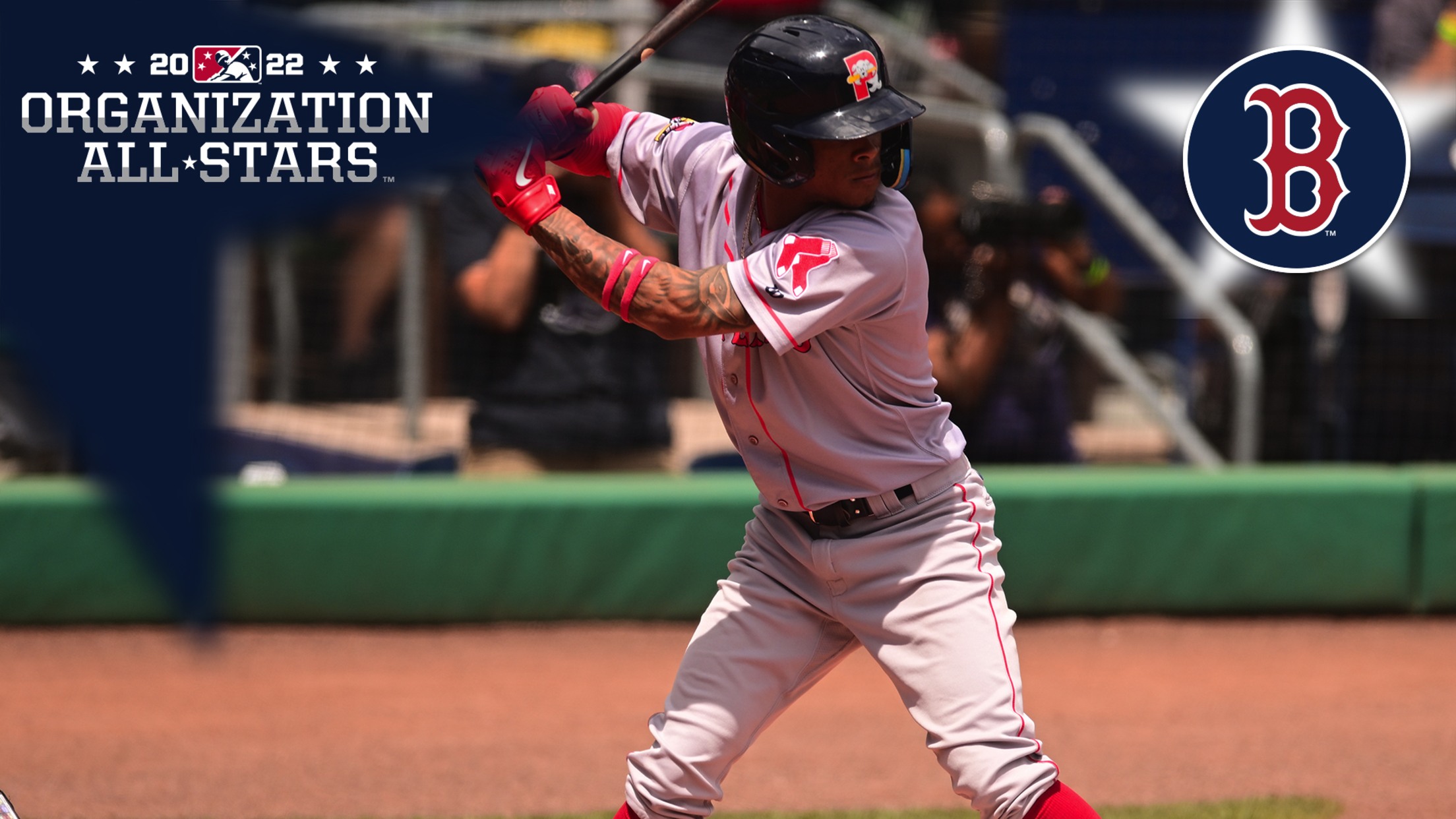 Each offseason, MiLB.com goes position by position across each organization and honors the players -- regardless of age or prospect status -- who had the best seasons in each farm system. Next up in our 2022 Organization All-Stars series are the Boston Red Sox.
Greenville's Northcut smacks three home runs
Red Sox prospect collects career-high eight RBIs in the effort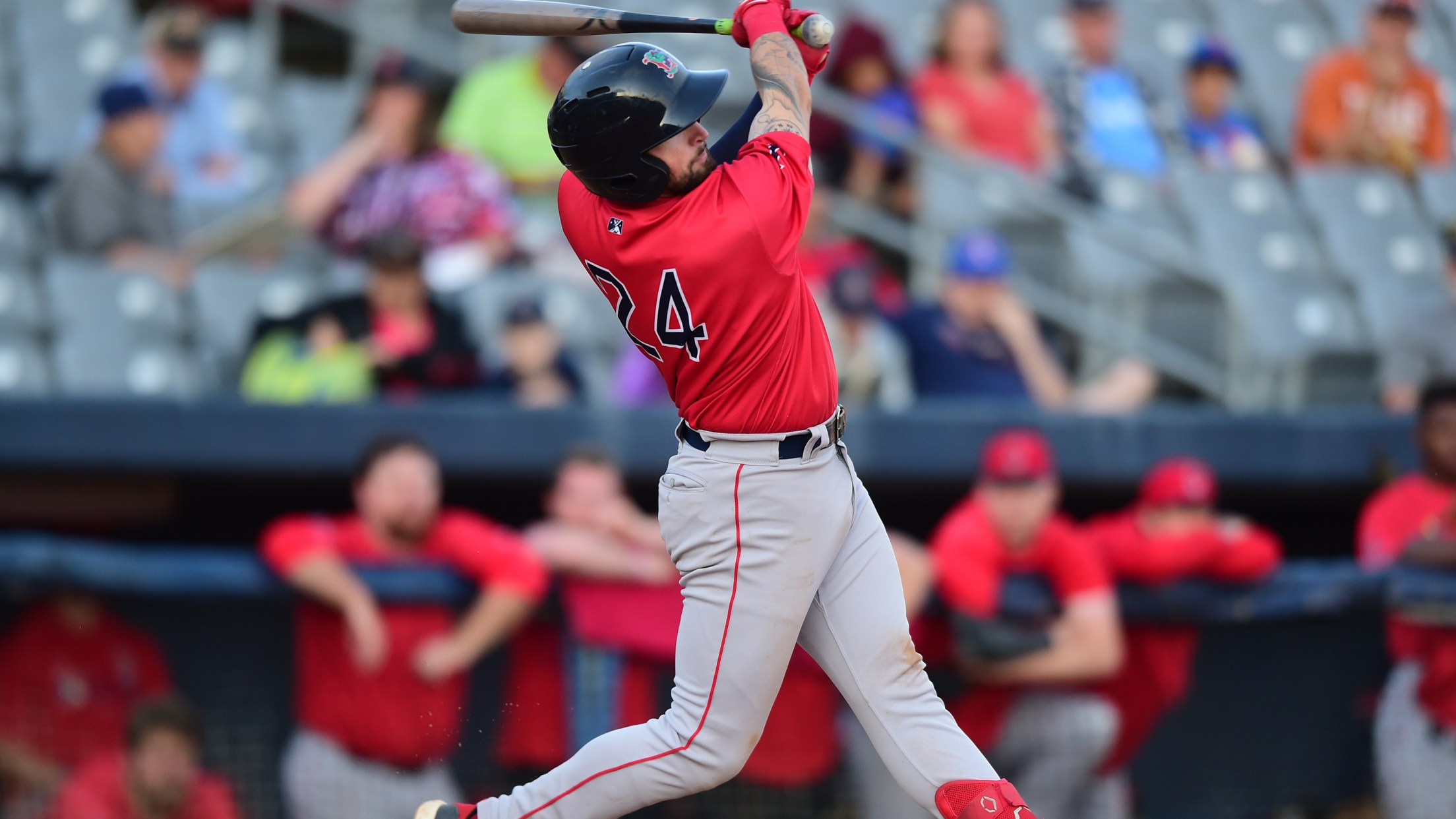 Nicholas Northcut is always confident in his swing. In a way, it wasn't a surprise that the 22-year-old slugger crushed three home runs in a game for the first time in his pro career. But it didn't stop his excitement about it. "It felt pretty good," Northcut said. "It's always
Rafaela hits for first cycle in Drive history, naturally
Red Sox No. 27 prospect's feat follows Hitter of the Month honors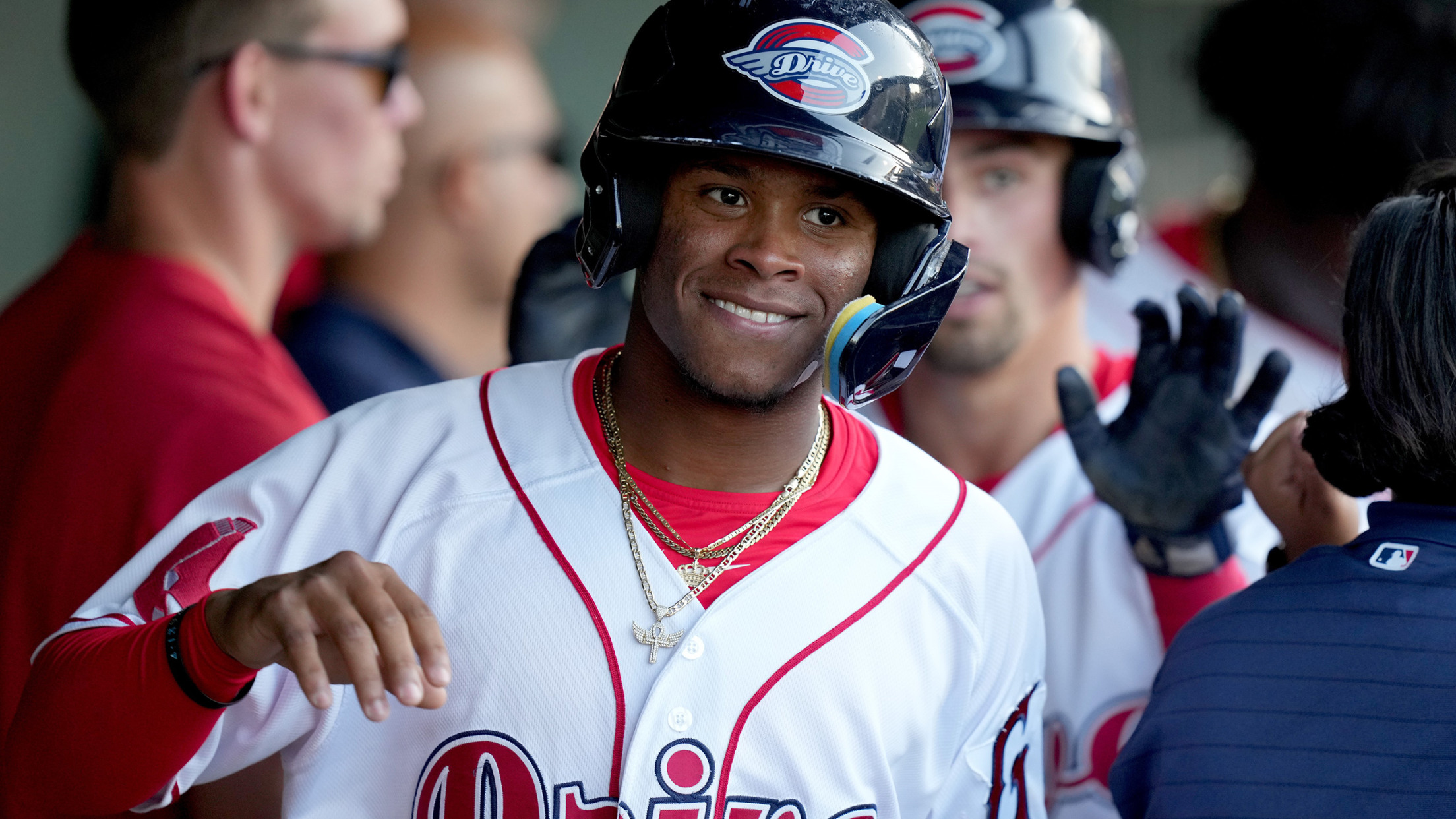 Natural cycles are the rarest type of cycle. They're also the most dramatic, allowing the player to punctuate his achievement with a roundtripper and then celebrate with a jog. Ceddanne Rafaela lived that reality Tuesday, hitting for a natural cycle in High-A Greenville's 11-6 win over Hickory. The No. 27
Greenville Drive host civic-minded 'Day of Action'
Ballpark event features voter registration, COVID testing and more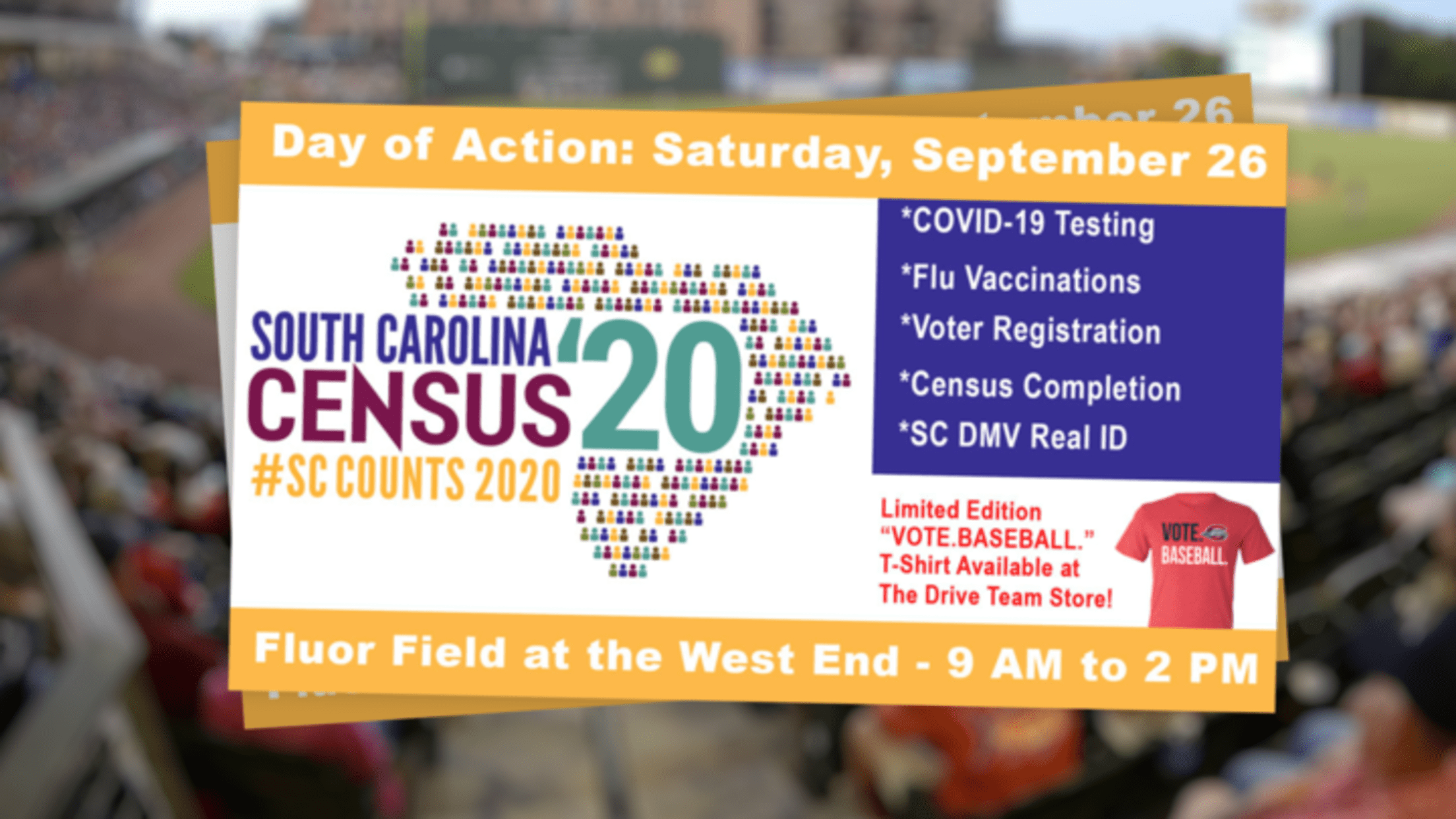 After the 2020 Minor League season was officially canceled, the Greenville Drive began marketing themselves as their community's "ideal social distancing venue." The team's home of Fluor Field has since played host to a diverse array of events. Nearly all areas of the ballpark, from the luxury suites to the
Advanced Manufacturing and Engineering Night
Join the "Virtual" Advanced Manufacturing & Engineering Day on Sunday, September 27th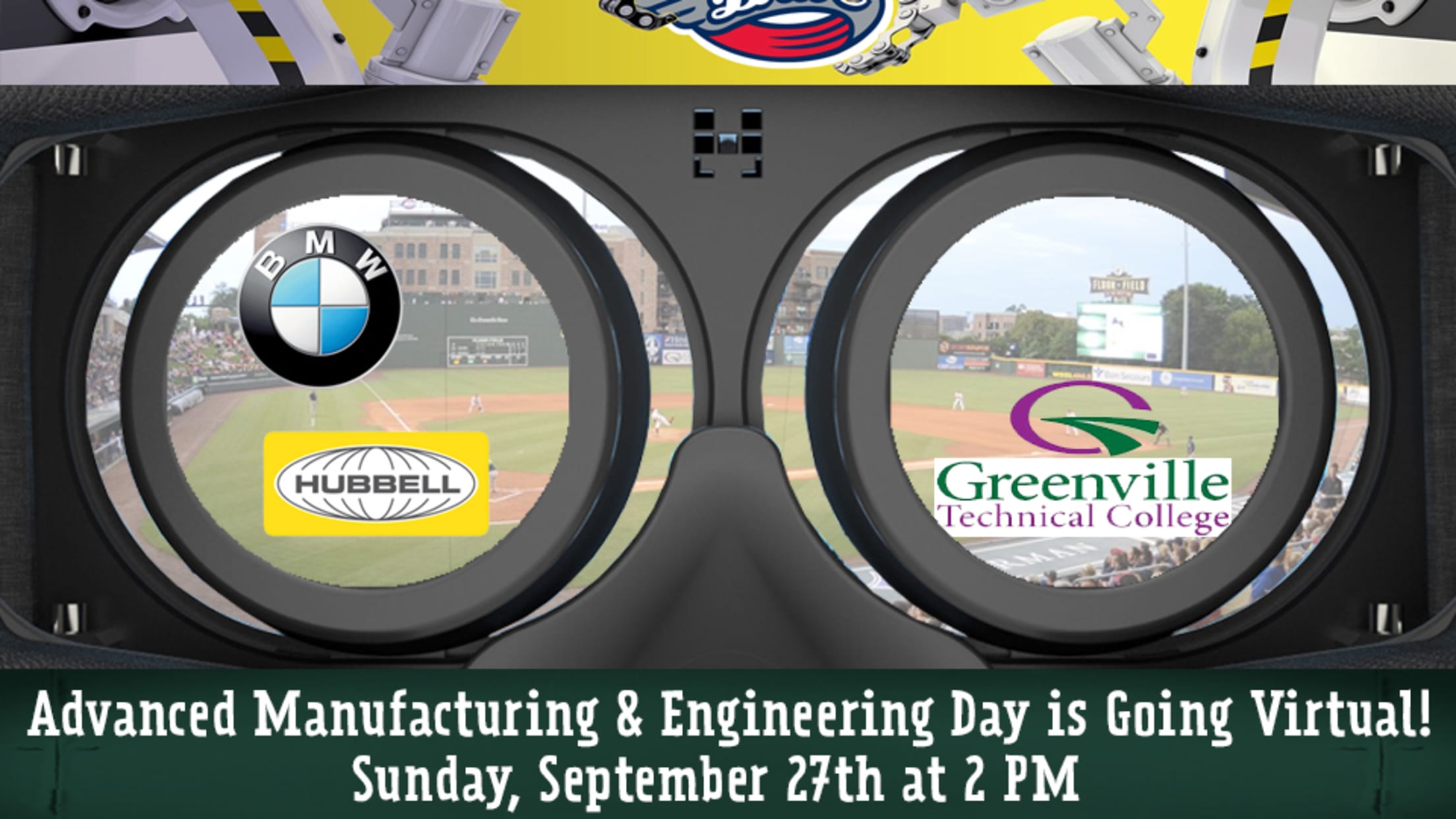 There may not be any Drive baseball this year at Fluor Field, but that won't stop us from continuing what has become the most anticipated event each year at the ballpark - Advanced Manufacturing & Engineering Day! Join us on Sunday, September 27th, as this year's event is going VIRTUAL!
Drive continue to make impact in South Carolina
Unique food creation, distribution plan garners June Promotion of the Month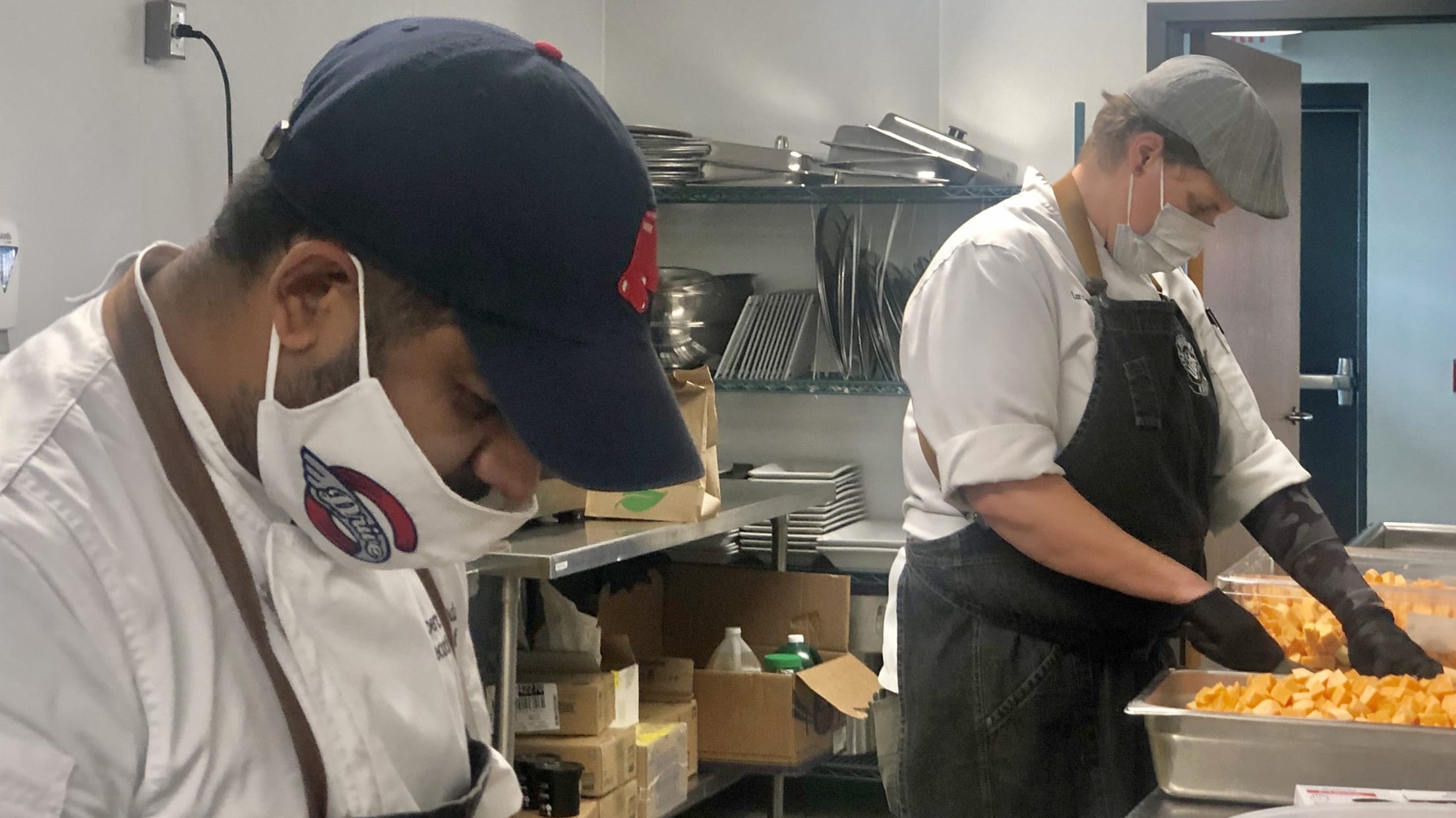 Summer nights at Fluor Field in Greenville, South Carolina, have the feel of a large neighborhood gathering with the beautiful 15-year-old facility serving as the "front porch" of the Greater Greenville and Upstate South Carolina area. And while the coronavirus pandemic has prevented local fans from being able to support
Baseball Factory Tryouts at Fluor Field on March 22nd
Middle School tryouts at 8 AM; High School tryouts at 12 PM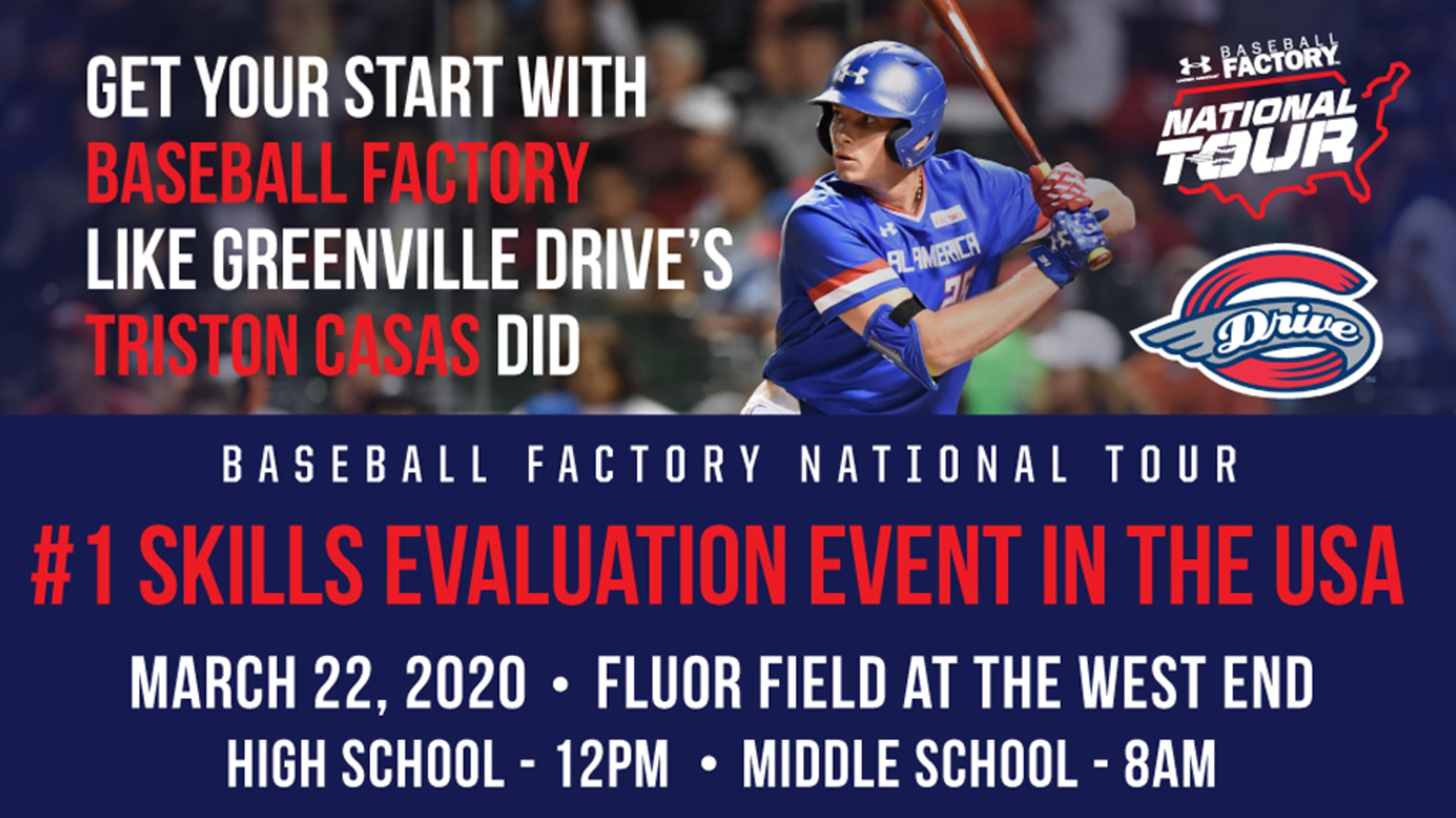 Get your start with Baseball Factory just like Greenville Drive alums Triston Casas, CJ Chatham, Jarren Duran, and Thad Ward! The National Tryout Tour comes to Fluor Field on Sunday, March 22nd. The Baseball Factory National Tour is the #1 skills evaluation in the USA. There will be two sessions
High School Doubleheader March 14th Beginning at 1 PM
Riverside/AC Flora at 1 PM followed by Mauldin/Blythewood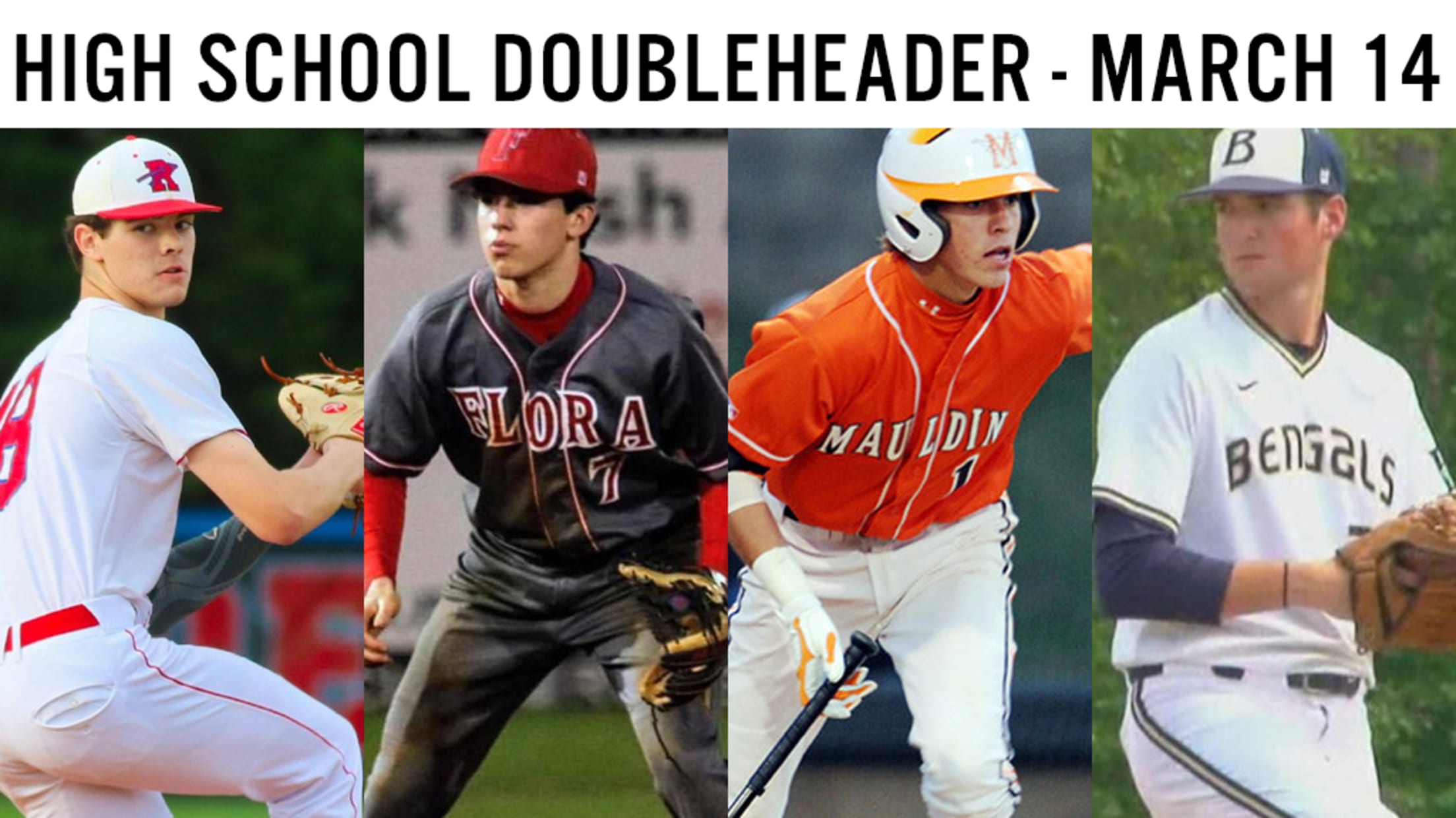 Fluor Field will host an exciting doubleheader on Saturday, March 14th, featuring four of the best teams from across South Carolina. Gates open at 12 PM, and all tickets are just $7. Game one will feature the Riverside Warriors versus the AC Flora Falcons at 1 PM, followed by the
Furman Hosts South Carolina at Fluor Field on Tuesday, March 3
Paladins and Gamecocks square off in annual matchup in Downtown Greenville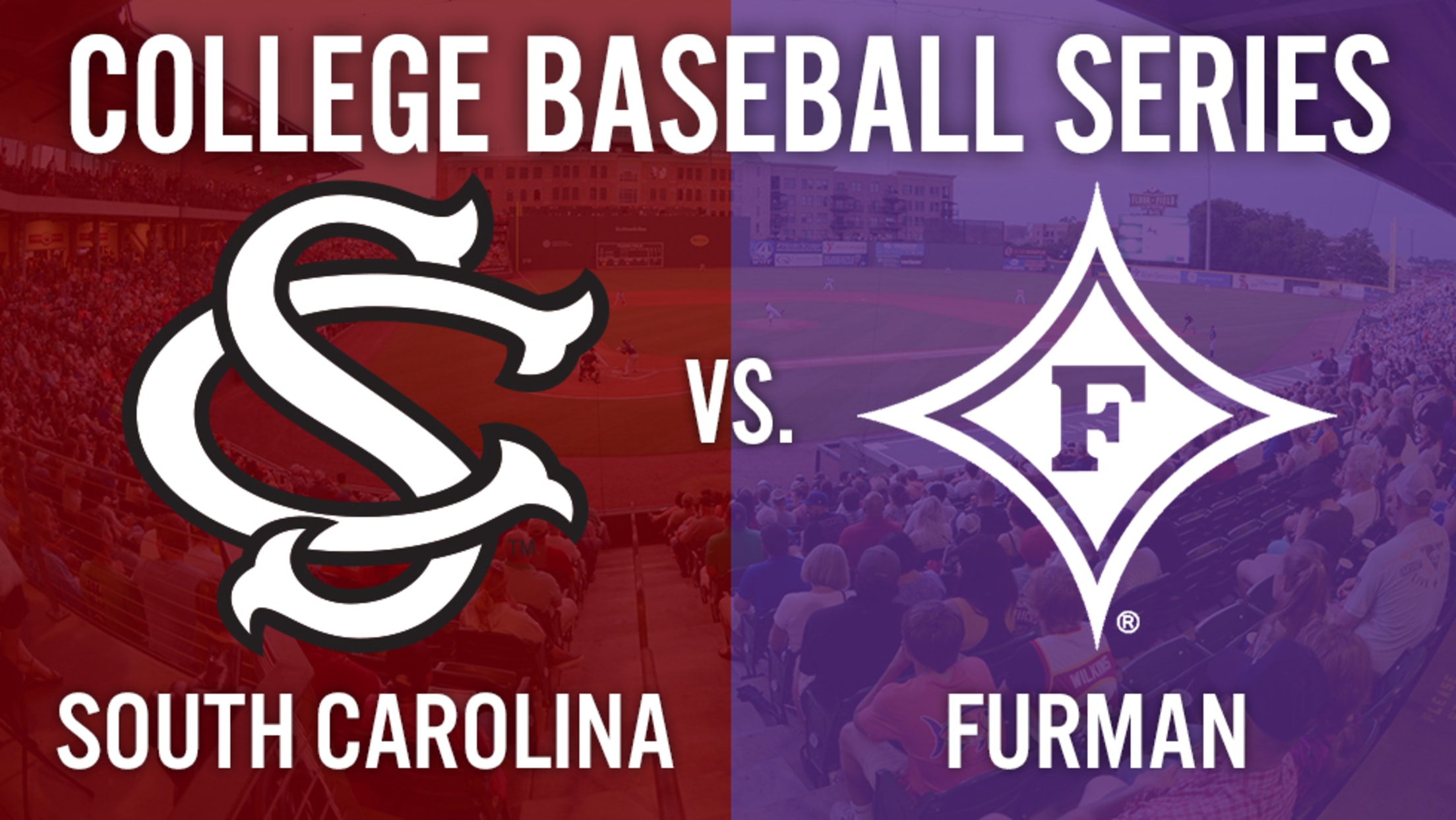 Tuesday's game between the Furman Paladins and the South Carolina Gamecocks at Fluor Field is still on, with first pitch scheduled for 6:00 PM. Gates will open at 5:00 PM, as the in-state programs go head-to-head in their annual matchup in Downtown Greenville.The game is one of two for the
Spartans Take On Spartans at Fluor Field on Wednesday, March 4
Michigan State welcomes USC Upstate to Fluor Field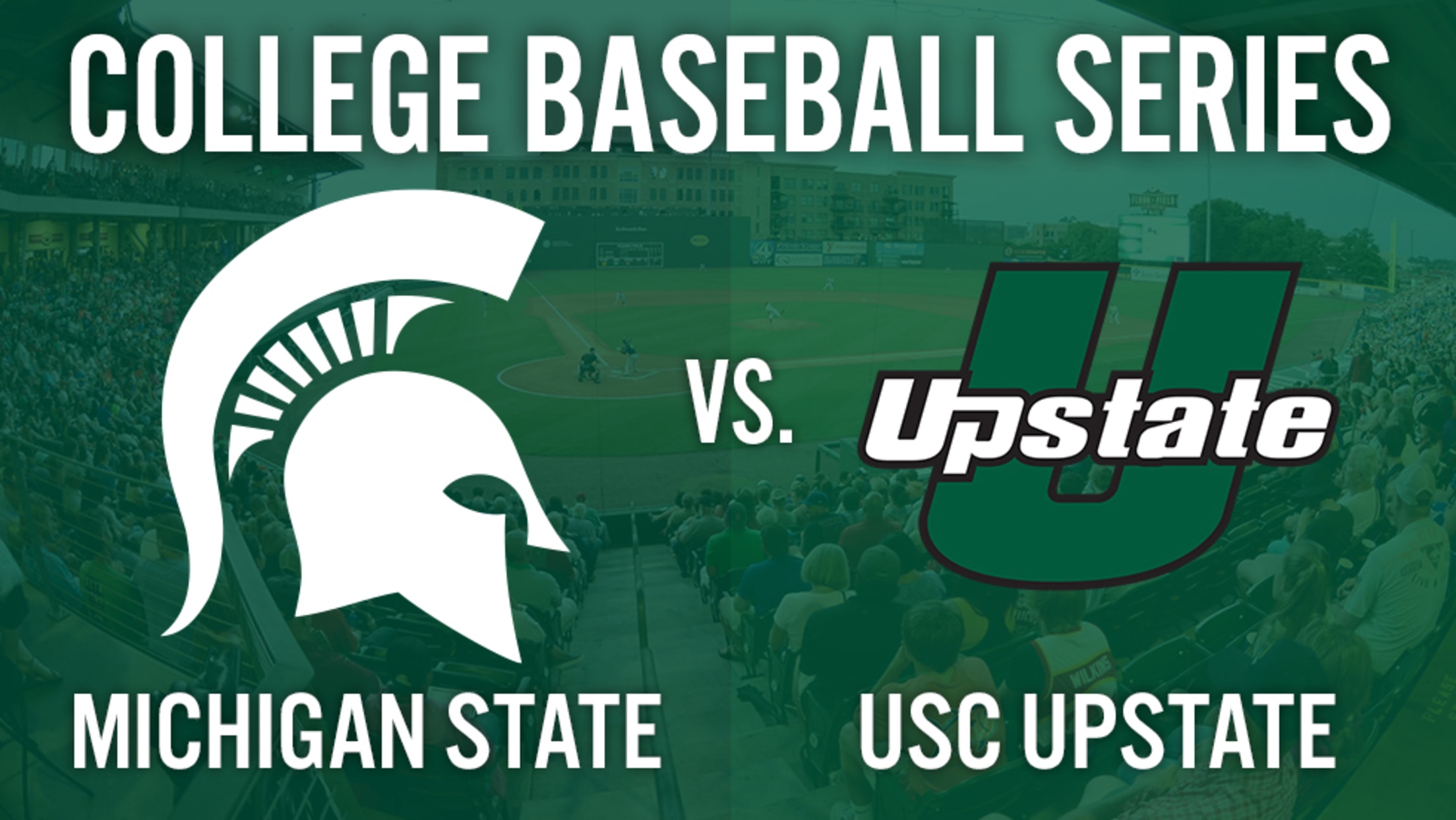 The Michigan State Spartans will host the USC Upstate Spartans in a mid-week clash at Fluor Field on Wednesday, March 4. Gates will open at 3:00 PM with first pitch set for 4:00 PM.
At the Table with The Greenville News Comes to Fluor Field March 10
Retired athletes to share stories about pro career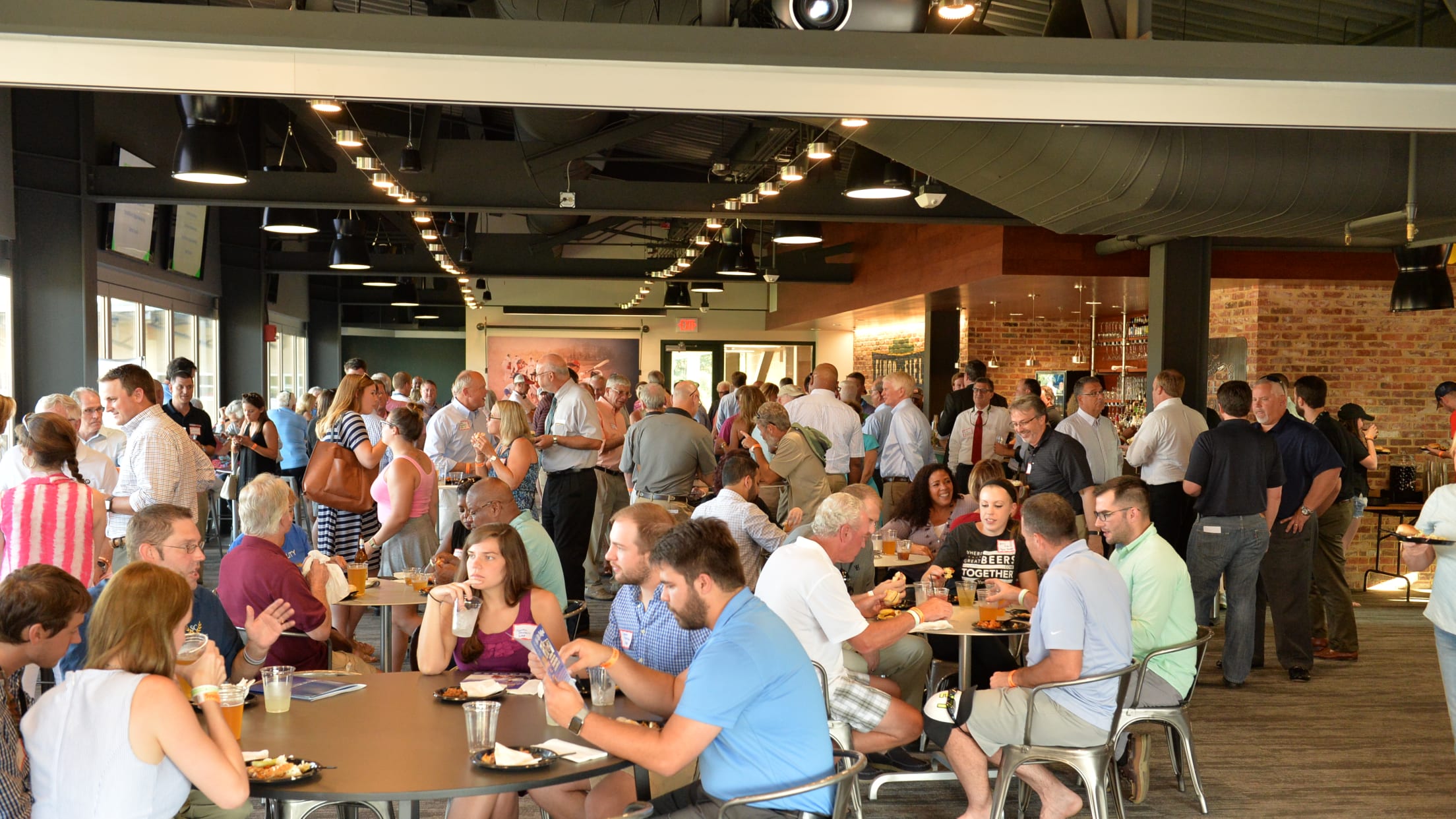 The moment you realize your life is going to go in a different direction, and that everything you've worked for, and how you've always defined yourself, is changing.That's the moment six local athletes will share at the next At the Table with The Greenville News event March 10 at Fluor
Tickets On Sale Now for the 2020 College and High School Schedule at Fluor Field
Schedule highlights include the First Pitch Invitational and SoCon Championship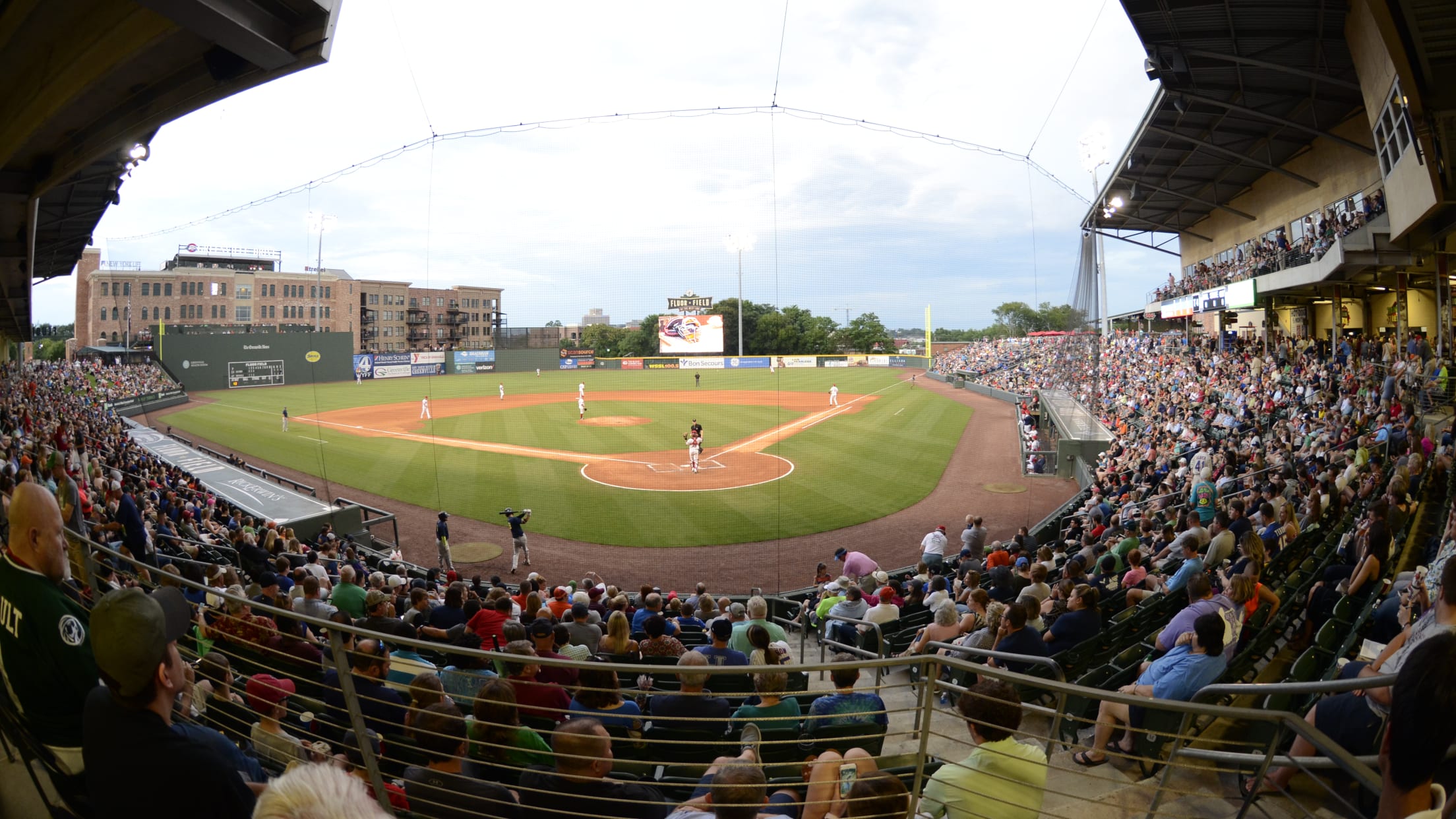 Greenville, SC - With less than two weeks until the return of baseball to Downtown Greenville, the Greenville Drive are excited to announce that tickets are now on sale for all 2020 college and high school games at Fluor Field.  Highlights of this year's amateur schedule include the return of
Greenville Venue Crawl Heads to Fluor Field on February 9th
Join us in the Champions Club as part of the event from 1-6 PM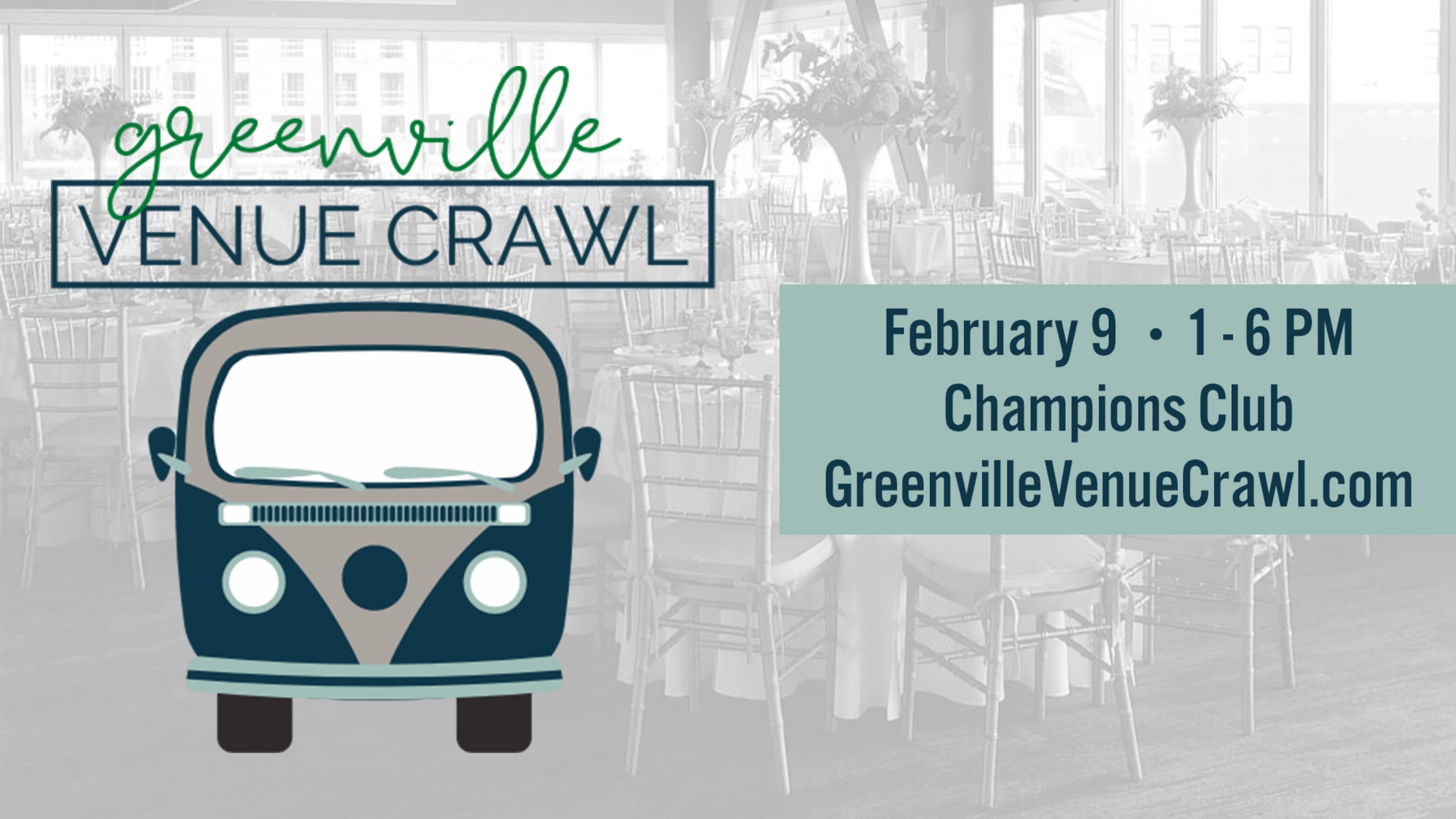 The Greenville Venue Crawl will highlight some of the great event venues that Greenville has to offer, including Fluor Field, on Sunday, February 9th. Join us in the Champions Club between 1:00 PM - 6:00 PM to meet the West End Events team and tour the amazing venues at Fluor
West End Warehouse Sale Returns on January 24-25
Shop the lowest prices of the season from the Drive and many other retailers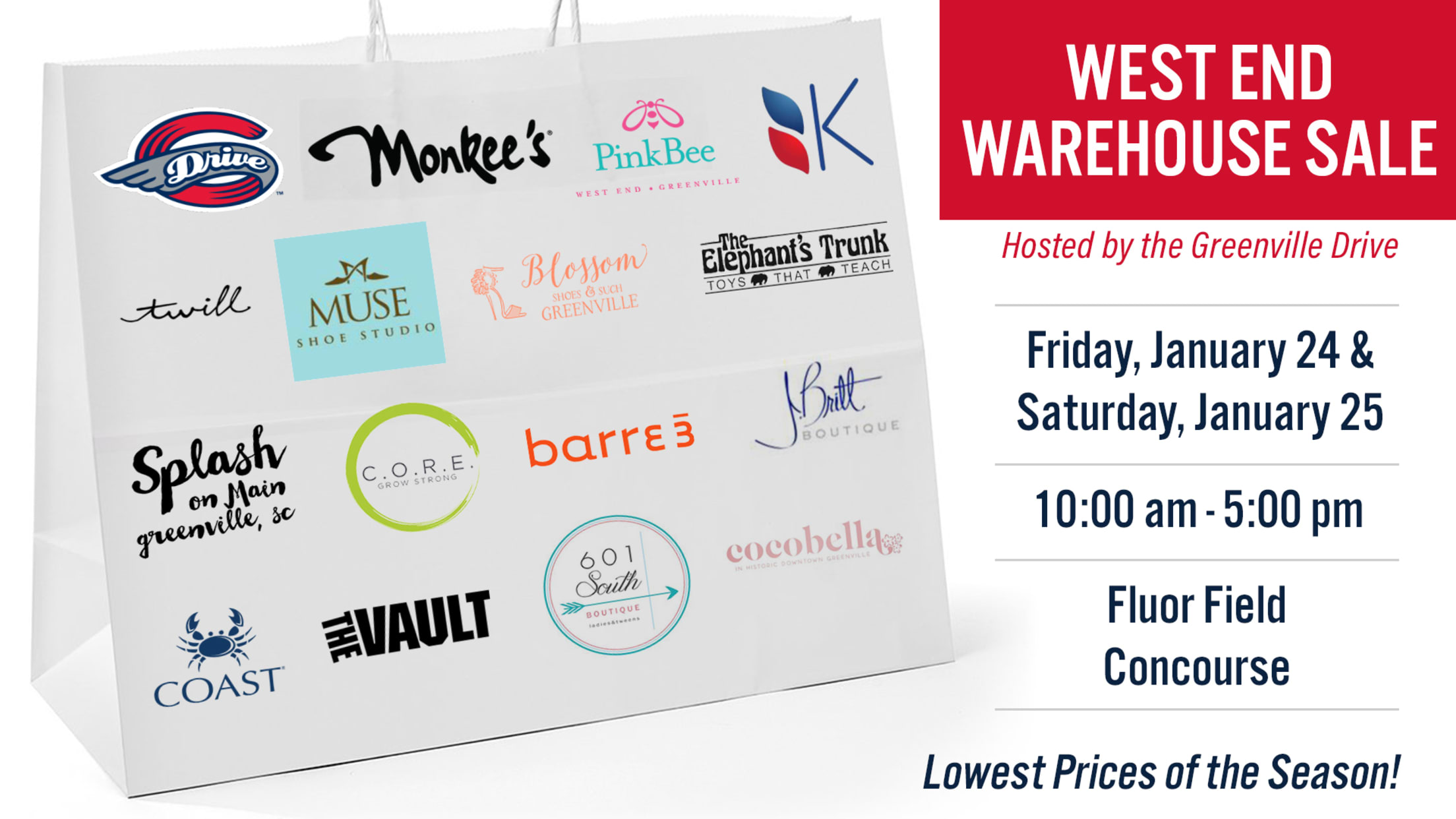 The Greenville Drive are excited to host once again the West End Warehouse Sale on Friday, January 24th and Saturday, January 25th on the concourse at Fluor Field at the West End.The West End Warehouse Sale will be open from 10:00 AM to 5:00 PM both days, and it will
Drive Announces Coaching Staff for 15th Anniversary Season
Suarez, Kipper return as Manager and Pitching Coach; Josh Prince named hitting coach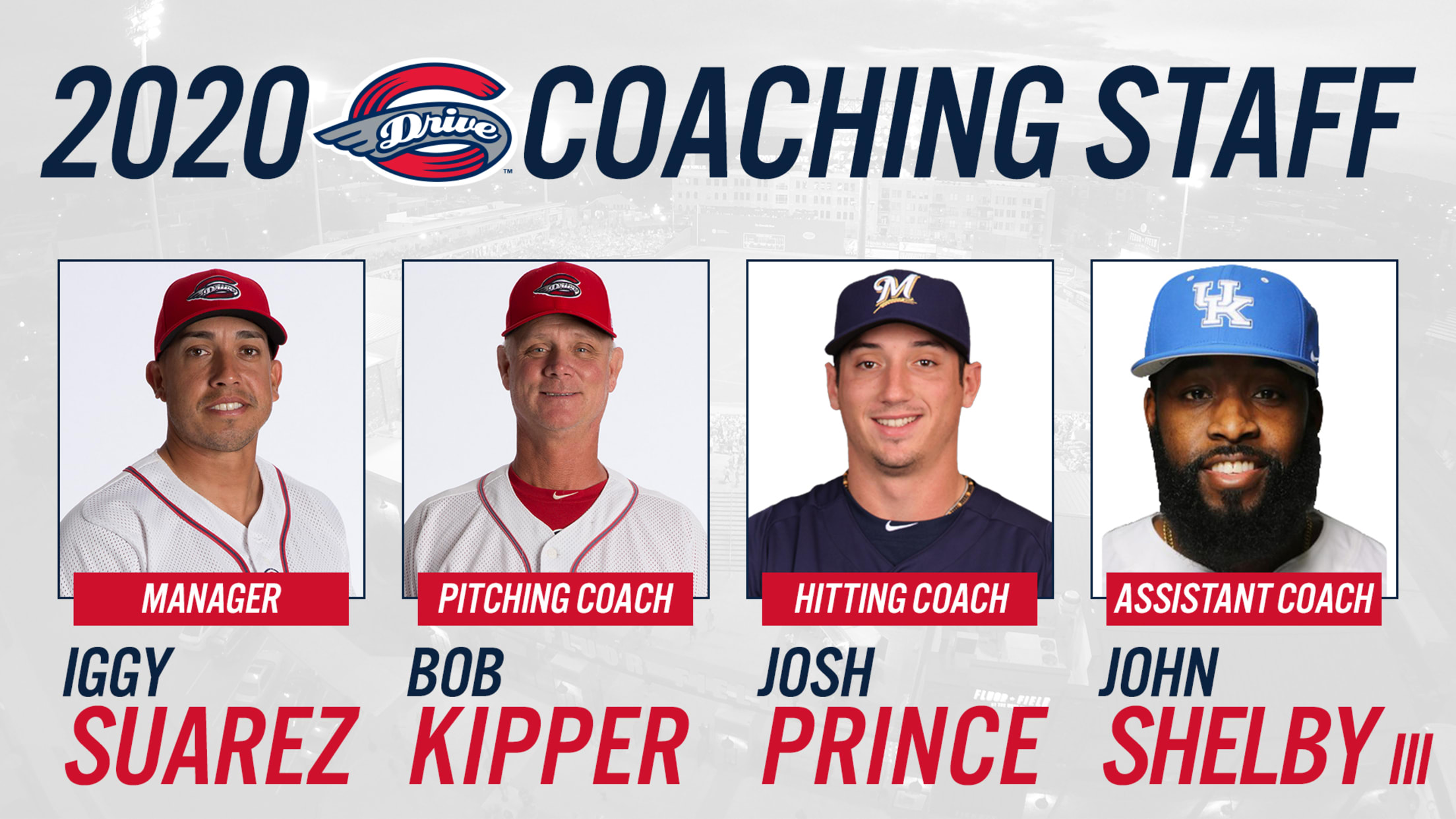 GREENVILLE, S.C. - In conjunction with the Boston Red Sox, the Greenville Drive have announced their coaching staff for the 2020 season, and the staff will once again feature some familiar faces for the upcoming season at Fluor Field.Iggy Suarez will return for his third season as the Drive's manager,
Drive Hosting Job Fair at Fluor Field on January 25th
Job fair begins at 9:00 AM; Positions are available in three departments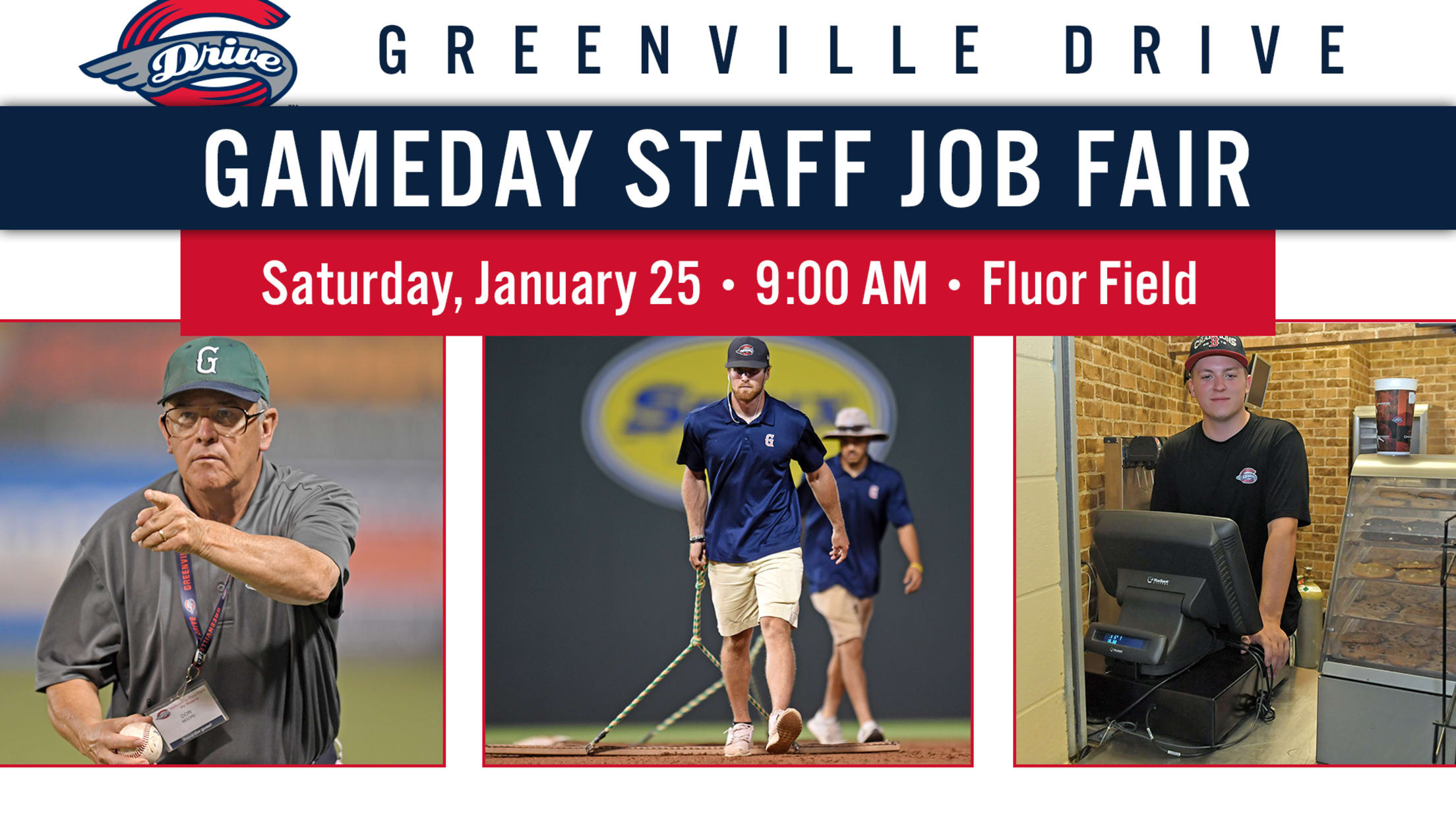 Greenville, SC - The Greenville Drive will be hosting a Game Day Staff Job Fair at Fluor Field on Saturday, January 25th beginning at 9:00 AM.The Drive will be making seasonal hires in three departments for the 2019 season at Fluor Field: Food and Beverage, Game Operations and Grounds Crew.All
Drive to Hold Promo Team Tryouts on January 18
Tryouts set for January 18th at 10 AM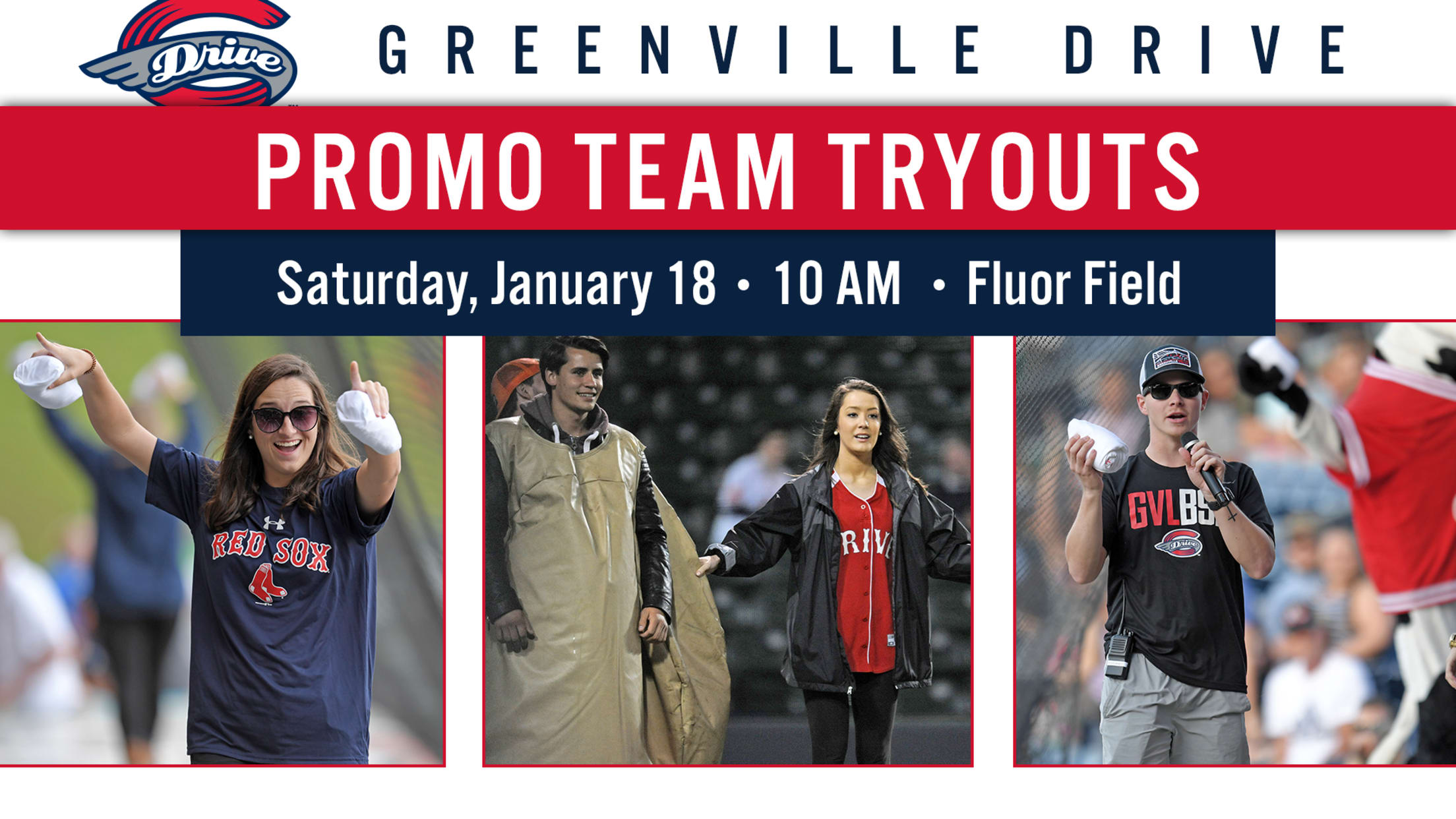 The Greenville Drive are looking for fun, enthusiastic candidates who are motivated to represent the organization at home games and in the community. The Promo Team is an integral part of home Drive games and devote their time to energizing the fans at Fluor Field and making sure that everyone
Drive to Hold Reedy Tryouts on January 18th
Tryouts set for January 18th at 10 AM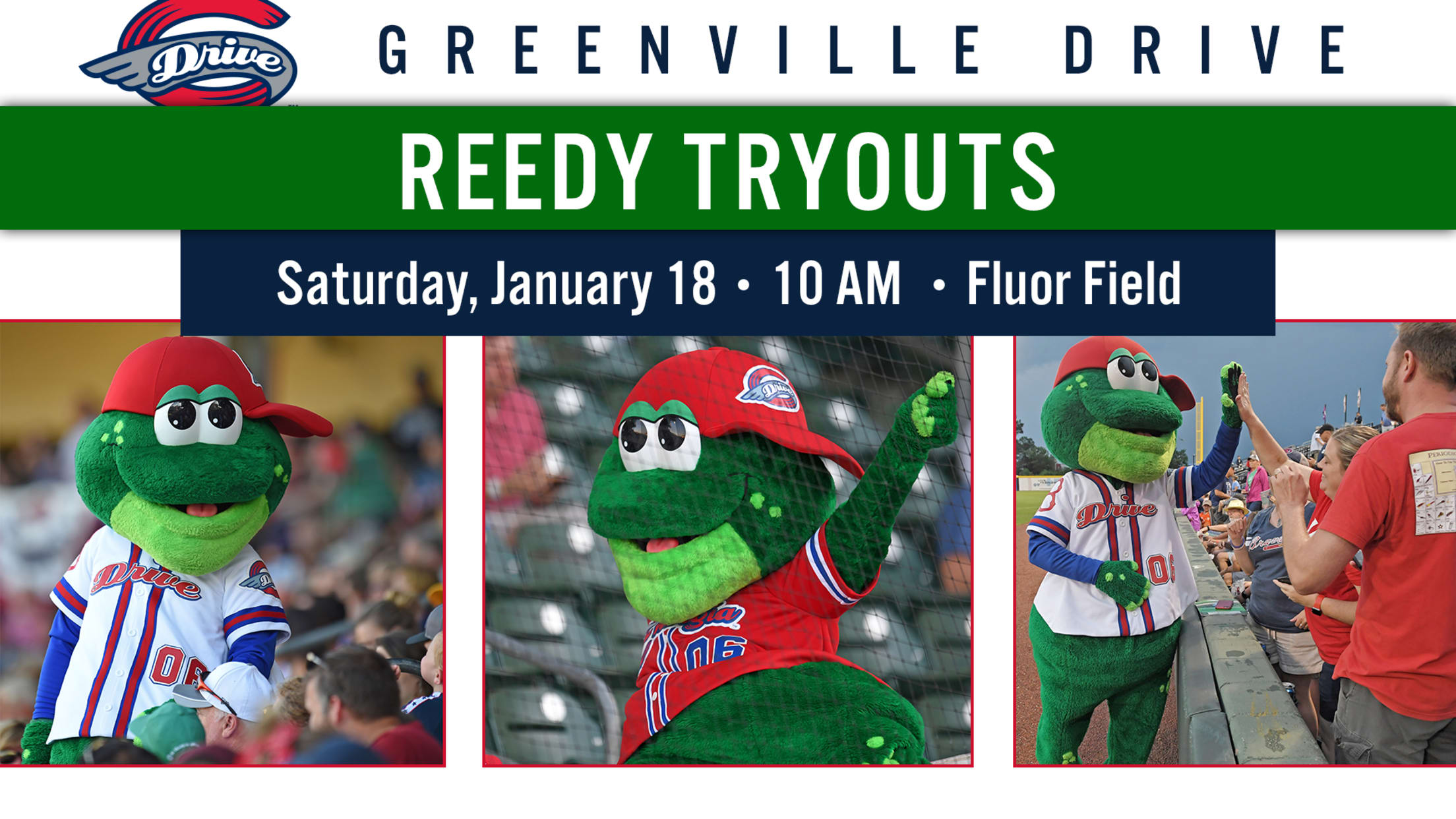 The Greenville Drive are looking for fun, enthusiastic candidates who are motivated to represent the organization at home games and in the community. The Promo Team is an integral part of home Drive games and devote their time to energizing the fans at Fluor Field and making sure that everyone