Know Before You Go - Homestand #4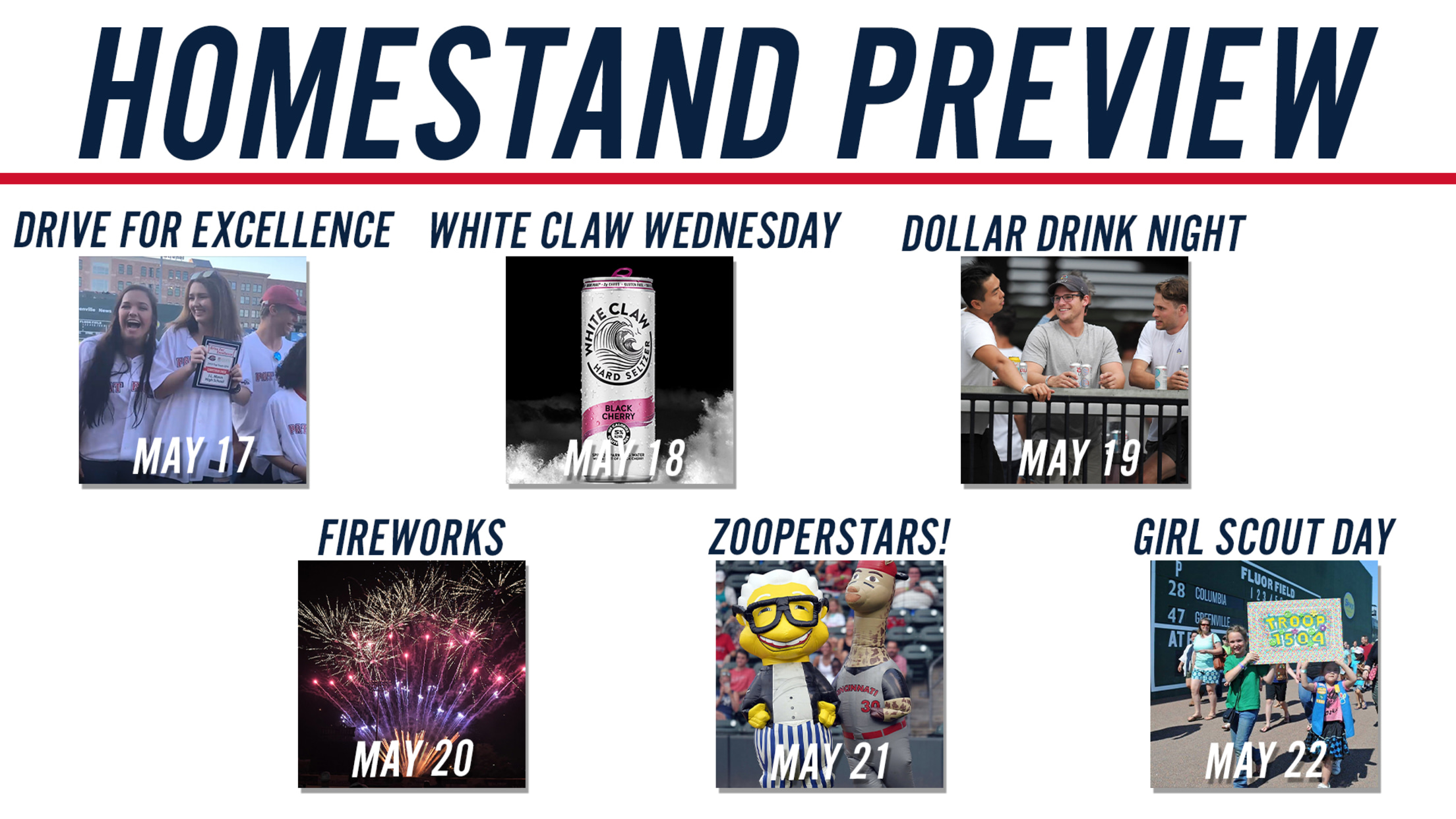 The Greenville Drive is back at Fluor Field May 17th-May 22nd taking on the Hickory Crawdads (Texas Rangers Affiliate) for a 6-game homestand. Make sure to check out the details below for each of these jam-packed games. Tickets for the homestand are available HERE. Tuesday May 17th: Gates open at
The Greenville Drive is back at Fluor Field May 17th-May 22nd taking on the Hickory Crawdads (Texas Rangers Affiliate) for a 6-game homestand. Make sure to check out the details below for each of these jam-packed games. Tickets for the homestand are available HERE.
Tuesday May 17th: Gates open at 6 PM, First pitch is 7:05 PM
In partnership with Greenville County Schools and Furman University, the Drive will be hosting their annual Drive for Excellence celebration on Tuesday, May 17th. This evening is all about recognizing high-achieving student-athletes in Greenville County, as each student-athlete with a 4.0 GPA or higher will receive complimentary admission to the game plus in-game recognition and celebration for their hard work and many accomplishments.
A pregame reception for student-athletes and coaches in the 500 Club will begin at 5:30 PM. As part of the reception, special guest Jackie Carson, the current head coach of the Furman Women's Basketball Team, will deliver a keynote address congratulating these students for their accomplishments and encouraging future success in all of them.
During the game, on-field recognitions will honor the top performing school in each sport, as well as the school with the highest overall GPA among its student-athletes.
There were 157 varsity sports teams across Greenville County High Schools that had a 4.0 or higher GPA, a 20% improvement over the last time we were able to host this event during the 2019 season!
Join us on Tuesday night at Fluor Field to help celebrate these hard-working students for their efforts both in the classroom and on the field!
Wednesday May 18th: Gates open at 6 PM, First pitch is 7:05 PM
Another special night celebrating Greenville County Schools, but this time their teachers and staff who are retiring. The Drive is excited to honor and thank these hard-working individuals for the attention, dedication, love and care they've provided over the years to the youth of this community.
Wednesday is also White Claw Wednesday! White Claws will be $2 throughout the game!
Thursday May 19th: Gates open at 6 PM, First pitch is 7:05 PM
With the summer weather here, Dollar Drink Night at Fluor Field is the best place to be on a Thursday Night! $1 Fountain Pepsi products (available in the concession stands), $2 Busch Light, and $3 Golden Road Mango Cart all night long, starting when gates open at 6 PM. Cheers!
** Friday May 20th**: Gates open at 6 PM, First pitch at 7:05 PM
Come early to the game and help the Drive meet their season-long goal of collecting 356 units of blood via their partnership with The Blood Connection. The 3rd blood drive of the season will take place in front of the Drive's Will Call office starting at Noon. Make an appointment here, but walk ups are always welcome!
Close out the night and week with Friday Fireworks, lit up by illumifin! One of the best fireworks shows in the Upstate, you don't want to miss this finale celebration.
Saturday May 21st: Gates open at 6 PM, First pitch at 7:05 PM
The Zooperstars are coming to town Saturday night! The unique show features hilarious inflatable characters with clever names such as Harry Canary, Tommy Laswordfish, Clammy Sosa, Shark McGwire, and many more! The performance combines synchronized dance routines, acrobatics, tricks and comedy for performances that connect with fans of all ages. Yes, adults often laugh harder than the kids!
Come enjoy the special entertainment!
Sunday May 22nd: Gates open at 2 PM, First pitch at 3:05 PM
Prior to the game, take part in the Girl Scout Discovery Day taking place in the Main St. Plaza outside of the box office. This hands-on activity is a great way to get a taste of the fun that Girl Scouts have each and every day. Special offers will be available if you have a girl interested in joining! This fun event will take place Noon-2pm!
Girl Scout Day is better at the ballpark! Join us for a day filled with fun, adventure, learning, and baseball as the Greenville Drive partner with Girl Scouts of South Carolina- Mountains to Midlands Council to highlight, recognize, teach, and celebrate the Girl Scouts in our community. These future leaders are the key to the success of their communities, our nation, and the world! A lot of fun activities are planned for Girl Scouts, as well as for those that might be interested in learning more about the number one leadership program for girls!
All Girl Scouts will walk in a pregame parade around the field and receive a commemorative patch for coming to the game.
When it's all over, head on down to the field to Run the Bases with the Greenville Drive's own Reedy Rip'It courtesy of Blue Cross Blue Shield of South Carolina. If you're a Girl Scout who hasn't yet gotten her tickets, learn more here.
ADDITIONAL GAME INFORMATION:
PARKING / TROLLEYS
· Complimentary parking is available for every game at County Square - located off of University Ridge and just a few hundred steps from the Field Street Gate at Fluor Field.
· Trolleys run complimentary from County Square beginning one hour before first pitch time. The trolleys make two stops at Fluor Field, dropping fans off close to the Field Street Gate and then at the Main Street Gate.
· The trolleys will make trips post-game until there are no longer fans waiting for them at Fluor Field.
· The trolley loop takes approximately 20-25 minutes before returning to County Square, due to the path it must take with construction traffic.
CLEAR BAG POLICY
· Fluor Field has a clear bag policy in place. Make sure that you're not getting stopped at the gate and read the full policy HERE.
TEAM STORE HOURS
· Gameday Hours: 10am - End of Game
· Non Gameday Hours: 11am - 5PM
BOX OFFICE HOURS (Open on Game Days Only)
· Monday-Friday: 10 am - Until the 8th inning
· Saturday and Sunday: Noon - Until the 8th inning
It's going to be a great week of Drive baseball and we can't wait to see you at Fluor Field!