Charlotte Scores Five in Ninth to Stun Stripers
Gwinnett's 9-7 lead dissolves in final frame as Knights win 12-9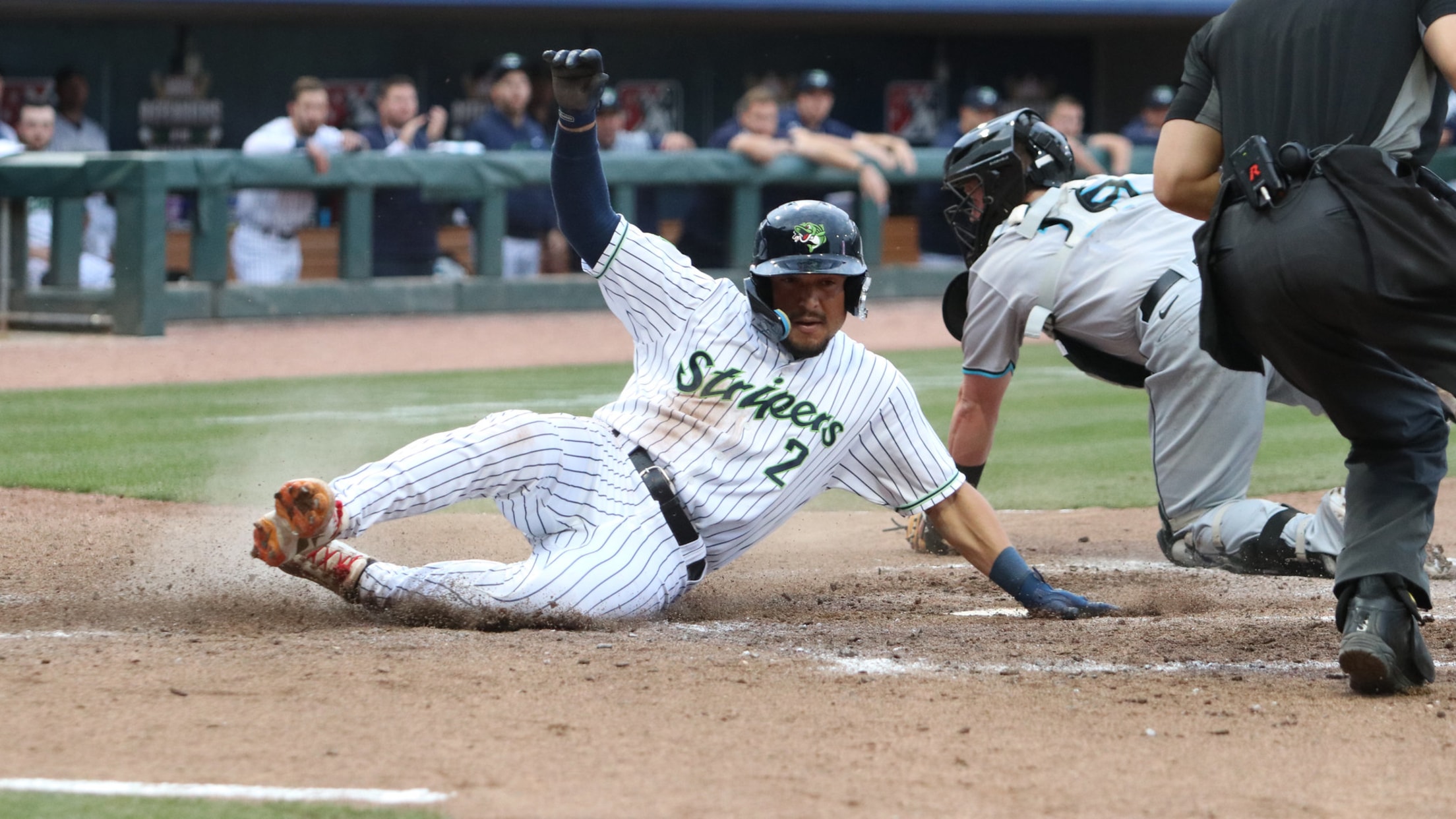 Yolmer Sanchez slides in to score one of Gwinnett's nine runs in a losing cause on Saturday. (Matthew Caldwell)
LAWRENCEVILLE, Ga. – Multi-RBI nights from Joe Dunand, Charlie Culberson, and Magneuris Sierra had Gwinnett leading 9-7 entering the ninth inning, but the Charlotte Knights (15-17) responded with five runs in the final frame to beat the Stripers (12-19) 12-9 on Saturday night at Coolray Field. Decisive Plays: Gwinnett erased
LAWRENCEVILLE, Ga. – Multi-RBI nights from Joe Dunand, Charlie Culberson, and Magneuris Sierra had Gwinnett leading 9-7 entering the ninth inning, but the Charlotte Knights (15-17) responded with five runs in the final frame to beat the Stripers (12-19) 12-9 on Saturday night at Coolray Field.
Decisive Plays: Gwinnett erased a 3-0 deficit and took a 7-3 lead by the end of the fifth. Dunand tied the game with an RBI single in the fourth and gave the Stripers their first lead at 5-3 with a two-out, two-run single in the fifth. Culberson followed with a two-run single as well to make it 7-3. With the advantage narrowed to 7-6 in the seventh, Sierra laced a two-run triple to make it 9-6. It wasn't enough, however as Clint Frazier crushed a three-run home run (3) in the ninth off Roddery Munoz (L, 0-2) to put the Knights up 11-9. Charlotte added another run and closed out Gwinnett in the bottom half.
Key Contributors: Dunand (3-for-5, 3 RBIs), Culberson (2-for-5, 2 RBIs), and Sierra (1-for-4, triple, 2 RBIs) combined to drive in seven of Gwinnett's nine runs. For Charlotte, Frazier went 2-for-4 with a double, homer, and three RBIs, and Erik Gonzalez went 1-for-2 with three RBIs. Nick Padilla (W, 1-0) and Lane Ramsey (S, 4) combined on 2.0 scoreless, two-hit innings.
Noteworthy: Eli White extended his on-base streak to 11 games, going 1-for-5 with a double. Atlanta Braves' catcher Travis d'Arnaud continued his rehab assignment with Gwinnett, going 0-for-3 with a walk and run scored as the designated hitter. Starter Michael Soroka allowed three runs on seven hits over 4.0 innings and struck out five in a no-decision.
Next Game (Sunday, May 7): Gwinnett vs. Charlotte, 1:05 p.m. at Coolray Field. Broadcast: 12:50 p.m. on MyCountry993.com and the Bally Live app. RHP Tanner Gordon (Triple-A Debut) for the Stripers vs. RHP Daniel Ponce de Leon (0-2, 5.91 ERA) for the Knights. It's Sunday Funday, featuring Pregame Catch on the Field and Postgame Kids Run the Bases (weather permitting).