Shuster's Spectacular Outing Leads Stripers to Near No-No
Jared Shuster throws six no-hit innings, Gwinnett allows two hits in 2-0 win over Charlotte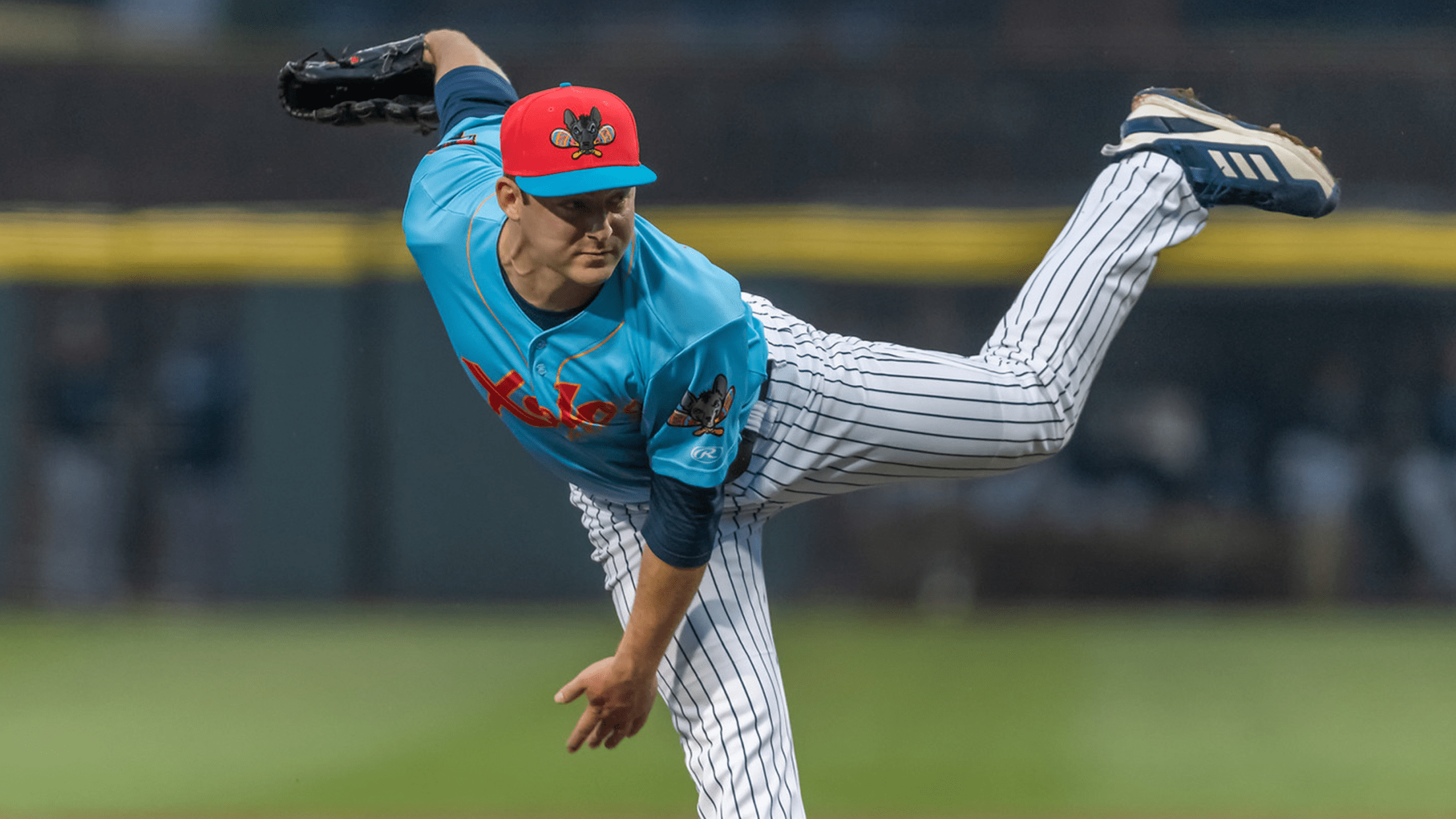 Jared Shuster struck out five over 6.0 no-hit innings on Friday night at Coolray Field. (Paul Daniel)
LAWRENCEVILLE, Ga. – Jared Shuster struck out five over 6.0 hitless innings as the Gwinnett Stripers (12-18) combined on a two-hit shutout of the Charlotte Knights (14-17) in a 2-0 victory on Friday night at Coolray Field. Atlanta Braves' catcher Travis d'Arnaud started the game behind the plate and went
LAWRENCEVILLE, Ga. – Jared Shuster struck out five over 6.0 hitless innings as the Gwinnett Stripers (12-18) combined on a two-hit shutout of the Charlotte Knights (14-17) in a 2-0 victory on Friday night at Coolray Field. Atlanta Braves' catcher Travis d'Arnaud started the game behind the plate and went 0-for-3 in his first rehab game for the Stripers.
Decisive Plays:The Stripers notched the decisive run within the first three batters of the game. Forrest Wall led off the first inning by reaching on a fielding error by shortstop Erik Gonzalez. He stole second, tagged to third on a d'Arnaud lineout to center and scored on Eli White's sacrifice fly to right. In the fourth, Gwinnett raised the lead to 2-0 as Luke Waddell singled, stole second, and scored on a single by Joshua Fuentes. Charlotte snapped the no-hit bid on Clint Frazier's leadoff single in the eighth off Joe Harvey but managed just one other hit the rest of the way.
Key Contributors:Shuster (W, 1-0) allowed only three baserunners on walks in his second quality start of the year. Brian Moran (H, 3) pitched a hitless seventh, Harvey (H, 5) yielded one hit over a scoreless eighth, and Yacksel Rios (S, 4) worked around a two-out single in the ninth. White (0-for-2, sac fly, RBI) and Fuentes (1-for-3, RBI) drove in the lone runs.
Noteworthy:The shutout, Gwinnett's first of 2023, was the club's first since a combined three-hitter in a 7-0 win over Jacksonville on September 2, 2022 at Coolray Field. Wall tied the Gwinnett record for single-game steals (13th player with 3, went 3-for-3), and the Stripers matched a Gwinnett single-game team record with five steals (6th time in history, went 5-for-5). Chicago White Sox reliever Liam Hendriks, pitching for the first time since undergoing treatment for non-Hodgkin's lymphoma, struck out one in a scoreless seventh.
Next Game (Saturday, May 6): Gwinnett vs. Charlotte, 6:05 p.m. at Coolray Field. Broadcast: 5:50 p.m. on MyCountry993.com and the Bally Live app. RHP Michael Soroka (0-1, 4.86 ERA) for the Stripers vs. RHP Sean Burke (0-1, 9.53 ERA) for the Knights. It's Star Wars Night at Coolray Field, and the first 500 kids (age 12 and under) will receive a Kids Glowsaber Giveaway.