Stripers Battle Back, But Norfolk Walks Off in Ninth
Gwinnett erases 6-0 deficit for 7-6 lead, but Tides homer twice to win 9-7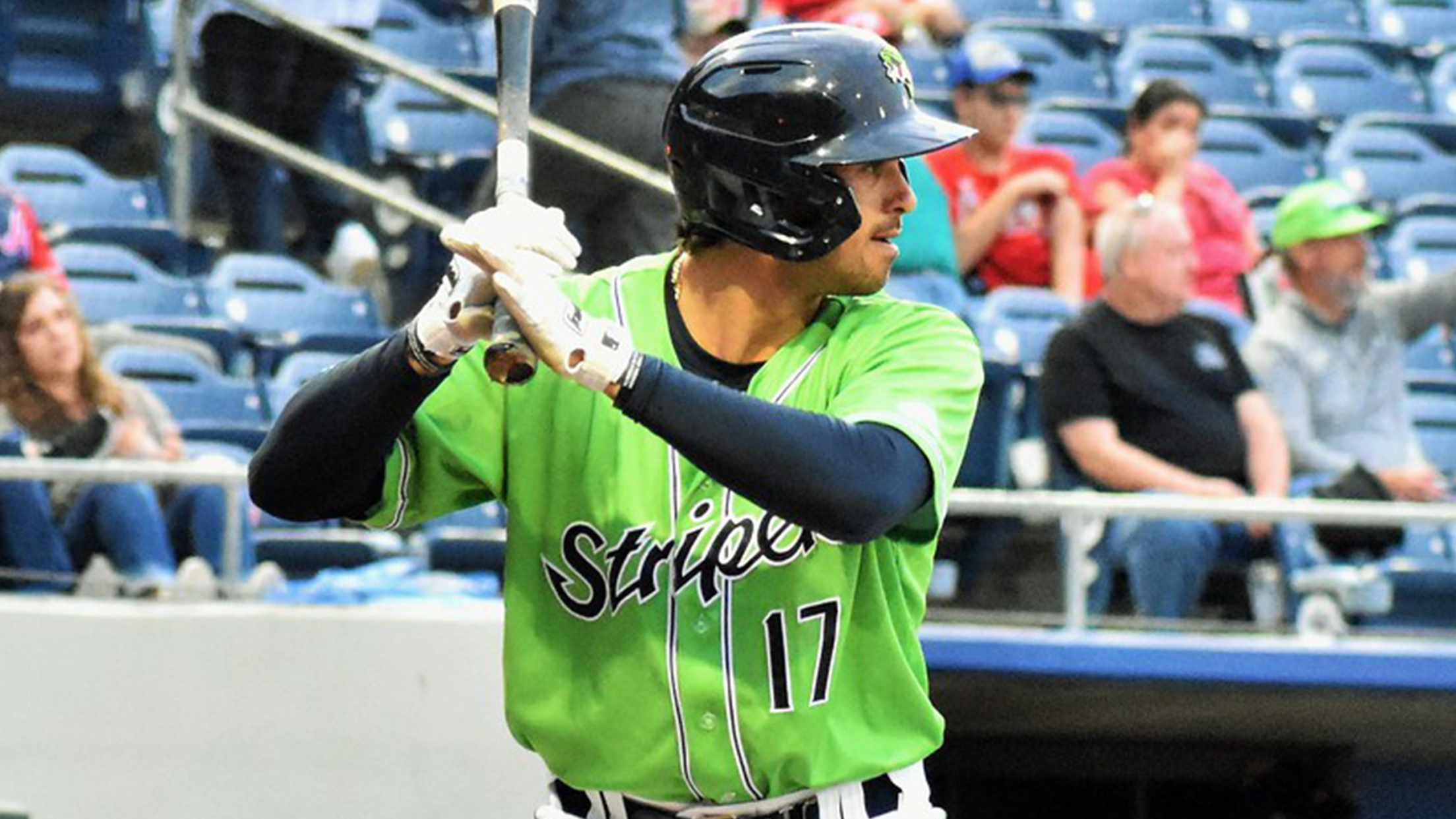 Joshua Fuentes gave Gwinnett a 7-6 lead with a two-run single in the fifth inning on Tuesday in Norfolk. (Josh Conner)
NORFOLK, Va. – The Gwinnett Stripers (22-29) shook off a 6-0 deficit and took a 7-6 lead in the fifth inning, but the Norfolk Tides (36-15) hit a pair of home runs in the bottom of the ninth to win 9-7 in the opener of a seven-game series at Harbor
NORFOLK, Va. – The Gwinnett Stripers (22-29) shook off a 6-0 deficit and took a 7-6 lead in the fifth inning, but the Norfolk Tides (36-15) hit a pair of home runs in the bottom of the ninth to win 9-7 in the opener of a seven-game series at Harbor Park on Tuesday night.
Decisive Plays: Down 6-0 after two innings, the Stripers scratched out runs in the third and fourth before scoring five to take the lead in the fifth. A two-run double by Braden Shewmake and RBI double by Nick Solak cut the deficit to 6-5. Later in the fifth, Joshua Fuentes smacked a two-run single down the right field line to give Gwinnett its first lead at 7-6. That score held until the ninth, when Lewin Diaz (10) tied the game with a solo shot and Ben DeLuzio (1) won it with a walk-off two-run shot.
Key Contributors: After giving up the six runs early, Beau Burrows retired 10 straight batters to finish his outing. Solak went 2-for-4 with two doubles and one RBI, while Shewmake went 1-for-3 with a double and two RBIs and Fuentes went 1-for-4 with two RBIs. For Norfolk, Deluzio, Shayne Fontana, Jordan Westburg, and Josh Lester all had two-RBI games.
Noteworthy: Gwinnett is now 1-2 in games decided by walk-off this season. Solak is batting .455 (5-for-11, 4 doubles, 1 hoomer, 5 RBIs) over his last three games. The Stripers stranded 13 runners on base between the third and eighth innings.
Next Game (Wednesday, May 31): Gwinnett at Norfolk, 5:35 p.m. ET at Harbor Park (Game 1 of Doubleheader). LHP Dylan Dodd (1-3, 6.67 ERA) for the Stripers vs. LHP Cole Irvin (5-1, 3.25 ERA) for the Tides. Radio Broadcast: 5:20 p.m. on MyCountry993.com.
Next Home Game (Tuesday, June 6):Gwinnett vs. Charlotte, 7:05 p.m. ET at Coolray Field. Radio Broadcast: 6:50 p.m. on MyCountry993.com and Bally Live. It's Family Value Tuesday presented by Coolray Heating and Cooling at Coolray Field, featuring $2 hot dogs and $1 desserts.