Harrisburg Senators Announce 2022 Home Game Times
HARRISBURG, PA – Today the Harrisburg Senators announce their home game times for the 2022 season. The home schedule had previously been released August 25. The Senators play 69 home games beginning Tuesday, April 12 against the Portland Sea Dogs (Red Sox). The season opener is Friday, April 8 at
MINOR LEAGUE BASEBALL AND MARVEL ENTERTAINMENT COLLABORATE TO LAUNCH "MARVEL'S DEFENDERS OF THE DIAMOND" PROGRAM
Storytelling giant to develop content for teams and ballparks across the United States
Chicago, October 13, 2021 — Minor League Baseball™ (MiLB™) today announced a three-year partnership with Marvel Entertainment, one of the world's most prominent storytelling brands, for an exciting event series that will play out in ballparks across all levels of MiLB starting in 2022. Today's announcement was made at the
Sagdal homers in Sens 6-4 loss to New Hampshire
SUMMARY The Senators fell in the season finale Sunday afternoon 6-4 to the New Hampshire Fisher Cats at Delta Dental Stadium in Manchester, NH. The Senators had an early 3-0 lead after a 3-run home run by Ian Sagdal. But they couldn't hold the lead and eventually watched New Hampshire
Sens shutout Friday night in New Hampshire 4-0
SUMMARY The Senators fell Friday night to the New Hampshire Fisher Cats 4-0 at Delta Dental Stadium in Manchester, NH. The Fisher Cats scored a pair of runs in the second then tacked on runs in the seventh and eighth innings. It was the 17th time this season the Senators
Sens rally for three in final at bat in 4-3 win over New Hampshire
SUMMARY The Senators rallied for three runs in the bottom of the seventh inning to beat the New Hampshire Fisher Cats 4-3 Thursday night at Delta Dental Stadium in Manchester, New Hampshire. Harrisburg trailed 3-1 into their final at bat but loaded the bases on walks to start the game
Senators drop home finale to Bowie 4-1
SUMMARY The Bowie Baysox beat the Senators Sunday afternoon 4-1 completing an historic seven-game sweep of the Senators. The Sens had never player a seven-game series before. Harrisburg previously had been swept in a six-game series against Portland in 2005. ON CAPITAL HILL Gerardo Carrillo started and went five innings
Harrison homers, again, in 5-4 loss to Bowie
SUMMARY The Bowie Baysox stunned the Senators Saturday night scoring four times in the ninth inning to beat Harrisburg 5-4. The Senators led 4-1 into the ninth, but Bowie capped the inning on a three-run triple. The Senators KJ Harrison homered for the second straight game to give the Sens
Harrison provides all the power for Harrisburg in 8-3 loss
SUMMARY The Senators rallied thanks to KJ Harrison but fell in extra innings 8-3 to the Bowie Baysox Friday night at FNB Field. Harrison hit a two-run home run to cut the Bowie lead to 3-2 in the sixth then doubled in the tying run in the eighth with two
Senators fall short to Bowie 5-3
SUMMARY The Bowie Baysox slugged four solo home runs on their way to a 5-3 win over the Senators Thursday night at FNB Field. Bowie scored three runs in the first inning with two coming on solo home runs. Harrisburg tallied all three of their runs and all four of
Sagdal homers in Sens 7-3 loss to Bowie
SUMMARY Ian Sagdal homered in the ninth inning, but it wasn't enough as the Senators fell to the Bowie Baysox 7-3 Tuesday night at FNB Field. The Baysox scored three earned runs in the game thanks to three Sens errors. ON CAPITAL HILL Gerardo Carrillo started and lasted four innings.
Corredor and Rhinesmith power Sens to 8-1 win Saturday night
SUMMARY The Senators offense exploded for a second straight day in the Sens 8-1 win over Erie Saturday night at UPMC Park in Erie. The Sens hit a pair of two-run home runs to go in front 4-0. Harrisburg had a hit in every inning but one and only went
Lara homers in Sens 9-6 win over Erie
SUMMARY The Senators scored six runs in their final three at bats to beat Erie 9-6 Friday night at UPMC Park in Erie. The Senators snapped their four-game losing streak with the win. Harrisburg broke a 3-3 tie with a two-run home run by Gilbert Lara in the seventh inning.
Senators rally comes up short in 6-5 loss to Erie
SUMMARY The Senators late rally came up one run short in their 6-5 loss to Erie Thursday night at UPMC Park in Erie. The Senators rallied scoring twice in the fifth to trim the deficit to 6-2. They tallied two more in the eighth, but left the bases loaded. In
Senators drop second straight to Erie, 9-1
SUMMARY The pitchers duel that was developing between the Senators and SeaWolves ended when Erie tallied nine runs in the fifth inning en route to a 9-1 win over the Senators. Erie sent 13 batters to the plate with eleven reaching safely. The Senators scored their only run in the
Harrison drives in two in Sens 6-5 loss to Erie
SUMMARY The Senators lost 6-5 to the Erie SeaWolves in game one of their six game series Tuesday night in Erie at UPMC Park. Erie tallied a run in the last of the ninth inning to walk off the Sens. It was the eighth walk off loss for Harrisburg this
Corredor and Harrison pace Sens to 7-2 win over Hartford
SUMMARY The Senators took a 4-0 lead and cruised to a 7-2 win over Hartford Friday night at FNB Field. Joan Adon started and earned the win in his double-A debut for the Sens. With the win, the Senators evened the series at two games each. ON CAPITAL HILL Joan
Wiseman homers twice in Sens 7-5 loss
SUMMARY The Hartford Yard Goats came from behind with four runs in the ninth and beat the Senators 7-5 Thursday night at FNB Field. The Sens led at two different points in the game, including a 5-3 lead after seven innings. The Goats put the first six runners on base
Senators rally falls short in 3-2 loss to Hartford
SUMMARY The Senators rallied in the ninth inning for two runs but fell short in their 3-2 loss to Hartford Wednesday night at FNB Field. The Sens trailed 3-0 into the ninth then had three straight two out singles to drive in two. Harrisburg had the tying run at second
Harrisburg Senators Announce 2022 Schedule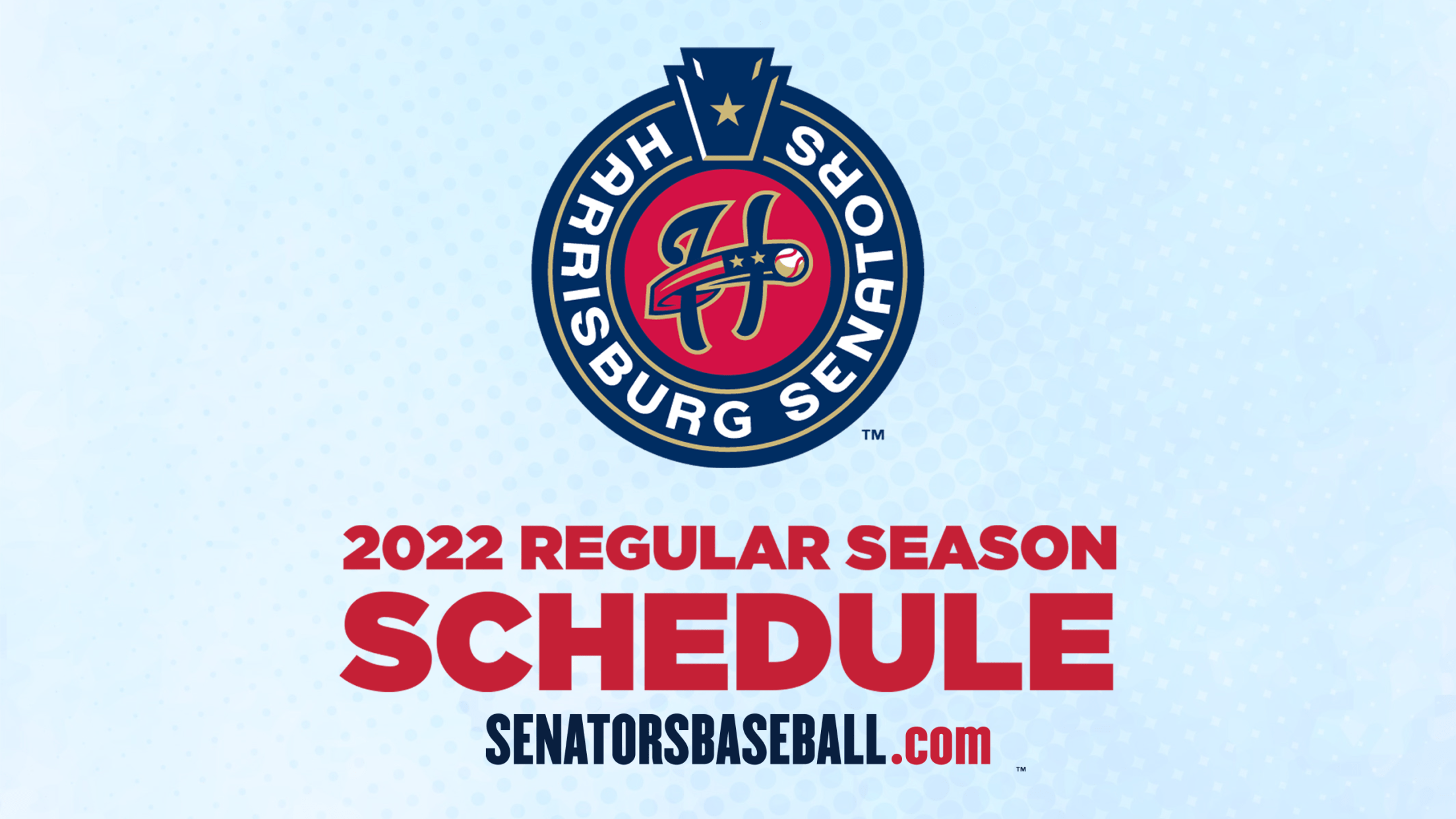 Senators slated to play 69 home games at FNB Field HARRISBURG, PA – Today Major League Baseball and the Harrisburg Senators announce the 2022 Harrisburg Senators schedule. The Senators will play 69 home games beginning Tuesday, April 12 against the Portland Sea Dogs (Red Sox). The season opener is Friday,
Upshaw powers Sens to 6-1 win over Hartford
SUMMARY The Senators beat Hartford 6-1 Tuesday night in game one of their six-game series at FNB Field. Hartford scored first, a single run in the first, but the Sens came back to tie the game in the first, then tallied two in the third and three more in the
Corredor homers in Sens 2-1 loss
SUMMARY The Senators and Akron RubberDucks played a pitchers' duel Saturday night with Akron winning 2-1. Aldrem Corredor accounted for the Sens only run, a solo home run in the fourth inning. The Senators put their leadoff man on in four of the last five innings including the ninth but
Rhinesmith powers Senators to 7-1 win
SUMMARY The Senators tallied five runs in the fourth inning and cruised to a 7-1 win over Akron Wednesday night at Canal Park in Akron. Three of the five runs were unearned in the big fourth inning for the Senators after they took advantage of a two-out throwing error. They
Freeman caps rally in Senators 4-3 win over Akron
SUMMARY The Senators rallied for four runs in the sixth inning to beat the Akron RubberDucks 4-3 in a game shortened to seven innings due to the late start time. Akron led 3-0 until the sixth when the Sens parlayed five hits and a walk into four runs. They held
Sens hit back-to-back-back HRs in the 1st, beat New Hampshire 11-5
SUMMARY The Senators pounded out a season-high 15 hits in their 11-5 win Sunday afternoon over the New Hampshire Fisher Cats at FNB Field. Harrisburg hit three consecutive home runs in the first inning, scoring five times then added two in the fifth and four in the seventh. The Sens
Senators walk off New Hampshire with 7-6 win
SUMMARY The Senators rallied for four runs in the bottom of the ninth to walk off the New Hampshire Fisher Cats 7-6 Saturday night at FNB Field. The Sens scored twice in the first inning to take a 2-0 lead, but New Hampshire scored six of the next seven runs