Indians Lose Lead Late in Loss to Omaha
Indy leaves 11 on base, finishes 0-for-9 with runners in scoring position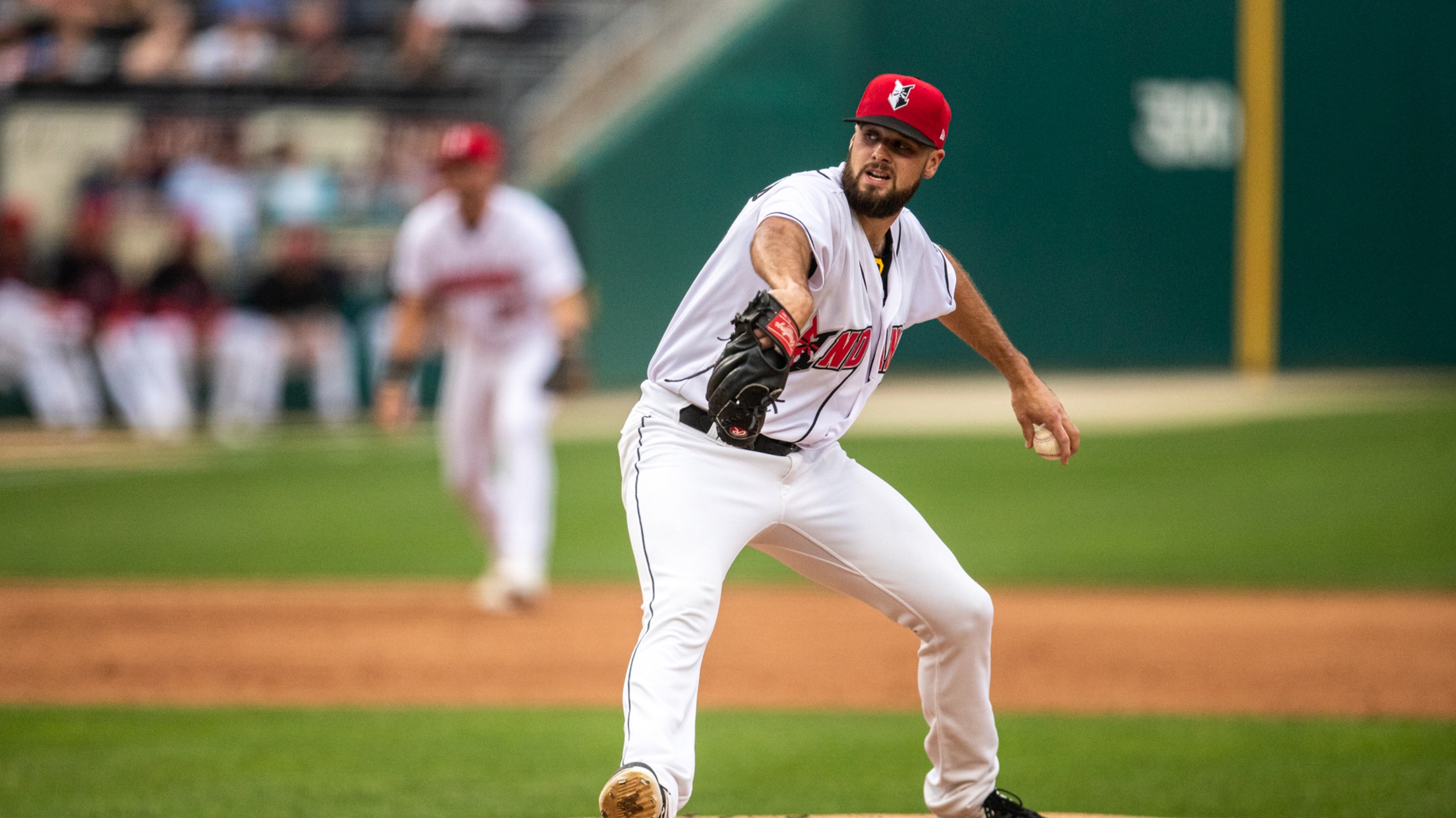 Southpaw Cam Alldred tossed a career-high 5.0 innings in Tuesday night's loss. (Photo by Adam Pintar)
INDIANAPOLIS – Cam Alldred tossed a career-high 5.0 innings while yielding just one earned run for Indianapolis, but the Indians went 0-for-9 with runners in scoring position and left the bases loaded three times – including a ninth-inning threat – in a 4-2 loss to the Omaha Storm Chasers on
INDIANAPOLIS – Cam Alldred tossed a career-high 5.0 innings while yielding just one earned run for Indianapolis, but the Indians went 0-for-9 with runners in scoring position and left the bases loaded three times – including a ninth-inning threat – in a 4-2 loss to the Omaha Storm Chasers on Tuesday night at Victory Field.
With the game tied 2-2 through eight innings, Omaha (24-32) rallied for two runs off Yerry De Los Santos (L, 0-5) in its final at bat. Johan Camargo greeted the Indians' right-hander with a solo home run to right, and a Logan Porter one-out double preceded a two-out single by Clay Dungan that gave the Storm Chasers insurance.
The Indians (28-29) made some noise in the bottom half against Brooks Kriske (SV, 2), loading the bases with two outs on a Nick Gonzales single and walks to Endy Rodríguez and Canaan Smith-Njigba, but Miguel Andújar swung and missed at three consecutive sliders to snap Indy's three-game winning streak.
Indianapolis and Omaha traded single runs in the first inning, with a bases-loaded hit-by-pitch against Cal Mitchell forcing home the tying run. The Indians then grabbed the lead in the fourth on a Gonzales bases-loaded walk.
The Storm Chasers played small ball in the eighth to tie the game. The frame started with a single and walk before a sacrifice bunt and sacrifice fly brought home their second run against Hunter Stratton (BS, 1). Collin Snider (W, 3-1) pitched a scoreless bottom of the eighth before Omaha's final rally.
The Indians made two spectacular defensive plays, the first being a diving stop by Rodríguez at first base in the fifth and the second coming on a leaping catch by Smith-Njigba in the seventh that carried him into the left-field foul territory netting.
Henry Davis went 0-for-2 with a walk and sacrifice bunt in his Triple-A debut. He also cut down Dairon Blanco – the International League's current leader in stolen bases – trying to steal second base.
Indy is 0-4 against Omaha after getting swept in the season-opening series at Victory Field.
The Indians and Storm Chasers continue their series on Wednesday at 1:35 PM ET. RHP Quinn Priester (6-3, 4.38), who has earned wins in five of his last six starts, gets the nod for Indianapolis against RHP Jonathan Heasley (1-5, 7.76).