On Deck at the Vic: Colts at Bat, Friday Fireworks, STEAM Night and MLB/MiLB Mascots
The Indians are 5-1 on the homestand and welcome Omaha to Victory Field on Tuesday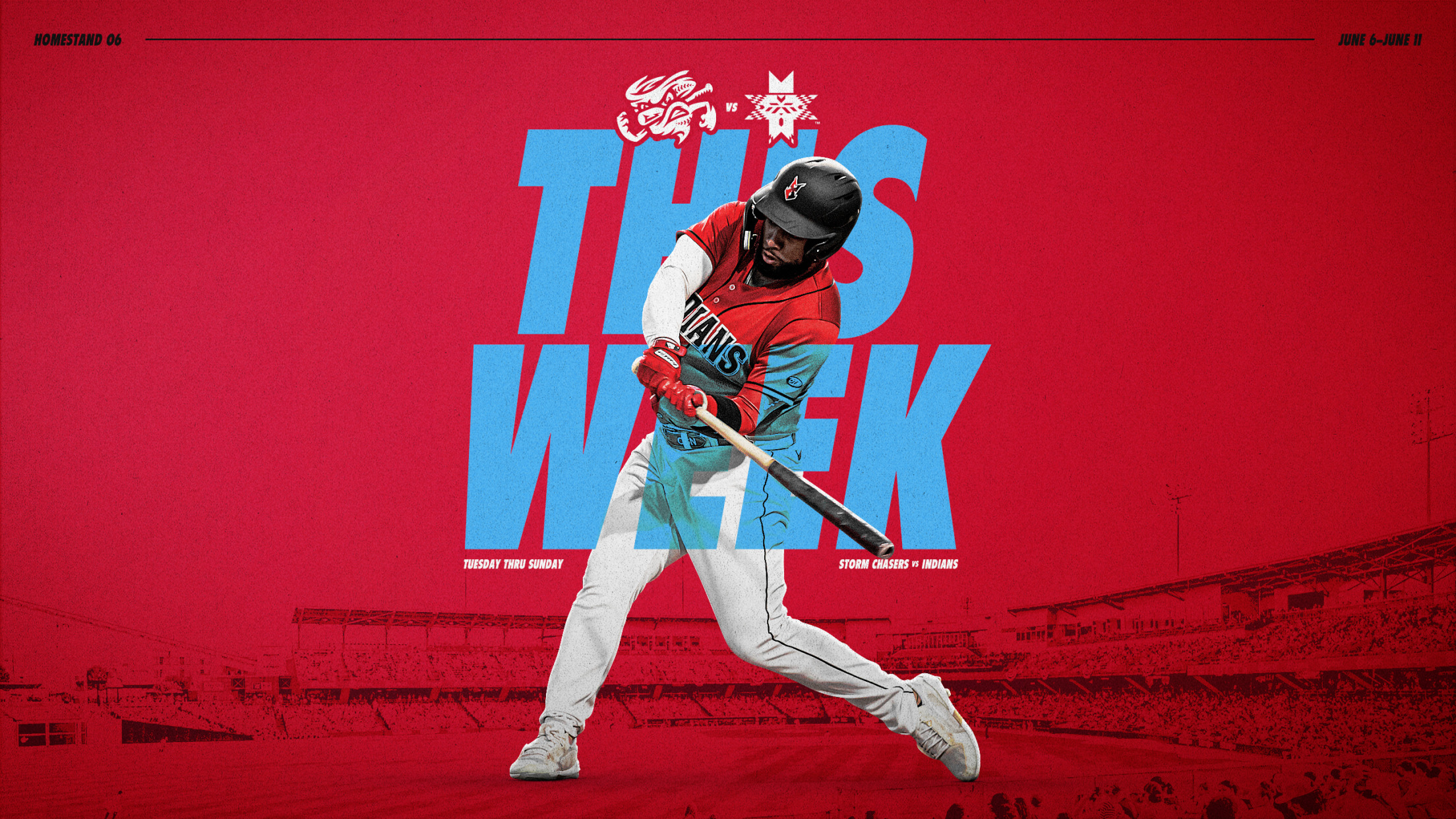 INDIANAPOLIS – The Indianapolis Indians continue their longest homestand of the season with a six-game series against the Omaha Storm Chasers, Triple-A affiliate of the Kansas City Royals, starting Tuesday, June 6. Following Tuesday Dollar Menu and a Wednesday Day Game, the series heats up with a Quenton Nelson appearance
INDIANAPOLIS – The Indianapolis Indians continue their longest homestand of the season with a six-game series against the Omaha Storm Chasers, Triple-A affiliate of the Kansas City Royals, starting Tuesday, June 6. Following Tuesday Dollar Menu and a Wednesday Day Game, the series heats up with a Quenton Nelson appearance during Colts at Bat and Thirsty Thursday™ on June 8, Friday Fireworks on June 9, STEAM Night on June 10 and mascots from the Royals, Storm Chasers, Altoona Curve and Fort Wayne TinCaps joining Rowdie for the series finale on June 11.
Tuesday, June 6 – Tuesday Dollar Menu presented by Eisenberg
Fans can load up on their favorite ballpark snacks with hot dogs, peanuts, potato chips, Cracker Jack® and popcorn all available for one buck at concessions.
Gates Open: 6 PM | First Pitch: 7:05 PM
Wednesday, June 7 – Wednesday Day Game presented by Elements Financial
Baseball under the sun. Cut out of the office early with a business lunch or "off-site" meeting and enjoy a ballgame.
Gates Open: 12:30 PM | First Pitch: 1:35 PM
Thursday, June 8 – Colts at Bat, Thirsty Thursday™ presented by Sun King Brewery, Circle City Night
The gridiron and ball diamond collide as the Indianapolis Colts make their way to Victory Field. The first 1,000 fans through the gates will receive a Colts koozie, and five-time Pro Bowl and three-time All-Pro guard Quenton Nelson will sign autographs in the Center Field Plaza from 6-6:40 PM before throwing out the ceremonial first pitch. Colts cheerleaders will sign autographs during the game from 8:15-8:45 PM. Blue, the beloved Colts mascot, will entertain fans and be available for autographs and photos, and fans can also enjoy an in-game performance from the Colts dance team.
The best drink specials in Indy happen on Thirsty Thursday™ at Victory Field, where $2 Pepsi fountain drinks, $3 domestic drafts and $5 premium and craft drafts are available. DJ GNO will perform before and during the game. On the field, the Indians will represent the 317 by wearing Circle City jerseys.
The Shop will be printing limited-edition Circle City shirts near the Standings & Lineup Board behind Section 109. The shirts will also be available at the Center Field merchandise stand.
Gates Open: 6 PM | First Pitch: 7:05 PM
Friday, June 9 – Friday Fireworks presented by FOX59, Recognition of Terry Badger III's family and 13U Gold Indiana Nitro youth baseball team, PLAY BALL Weekend
Bring the family and have a blast with a ballgame and postgame fireworks.
The Indians took a stand against bullying during the May 16-21 homestand in honor of Terry Badger III, a 13-year-old ballplayer from Covington, Ind., who took his life in March because he was bullied at school. Terry Badger III's parents, Terry II and Robyn, and sister Zoe, will be presented with a team-signed Indians jersey prior to a moment of silence. Terry II will then throw out the ceremonial first pitch, and Terry III's 13U Gold Indiana Nitro teammates will stand with the Indians as baseball buddies for the national anthem. The Badger family will be recognized during an in-game hero of the game ceremony and will also participate in the Indians' Spark for Change ceremony to set off the postgame fireworks. Over $3,000 has been donated by fans to the TB3 Nonprofit Foundation to build an afterschool youth facility in Terry III's hometown, and Indianapolis Indians Charities is matching up to $4,400 in donations. Donations can be made in-park and online. To bring further awareness to bullying prevention, Terry III's No. 44 will be placed in the home plate circle and the stadium accent lights will be turned blue.
Minor League Baseball teams are joining their Major League Baseball parent clubs to celebrate PLAY BALL Weekend and engage young fans with the joys of playing baseball and softball.
Gates Open: 6 PM | First Pitch: 7:05 PM
Saturday, June 10 – STEAM Night presented by Indiana Union Construction Industry and Eli Lilly and Company, PLAY BALL Weekend
Victory Field turns into central Indiana's largest classroom as local companies demonstrate how their products are used in careers covering science, technology, engineering, art and math. Fans can snap a selfie with a 33-foot-tall Space Launch System inflatable, explore interactive experiences for the First Woman graphic novel and pick up STEAM-related handouts from the NASA Glenn Research Center based in Cleveland.
The Indians will continue their PLAY BALL Weekend celebration by hosting Pitch Hit & Run from 9-11 AM at Victory Field. Pitch Hit & Run is an opportunity for boys and girls ages 7 to 14 to showcase their baseball and softball skills through a series of drills. All participants will receive a Reserved ticket to the Indians game as well. Participating athletes are tested, and their measurements are recorded. The highest scorers advance to a Team Championship where they can qualify for an all-inclusive trip for two to compete at the National Finals, which is hosted at the 2023 MLB World Series. Fans may register in advance here or upon arrival at 9 AM.
Gates Open: 5 PM | First Pitch: 7:05 PM
Sunday, June 11 – Kids Eat Free Sunday presented by Meijer, Sunday Characters with MLB/MiLB Mascots presented by MHS, Trading Card Experience presented by Damar, Knot Hole Kids Club Giveaway presented by Riley Children's Health and Williams Comfort Air
Every Sunday, all children 14 and under receive a free hot dog, bag of chips and Capri Sun® juice pouch with price of admission.
To close out PLAY BALL Weekend, mascots from the Kansas City Royals, Omaha Storm Chasers, Altoona Curve and Fort Wayne TinCaps will join Rowdie at Victory Field. Meet them before the game at the Rowdie backdrop display behind Section 121, and catch them roaming the ballpark with Rowdie for in-game entertainment. Fans can also create their own Indians-themed trading card to share in the Center Field Plaza.
Knot Hole Kids Club members may pick up a Rowdie baseball at a table near the Standings & Lineup Board behind Section 109 while supplies last. Knot Hole members must have their membership card to redeem. At the table, Knot Hole members can also pick up their wristband for Catch on the Field which will take place after Knot Hole members run the bases postgame. Knot Hole members may register for the postgame catch here.
Gates Open: 12:30 PM | First Pitch: 1:35 PM
Single-game tickets are available along with group and premium reservations. For more on the Indians, visit IndyIndians.com or contact the Victory Field Box Office at (317) 269-3545 or [email protected].