Iowa Cubs Release 2023 Schedule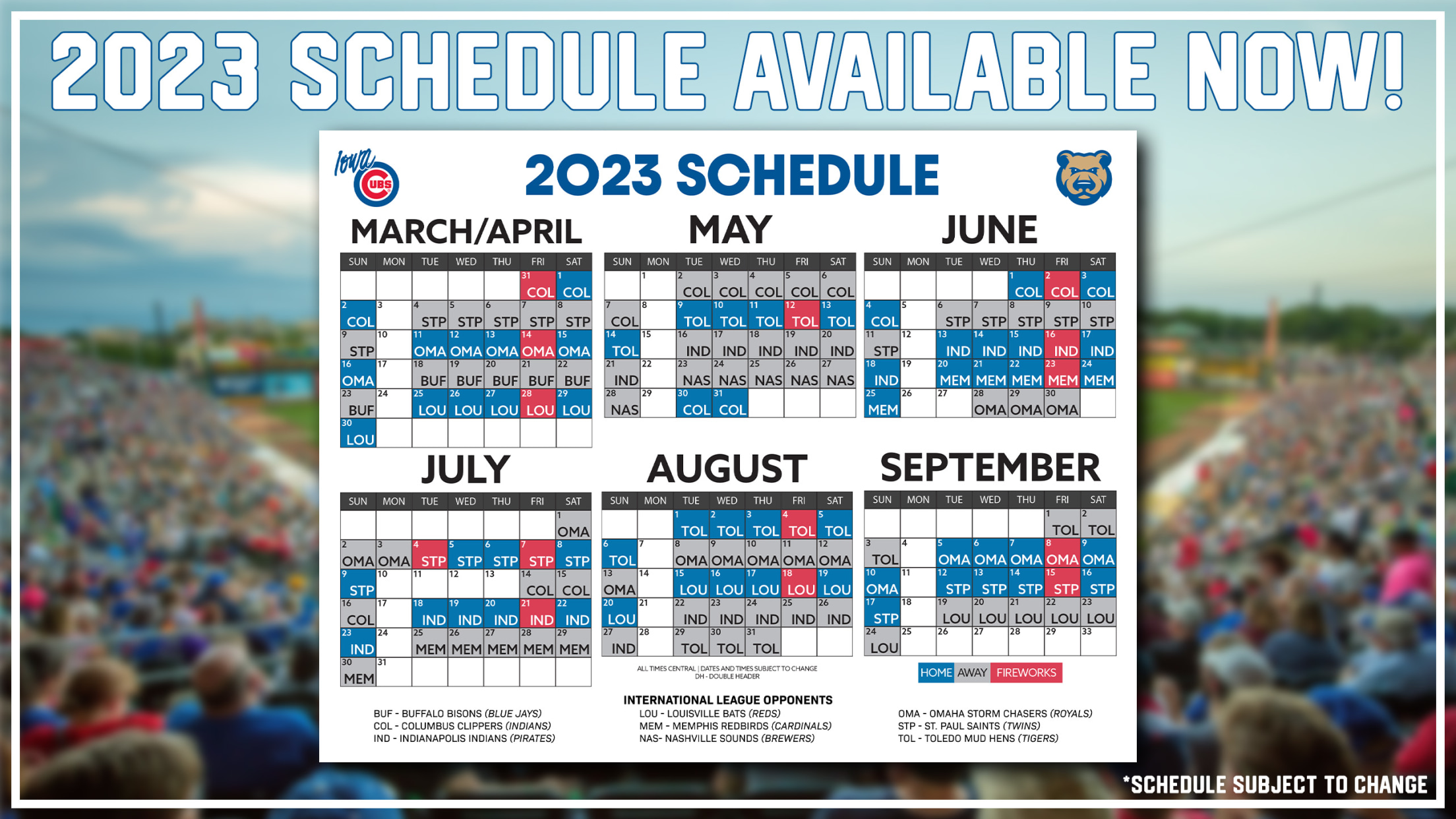 DES MOINES, IA – In conjunction with Major League Baseball, the Iowa Cubs are pleased to announce their 2023 schedule. The International League season is expected to begin on Friday, March 31, and run through Sunday, Sept. 24. Iowa is slated to play 150 total games, including 75 home games
DES MOINES, IA – In conjunction with Major League Baseball, the Iowa Cubs are pleased to announce their 2023 schedule. The International League season is expected to begin on Friday, March 31, and run through Sunday, Sept. 24. Iowa is slated to play 150 total games, including 75 home games at Principal Park.
Iowa will open the year with three games at home against the Columbus Clippers before hitting the road for the first of their 75 games away from Principal Park with a six-game series at St. Paul.
After not playing each other for the past two seasons, the Nashville Sounds will come back to the schedule for a six-game series on the road from May 23-28. The Sounds are the Triple-A affiliate of the Milwaukee Brewers and will be the only new opponent on Iowa's schedule in 2023.
The other eight teams Iowa will play in 2023 were all on the 2022 schedule, facing off against Buffalo (Toronto), Columbus (Cleveland), Indianapolis (Pittsburgh), Louisville (Cincinnati), Memphis (St. Louis), Omaha (Kansas City), St. Paul (Minnesota) and Toledo (Detroit).
Aside from the season-opening series and the first series after the MLB All-Star break, each matchup will feature a six-game series running from Tuesday to Sunday with each Monday scheduled for a league-wide off day.
The I-Cubs will face Indianapolis, Omaha and St. Paul 24 times, while playing Columbus, Louisville and Toledo 18 times. Iowa will see Memphis for 12 games and Play Buffalo and Nashville each for one six-game series.
There will be 13 Firework Friday's at Principal Park in 2023 as well as a special Fourth of July fireworks show on Tuesday, July 4.
To view the 2023 schedule CLICK HERE
Season tickets for the 2023 season can be purchased by contacting Clayton Grandquist at 515-243-6111 or [email protected]. More information regarding game times and 2023 ticketing will be released at a later date. Game dates are subject to change per Major League Baseball's approval. For all the latest Iowa Cubs news, visit www.iowacubs.com or sign up for our email newsletter.